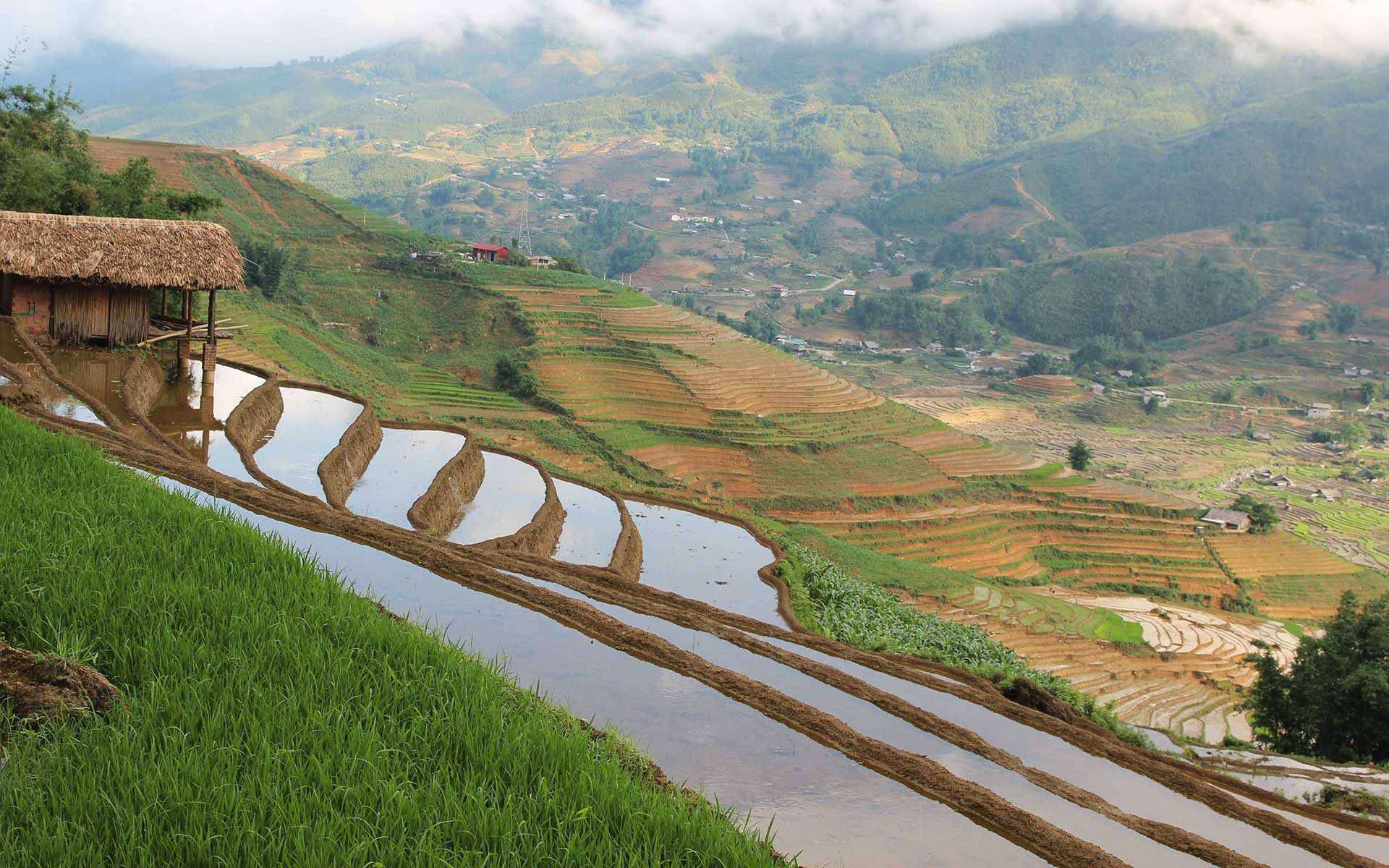 Page 1 of 7
"Testimonial 2"
2012-05-24 10:07:37
Durations 0 Days - -1 Nights
Travel consultant Vicky Phan
Customer name
Address
Start date
Finish date
CAMBODIA & VIETNAM HOLIDAY 13 days/ 12 nights from Nov 11th to Nov 23rd 2018.
Hi Thao Ly,
Extremely well organised, with all transfers, tours and information provided excellent. Our guides were extremely knowledgeable, were friendly, and good fun to spend time with. Drivers were all very experienced and we felt safe at all times on the extremely hectic roads! The itinerary had a good balance of sightseeing and free time too, which meant we were able to relax and unwind each evening.
There were only a few areas that we'd suggest as improvements, but please don't see this as criticism:
Some of the places that we were taken to for lunch were a little too 'tourist focused' - i.e. very large restaurants that weren't particularly good value, but we do accept they were clean and therefore safe. The smaller places were nicer.
All hotels we stayed at were outstanding, apart from the one in Hanoi (O'Gallery Premier), which was, for us, a little disappointing. I'd suggest trying to recommend an alternative. Our late arrival meant we didn't get any form of welcome (literally just handed the room card and told to get the lift), the appearance of the properly felt very dated, the room dark and dingy, and facilities were limited - somewhat different to the reviews on Trip Advisor! Breakfast was OK, but nothing particularly special. As a suggestion, the JM Marvel Hotel (literally around the corner on Hang Da) had a wonderful restaurant and rooftop bar, has been recently refurbished, and was cheaper cost wise).
The visit to the 'workshop' where they sold the gloss painting wasn't something we'd have chosen to include. We're happy to buy locally made items, but taking people to a showroom where you're followed around trying to get us to buy something isn't something we enjoy. We felt similarly about the traditional medicine museum, but at least that was informative, and the emphasis on buying something at the end wasn't there (a good thing).
Can Tho was a somewhat strange destination to visit, although appreciate it was an addition that we asked to be added to the agenda. We enjoyed the trip to the floating market, but Can Tho itself didn't really appeal to us. The Vin Pearl hotel was wonderful though! If we were to do the trip all over again, I'm not convinced we'd stay in Can Tho, although recognise it broke up the journey to Phu Quoc.
Those comments aside, we were extremely impressed with ATL, from initial engagement all the way though to the trip itself. We thoroughly enjoyed our Cambodia and Vietnam trip! I've already recommended ATL to friends and colleagues, and will be providing a shining review on Trip Advisor. The suggestions above are purely for ATLs feedback as things to consider. We'll definitely get back in touch with ATL on our next Indochina trip - we're keen to see Mayanmar and Laos, and probably central Vietnam at some point in the future (we've still got so much of the rest of the world to visit too).
Many Thanks & Best regards,
Mr James Carlin from UK

---
Grand Vietnam 28 days 27 nights from 11 Apr to 08 May 2018
Hello Ms Thanh Huyen:
Thank you for your wonderful card. Below you will see our annual Christmas letter in which our wonderful Vietnam trip features greatly. We have recommended you to various friends and will do so in the future. You guys are terrific!!
Henry is mostly recovered from his fall. The shoulder has healed but the back is giving him problems. So, we hope and pray that over time he will heal completely.
Christmas letter follows:
Ellen and I enjoyed ourselves a lot this year (which beats all the alternatives!), mostly just hanging out, sharing jokes and stories, reading a lot, eating extremely well, pushing ourselves hard at the gym and in our walks, planning trips and traveling, and getting together with friends.
Early in the year we did a ton of planning for a month-long trip to Vietnam in April - May. The planning paid off in an exceptionally interesting visit. Frantic activity on every hand, fragrant smells from ubiquitous street cooking stalls, a color riot, a REALLY different culture, wonderful and warm and funny people....that's the Vietnam we experienced. We traveled first to Hanoi, then a cruise through the mystic islands of Bai Tu Long Bay; flew down to the old imperial capitol of Hue, then drove on through Danang ("China Beach" in the bad old days) and lovely HoiAn; finally on to hectic Ho Chi Minh City and last, the awesome Mekong Delta.




Of the places visited, we most enjoyed sailing in flat-calm seas through mist-shrouded karst islands which seem to spring vertically throughout Bai Tu Long Bay. Hoi An, south of Danang, is defined by the thousands of lanterns which decorate the city's buildings and streets at night, turning it into a wonderland of brilliant colors. The town is also home to hundreds of bespoke tailor shops which welcome the tourists. In the Delta, the mighty Mekong splits into nine large waterways which define the area. The countryside is bright green with lush vegetation and offers wonderful fruits and veggies, as well as friendly, laid-back folks (as in the USA, the folks in the north are a bit more reserved). We encountered no hostility whatsoever as a carry-over from what they call the "American War". Only problem with a trip to VN is that no American carriers serve its airports. So we flew via Tokyo, a 40-hour trip door-to-door on the way out and 50 hours on the way back.....ouch!
Several years ago we made a long-ish driving trip in the Pacific NW, only a few days of which were in Oregon. So, this year we decided to go back to see more of what we had missed there. Portland turned out to be like Austin, only with large shade trees all over the downtown area and world-class rapid transit throughout the city and surrounds. We loved the place, which is full of excellent restaurants and dozens of brewpubs, as well as a wonderful, large park which brings the wilderness right into the heart of the city. We then spent time in three small towns along the rugged Oregon coast, enjoying the great hiking, forever-views, sea air and seafood.



The colors were beginning to change, which made for spectacular scenery. And it was blackberry season -- in the western half of the state, along the coast and inland, all the back roads are covered with huge clumps of blackberry bushes, and I believe that we must have stopped to pick from at least half of them! We'd load up with two or three liters of fresh berries at a time, eat lots of them and then Ellen would turn the rest into preserves and syrup to add to our morning pancakes and evening yogurt. Most of the time after picking, we looked as if we had just committed major capital crimes.
Spent time also in Eugene, home of the U. of Oregon and one of the most beautiful and welcoming small cities we have ever visited; and in Bend in central Oregon, headquarters for all things outdoors and mecca for great hiking.
Now we're just back from 16 days on the Mexican Riviera Maya, where we stayed again in the giant Barcelo all-inclusive resort. Each morning was a delight....lots of fresh pineapple and papaya with lime juice for breakfast, followed by a couple of times around the lovely, scenic, 2.5 mile perimeter walk to amortize breakfast. The Barcelo staff are simply the most friendly and helpful folks we have encountered anywhere.



So, that's about it. We're looking forward to a quiet end of the year and hoping (not planning for, merely hoping!) for more civility inside the Beltway and across our land in 2019.
Warm wishes to all,
Henry & Ellen from Spain

---
Vietnam & Cambodia holiday 16 days. From 26th Oct to 10th Nov 2018.
Hi Mary
This is just a quick note to say thank you for organising such a great trip for Mike and me recently. Everything worked very smoothly and the guides and drivers were all efficient and friendly. What a beautiful country you have in Vietnam
Thank you again for all your help.
With best regards
Mr. Chris Burling & Mike Ahern from UK

---
Vietnam tour 11 days from 26th Oct to 5th Nov 2018
Dear Mary D
we would like to THANK YOU for the perfect organization of our trip. All went good and your prompt replay when it wasn't according to plan is well appreciated . It was great meeting you in person .You are a real pro in your business. We always felt you are there to cater to our needs and your team is dedicated to the mission and time table . Special thanks to :
Toan and the driver in Hanoi for their welcome, smile and knowledge.
To May Nhi in Sapa who was great with a lot of knowledge and a very positive approach.
To Jimy and Minh our Dalat Bike riders both were excellent and made our trip memorable. We highly recommend this team. We will be happy to visit again and share our experience with others.
Keep good till next time
Ifat and Eyal from Israel

---
Best of the north Vietnam 8 days - from 6th Oct to 13th Oct 2018.
Dear Mary D,
The guide in Hanoi and Halong Bay was excellent, very kind and caring, pro-active, adaptable and very knowledgeable.
The one in Sapa could have been more pro-active and engaging.
Mary D. as our agent did a fantastic job!
We enjoyed our trip!
Sabina Ciccone & family from Italia
---
Vietnam and Siem Reap Discovery – 12 September 2018 to 26 September 2018
Hi Huyen,
We just arrived to Israel and wanted to thank you for this wonderful trip to Vietnam and Cambodia. it was a great experience doing it with you, taking care of all the small details, including the change in the program due to the taifun in halongbay, which was really amazing . you understood our mind and all the program the hotels and recommendations were great.
I am sure i will highly recommend you and already did so.
So thank you again.
Osnat from Isarel

---
VIETNAM HONEYMOON 6 days/ 5 nights from Sep 2nd to Sep 9th 2018
Hi Ms. Thao Ly,
Excellent Team providing best service to their clients from The time of contact to the end of the trip. Ours is 5nights trips for honeymoon with special surprises in two places. The package was perfectly made without stressed or boring. The guide Mr. Spring (nick name) the best of all in my trip. Cared like his family member. Driver was cool.. with SUV vehicle . No tiredness throughout the trip.
The excellent part of the trip is Halong Bay cruising... wonderful.
I will recommend to my family and friends..
Thank you for caring us and made our honeymoon trip so so so memorable.
Mr. Pavan Kumar Pammi Krishnan from India

---
Vietnam Holiday 15 days from 30th Jul to 13th Aug 2018.
Hi Mary D
Thank you so much for your email ..we are very sad to be home and wish we were starting our visit to Vietnam today..we hope to return in two or three year's for another great adventure. .we love Vietnam. Thank you soo much for the great itinerary it was perfect for our needs , we especially enjoyed the cruise on Halong Bay everything was excellent the food the crew and the tours and our Eco Tour was awesome we had so much fun together as a family the tour guides were both fun and informative. I will have no hesitation recommending you to our family and friends . Hope you and your family are in good health and keep in touch.
Regards
Marie Morris & family from Ireland

---
Best of Vietnam 4 days (9-12 Aug 2018)
Dear Ms. Vicky,
Good day.
I would like to say thank you for the very beautiful tour service that you arranged for our client. All of us had a great time most especially on the cruise and also all the restaurants, the food are really delicious, there is nothing we can say but only good things for this tour, our clients really had a great time in Hanoi. We will definitely contact you again for our next Vietnam tours.
Thank you also for taking a time to meet us, and the souvenirs that you gave was a surprise.
Again, thank you very much.
Best regards,
Dimitri Allan Lim
Dimitri Allan Lim & group (13 persons) – Golden Journey Travel & Tours from Philippines

---
HIGHLIGHTS OF VIETNAM & CAMBODIA – 12 days/ 11 nights (July 15, 2018 - July 26, 2018)
Dear Mua,
The two tour guides we had in Sapa and Hanoi Vietnam were fantastic! They both shared stories from their own lives and showed interest in us.
The driver we had most of the time in Hanoi (he drove us T/F Hanoi-Halong Bay) where the most comfortable. The reason was that he took it a bit slower than the others. We scandinavians are used to a lot less stressful traffic and don't care if the drive takes 15 minutes more.
It was great that we always got water, kudos to the drivers that had cold water.
The food at the restaurant in Hanoi (first night) was not so good. The restaurant had a fantastic view, but the food was not so interesting.
The food we got on the restaurant in Cambodia was very good.
Overall very nice hotels!
In Hoi An I would recommend that you tip travelers that this is a very nice town to buy shirts/dresses. I'm glad we also got time for this.
We are so glad that we got to see everything we wanted. Thanks for doing a really good job on the planning. We will recommend Travel Vietnam to others.
Mr. Jonas Hoemsnes & fiancée from Norway