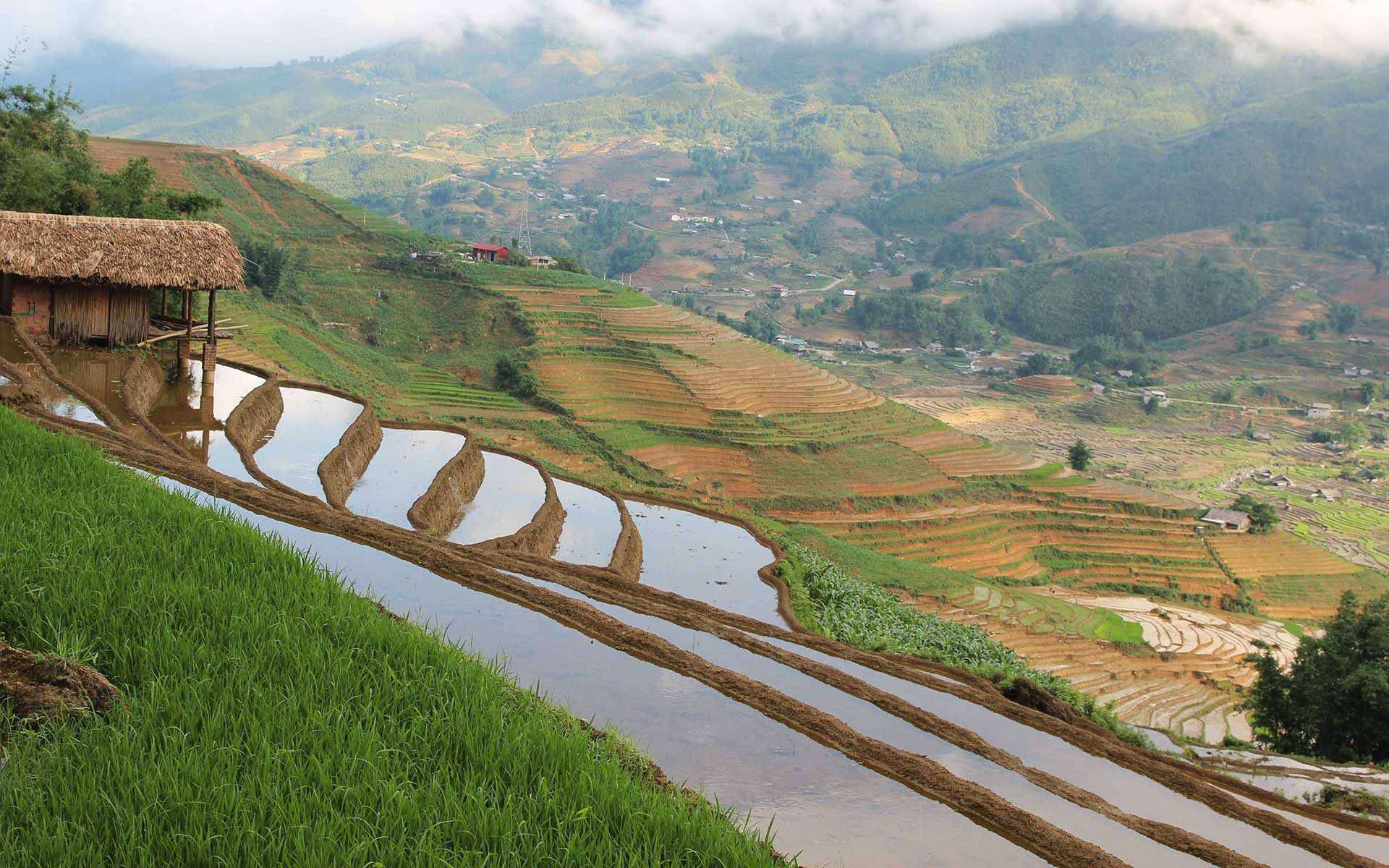 Page 4 of 7
Highlights of Vietnam 10 days 9 nights from 09 to 18 Oct 2016
Hi Van Anh,
I'd like to compliment you on your very professional, friendly staff. Our guides were informative, prompt and fun! It was a comfort knowing that they would always be where they said they would be, when they said they would be.
They always made sure we had plenty of water and when stopping for food always asked us if we had any food allergies. We do not have any allergies, but we appreciated being asked.
One small glitch we had was on arriving back in Ha Noi after our night train ride from Lao Cai. Our guide, Luan, told us how to find the Cosiana hotel when she dropped us off at the train station two days earlier. However, we came out a different gate than the one she dropped us off at and got completely turned around. A bit frustrating at 4:30 am after a long night train ride. I would suggest that in the future, your guides explain that if you come out Gate 1, go this way to the hotel, if you come out Gate 2, go this way to the hotel.
Our guide, May, in Sa Pa, and our guides in Hoi An and Saigon were fantastic.
Overall, it was an excellent tour. The hotels were all very nice and the itinerary had a lot of variety – we feel like we got to see the best of Vietnam.
Thank you so much for making our time in Vietnam so comfortable and enjoyable.
Mr. Ronald Baesler & partners from USA
---
VIETNAM HOLIDAY – 12 days/ 11 nights from 5 Oct - 16 Oct 2016
Mua did a remarkable job in planning and managing our stay in Vietnam, and not least on adjusting the itinerary many times and occasionaly on short notice. We also got the opportunity to consider many alternatives for hotels and accommodations before making the final decisions. It was much appreciated.
The car and the drivers in Da Nang lacked somewhat as compared to Hanoi and HCMC.
The car and the driver in HCMC was excellent but spoke no English, requiring us to contact Mua on one occasion to work out a detailed plan. He was a very kind man and will certainly be able to acquire some English Language if given the chance.
Alf & Randi from Norway

---
BEST OF THE NORTH – 7 days/ 6 nights from 8 Oct to 14 Oct 2016
Dear Mua,
It was nice meeting you at the restaurant, very good choice and lovely evening.
Just wanted to feedback that we were very happy with our tour. Just the right mix of activity and rest. Very good selection of the places and hotels and restaurants. For us a perfect balance of high quality and relaxed atmosphere. Both guide and driver were a good company and added to the experience.
Mai Chau and Ha Long were breath taking and we liked our boat and the Ecolodge a lot. One of our best tours.
Thank you very much for your perfect organization and close assistance.
Looking forward to our next trip and maybe see you then again.
Best
Roland and Barbara from German

---
Vietnam & Cambodia discovery 15 days from 17th Sep 2016 to 1st Oct 2016.
Dear Mary,
We are on the last full day of our holiday. The trip has been wonderful and has all gone as planned. We have visited some wonderful areas and we are staggered by the beauty and variety of the places we have seen.
We opted to miss a couple of minor points on the itinerary, just to combat a bit of fatigue from the travelling but were amazed at what we did get to. Our guides were good although a special mention should go to Yan and Nei who were wonderful and it was a pleasure to spend the time that we did with them, we only wish it was longer.
Most of all from me and Ged (Geraldine) we thank you very much for the arrangements that you made for us at Hanoi. It was the surprise we planned and Ged and I will never forget the moment, it will always be special to us.
When we are planning our next trip to Asia we will of course be in touch to make the arrangements.
John & Geraldine from UK
---
Indochina Holidays (from 10 Sep to 25 Sep 2016)
I'm so grateful for Ms Duong Nguyen for her kindness and patience in working with our group -- US students traveling to Asia to celebrate our near-completion of our Acupuncture degrees. There were long stretches of email communications to finalize our itinerary and she was always patient with us, got back with us immediately regarding our concerns, thoughtful in her suggestions, and she put together a wonderful package that was affordable on our student budget! The tour guides we met were gems! They were local people sharing their local knowledge, and we always felt safe to depend on their knowledge of the area, customs and practices. The drivers were skillful in negotiating the streets full of Asian drivers! In our tour group of 6 persons, for everyone, it was our first time using a travel agency, and we will never travel without one again, and we are extremely grateful for Ms Duong's hard work on helping us with a trip of a lifetime -- the first of many!"
MS. Thi Nguyen-Phuoc From USA
---
Amazing Vietnam (4 Sep - 20 Sep 2016)
Dear Hue
Let me express my thank for the very well prepared trip in Vietnam by your Travel Agency.
We didn't face any serious complication in the time of our trip¨
The schedule time was kept on time both without delay and substantial changes in our planned program.
Actually, we experienced during our stay neither unforeseen circumstances nor problems
All three guides were very friendly and able to explain every our question. We highly appreciate this.
I can promise to recommend our Travel Agency for your outstanding service to another Czechs.
Have a good day
Best regards
Dr Vladimir Heinz from Czeck
---
Best of the north Vietnam from 6th Sep 2016 to 16th Sep 2016.
Hello Mary,
Thank you so much for your email. Andrew and I are back in Montreal (and back at work) but definitely missing the natural beauty of Vietnam (we wish we could go back and spend a few more days sailing in Halong Bay!)
We are both glad we had the opportunity to meet you in person. Thank you so much for all your help in planning our trip to Vietnam – it was an incredible experience and we will always have such wonderful memories from our time in your country. Both you and our guide Sunny provided first class service and really made our trip unique and memorable.
If ever any of our friends or family visit Vietnam, we will definitely suggest that they reach out to you!
Best wishes,
Christina from Canada

---
HANOI – NINH BINH – HALONG BAY 5 days 4 nights program from 04 September 2016 to 08 September 2016.
Our travel consultant, Ms Hanh Nguyen, is very patient and customer centric. She followed up with our request promptly.
Our accommodation was wonderful! Many of our rooms in different hotel/cruise were upgraded to higher grade.
Our tour guide, Mr Xuan Hoang, is very committed and willing to put in extra miles to meet our request.
Well done for the wonderful services provided!
Edwin Wong from Singapore

---
Ninh Binh Tour
Giang , the trip was wonderful and the services of the guide and hotel equally good . On the day of arrival , weather was wet but that is Mother Nature . Next day was sunny and a photography galore . I am now back in spore and will keep in touch . Thanks
thank you,
Mr. Jordan FROM Singapore
---
NORTH OF VIETNAM DISCOVERY (Hanoi – Sapa – Ninh Binh – Phu Quoc) from 14 August to 28 August 2016
Dear Mr Ha,
We are in Hanoi international airport waiting for our flight to Bangkok. Today everything was well arranged, like during all the days we spent on tour.
Thank for your job! We enjoyed our holiday in Vietnam thanks to Mr Ha and all the guides!
Ciao,
Elisabetta from Italia
Ps 2/3 colleagues of mine are now thinking about Vietnam as next destination...stay ready to receive new mail from Italy
---
VIETNAM DISCOVERY 16 Days (11 Aug – 26 Aug 2016)
Dear Tuan,
Yes, we had a wonderful trip!
Arik and my mother will return in a week from Tailand and we'll fill the survay together.
Please send my warm regards to our amazing guide, Sunny, and the attached pictures to sunny and our wonderful driver tike.
Thank you for your excellent planning of our trip and all your help!!!
Best regards,
Mimi Rotshtein from Israel
---
Highlights of Vietnam & Cambodia from 11 to 22 Aug 2016
Dear Lana
It has also very pleasant to meet you personally at Saigon. As expressed in the e-survey, we are completely happy with your professionality and kindness. Our trip has been excellent and the support we have received from you and your personnel (Mua, guides & drivers) has been really first class. Thank you all of you from myself and my family.
Very best regards
Miguel Aguilar from Spain
---
Hanoi & Halong Bay trip. From 11th Aug to 14th Aug 2016.
Dear Mary D,
You did a wonderful job at organizing an this wonderful trip for my family. The cruise on Halong Bay was outstanding. The butler, Son, and the entre crew of the Legend, did a fantastic job, and were so courteous! Memorable trip, thank you Mary D!
Elisabeth from USA
---
Vietnam Insight from 02 Aug to 13 Aug 2016
Hi Van Anh,
I was just reading through my emails the past few weeks and pleasant memories of Vietnam floods me when I see your emails.
Your company is the best company I've worked with so far, that includes ANY company.
Me and all the kids had a blast, the itinerary was perfect, the weather cooperated with us.
What made this trip particularly special is my special respect and admiration for Vietnam and the Vietnamese people. The Vietnamese people are one of the nicest, honest, resourceful and hardworking people on Earth.
I might book my Thailand trip with you. I just don't know when for now.
Thank you again for everything and congratulations to you and your company.
Michael Esteban from USA
---
North Vietnam Holiday from 2 Aug to 6 Aug 2016
Dear Ms. Nguyen,
On behalf of our group, thank you once again for all your support for our holiday to Vietnam. It was a most enjoyable trip and Dang was excellent as was our driver.
Thank you also for the kind souvenirs. It was very thoughtful of you.
We will definitely be happy to recommend your company and should we be looking to travel to Indochina again , we will contact you.
Thanks and Regards
Malini from Malaysia
---
Vietnam Holidays from Jul 27th to Aug 5th, 2016
Hello Lana!
This will be the goodbye email for some time. One day if we travel to Asia it is SURE that will be definitely with you!!
I'll start to thank you so much for your service. Everything was so perfect and well organized!!
Every detail was good. The hotels were very very good!!! We had a great time! In Ho Chi Min with had a lovely jacuzzi in the bathroom that is so good to relax from the trip! The siesta in Phuquoc was so comfortable and the food 5 stars!! In Hanoi they made is an upgrade to a room with a bed that we could not even almost see each other!
In every hotels that we had its seams that you knew us!!
Then the guides! They were very good. All the time they are ready to answer the questions and they are so friendly!! The drivers are excellent!! They took us safely for every places and when we get out of the visiting places the were just right there!
What much can we say!! I would recommend you and your travel agency until the end of the world! If it is good for you I can write a review in some place, no problem!
So about our feeling about Vietnam. When we arrive in Ho Chi Min city I had a lots of feeling in my mind and I confess is a bit shocking at first. Is a very different city from our cities in Europe. In the second day we went for the tour and at night we went out to eat and to take a walk. We get a bit lost but if was so funny and we felt absolutely secure in the city at night! Then each day that was passing we were falling in love for every little place of the country. And now getting back home we take Vietnam in our hearts. I can say that was the trip that I could learn more!
Oh I forgot to tell you about Halong Bay!! How could I forgot if it was one of the most places that I loved in your country! What a peaceful and magical place!!! By the way I don't know that you know but we got an upgrade and we got the La Vela Premium. When we got there we didn't had our reservation... So they made some calls and they got us a place. I didn't phone you because there was no problem at all. For what I could understand because of that change that I made for the cruise not to be in the last day probably that was the confusion. Our names were for the next day. I'm just telling you this not to complain it's just for you to know because I'm positive sure that you made the change. They probably in their reservations didn't made it...
Provably there is so so much to tell about but you have more things to do. I just feel that you deserve to know everything after what I bother you.
Next year we are planning to go to Mexico City and Riviera Maya and I was saying to Joao that I wish to have a Lana there...
So Lana once again thank you very much for all your services and for all your patience.
Lots of regards
Sonia e Joao from Portugal
---
Indochina honeymoon vacation - 24 days. From 6th Jul 2016 to 29th Jul 2016.
Trip was planned very well. Ms Mary D was very helpful.
Donatella Mizzi & Gaetano Caruana from USA

---
Vietnam holiday 25 days. From 30th Jun to 24th Jul 2016.
Mary,
Ashley and I have returned home safely and can't stop reminiscing about Vietnam! We are telling all of our friends and family members how fantastic it was. We thank you again for all of your assistance and appreciated meeting you. Travel Vietnam is a knowledgeable, professional, first class guiding company. We enjoyed the services very very much.
Thank You again and take care.
All our best,
Paula and Ashley from USA
---
Vietnam Discovery - 18 Days from 25 June - 12 July 2016
Dearest Viet,
what a lovely spoil, thanks so much for the Spa treatment on my Birthday, I absolutely loved it and appreciate very much your kind gesture & thoughts.
We are having a super relaxed time on Phu Quoc and can't believe our amazing trip is coming to an End.
It has been a most wonderful & very memorable holiday of which we will still talk about it for many years to come in fact it will be an unforgettable experience and I'd like to thank you & your team for all your effort, suggestions & extremely kind personalities that made it all so very enjoyable & special.
Off to the hustle & bustle in Hong Kong & then we all are looking forward to our beautiful "Mother City" Cape Town ?
Take care & send our Regards to Sunny & special thanks & wishes to Miss Phuoc who was exceptionally helpful & kind.
Very best wishes from Michel, Liam & me
Stoos from South Africa
---
Best of the North from 29 June to 06 July 2016
Dear Gracie
We are now back from our wonderful holiday in Vietnam, and would like to thank you and your company for the really efficient way everything on our 7 day trip of the North was organised.
Tao our personal guide was so professional, informative and friendly. His knowledge of Vietnam, it's history, traditions and relations with the outside world was amazing. He was prepared to accommodate any little change we wanted. A truly lovely man, who made a trip an amazing success. We were sad when we got back to Hanoi and had to say goodbye to him.
We felt really safe with the driver of the bus, which by the way was great to have a 29 seater bus for us considering the number of miles we travelled.
We were delighted with the hotel Hanoi Pearl, the staff we so friendly and efficient, the position was ideal for discovering Hanoi. We were not so pleased with the Sunny Mountain hotel in Sapa. The staff there were very unfriendly and unhelpful . Simon and Caroline had someone enter their room during the night when they were asleep.
The accommodation on the boat at Halong bay was superb, and so much food, we had to turn some away.
Altogether a really wonderful trip thank you to you and everyone involved. We certainly will recommend your company to anyone visiting Vietnam .
Mr. Simon Hall & Family from Australian
---
Vietnam & Cambodia Holiday - 12 Days/ 11 Nights from 21 June to 2 July 2016
Hi Mua,
Thanks for all your help with my trip. I had a great time in Vietnam and hopefully I'll be able to return soon.
Daniel Stowers from New Zealand
---
Taste of Vietnam 12 days/ 11 nights from 8th June – 19th June 2016
Hi Viet,
The trip was wonderful!! All of the activities were great and we enjoyed all of the places we visited! My only comment is that I would have liked to be in a slightly quieter area of Nha Trang, but that is just a personal preference. It was still wonderful there and we had a great time enjoying the beach and the food.
Bethany & Eric from USA
---
HANOI & SOUROUNDING from 13 to 18 June 2016
Dear Thuy Do,
We received outstanding service from our guide, Mr. Xuan, and our travel agent, Ms. Thuy Do. Mr. Xuan was extremely knowledgeable in all aspects of Vietnamese history, local attractions, culture, etc. He was very pleasant and accommodating. Furthermore, his English skills were excellent. Ms. Thuy Do was very knowledgeable in setting up our travel itinerary. All accommodations were set up perfectly to include the tours, airport pickup and drop off, and hotel arrangement. All charges were accurate according to what we were quoted. There were no surprises. Furthermore, she was very resourceful in finding the orphanage that we wanted to visit. I spent a lot of time searching for this orphanage with no luck. Ms. Thuy Do was very willing to help. Within a short time, she found the orphanage. We are grateful for her help. Thank you !!!
John Cao & Son from United State

---
Best of the north 5 days 4 nights from 10th Jun 2016 to 14th Jun 2016.
Dear Mary!
We've arrived home after a long 18 hrs. in air, connections and traveling to/from airports - 2 hrs. flight from Hanoi to Bangkok, 1.5 hrs. between flights and almost 11 hrs. from Bangkok to Tel Aviv.
My wife and me want to thank you for your perfect arrangements of our trip; we've liked our driver (he was a very good, calm driver, kind, and took care of everything – in short, a good man) and Moa our guide at Sapa (professional, meticulous and helpful).
We've liked Vietnam very much, especially Halong Bay cruise – which was a unique experience for us; also, we liked Sapa and the surrounding villages, the tribes people and the beautiful landscape. Fortunately, we enjoyed a good weather in all places.
We've changed our first lunch at Sapa to dinner (Moa arranged that for us -usually we eat breakfast and dinner); unfortunately, she couldn't do it on the way back to Lao Cai (she asked someone at your office to change the lunch at Lao Cai with a dinner at Hanoi) and finally she told us that we'll get a refund on this last meal.
Again, it was a wonderful experience to know Vietnam and we hope to come back in the future; we were very pleased with your arrangements and certainly recommend your office to our friends.
Thanks a lot.
Miri and Jacob Pompan from Israel
---
VIETNAM INSIGHT (2 June – 12 June/2016)
Rose was very organised and did extremely well with very short notice. Thank you for a wonderful trip
Mark Barry from Australia

Best of the North and Best of the South
Hallo Rose!
We're back in Italy, arrived yesterday night.
Today I'm at work in my office.
Asap I'm answering to the feedback you as below – I can anticipate we're satisfied with the second part of travel in the South and definitely appreciated the tour in Vietnam.
In the meantime I can send you the photo we took in your office in Hanoi.
Bye
Thanks for you cooperation.
Renato from Italia
---
ANGKOR WAT & VIETNAM 12 days/ 11 nights from 17 May to 27 May 2016
Hi Viet,
We had two guides in North Vietnam - Sunny in Hanoi who was very good indeed had a very good approach and was helpful, answered our additional questions and had a broad knowledge. We also had Mo in Sapa who was very good to a point however her attitude was not as attentive, she was often on her phone and it was the driver who was pointing out the terraces and suggesting we stop for a photo rather than the guide (who was at times asleep) She dropped us off at our hotel in Sapa but didnt tell us about Sapa or the layout of the town or main points of interest and when i asked i got a very brief answer which was not particularly helpful. Our guide in Saigon however was marvellous Phoec - she had very good English and very good knowledge of her country, political, geographical, historical, economical and the native plants and their usage - we could not have asked for a better guide - she made our holiday!
Janet Baker & Family from United Kingdom
---
VIETNAM DISCOVERY 14 days/ 13 nights from 09 – 22 May 2016
Thank you, Mr. Viet Nguyen
I've completed the evaluation and a Trip Advisor review, as well. We were very impressed with everything your company provided and consider it one of the best trips we've ever taken. Thank you for your attention to detail, for meeting us on our last day and the beautiful lacquer gift. We wish you well in the future, also and will recommend this tour to anyone wanting to travel in the area!
Nancy & Jeanne from USA
---
Grand Indochina Tour from 1 May to 20 May 2016
Hi Duong,
Well we are back in Australia and thoroughly enjoyed our holiday. We wanted to say thank you for all your assistance and to say the itinerary was very good as were all the hotels. Our stay at the Vie was very convenient for walking distance to MBK Shopping mall however the Aetas Lumpini was actually a better hotel in terms of service, price and food.
All the other hotels were very good as was the service and rooms.
Our highlights were, Hanoi, Hoi An, Ha Long bay, Saigon, the Mekong visit was excellent and of course Siem Reap but the other places were also worth a visit.
We will stay in touch and promise to contact you when we come back with our family.
Regards
Graeme & Narelle Kendall from Australia
---
Vietnam Highlights from May 12th to 20th, 2016
Guides and drivers were all outstanding (always prompt, very helpful), as was the service provided by Ms. Lana. A great trip, and we really appreciated all your services.
Thanks again and kudos to Lana.
Mrs. Mary Beth Knisley from USA
---
Best of the North from May 10th to 16th, 2016
Lana was absolutely outstanding in every single way! She is brilliant and a real asset to your company. Tau our guide in Hanoi was also fantastic!!! The first room that we were allocated in Hanoi was not great and had no window and was smaller than that of our friends. However, Janine Lee did manage to give us a bigger room with a window. The meal that we had included on our first night was not the best and I feel that the restaurant lacked atmosphere. Also we did not really enjoy our meal at Tam Coc. Perhaps it would be a good idea to have fewer dishes and also let them be served at a slower pace. We felt that the meals were served in a hurry. Syrena Cruises were wonderful. All the staff were great. I must also commend you on the promptness of all the transfers and the comfort of the vehicles. I would definitely recommend Travel Vietnam to friends and would love to visit your country again but it is very far from South Africa!! I would also suggest that you advise people on clothing. We brought far to much and ebbn packed some warmer clothes. Vietnam was very very hot!!! We loved everything about your wonderful country, the people especially!

Mrs. Ann Louise Dreyer from South Africa
---
Central Vietnam from 07 May to 14 May 2016
Dear Van Anh,
The hotel at Dong Hoi is in a remote part near the beach. It is a new hotel and the staff are still learning. Not very convenient for a traveller who likes to explore the city. The standard of accommodation in this hotel is as good as in other hotels but the staff need to have more training to make the stay pleasanter. In Phong Nha, we could have visited two caves because we had the time. Hoi An was very good; both the hotel and the town.
Mr. Thirumany Sritharan & spouse from Australia
---
Vietnam Discovery 16 days/ 15 nights (20 Apr – 5 May)
Our trip to Vietnam was excellent and it was made especially so by the professionalism of Travel Vietnam. We were a little anxious at first but our guides and drivers were just so nice we even visited the family of our guide (Springy) in Hanoi it was a wonderful experience to get into the culture of the country. We loved every single minute of the trip and will definitely be recommending Vietnam Travel to all our friends and work colleagues. Thank you very much for making our holiday special.
Adrian Kellerman from Australia
---
Vietnam and Cambodia Discovery from 20 Apr to 1 May 2016
Hello Duong,
Sorry it has taken me so long to respond to your email. Our trip was absolutely wonderful. Thank you so much for putting it together for us. We thoroughly enjoyed our time in Vietnam and Cambodia. We will definitely recommend you and Travel Vietnam to our friends.
Thank you again!
Lois & Rudy Rozman from USA
Thank you and Best Regards,
---
Vietnam Discovery from Mar 31st to Apr 18th, 2016
Dear Lana,
We are back home safe and well.
I will send the feedback.
I wish thanking you for this wonderful trip. Some of my real time problems and positive feedbacks were sent to you in a real time basis and I hope you will incorporate it with the general reviews.
I wish to note that all my problems were addressed and resolved almost in a real time basis and I was very satisfied with your the prompt solutions(the hotel change in Hanoi and the first guide change in Hanoi).
The local cellular phone was very important due to my wife health crisis in Hue and other urgent needs to resolve problems.
The trip as planned by you was excellent and very much met our expectations.
Thank you for this wonderful experience!!!
Best regards,
Jonathan Fighel from Israel
---
Highlights of Vietnam 8 days 7 nights from 4 Apr to 11 Apr 2016
Dear Anna
I had prepared a draft email when I arrived in Singapore to thank you for arranging such and interesting visit but I forgot to send it – we fly back to the UK tomorrow morning and will be back home by the evening. It was a great pleasure to meet you at the Park Hyatt too.
We were very impressed by the arrangements that had been made, which were seamless, and also with the guides that you had selected for us. Doan in Hanoi was outstanding in all respects - very knowledgeable, very interesting, able to anticipate our needs and also very caring; he is a great ambassador for Travel Vietnam.
We will most certainly be in touch not only if we are visiting Vietnam but also any other of the countries that you cover.
I will also put you in touch with the travel agent that I normally use as he is always looking for new markets and experiences to offer his clients.
Thanks again
Mr. Christopher Tarry from United Kingdom
---
VIETNAM FAMILY TOUR – 9 days/ 8 nights from 2 April to 10 April 2016
Hi Mua,
Just wanted to say thank you to the Travel Vietnam team. Phong brought a cake for my son Ethan on Wednesday his birthday. It really helped make the day special for him and us. Ethan had a great birthday!
Everything has gone well so far. We have really enjoyed our trip in Vietnam. Plus we still have a few more days to look forward.
Best regards,
Chris from USA
---
ANGKOR WAT AND NORTH VIETNAM from Mar 30th to Apr 7th, 2016
Ms Lana Vien,
I want to thank you so much for helping me and guiding me through this process. Your generosity and responsiveness made me book with Travel Vietnam and recommend it to Ms Cindy, my coworker. Ms Cindy and her husband and my family and I had a great time together in Sapa, trekking and seeing the sights. Thank you so much. My family and I had a wonderful time in Laos, Vietnam, and Cambodia.
I will return to Vietnam in June with a friend and I am very much looking forward to getting to know Vietnam a little more in depth. We have decided to book the same Halong Bay cruise, Syrena Cruises, because of your excellent choice in the company. Syrena Cruises is a great tour company. Thank you.
I hope you have a wonderful rest of your weekend!
Warm regards,
Audrey Metzger from USA.
---
Grand Vietnam - 20 Mar 2016 to 6 Apr 2016
Hi Alan,
Just want to emphasize that this was an excellent trip. Hotel rooms were some of the best we have ever had. Our guides were friendly and very helpful especially at the airport check in and in getting us registered at all the different hotels. They provided good information on the culture, art and history of each area we visited. The transportation and the drivers were uniformly very good. It made things very easy for us. The only suggestion we have would be to add a day or so onto some of the areas we visited such as Halong Bay and Mai Chau in the North and Ho Chi Minh city and maybe another night at the wonderful Victoria Resort in the Mekong delta area. The extra days would allow a visitor more time to relax and enjoy these places. Some of the stops made while driving to the various destinations of the tour included a few too many souvenir shops but I also realize that rest stops are necessary. This is a minor concern as overall the trip was wonderful and we likely will visit your country again as soon as we are able and will certainly recommend your services to others.
Thank you and best regards,
Michael Merlo from USA.
---
AUTHENTIC VIETNAM CAMBODIA - 19 days/ 18 nights from 09 Mar 2016 to 27 Mar 2016
Mua did an outstanding job with accommodations.
I had specific room and hotel requests. She provided exactly what I asked for in each and every hotel. Always a room on a higher floor (often the top floor) with a window, often a balcony, and in a perfect location to walk around the area. I would recommend her to EVERYONE. I will definitely use her when we travel to Laos, Myanmar and/or Thailand. It was very nice (and convenient) to meet Mua in Hanoi at the hotel. It made us feel like the trip would proceed well and it did. We appreciated the welcome gift of the lacquered dishes. We had 6 guides and 5 drivers. The connections were seamless. They were always on time and very thoughtful. Thai in North Vietnam and Huyien (spelling?) in South Vietnam were the best. They knew everyone and took us to very local places where we met local people and ate local food. Huyien went out of her way to rendezvous with our guide in Cambodia. She walked us across the border and handed us directly to Seam who helped us get our Visa. Ting was an amazing driver. Very personable.
We felt like we were traveling with "family" the entire time. We felt at ease and safe. We enjoyed being with local guides and drivers because we stopped at restaurants and roadside rest areas that we never would have done if we were alone or with a big group. As Americans we were made to feel very welcome, despite the war history. This vacation exceeded our expectations every day! The only negative was the night we left. We were taken to the airport in Siem Reap 3 hours before the plane was to depart only to discover it was an hour late. We spent 4 hours in the airport. 2 hours would have been enough time as it is a very small airport. We had booked our hotel room for an extra night (4 nights total) just to be able to have a place to wait. So we could have spent the extra two hours in the comfort of the hotel. The only reason I said we would probably not return to Vietnam is because there are too many other places in the world to see! This trip was amazing.
Deb & Steve from USA