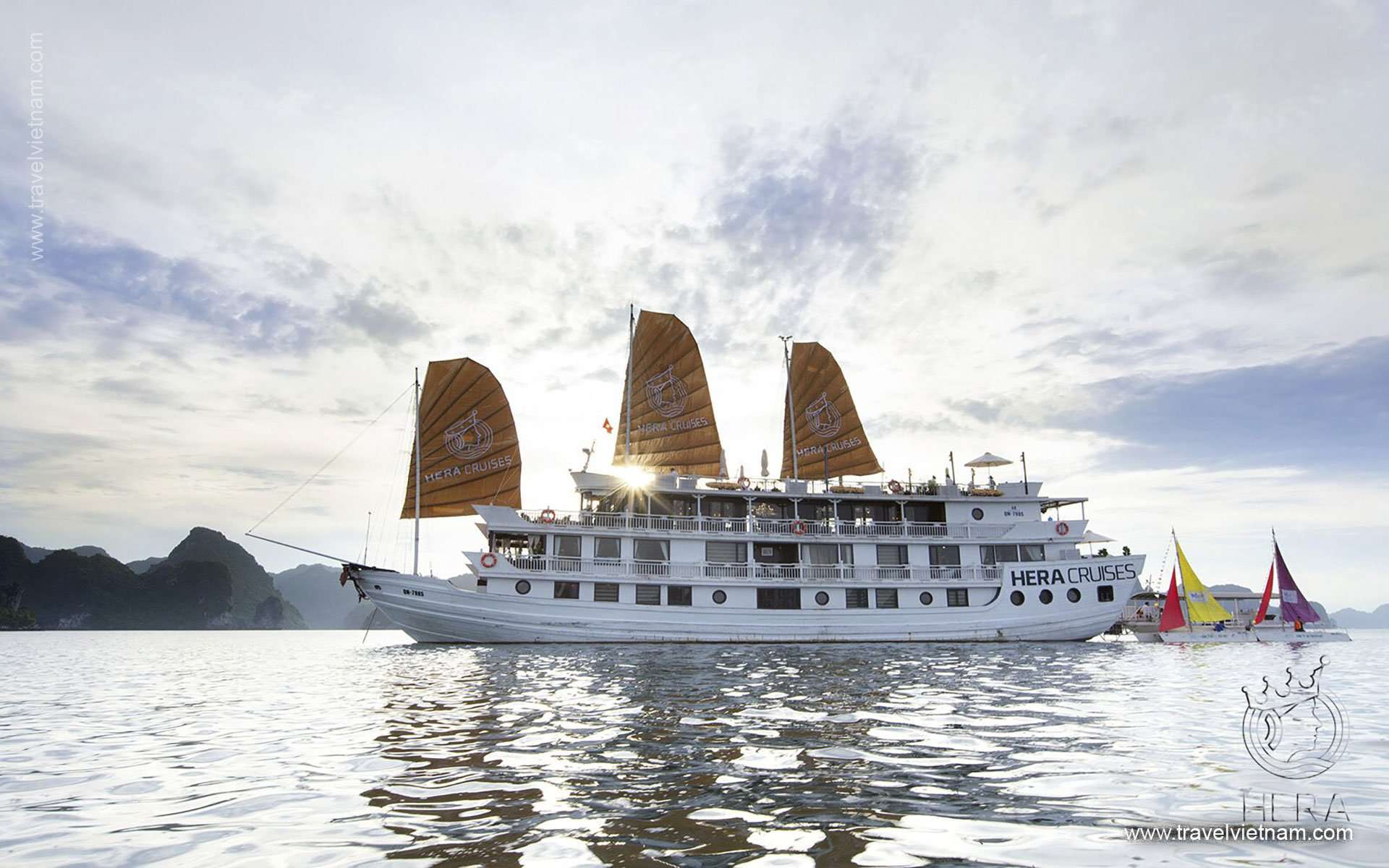 Departure: Daily from Hanoi
from $310/person
* Free Vietnam visa service
Hera was the queen of the gods, uniting heaven and earth. Our namesake 6-star ship marries the celestial qualities of the goddess with energies from the five elements for an elite cruise experience like no other. We highlight the majesty of the excursion in Halong Bay through design that showcases striking panoramas, world-class amenities, and locally crafted wooden furnishings.
Hera Cruises features 11 spacious luxury cabins—each with a different story—that provide the utmost intimacy and exclusive conveniences. On the second deck, rooms have all-glass windows that allow for full views of the bay, to be enjoyed from your own bed or bathtub with a glass of champagne. Our ship brings you to a reserved area for interacting with local fishers and viewing a museum model of native artifacts. The itinerary leaves room for self-care, during which time you can use our gym, unwind in our sauna, or simply lie out on our sundeck and indulge in a signature drink. On our tour, feel the sun on your face, the wind in your hair, the water at your feet, with your being rooted firmly in the earth. It is a getaway that will stay with you for a lifetime.

We use the latest in navigational technology and stay up-to-date on safety drills, crew training, and equipment inspection. Our eco-friendly mission means that we are trained to manage waste appropriately, and we encourage you to do the same on your travels with us through mindful trash disposal.

Cruise category:

Address:
5th Floor, HTK Building, 98 Nguyen Van Cu,
200000
Long Bien,
Hanoi
,
Vietnam
Phone:
+84 982 661 133
Price range: $620 - $1371
User rate:

---
Launch Year
2017

No. of Decks
4 decks

Cruise Length
41m
Cruise category

Number of Cabins
11 Cabins

Cruise Width
9m
Cruise Capacity
26 Persons

Cruise Height
11.5m
RATE: This rate is quoted in US Dollars per CABIN

2 DAYS PROGRAM
1 May 2022- 30 September 2022
(Summer Promotion)
1 January 2022 - 30 Apr 2022 & 1 October 2022 - 31 December 2022
CRUISE RATE
Double Cabin
Single Cabin
Double Cabin
Single Cabin
Planet Suite room
620
510
720
610
Hera Wind/ Hera Sea
770
660
870
760
Hera Light/ Hera Land
1087
882
1234
1028
Hera Sun/ Hera Moon
1224
1019
1371
1165
Family Connecting ( 3 Adults + 1 child under 12)
965
1075
TRANSFER
Shuttle Bus
Private Car
Hanoi-Halong Bay-Hanoi

54/pp

65/pp

Hanoi-Halong Bay-Airport

N/A

75/pp
Above Price Includes:
Excludes:
• Cruise program
• Luxurious suites with AC
• Welcome drink
• Delicious Vietnamese and International breakfast, lunch and dinner
• Entrance and sightseeing fees
• In-house English-speaking tour guide
• Sampan boat trip
• Tai Chi session
• Conference equipment (charter only)
• Taxes and service charges
• Airfares, car transfers and hotels
• Spa services (please see spa menu in cabin)
• Kayaking (US$ 22/kayak)
• Beverages, tips and personal expenses
• All other services not clearly mentioned above
Splurge for the ultimate in self-care, with a luxury cruise on the open waters of Halong Bay. Get away with the most luxurious on-board experience as you take in the fresh sea air, explore local communities by sampan boat, tour hidden grottos by kayak, or sip cocktails on a secluded beach. The huge suites and bay views make for an unforgettable journey. Take advantage of our impeccable service and flexible itinerary. Enjoy extensive drinks list, the fine dining restaurant, and social options such as board games and movie night.


DAY 1: HANOI - HALONG BAY


Leave Hanoi at 9:00 AM if you take the private transfer or from 8:30 AM to 9:00 AM if you take the shuttle bus and arrive in Tuan Chau Marina around 12:00 PM (transportation service on your request).


12:15- 12:30: Embark to Hera vessel with Signature homemade welcome drink upon arrival


13:00: Cruise Manager's Safety Briefing on the dining area (3rd deck)


13:15 – 14:30: Lunch featured A La Carte menu enjoyed by Hanoi intellectuals in the period of 1910-30 at Lily restaurant. Exclusive services: Concierge Level Guests on upper deck: Personalized meals, personal butler, personal chef and served whenever/wherever is convenient


15:00 – 15:30: Visit Luon cave for bamboo boat


16:00 – 17:00: Visit Trinh nu cave area by kayaking. For kayaking, shorts or swimming suit are recommended.


17:00 – 17:45: Enjoy 28 varieties of dishes on Hera Kisses Afternoon Tea Set at Lotus lounge


17:00 – 19:00: Happy Hour promotion (Buy One Get One Free) (applied for House wine, Long drinks, beers, Soft drinks and cocktails)


19:30: Dinner with A La Carte menu menu followed personalized care – Floating village theme. Exclusive services: Concierge Level Guests on upper deck: Personalized meals, personal butler, personal chef and served whenever/wherever is convenient


21:00: Onwards participate in night activities, including squid fishing; relax time at Cuckoo bar or Panthera bar


DAY 2: HALONG BAY - HANOI


06:15 – 06:45: Start your day with Tai Chi class on the sundeck (Wake –up Call request is also available at the reception)


06:45 – 07:30: Selective healthful breakfast, especially beneficial juices and detox drinks served by organic and local ingredients at Iris restaurant


07:30 – 08:30: Private time! Enjoy ever-changing poetic scenes of Halong Bay while cruise ship continuously glides through the water


Optional choices:


Option1: Visit Sung Sot cave, the biggest and the most beautiful cave in Ha Long bay with 720 steps (hiking shoes or sandals are highly recommended)
Option 2: Visit Soi Sim Island for hiking and swimming. Towels are provided


09:00 – 09:30: Regular check-out time (if you have any heavy luggage just put outside of your cabins & settles your bills at the reception counter)


09:30: Onwards full brunch buffet followed Vietnamese typical countryside markets theme while cruising back to main port


10:30 – 10:45: Disembark Hera vessel. End of service.
Lower Deck: (All rooms on this level are 28m2)

Hera Saturn: forward (bow), port side

Linked to agriculture and earth, the story of Saturn is one that extends back to the ancients. One of the giant planets, Saturn is known for its rings, which Galileo first saw in the 17th century. Our Saturn is blessed with plenty.

Hera Mars: midship, port side

This fiery figure is distinguishable by its red coloring. Our Mars room is one that exudes power, marrying the signifying strength in Eastern and Western traditions.

Hera Venus: forward (bow), starboard side

The brightest of the planets in the sky, Venus has long captured human attention. A sister to Earth, this celestial being is an inspiration, known as both the "morning star" and "evening star" because of its visibility.

Hera Mercury: midship, starboard side

This swift planet is known for its quick orbit. Named after the messenger to the gods, Mercury is good luck for travelers.

Hera Jupiter: midship, starboard side

The biggest of the planets, Jupiter is king and has been known from ancient times. Jupiter reigns in the skies as the divine.

Upper Deck (Concierge Level)

Hera Moon: forward (bow), port side, 50m2

Our Moon suite mirrors the importance of the celestial body to our travels. Full of mystery and poetry, the Moon is a guiding force.

Hera Sea: midship, port side, 35m2

The Sea room reflects the vast expanses of Halong Bay, its beauty and depth. Essential to life, the Sea nurtures us all.

Hera Land: aft (stern), port side, 45m2

The Land room pays tribute to the terrestrial richness that makes up Vietnam. Our Land is precious and we strive to protect and honor its worth.

Hera Sun: forward (bow), starboard side, 50m2

Sure as the Sun rises, we venture out each day with new hope of discovery. Our Sun room shines with the brilliance of life.

Hera Wind: midship, starboard side, 35m2

The Wind steers us, enabling adventure and new thrills. Its force sets all in motion, including our unforgettable experiences in Halong.

Hera Light: aft (stern), starboard side, 45m2
The Light suite is illuminating, making us see and appreciate the wonders around us. Here, our attention is held fast on the scenery that floats by.
Hera Cruises Features:
• 11 spacious luxury suites, each with different theme, some with glass windows for views of bay from different angles; rooms range from 28-50m2
• King beds with imported premium 100% cotton linens
• AC
• Massage showers and bathtubs
• Hair dryer
• Bathrobe and slippers
• Minibar and safe, complimentary drinking water
• Butler service on Concierge Level (Upper Deck)
• Spa services
• Restaurant: breakfast selections, set lunch, à la carte dinner w/ cuisine of 1910-30s Hanoi
• Sundeck and bar
• Afternoon tea, cocktail party
• Live piano and music
• Tai Chi
• Gym and sauna
• Cooking demonstration
• Event-hosting capacity
• Personalized itinerary (flexible schedule and destinations)
• Transfer by limousine van

a. Restaurants

With us, not only will you sleep well but you will also eat well while cruising the breathtaking Bay. In addition to the best accommodations on the waters of Halong, we take pride in offering you an exquisite dining experience. We know that eating well is important during travel, and to maintain the highest standards for a luxury getaway, we boast rigorous criteria for the food that we serve you. We use fresh and organic ingredients. We source from trusted suppliers that meet tests confirming proper origin according to global standards. These choices align with our emphasis on health and wellness as central components to our travel services. We want to ensure that you have a superb time in our restaurants, bars and lounges. Sit back, relax with friends and family, and we will take care of the rest.
Hera Restaurant: 30 seats, bar and lounge, live piano and themed dinner music daily, set conference services, banquet design

b. In the Water

You will have plenty of chances to immerse yourself in the crystal waters of secluded lagoons and grottos. Go for a swim at your leisure or work your way through the water in kayaks or boats. At night, guests can try squid fishing from our vessel for the thrill of a fresh catch!

c. Ashore

We will anchor near beautiful beaches where you can sunbathe or go for hikes to explore nearby terrain. Some tours offer cave visits to take in the wonder of stalactite and stalagmite formations. For those eager to see water communities, we will come across floating villages where locals make their lives and depend on this precious ecosystem. Your investment in the local economy makes it possible for many people to continue to thrive here.

d. Special Events
We love to celebrate with you, whether it be a wedding, honeymoon, anniversary, birthday, or other special occasion. Contact us to plan your big event. We will be sure to exceed your expectations.
Deposit & Payment:


- A deposit of 30% of the tour price per person by credit card or bank transfer plus bank charges is required upon confirmation of your booking (if this amount is less than US$ 500, the full payment will be applied).
- The balance will be paid 15 days prior to the check in date, or you can pay us upon arrival in cash or credit card when we meet in Hanoi.
- Deposit or full payment could be settled via our secured online payment system (SSL).


Cancellation & Refund:
• Cancellation will be charged as follow:


- From 1-3 cabins:


+ 14 days prior to the arrival: No charge.
+ From 13 to 8 days prior to the arrival: 10% of the total rate charged.
+ From 7 to 4 days prior to the arrival: 30% of the total rate charged.
+ Less than 3 days prior to the arrival: 100% of the total rate charged.
+ No-Show: Will be charged in full.


- More than 3 cabins:


+ 30 days prior to the arrival: No charge.
+ From 30 to 8 days prior to the arrival: 30% of the total rate charged.
+ From 7 to 4 days prior to the arrival: 50% of the total rate charged.
+ Less than 3 days prior to the arrival: 100% of the total rate charged.
+ No-Show: Will be charged in full.


- Charter


+ 30 days prior to the arrival: 30% of the total rate charged.
+ From 30 to 8 days prior to the arrival: 50% of the total rate charged.
+ From 7 to 4 days prior to the arrival: 70% of the total rate charged.
+ Less than 3 days prior to the arrival: 100% of the total rate charged.
+ No-Show: Will be charged in full.
• Cancellation must be sent to and confirmed by Vietnam Travel's cruise specialist in writing (by email or fax).


Child Policy (to be confirmed upon reservation and subject to availability):


- Only 01 child under 13 years old is allowed to share cabin with parents, details as below:
+ FOC for 01 child under 5 years old
+ Surcharge US$ 422 for 01 child from 5-12 years old (sharing bed with parents).
- In case of Extra bed/ Mattress is required, the following surcharge will be applied accordingly/ US$ 560 for 2D/1N program
- FOC baby cot for infant.


Other Policies:


- Check-in time starts at 12:30 PM. Check-out by 10:30 AM.
- Charges for extra guests may apply and vary according to property policy.
- Advance registration is required with full name, date of birth, nationality, gender, passport number and visa expiry date for all passengers. A valid passport is required upon check-in. Otherwise, boarding may be denied by the port authority.
- A cash deposit, credit card or debit card for incidental charges and government-issued photo identification/ passport are required upon check-in.
- Special requests are subject to availability at the time of check-in. Special requests can't be guaranteed and may incur additional charges.
- Promotion or Early Bird comes with tight booking conditions and they will be notified separately by Vietnam Travel.


Notes: Due to cruising conditions, itineraries may change without prior notice. Wi-Fi is available in the restaurant/bar area, but internet connectivity is limited due to the geography of Halong. Thank you for your understanding.
Did you know? Travel Vietnam can organize any additional accommodation & tours to Vietnam, Laos, Cambodia, Myanmar & Thailand.
Call us on + 8424.3942 9444 to speak to one of our experts or
Contact us
Other Halong Bay Cruises