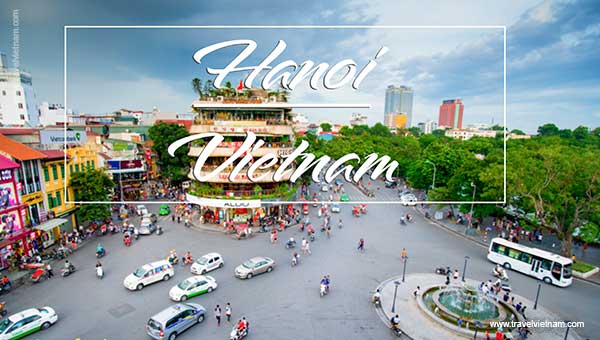 Experience local street foods in Hanoi fascinating Old Quarter, pay a visit to Bai Dinh – the largest glimmering pagoda complex in South East Asia, enjoy breathtaking views of Trang An – a complex ecosystem of mountains, caves, river-valleys, woods as well as cultural and historical relics, and sail in the less visited parts of the World Heritage Site of Halong Bay. All these segments are carefully designed to introduce you the real North Vietnam in this 6 day tour package...
"The Uncrowded Alternative to Halong Bay 6 Days"
2016-11-16 06:08:22
"The Uncrowded Alternative to Halong Bay 6 Days"
Price from: US $ 875 /pp
Start city: Hanoi
End city: Hanoi
Durations 6 Days 5 Nights
Departure: Daily, upon your request.
Cities to visit: Hanoi – Ninh Binh – Hai Phong – Halong Bay (including Lan Ha Bay & Bai Tu Long Bay)
Extendable with optional tours from Hanoi
Day 1: Hanoi Arrival.
Day 2: Hanoi & Foodie City Tour.
Day 3: Hanoi – Ninh Binh (Bai Dinh Pagoda & Trang An).
Day 4: Ninh Binh – Hai Phong – Lan Ha Bay – Halong Bay.
Day 5: Halong Bay Cruise – Hai Phong – Hanoi.
Day 6: Hanoi – Bat Trang Pottery Village – Departure.
Prices are quoted in US $ per person, double occupancy.
Day 1: Hanoi Arrival.
Welcome to Hanoi, Vietnam's bustling colonial capital. Your driver and guide will meet you outside the baggage claim of Noi Bai International Airport and take you to your hotel in the city center. In the afternoon, enjoy an orientation walk, visiting some of Hanoi's main attractions: the Opera House, Old Quarter, Hoan Kiem Lake and Ngoc Son Temple. In the evening, savor a welcome dinner of authentic Vietnamese food at one of Hanoi's finest restaurants.
Tip: In the evening, you may wish to take a peaceful stroll around Hoan Kiem Lake (Lake of the Restored Sword), a pretty lake steeped in Arthurian-style legend. On weekends traffic around Hoan Kiem Lake is closed off and the area is transformed into a pedestrian space. But this pedestrian area is so much more than just a haven from the chaos of everyday traffic; it is an important community space. You can find families and couples out for a leisurely stroll, musicians performing to crowds, children (and adults) cruising around on two-wheeled hoover boards or roller skates. It is lively and a great feeling!
Meals: Dinner.
Accommodation: Hotel in Hanoi.

Day 2: Hanoi & Foodie City Tour.
Today you have a full day to explore Vietnam's charming capital. With its wide tree-lined boulevards, French colonial architecture, peaceful lakes and ancient oriental pagodas, Hanoi is an eclectic mix that offers something for everyone. Your city tour will take you to Hanoi's key sites: the Ho Chi Minh Complex (Ho Chi Minh's Mausoleum and stilt house); the Presidential Palace; the nearby One Pillar Pagoda; the Temple of Literature; West Lake; the sedate Tran Quoc Pagoda & Quan Thanh Temple; and one of the city's museums (a choice between the History Museum and the Ethnology Museum).
After the sightseeing tour, your guide will take you on a culinary adventure, sampling street food in the Old Quarter. As the capital city of Vietnam, Hanoi is the perfect spot to stumble upon the best Vietnamese delicacies – but it can be difficult to know where to start with the array of options. If you love local stories, culture, street food and drinks, and the above sounds right up your alley – you will be inspired to seek out those great smells and experience some of the real Hanoi food scene. Now you get a chance to learn about Hanoi's unique food culture and try local specialties with influences from French and Chinese cuisine. Enjoy a drink in a spectacular night view of Hoan Kiem Lake from a café before driving back to your hotel.
Meals: Breakfast, Dinner.
Accommodation: Hotel in Hanoi.

Day 3: Hanoi – Ninh Binh (Bai Dinh Pagoda & Trang An).
Enjoy breakfast at hotel then drive to Ninh Binh province where presents you an ancient land enriched with cultural and geographic wonders that were recently World Heritage Site listed. Upon your arrival at approximately 10:00, you will start your tour by visiting Bai Dinh Pagoda complex, the largest pagoda, not only in Vietnam but also in Southeast Asia. This place is scenically set on the foothill of Dinh Mountain, surrounded by amazing views of the exquisite river valley below, and dotted with limestone karsts, which will take your breath away. The pagoda complexes stunningly boast an array of the most massive and magnificent refined Vietnamese architecture, which will take a full day to explore. With sacred atmospheres and an intriguing Buddhism story told by your guide, you cannot fail to be enchanted. Some of the highlights are:
- 500 stone statues of "La Han" (Arhats),
- Two huge bronze bells, one weighs 27 tons, the other 36 tons,
- Three bronze statues of "Tam The" (50 tons each).
The visit ends with a walk up the summit mountain to see the 100 ton bronze statue of Buddha Sakyamuni and a chance to enjoy the panoramic view of the picturesque landscape dotted with limestone mountains.
After lunch, you will leave for the Trang An Grottoes, an outstanding 20 square kilometer majestic limestone massif, which rises dramatically out from the rice paddy fields. Deep among the towering mountains, are pristine places of mystical valleys, numerous fresh water ponds, and jungle. Embark on a traditional sampan and gently rowed down the exquisite river through numerous caves: "Hang Toi" (Dark Cave), "Hang Sang (Bright Cave) and "Hang Nau Ruou" (Cave of Distillery). Every passage brings a new hidden inside isolated valleys of tranquility, which perhaps transformed to another World and time.
Next we head to hotel in town and overnight in Ninh Binh.
Meals: Breakfast, Lunch.
Accommodation: Hotel in Ninh Binh.

Day 4: Ninh Binh – Hai Phong – Lan Ha Bay – Halong Bay.
Join Orchid Cruise, the first 5 star cruise line that offers the most comprehensive itinerary. Explore the bay of wonders: Halong Bay, Bai Tu Long Bay and Lan Ha Bay. Take a rest on a leisure cruise; relax on the crystal blue ocean or on a charming white sand beach! You will soon forget all you stress and enjoy your journey to the land of pleasure: wonderful landscapes, fresh and tasty seafood, peaceful atmosphere. This will surely be a vacation of a lifetime!
After breakfast, meet your guide and driver at lobby of the hotel then spend about 3.5 hours on a journey passing Red River Delta provinces of Nam Dinh and Thai Binh to Dinh Vu Port in Hai Phong City where your 5 star Orchid Cruise awaits for you.
12h00: Transfer by tender to the Orchid Cruise.
12h15: Welcome aboard! Enjoy a complimentary drink while you checking and review safety instructions. Your exploration of Halong Bay begins – one of the New Seven Wonders of Nature.
12h40: Your Orchid Cruise proceeds to Da Chong islet where you can see a lighthouse built by the French over 100 years ago. Enjoy lunch on-board before continuing your journey via the islets of Duck (Con Vit) and Gia Luan. These amazing limestone karst formations rise up out of the sea in an impressive manner. This area is untouched due to being a fair way from Halong City, not so many tourist boats venture here, meaning it has a more isolated appeal.
14h45: Progress to Ba Trai Dao beach area of Lan Ha Bay, a separate part of Halong Bay. Geologically, Lan Ha is an extension of Halong Bay but sits in a different province of Vietnam. The region is known for its pristine beaches and spectacular beauty with about 400 fascinating karst islands and limestone outcrops. Unlike Ha Long Bay, the islands of Lan Ha Bay are forested, and most are small in stature.
15h00: Experience the small coracles that used by fishermen for centuries. You will learn how they go to trade or to cast fishing nets whilst navigating the waters in their tiny craft.
Alternatively, you may prefer to kayak amongst the jutting karsts or simply enjoy a swim in the crystal waters of the bay. (This program offered April through November)
In the winter months, (December to March) you may visit Viet Hai village. Bike along the village path and go through lush forests. Enjoy stunning scenery of rice fields on the way. Optional electric cart service is available (at an extra cost).
17h45: Return to your ship. You may watch the magnificent sunset over the Gulf of Tonkin or join a traditional cooking class. The ship's chef will instruct you in the making of some Vietnamese dishes.
Option: Massage service available, please book with Cruise Manager directly.
19h30: Dinner is served. Enjoy delicious local food prepared and served by professional on-board catering staff.
21h30: Watch the water glistening in the moonlight as you lounge on the top deck sipping a cocktail of choice or try your hand at squid fishing- one of the most interesting evening activities that you may experience. Overnight on board.
Meals: Breakfast, Lunch, Dinner.
Accommodation: Overnight on cruise.

Day 5: Halong Bay Cruise – Hai Phong – Hanoi.
6h00: Rise early to witness the bay at its very best whilst enjoying an invigorating Tai Chi session on the sundeck. After breakfast, continue your journey and head out by canoes to explore the bay in the area where the Dark & Bright Cave is situated.
9h45: Return to The Orchid for check-out procedures.
10h15: Enjoy a delightful brunch as you are navigating back to Dinh Vu Pier.
11h35: Disembark.
Meet your tour guide and spend the afternoon to visit some highlights of Hai Phong City.
Hai Phong City is not only famous as a major industrial port city but there is also enormous potential for tourism. It preserved many architectural delights, including traditional architecture such as pagodas, temples and French neoclassical architecture of the old neighborhood.
The first stop is at Hai Phong Opera Theatre, also called Municipal Theatre, one of three theatres built by the French in Vietnam, the cultural structure typical of Port City. Next to the City Square is the Theatre, Flower Stall & Le Chan Statue – one of the female generals under the command of the Trung Sisters (Hai Ba Trung) rose against Chinese rule in the year 43 C.E. Walk along the tree lined streets of this beautiful city.
After lunch, visit "Cho Sat" (Iron Market), a busy city market covering a large area. When being built, the market was made of iron and steel so people call "Cho Sat" to easily remember the name. Even if you don't plan to buy anything here, it's still an interesting experience to observe local life in this busy downtown area of Hai Phong.
Drive back to Hanoi on one of Vietnam's the most modern freeways.
Meals: Breakfast.
Accommodation: Hotel in Hanoi.

Day 6: Hanoi – Bat Trang Pottery Village – Departure.
After breakfast, your tour guide and driver will take you to Bat Trang, a pottery village where traditions of producing ceramic items are passed on from generation to generation. Only 30 minutes south-east of the city, this ancient craft village has, over the last few years, transformed itself into an international center for export-quality pottery and ceramics. Take a walk through the streets to see dozens of family-run pottery shops, learn how the village has gained a reputation for Vietnam's best pottery. Step into a workshop for a hands-on activity, using paint to decorate a piece of local pottery. The one-of-a-kind art work will be left to dry at the studio and delivered later to take home as a souvenir.
Depending on your flight schedule, you may have some free time, before your driver transfer you to the airport for your departing flight home.
Meals: Breakfast.
Accommodation: N/A.
Accommodation with daily breakfast at selected hotels.
Private tours, transfers and all services as mentioned in the itinerary.
Halong Bay cruise package (2 days/ 1 nights).
Services of a private driver and air-conditioned vehicles.
Service of an English speaking guide as mentioned in the itinerary.
Entrance fees, performances, boat trips & excursions.
Meals as mentioned in the itinerary.
Did you know? All of our tours are private and daily depart. TRAVEL VIETNAM can organize any additional accommodations, domestic and regional flights. Call us on +84982 661 133 to speak to one of our experts.