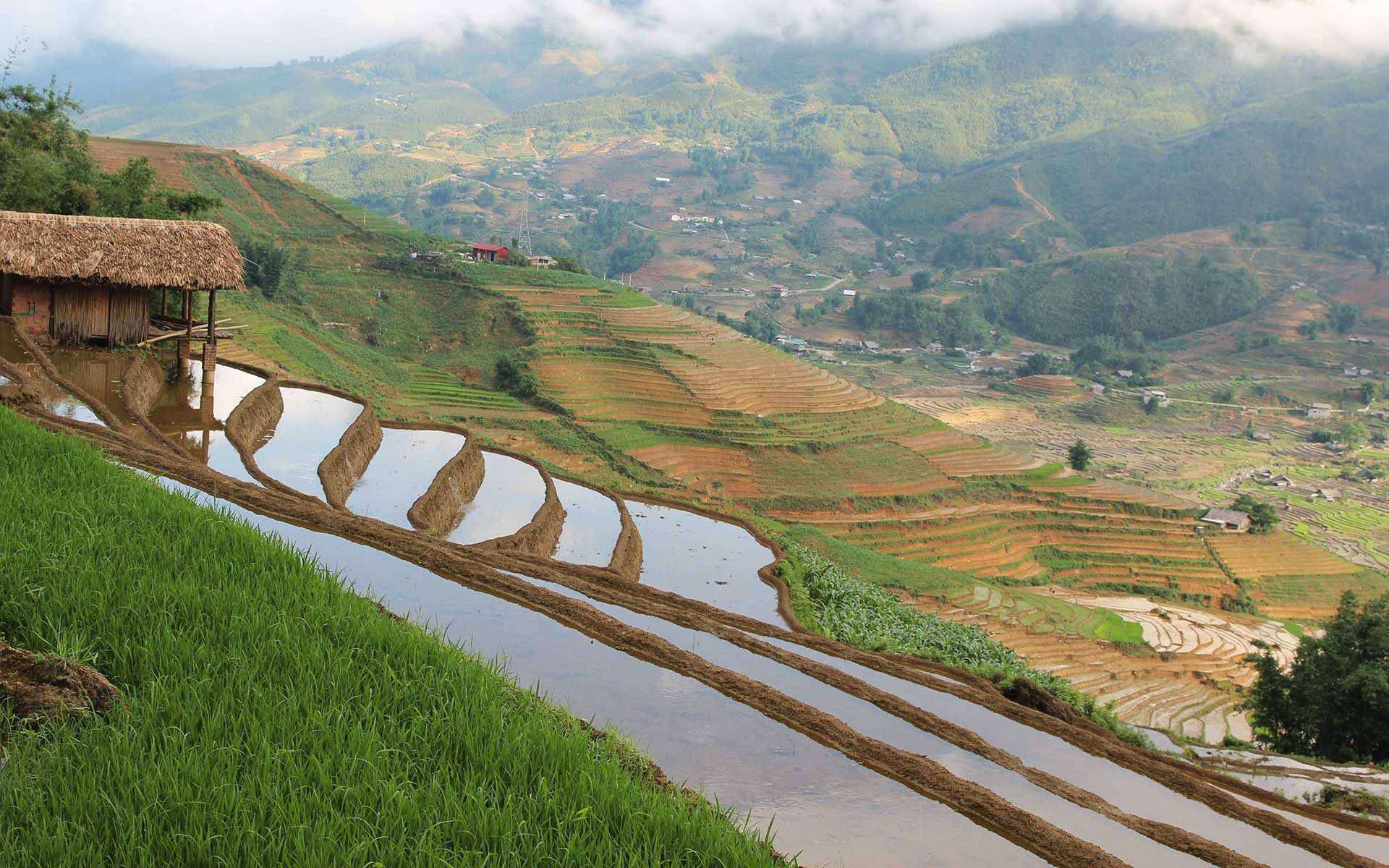 Page 5 of 7
Coloful Vietnam & Cambodia - 18 days from 08 – 25 March 2016
This is the second time we've planned our trip with Travel Vietnam and your sales consultant Viet Nguyen. We have been extremely happy with the excellent service provided and have already recommended your services to a number of our friends that are looking at travelling to Vietnam. We will definitely be back to do further business with Viet and Travel Vietnam.
Kind regards
Helen Simpson Australia
---
Vietnam Holiday 19 days. From 4th Mar 2016 to 23rd Mar 2016
Mrs Mary D.
Nice to meet you in Vietnam . Thanks for your professional cooperation from March 4 til March 23, 2016 : my Vietnam Holidays .
Bye,
RAMIRO COIMBRA from Portugal
---
Passionately Vietnam & Cambodia 19 days 18 nights from 29 Feb to 18 Mar 2016
Gracie coordinated a spectacular holiday for us.
We especially appreciated Gracie's attention to detail, rapid responsiveness to our inquiries, and her supervision to make sure everything happened as planned. She is TOTALLY RELIABLE and PROFESSIONALLY COMPETENT. We will be very happy to recommend her to our friends and family. Of special note: During our visit to Hanoi, I strained my back badly. The injury made it difficult to walk. Tao, our guide in Hanoi and Sa'Pa, took extra care to plan the sightseeing in consideration of my limitation, and upon our return to Hanoi, he arranged for me to visit the SOS medical facility.
He did a wonderful job of taking care of us while also making sure we saw as much as possible in Hanoi and Sa'Pa. By the end of the trip, my injury was almost completely healed. It never detracted from our enjoyment of the journey. Tao was was a wonderful guide: Professional, caring, and enjoyable. In Sa'Pa, we stayed at the Eco-Lodge.
That hotel was very nice, but driving from that hotel to the sights required us to travel on an extremely bad road: unpaved, rocky, bumpy, and very slow: It took 30 minutes to travel one way. If we would have known that road would slow and complicate travel, we would have probably not stayed at the Eco Lodge. We would have stayed closer to the main part of the town.
I recommend that you advise travelers of the problems that road brings. In Hoi An we stayed at the Nam Hai. We loved it, and we will probably find a way to return. The town of Hoi An has wonderful restaurants. We look forward to returning. Our guide in Ho Chi Minh City, Ms. Tran, was highly professional, very informative, and very enjoyable. She put a lot of extra effort into showing us the sights.
Mr. Frederick St. Amour from UK
---
BEST OF THE SOUTH from Mar 14th to 17th, 2016
I had a wonderful time and am very impressed with Lana and her organizing efforts. My guides were personable and informed. There's no question I would recommend your travel service to my friends going to Vietnam. I will be promoting tourism in your country.
Mr Robert Umeck from USA
---
4WD NORTHWEST VIETNAM (10 Mar – 16 Mar 2016)
Dear Ms. Thuy Do,
I would like to thank your company for a wonderful 4X4 trip to Sapa. Our guide, Sunny, was excellent and we cannot express our appreciation to him for all he did for us. He was polite, considerate and so knowledgeable. He had a wonderful sense of humour and we thoroughly enjoyed being with him. He is an asset to your company and a fine young man. Please tell him that we wish him and his wife all the best for the birth of their child. The bus driver, Thang, was also very good. I just had an issue with one of the hotels which has been explained to you.
We left Vietnam with wonderful memories made possible by your company. Thank you.
Regards,
Moira Clark from South Africa
------------------
We are missing Vietnam and we are missing our wonderful guide Sunny. Please tell him again that he made our trip memorable. Your company arranged an amazing trip for us and the gift of the plates you gave us are now hanging on our wall to remind us of our time spent in your country.
Regards,
Moira Clark
---
NORTH VIETNAM HIGHLIGHTS (10 Mar – 14 Mar 2016)
Dear Ms. Thuy Do,
We arrived back to Yangon safety.
We really appreciate you and your teams to support us for the whole trips.
Also many thanks for your lovely presents. Since, we do not have time to go and buy market for Vietnamese things and it is really surprise for us.
Regards,
Min Thein from Myanmar
---
Vietnam highlights 8 days. From 6th Mar 2016 to 13th Mar 2016.
Hi Mary,
I am doing well. Hope you are doing well too.
Ever since I came back, I have been really busy catching up with work and other things.
I have completed the below E-survey.
Thank you once again for your wonderful service.
Kindest regards,
Raj from India.
---
Essential Vietnam & Cambodia 08 days 07 nights from 23 Feb to 01 Mar 2016
Gracie,
Thank you so much for organising a very memorable trip for us. We got to see and do everything we wanted and more. Everything was perfect. Thank you.
Kiran and Mala from UK
---
Highlights of Vietnam & Cambodia - 11 Days - 21 Feb – 02 Mar 16
My travel consultant, Viet, was extremely responsive, professional and helpful. I wish to thank him for his time and efforts in making my trip a fantastic one!
Ms Suha from Sweden
---
Taste of Vietnam - 17 Days - 13 Feb – 29 Feb 2016
Hey Viet,
I gave the refund to my parents yesterday and they are very thankful for your gift and disappointed they were not able to meet you. Hopefully the driver returned the phone as we did give it to him on Sunday.
We wanted to thank you for all your hard work and timeliness in responding to our emails, answering all our questions, and providing a great tour experience. It seemed like there was always so much going on and that the day in Na Trang doing nothing really helped break up the trip. It also sounds like the Mekong Delta tour was a hit with the group and we are a bit saddened that we couldn't be a part of it.
All our tour guides were good and very knowledgeable, in their own ways, which made for some good diversity, it always kept things interesting. I think everyone's favourite guide was Tao. Tao was great but I think Tran was my favourite, she had some great restaurant suggestions and was extremely knowledgeable. The Street Food Market in Saigon was probably everyone's favourite place to eat with so many options and the food was always a hit. I think we ate at a different place there each night.
We are going to try and cook many Vietnamese dishes for our friends and family now that we are hope to keep up our skills.
Thanks again for everything.
Brandon
----------------
I was so impressed with Viet's friendliness and generosity when he joined us for dinner in Hanoi . His gifts were beautiful and unexpected. Thank you again so much. And his offer to compensate us for our cab fare to the airport when the driver didn't show up due to being in a traffic accident. Again so thoughtful and generous. I will certainly recommend your company any chance I have. The guides were well informed and helpful, answering all our questions and very accommodating. All drivers and guides were very courteous and professional. You can all be proud of being part of this company.
Mrs Dona Klyn
---------------------
I think the itinerary that Viet organized was flawless and great value for the money. I want to mention Tao, Bao and Tran as they were outstanding guides. They were very knowledgeable and had a great sense of humour. I have already recommended your company to many of my friends that travel. The trip was unique and left me with lasting memories. I mentioned that I won't likely visit Vietnam again not because I didn't have a wonderful time but rather I seldom go to the same place again. The world has a lot of adventures to share.
Thank you again and I was happy we were able to meet you,
Diane Fletcher
-------------------
Hi Viet,
It was a pleasure meeting you as well.
Our trip was very memorable as we had the opportunity to experience all the wonderful things that Vietnam has to offer, culture, history and breath taking landscape and water ways. I speak for me and Henry but I believe the rest of the group will agree with me that the entire tour exceeded our expectation with one minor incident on our departure day. It's unfortunate that your driver had an accident on the way to pick us up and drives us to the airport, but accidents happen and there is nothing we can do about it. I feel there is no need for you to reimburse us the $30 USD as this incident was beyond your control.
Thanks again for our amazing tour and wanted to let you know that will be happy to complete the survey and recommend you and your company to future travels.
Best Regards,
Maria & Henry Sundquist
---
ESSENTIAL VIETNAM 11 days/ 10 nights from 16th February 2016 to 26th February 2016
Hi Gracie D.,
John and I had no internet while on Halong Bay, but now we have arrived at the Hanoi airport and can write to thank you for arranging an absolutely wonderful experience for us in Vietnam!
We found Halong Bay to be beautiful and the services on the boat were great! The excursions off the boat were also very interesting. Including the one today to Yen Duc village. You have arranged things so that everything has gone smoothly all the time! That's almost impossible but you did it!
Just wanted to mention several things that stayed with us as very special. First, our guide Phuoc, in Saigon. She is exceptionally talented at her job! She knows just what you need to know when, and she was also very pleasant. Second, while we really enjoyed all the hotels you recommended, we thought La Residencia in Hoi An, was perfect! It's so pretty with all the tiles, they were very attentive and helpful, and the rooms even had good lights for reading in bed! We also really liked the stop today at Yen Duc Village. We finally learned about rice production and our guide, Na, was very good. We also had one of the best Vietnamese meals we've ever had!
Thank you so much for the lovely lacquer plates you gave us. We were very surprised and delighted to receive them!
Again, I'm sorry we did not get to meet you and tell you all this in person. But we will always remember Gracie D and all she did for us. We will certainly let anyone we know who travels to Vietnam know about your company.
Good luck with your new baby and all the best to you!
Emily (and John) from United States
---
Essential Vietnam 10 days 09 nights from 10 Feb to 19 Feb 2016
Hi Gracie,
Thanks very much indeed for everything. It was a fantastic experience and be sure we will recommend your agency within our friends.
I will do the e-survey.
Best regards
Sofia from Chile
---
Vietnam & Cambodia 7 days 6 night (8 Feb – 14 Feb 2016)
Dear Nga,
Travel Vietnam!
We liked the guide a lot and had great time there
So sweet the driver!
Very interesting and special Siem Reap with the temples.
Thanks, thanks a lot to all of you, I hope to meet you soon in Hanoi, keep in touch
Cinzia from Italia
---
Myanmar & Vietnam discovery 23 days. From 13th Jan to 14th Feb 2016.
Dear Mary D.
just back to Toronto, a little bit tired but very happy about our trip to Myanmar and Vietnam, my wife and I wish to thank you again for organizing such wonderful trip. Everything went well, beyond our expectations: all organized daily excursions, all the hotels selected, most of the guides and all the drivers, were super. Vietnam Airlines did a great job, flights were all on time and very comfy, the service on board was excellent.
We came back home very satisfied of our experience in Myanmar and your lovely country. Wish we could stay longer.
Thanks for the nice puppets. They are now sitting on a bookcase shelf in my studio.
Feel free to use our name for references. We will certainly refer the name of your organization and yours to our friends.
Thanks again. Take care.
Massimo and Fiorella Osti from Canada
---
Vietnam Holiday 10 days 9 nights from 01 Feb to 10 Feb 2016
Van Anh is amazing she put together the tour we wanted, made amendments for the better, hotels were all ideally situated in the locations and was always on hand to assist when we chose not to have a guide with us. I have posted on Facebook groups recommending your service and several friends are very interested in using your service. Very pleased with our whole experience in Vietnam, we are looking forward to using your services again. Thanks Van Anh!
Mrs. Kellie Pollington & family from UK
---
Vietnam and Cambodia 23 Jan to 7 Feb 2016
Duong was excellent, always prompt in her replies and knowledgeable in all aspects of the areas where we wanted to visit and the logistics in getting us there. A pleasure to deal with. All our guides were brilliant with particular praise for Duc in Hanoi who chased down some specific requests for us in the freezing cold and Tiger in south Vietnam who attempted to teach us Vietnamese by translating a Vietnamese love song into English, very funny. Say and Nam were also excellent. Both Deb and I enjoyed our holiday immensely and thought that Travelcambodia allowed us to get as much out of our limited time as possible. We felt we got good value from Travelcambodia.
Areas for improvement: * The speed boat ride up the Mekong is very uncomfortable. The seats are too small and the boat packed with nowhere to stretch your legs. Tough over a six hour trip. I noticed the boat in front was bigger and less cramped maybe use that boat owner instead. * Soria Moria hotel in Siem Reap though well located and clean needs some money spent on it. We had a TV that didn't work and a broken shower. The staff could only do a makeshift fix on the shower but didn't address the TV. Perhaps use a different hotel in Siem Reap. But these are small things in an enjoyably 15 days. We will be back to Vietnam at some stage to see the DMZ, spend more time in Hoi an and visit one of the resort islands. So we will use you again. Oh, Deb has already recommended you to her boss who is looking to holiday in Vietnam.
Thanks again.
Take Care
Brendan and Deb from Australia
---
Vietnam discovery 19 days. From 1st Jan 2016 – 19th Jan 2016
Hi Mary,
I got back last Friday but still recovering from the trip.
The trip was good with some feedbacks for your records.
Sommerset was one of my favourites especially the 4br apart.
Vinpearl is my hero of the trip of course. Not much else to do outside VP.
Boulevard is not up to my standard. No aircon at reception area or restaurant. It has the look from the outside but that's about it.
Romance Hue is not bad
I love Little Hoi An. It's beautiful, clean, classic and in good location.
In contrary to Little Hoi An, Vanda is a new, modern comtemporary design hotel and also in good location with great view.
All our buses were new with good aircon. It was fantastic that we had more than enough seats and lots of space for our luggages.
I like to thank for your services and assistance on this trip. You have been very helpful, timely and professional the entire time. It was great doing business with you Mary.
All the best and happy new year to you and your family.
Regards
Mrs. Thu Tran & families from Australia
---
Indochina discovery 11days- from 7th Jan 2016 to 17th Jan 2016.
Good morning Mary,
We arrived home. I just want to thank you for the excellent trip you gave us. All the guides and drivers were great, and you have a beautiful country. I want to give a special thanks to Duang (our guide in Hanoi) for the huge support with our flight the last day.
Regards,
Rosa Carolina Ayala from Colombia
---
Angkor Wat & North Vietnam (3 Jan – 15 Jan 2016)
Hello Hue,
We have just arrived back in Hanoi after a wonderful few days in SaPa. Prior to that we enjoyed a magical time on Ha Long bay!
It was lovely to meet you last week after all those emails! Thank you so much for the generous gift!
We wanted to let you know how impressed we were with our guides in Cambodia and Vietnam. Both were fantastic! Our guide in Vietnam, "Springy" was great and shared many memorable experiences with us. It was my birthday on Monday and he organised cake, candles and fireworks for us in Sapa! It was very thoughtful and very much appreciated. He was great company as well as being knowledgable, professional and humorous!
Would you please pass on our thanks once again to both guides. They were both a credit to your company....as were the drivers.
We now have a couple of days at leisure in Hanoi. Shopping, eating and exploring this magnificent city.
I look forward to being in touch with you and Belinda soon to arrange our next trip!
Kind regards,
Tim Waugh (and family) from Australia
---
A GLIMPSE OF VIETNAM (03 Jan – 13 Jan 2016)
Dear Ms. Thuy Do,
Thanks for your mail.
We are back home after spending few more days in Thayland.
I already filled up the feedback you asked, but i would like to send you separately this mail to express my very high estimate to your services.
From the very beginning of our planing of our trip we received from you an excellent service by way of quick and professional answers which we highly appreciated. you helped us to build up a good plan for our trip and enjoy the beauty of your marvelous country. our satisfaction of the trip was full and left us only with the envy of seeing more.
Your gesture of visiting us while at Movenpick hotel is so much appreciated.
We do think we woul like to come back in your beautiful country with our wives and be sure we will contact you again.
Once again thank you very very much for everything.
Best regards
Amir Ettedgui
AMos Hod from Israel
---
VIETNAM HIGHLIGHTS from Dec 24th, 2015 to Jan 12th, 2016
Dear Lana,
Thank you. We have wonderful memories from your beautiful and interesting country. The top experience was the Mekong Cruise, absolutely lovely. The boat, the staff, especially our host/guide, were fantastic! The Halong cruise number two experience and more than fulfilled our expectations. Then all the arrangements in and outside Hanoi and Saigon were interesting. The guides were both very good and competent, Do Hanh in Saigon showed more engagement. She was great!
Hope to contact you again soon!
Best regards
Tove from Sweden
---
Services in Vietnam (27 Dec 2015 – 10 Jan 2016)
Dear Ms. Nga Vu
Our Guide in Ho chi minh city was excellent. Her English exceptional and knowledge excellent. She was just amazing. Overall thought your company was very professional and would recommend to anyone thinking of traveling to Vietnam.
Ryan Aldrich from New Zealand
---
Vietnam & Cambodia 10 days. From 1st Jan 2016 to 10th Jan 2016
Hi Mary,
We are doing very well, thank you for asking and still think every day about the depth of beauty and experience we saw in Cambodia and Vietnam, two truly amazing countries. We will be sure to fill out the electronic survey as early as we have a chance. Thank you!
Cheers,
Travis Rapp from USA
---
Essential Vietnam 12 days 11 nights from 28 Dec 2015 to 08 Jan 2016
Gracie D,
1) we had 3 guides in central Vietnam. The ladies were great. The gentleman in Hue Mr hai was more interested in smoking. We had to prod him for answers on the history of the citadel.
2) the hotel in Sapa didn't have heat. Or hot water Ms Gracie our consultant was simply amazing. Very prompt, courteous, reliable. The arrangements were flawless, we loved having assistance in Ho Chi Minh City on arrival to help with visa. I loved the guides in Hanoi and Sapa. I definitely plan to contact you when I decide to travel to Cambodia or anywhere else in the region Ms. Deepa Krishnarmurthi from USA
Cambodia discovery 9 days from 31st Dec 2015 to 8th Jan 2016
Dear Mary,
Thank you so much for helping me plan out our trip to Cambodia. It was so great to work with you. You were so quick to respond to any questions/requests. I really appreciate your service.
We are back in Tokyo and we really enjoyed our trip to Cambodia.
Happy New Year!!
regards
Prasanna from USA
---
HIGHLIGHTS OF CAMBODIA & VIETNAM (21 Dec – 07 Jan 2016)
Dear Thuy Do,
Over all our trip to Cambodia and Vietnam was fantastic or guides were informative and friendly and our drivers very helpful. The accommodation was excellent and we would have liked to have spent more time at some of the locations. When boating down the Mekong we would have liked some information about farming and life in this region, this would be the only improvement I can recommend. I would like to thank Thuy Do for the hours of work she spent putting together with Graeme our itinerary which allowed our family to experience the perfect holiday. We also appreciated Thuy Do meeting with us Hanoi and for our gifts, it was lovely to meet in person.
MR. GRAEME MCKINDLAY & FAMILY from Australia
---
A Glimpse of North & Central Vietnam – from 01 Jan to 07 Jan 2016 Dear Gracie D,
You are very well trained staff. The response to all our queries was very fast. The level of service both at time of planning and execution was great.
Mr. Rajiv Gupta & Party from India
---
Vietnam Insight - 12 days/ 11 nights from 26 Dec 2015 – 6 Jan 2016
Mua was outstanding. She was prompt in answering our questions and making changes. We really liked her.
Thank you for putting together such a great tour. We loved seeing your country.
Marla & Joel from USA,
---
Halong Bay & Hue Tour – from 04 Jan to 05 Jan 2016
Gracie D,
Gracie was extremely fast in responding to all sorts of requests, including booking a driver to take us on a trip out of HCMC with only a few hours' notice or looking into booking seaplane return tickets from Halong Bay. She was very friendly and we liked all services we received through your agency. We will definitely be in touch again when we plan our next trip to Vietnam!
Mr. Douglas Googe from UK
---
Vietnam Family Discovery 14 days 13 nights from 23 Dec 2015 to 05 Jan 2016
Gracie D,
We did thorough reviews after both north and south Vietnam, as was requested by the local guides, so I won't elaborate much more here. Gracie was fantastic- professional and accommodating, going above and beyond to make our trip special. The guide in the north, Ruan, was sweet and great with the kids- we just had a difficult time communicating. We were not too impressed with the female guide in the south, Hwin, as she was not very warm and seemed to be miserable the whole time, and we were unclear about what was next as the plans seemed to keep changing...we felt that she was annoyed with us, and especially the kids. She had great English, however. The man who went with us on our last day to Ta Cu, Lo?, was better, good with the kids and clearly passionate about his job, and his country. The hotel in Hanoi was fine, the accomodayuon and meals on the Aphrodite were great in Halong Bay, and we loved the Mia Mui Ne and the Nam Bo in Can Tho, bit had problems with the hotel in Saigon, which I have written about on trip advisor. We loved the city tour in Hanoi, bit would suggest that the welcome dinner be a little more flexible for families with kids especially- the menu and restaurant were great, but the choices were not very child friendly. We would have preferred to have been given a credit for a certain amount for dinner and been able to choose what we wanted, rather than been given a fixed menu. We would suggest a more child-friendly tour of Saigon, as the Chinese market was crazy for kids. We had so many strangers touching the hair and faces of our blue-eyes blonde kids (this happened all over the country), but was so much in the Chinese market area that the kids were too scared and upset to want to go anywhere else in the city. So, my husband did the rest of the Saigon tour by himself, which may not have been so bad in the end, as he said that while he enjoyed it, that it would have been both boring and (the museum too graphic for the kids anyway). In mekong delta, the itinerary was a bit different than what we had been told and read, bit apparently some of the things were changed or cancelled because of the water level?!? We wrte also annoyed because everyone had said to go early to the floating market, and we told the guide thy we were fine getting up really early as we wanted to see it all, but she said that it wasn't necessary and we only left at 8 am. By the time we got to the market, it was almost done. Then, we got stuck in traffic on the way back to Saigon, which was not their fault, but almost 6 hours in the car, with only 1 stop, was too much for small kids. It would have been nice to add some short stop along the way for the kids to have an activity or just stretch their legs. Bonus highlight was on the drive from Halong bay to Hanoi, when we asked the driver if we could stop somewhere along the way to see something and let the kids get some air and walk a bit. He took us to a pagoda, which was a working monestary with great views- it was wonderful! Most grateful to Gracie for really going out of her way for is, thinking of everything, accommodating all of our requests and working with the guides and drivers to ensure that we had some extra support and flexibility, as I was recovering from a major operation. For her professionalism and helpfulness alone, I give the company a 5 star rating and will recommend it to all my friends!
Mrs. Kelly Draschtak & Family from Austria
---
Vietnam Holiday 8 days 7 nights (28 Dec 2015 - 4 Jan 2016)
Hi Ms Nga,
Thank you for all your assistance in making our trip memorable - it is very much appreciated.
All god except the beds in the Hanoi hotel is set high above the ground - not easy to climb up or down for most people. They should consider lowering the bed for guests' safety. Otherwise, all was most enjoyable.
Thanks & regards,
Niki Chew from Australia

---
The Past Journey - 10 Days from 26 Dec 2015 – 04 Jan 2016
Hello Mr. Viet Nguyen,
We would like to thank you, from the bottom of our hearts, for such a delightful trip. Your agency made all of our dreams come true. All the drivers were incredibly safe and we were impressed by all three of our guides—Dinh, Viet, and Tom. All guides went above and beyond what they were asked to help us track down meaningful locations. We were also touched by your act of kindness in helping my mother celebrate her birthday with the beautiful flowers and cake.
We will make sure to comment on this and more in our review of your agency. We will definitely recommend your agency to all of our friends traveling to Vietnam. We received all and more than what was promised. Thanks for your kindness, flexibility, professionalism, and courtesy.
With grateful hearts,
Tiece on behalf of the Adams/Evans/Ziemer party from USA
------------------------------------------------------
Dear Mr. Viet Nguyen,
Thank you very much for such a wonderful trip! Every single aspect of the trip far exceeded our expectations and we were touched by the extra kindnesses shown to us such as the lovely flowers and birthday cake provided for my wife on Dec. 30. The guides were thoughtful and knowledgeable and we enjoyed their company very much. They tried hard to get us to see everything we wanted to see and experience. We were thrilled that we got onto our former school campus in Dalat and are so appreciative of the work that went into making that happen for us. We would very highly recommend your company to anyone asking and will be happy to give our positive feedback on the E-survey and Trip Advisor.
Warmly,
James and Jewel Evans
---
Best of the north Vietnam 8 days from 28th Dec 2015 to 4th Jan 2016.
Hi Mary,
We have had the most wonderful time whilst in Vietnam, we thank you very much for your efforts in ensuring that my sons & myself had a holiday together that would leave us with a life time wonderful experience, once again I thank you and Travel Vietnam for everything.
Highest regards,
The allenders from Australia
---
Vietnam & Cambodia discovery 17 days from 19th Dec 2015 to 4th Jan 2016
Dear Mary:
Sorry I hadn't written you before. I wanted to thank you. We really enjoyed the trip to Vietnam and Cambodia. We were very pleased with everything that you planned. I also wanted to ask you if you recommend someone like you for a trip to Southeast China. I know that, in addition to Vietnam, you have operations in Burma, Cambodia, Thailand, and Laos. Would you have a recommendation for SE China?
Thank you very much again for the fantastic time that we had working with you and your team.
Almudena from Mexico
---
VIETNAM & CAMBODIA TOUR from Dec 27th, 2015 to Jan 3rd, 2016
Dear Lana,
we wish to thank you again for the great time we had in Vietnam and Cambodia. We remained impressed by the high quality of your services, and warm hospitality.
We would like also to thank our guides and drivers, very professional and friendly.
We hope to have the opportunity in the future to travel with you again.
Best wishes
Alberto and Susanna from Italy
---
Amazing Vietnam & Cambodia (20 Dec 2015 – 2 Jan 2016)
Dear Hue,
We want to thank you again for organizing such a great trip for us to Vietnam and Cambodia.
To start with – you did an amazing effective job planning it all based on my very basic input and just a few back and forth emails. We all felt very well taken care of throughout the trip, and were of course surprised by the thoughtful gestures of an anniversary cake, and you stopping by with gifts. You, the guides and drivers, but also the hotel staff etc. all made us love both countries and definitely want to return one day.
A special note regarding the Pool & Palms Hotel in Siem Reap that maybe helpful: we loved it. It is great for folks who want to chill with safe food and drinks (they get even the ice cubes and water for coffee from a factory) after the bustling activities in Angkor Wat and Seam Reap. Only a short Tuk Tuk ride or 10 minute walk from town. Great hosts who are also very engaged in humanitarian work, and were able to tell us so much about the culture and development the last 5 years.
Feel free to use the following text as official reference for Travel Vietnam/Travel Cambodia:
Travel Vietnam did an amazing job organizing the perfect trip for our family of 4, including our 2 teenagers. We booked the flight from/back to the US ourselves, but everything else – from pick up at the airport, to drop-off at the end was organized by Travel Vietnam – based on an initial simple Email that included our basic ideas of where we wanted to go, and some personal requirements like vegan food, or being close to a catholic church at Xmas eve. The drivers all made us feel safe, and the guides in Hanoi and Siam Reap spoke very good English, and quickly understood our interests and answered hundreds of questions from daily living to history and politics. They showed us so many details no guidebook could have helped us find. Yes, we visited many sites that all tourists would go to, but also got exposed this way to special places and experiences that we would have never found ourselves. Hotel choices were perfect (great location, clean and family appropriate). We are planning to explore more of South East Asia in future years, and will definitely engage Travel Vietnam again. Thank you! (Susanne & Matthias, Bellevue, USA).
Kind regards,
Susanne & Matthias from USA
---
Vietnam Discovery - 14 Days/ 13 Nights from 17 Dec – 30 Dec 2015
The tour was amazing. Mua Nguyen was very helpful putting together the package. She was always very helpful, responded quickly to my questions and concerns. The tour of Hanoi was very informative, Sapa was amazing. Our guide was very knowledgeable and helpful. The trains were comfortable. Our guide in central Vietnam was knowledgeable but his personal stories were long. The hotel in the delta was very nice but the breakfast was very low quality compared to the rest of the hotels. The guide was great. Thank you for a wonderful introduction to your country.
Olga Hernandez & family from USA,
---
Myths & Mountains of North Vietnam - 6 Days/ 4 Nights from 24 Dec – 29 Dec 2015
Hi Mua,
I have no idea to improve your quality because you are already perfect!
Ms. Miyo Kobayashi from Japan
---
North and Central Vietnam Discovery - 8 Days from 21 Dec 2015 - 28 Dec 2015
Dear Viet,
We just want to thank you for the most amazing vacation you could possibly arrange.
All the guides Wong and Nien today were fantastic and felt like our friends looking so closely after us. You couldn't have picked the best of the best!!
We will do our best to push business your way as the people of Vietnam truly deserve to prosper!
We just wish we stayed in Hoi Ann area more not enough time as Spring said in the beginning. We are going to miss Vietnam especially the people very very much thanks to your company and we hope to stay in touch with you also.
All the best and thanks a million for all your good work, most appreciated!!
Jacob and Angela from Israel
---
Christmas Holiday - 6 Days/ 5 Nights from 23 Dec – 27 Dec 2015
Hi Mua,
Our travel guide Lam was simply amazing! He was very knowledgable and wonderful with our very energetic children. Our youngest son also has multiple food allergies and Lam helped with ordering all of his meals so he could eat safely. For our family that is always a very important and necessary thing. The only downside was I wish we could have stayed longer:)
Mrs Jennifer Nodine & family from USA
---
Vietnam Discovery – 14 days 13 nights (12 Dec – 25 Dec 2015)
Dear Nga Vu,
This was one of my best trips at a great value. I have visited and or lived in 39 other countries as an adult and was pleasantly surprised on how this tour was organized and all the people involved. You have a great team and my only regret is that I did not have more time to stay in Vietnam longer. I received a catalog of all your tour packages and will highly recommend and friend or family to try your tour company. Thank you for the great experience,
Daniel McKinnon from USA
---
A Glimpse of Vietnam 09 days 08 nights from 13 Dec to 21 Dec 2015 Gracie D,
This was an extraordinary holiday for us. We looked forward to each day and enjoyed every minute.
Mrs. June Steenekamp & Family from South Africa
---
VIETNAM ENCHANTING HOLIDAY (05 Dec – 15 Dec 2015)
Dear Thuy,
Now that we are finally adjusted back home, I wanted to personally thank you for the excellent service we received through your organization and by your personal attention to our needs through out the entire trip.Thank you and hope to contact you again for a future Asian vacation. We may be interested in Myanmar, Laos, Cambodia next time.
Wishing you all the best for the New Year.
Thank you.
Evelyne and Karl Winkelmann from France & United Kingdom
---
Vietnam & Cambodia Discovery from 22 Nov to 09 Dec 2015
Our travel consultant Anna Trinh did an excellent job with our communication concerning our enquiries which was a big factor in choosing Travel Vietnam. Could not fault the tour with hotels or food. Very happy experience travelling with your company
Thanks & best regards,
Mr. Tony Fok from Canada
---
LAOS & VIETNAM DISCOVERY (20 Nov – 08 Dec 2015)
Dear Thuy Do
We were so pleased at the promptness and courtesy extended to us when met by the guides at each location. All guides were very professional. There was occasionally a language barrier but usually a minor detail. Going with this tour allowed us more time and energy to enjoy the countries than if were to do it on our own. It was so nice to meet Thuy- such a sweet lady!
MR. SCOTT MILLER & PARTNER from United States
---
Vietnam & Cambodia discovery from 27th Nov to 8th Dec.
Dear Mary
Thank you for your help all the way along our journey. We enjoyed our visit in Vietnam and Cambodia very much and will recommend it to our friends. I will also recommend your services to organize those tours in the future.
Thanks again and have a wonderful holiday as well,
Robert Tamari from Israel
---
Vietnam, Cambodia & Thailand – 14 days 13 nights ( 19 Nov – 2 Dec 2015) Dear Nga Vu,
Thank you very much. We had a wonderful time and I miss your country already! What is the best name for your company to leave feedback on Trip Advisor?
I have already recommended you and your company to friends. I will be back, hopefully soon.
Adelle from USA
---
Sapa Explore 3 days (28-30 Nov 2015)
Dear Vicky
Thank you for your email.
We all had a great time in Sapa and are now enjoying looking at our photos and telling friends and family all about our trip.
Thanks again for all your help in organising things for us.
We will certainly recommend you and your Travel Agency to friends we know who are planning to visit Vietnam in 2016.
All the best,
Noel and Denise McCutchan from Australia
---
BEST OF VIETNAM & LAOS (10 Nov – 29 Nov 2015)
Dear Ms Thuy Do,
Arriving at Vientiane International Airport, we have just completed a marvelous journey through Vietnam and Laos that you have organized on our behalf.
Everything has gone smooth and well and we will return home with a maze of unforgettable impressions.
We wish to thank you for all you have done and we can assure you that we will recommend you to any friend or acquaintance that intends to travel to your area.
With kind regards,
Jacob Erel + Rene Eberle from Switzerland & Israeal
---
Vietnam Discovery 22 days (7-28 Nov 2015)
Thank you, Vicky for arranging such an interesting trip for us!
We were very happy with the itinerary and with our guides, who were able to adjust things to meet our wishes. It was helpful to have that flexibility, especially with the children. The drivers were also very skillful and kind. We were delighted with our accommodation.
One day we hope we will be back in Vietnam or take a trip to Cambodia, Thailand and Myanmar. If so, we will ask you to make all the arrangements.
Thank you again for all you did to make our trip so successful!
Ray and Nancy from Canada & UK