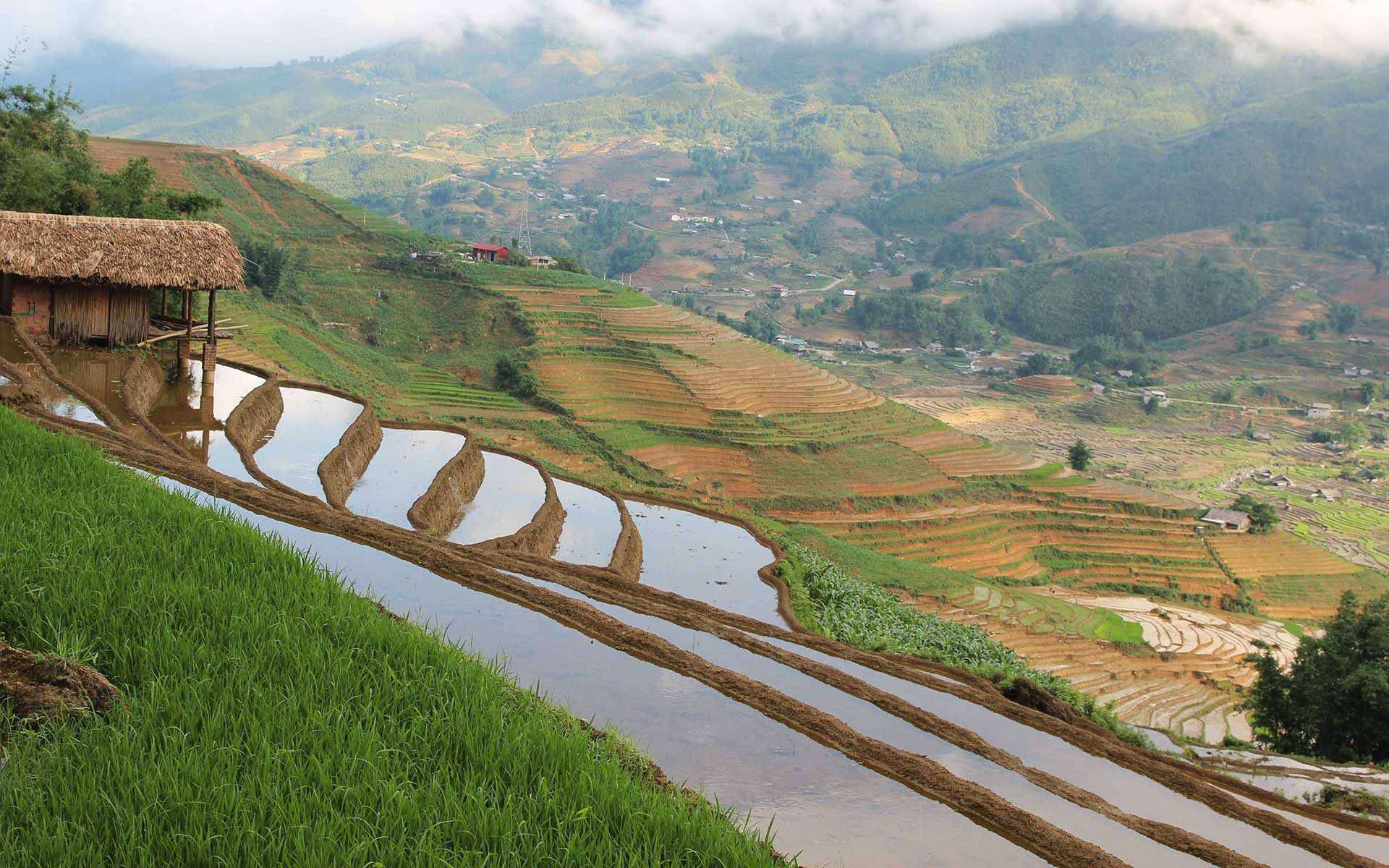 Page 7 of 7
Vietnam and Cambodia Discovery 12 days 11 nights from 10 Aug to 20 Aug 2015
Hi Gracie,
We found 'Travel Vietnam' site on internet and i send inquiry to two other travel agent in Vietnam also . Only Miss Graci reply quickly and she help us out to create one of best vacation we have took ever. She is very promt ib response, and very knowledgeable. i will highly recommend any one who want to Travel Vietnam and Cambodia should contact her Miss Graci is best Thank you Miss Graci.
Mr. Manoj Patel from USA
---
Highlights of Vietnam from 14 Aug to 20 Aug 2015
Hi Trinh,
A brief note before departure from Australia back to Italy. I would like to thank you very much for your brilliant work in organizing our tour in Vietnam. The tour was fantastic, everything was organised properly and the places we visited were exceptional. I will use again your organisation for future trips and meanwhile I will recommend your agency to friends wants to visit Vietnam.
Thanks again
Best regards
Dr. Angelo Reggiani from Italia
---
Vietnam at a glimpse (Honeymoon Trip) - 9 Days - 13 – 21 Aug 2015
Hi Viet,
A very professional company who made our trip one to remember. Excellent communication from start to finish through email and phone. All the guides were friendly, spoke very good English and knew what they were talking about. The level of comfort on our trip was excellent and I also am grateful for the skill level of all drivers. Accommodation and food was 4-5* at the least if not better. I would highly recommend this company to anyone.
Mr. Ronan & Mrs. Joanna from Ireland
---
Best of Cambodia 10 days 9 nights (4 Aug – 13 Aug 2015)
Dear Ms. Nga Vu
We returned to Italy.
I want to share our satisfaction with your travel arrangements.
Mr. Tola in Siemrep deserves a special mention for their professionalism, commitment and cultural preparation; very good both he and the driver, always on time, polite and kind.
Mr. Tola is also an excellent photographer. :) !!
In Phnom Phen we were only one day but even there the guide and the driver were polite and prepared.
Thank you and good luck for your agency
Best Regards
Nando and his family from Italia
PS: please congratulate with Mr. Tola!
---
Biking North Vietnam - 3 Days - 27 July to 29 July 2015
Hello Viet
We are back in Belgium! We had a good journey home after 3 weeks traveling in Vietnam.
After we met you in Hanoi we visited Sapa, Hue and Hoi An. We enjoyed it very much. I think we made a good choice to go to Vietnam for an introduction in Asia.
I already filled in the E-survey and one of these days I'll take some time to do the same on the Trip Advisor.
Thanks again for the interesting trip to Mai Chau. It was a lovely experience.
And also a lot of thanks for the presents, we appreciate it very much!
It was also very warm in Belgium when we arrived here, so the difference with the Vietnamese climate wasn't too big!
Greeting from us all
Gert, Carl and Niels
---
Mai Chau & Ninh Binh Escape 3 days 2 nights from 21 July to 23 July 2015
Hi Mua,
The travel agent, guide and driver were excellent. IT was the first time we travelled in this way and we were very pleased with the service, suggestions, help and information they provided us with, before and during the trip. The reason I rated the hotels a 7 is because the hotel and lunch in Mai Chau were really excellent and the hotel in Ninh Binh was rather poor, compared to Mai Chau. We understand that they both are 3-star hotels but the difference between the two is enormously. We also understand that it is harder to find a similar hotel in Ninh Binh. For one night it was ok. All in all we really enjoyed the trip, visit to Mai Chau and Ninh Binh and most of all the service and expertise of your staff!!
Many thanks,
Mrs. Angèla Abbo from Netherlands
---
Vietnam & Cambodia discovery 11 days from 13th Jul to 23rd Jul 2015.
Mary,
We had a wonderful time…thank you! We learned a lot, and a had a wonderful experience everywhere we went, and we felt safe. All the guides were knowledgeable and professional. We have made it home safely and we are having so much fun sharing our experience with our family through pictures and things we purchased abroad. Thank you for making the process seamless and for all your help to make things work out for us!
Larissa & Sofia Roux from Canada
---
Best of the North - 6 Days from 9 July 2015 to 14 July 2015
Hi Mua.
I apologize for the delay in our review. However, we absolutely LOVED using Travel Vietnam. Mua Nguyen was incredibly helpful and accommodating. We had never used a travel agency before and this exceeded our expectations. Mua went back and forth with us several times to ensure we had the trip that we wanted. When we met her at the hotel on July 9th she was incredibly kind and comforting. The gift for my husband's birthday was way over the top. Our tour guide was knowledgeable and we felt comfortable with him at all times. We have already recommended Travel Vietnam to friends who are currently working with the agency to plan their trip. We will be looking to go to Cambodia eventually and will definitely be reaching back out for assistance. Thank you Thank you Thank you!
Best regards,
Mrs Kelsey Flannagan from USA
---
Vietnam Family Vacation – 16 Days - 12 June – 27 June 2015
Dear Viet
My family had an exceptionally good time in Vietnam with the help of an extra ordinary person Mr Viet. His professionalism can be seen in the work he put together for his clients. He continually kept in touch with us throughout our trip and assisted us in many ways possible whenever we required assistance. We are grateful to have booked with Travel Vietnam , keep up the outstanding performance MR VIET you will definitely reap the rewards in the future.
Mrs. Raakhee & Family from South Africa
---
Vietnam Insights – 14 Days - 24 May – 06 June 2015
Thx to Mr. Viet,
We had a magnificent trip to Vietnam. Everything was organized perfectly. Thx a lot Mr. Viet, you are a great person! Excellent guides (except the guide in Central Vietnam), beautiful tour, seen some amazing scenery, lovely people, great nature. We could recommend Travel Vietnam to a lot of people. 10 for organization!
Mr. Koen Decelle from Belgium
------------------------------------
Dear Viet,
Xin chao J
I got home finally last night at 10:30 pm (5:30 pm Vietnam time) after a long flight and train journey.
I wanted to thank you personally for your very kind and friendly welcome to Vietnam. You have certainly also contributed in our great trip to your beautiful country. You have arranged everything very well, even beyond our expectations.
I also wanted to thank you very much for the dinner and the gifts you have given us. I still feel embarrassed that you have also paid all the drinks. I wish I could return the favour for your very kind hospitality.
Later this week, I will complete the evaluation forms and I will also send your email to Koen so that he can do the same.
It was a great honour to meet you and THANK YOU SO MUCH J
Best regards from Belgium,
Patrick
---
North Vietnam Holiday – 6 Days - from 21 May – 26 May 2015
Dear Viet Nguyen,
All the necessary information's were provided by Sales person and he replied all my queries very fast and he tried his best to accommodate all my requests and I was really happy to interact with him and If I prefer to come back again to you, it will be because of Mr.Viet Professionalism and the way he treat customer.
Mr. Sathish Kumar & Family from India
---
South & Mid Vietnam Discovery - 8 days/ 7 nights - 18 - 26 May 2015
Dear Mua Nguyen,
I would like to add my appreciation for Ms. Mua, who patiently designed the tour as per my taste and was enjoyed by my family and also our tour guide in South Vietnam, Ms. Hueng, she was remarkable, friendly, knowledgeable and made our trip very interesting.
Thank you Travel Vietnam!
Mrs. Thelma Dsilva from India
---
Vietnam Holiday – 5 Days from 12 May to 17 May 2015
Mr. Viet and his entire team are so professional and customer friendly. Thanks to Travel Vietnam's professional culture.
Mr. Ramesh Rangamani from India
---
DISCOVER MEKONG 9 days/ 8 nights from 4th May 2015 to 12th May 2015
Alan,
We are now home from our trip and trying to get back in routine.
We really enjoyed our trip.
Our guides and drivers were all very good. We would like to give extra praise to our guide and driver in Viet Nam. Our guide Lucy(American name) and our driver Chu were exceptional. Lucy always went above and beyond what she had too and was particularly helpful in every way. Chu our driver was an excellent driver and very skilled. One thing we would like to mention is on Day 7 in Siem Reap the drive to watch the sunset from Phom Krohm Mountain is not a drive - but a very steep long climb up hundreds of stairs and steep mountain road, not something a tourist would want. We would never do something like that again. We also want to thank you for all the attention that you gave us throughout our trip.
Thank you
Virginia Humphrey
---
Vietnam Discovery 15 days 14 nights from 01 May to 15 May 2015
Hi Gracie,
We had a wonderful time in Vietnam. Everything was executed to perfection. Our holiday was lovely and I wanted to thank you personally for organizing an amazing trip for us :)
Warm regards,
Anisha from India.
---
MEKONG DISCOVERY (05 May – 15 May 2015)
Dear Thuy Do
We were very impressed with Travel Vietnam. Everything ran very smoothly during our trip, and the drivers and guides were all excellent. We liked that we had telephone contact numbers in case we had any problems, luckily we didn't. The guides were knowledgeable and professional and we were very impressed with them. We also liked the flexibility when designing our itinerary. Live chat experience was good, and when we changed our itinerary several times and when we had questions Ms Thuy Do responded very quickly indeed, and she was very patient and helpful. Travel Vietnam service exceeded our expectations.
MR. ROGER GARDNER & SPOUSE from United Kingdom
---
Luang Prabang & Vietnam Discovery 12 days/11 nights from 24 April to 5 May 2015
Dear Mua Nguyen
Thank you all for everything, especially for making the changes to our itinerary at the last moment. Mua Nguyen is an excellent sales representative and helped us create a fantastic itinerary for our vacation in Laos and throughout Vietnam. I know it must have been very difficult to make changes to our itinerary with so little time, and I'm thankful you allowed us to see the beautiful area of Hoian.
All of the guides and drivers were great, accommodations were lovely, and Katherine and I have had a pleasant and memorable vacation, thanks to you!
I'll be sure to recommend your company in the future for any potential clients visiting Vietnam.
Mr. Kelvin Chang from USA
---
Essential Vietnam & Cambodia 12 days 11 nights from 20 Apr to 01 May 2015
Dear Van Anh
I am exceptionally impressed with the service from your travel agency. My friend and I were in Vietnam and Cambodia for 12 days and during this time, our tour guides and drivers were excellent. The guides were always punctual, pleasant, informative, good sense of humour and always very considerate and helpful. I would strongly recommend your agency to anyone and I wish you all the best as your hard work is paying off and you have a very satisfied customer.
Ms. Elham Asgari & Ms. Ladan Sharifi from UK
---
Vietnam Discovery 15 Days from 17th April 2015 to 1st May 2015
Dear Mr. Minh Dang,
We are back home in Belgium.
We thank you and Travel Vietnam for the professional organization of our 15-days tour from North to South Vietnam. All travel organized by Travel Vietnam, internal flights, train, boat, cars were well organized. Hotels, restaurants and excursions were well chosen. Guides and drivers were top professional. In particular, we are very thankful to the guide in Hue and Hoian.
The presents we received from Travel Vietnam given to us on the first day by yourself have survived the long travel from Vietnam to Belgium and have now a nice place in our home.
Thanks a lot to everybody and when we will travel again in Vietnam or countries in with Travel Vietnam is operating we will contact you and Travel Vietnam again.
So long !
Belgium, May 2, 2015.
André Boelen / Eugenie Theunissen from Belgium
---
Grand Vietnam 18 Days 17 Nights from 06 Apr to 23 Apr 2015
Hello Gracie,
We would like to thank you for organising our trip to Vietnam. We had a wonderful time touring your beautiful country and will choose your company again if we come back.
All the guides, drivers and tours we had were very good and the hotels you chose were well located and all of a very high standard.
Thank you for getting us checked in for our flight when we were late leaving Hanoi. We really appreciated the dinner you organised for us in Hoian.
Thank you for the use of your phone, it was good knowing that we could contact you or the guides at any time. It has been an enjoyable experience dealing with you and your company and we shall recommend you to our friends and family. Thanks again,
Peter and Angela from Australia
---
NORTH VIETNAM EXPERIENCE (14 Apr – 19 Apr 2015)
Hello Thuy,
Sorry for the confusion in regards to my low food rating.
The staff attempt to please us was outstanding! As you know, my family has many dietary likes, dislikes and intolerances. I gave the 5 rating because we didn't love the food. However, it is our personal issues, not lack of effort on the Aphrodite. Perhaps I should have clarified in the comment section.
Our trip to your country was amazing. I have already passed on your name and our itinerary to a friend. We can't stop talking about how much we enjoyed our trip... Everyone was so nice and helpful! I hope to return some day.
I hope that clarifies any questions or concerns.
Take care,
Sarah from United States
---
Grand Vietnam 21 days 20 night - from 29th March 2015 to 18th Apr 2015
Dear Minh Dang,
It was extremely well organized trip, I enjoyed every moment. two guides were especially good: lady in Saigon and young man in Hui and Hoian. Most of guides speak very good English. Every driver and guide were on time and I never waited for anybody. Drivers are calm and practice safe driving in chaos of Vietnam traffic. I felt good and safe all the time. Vietnam people were pleasant and genuinely nice. Mobile phone was nice touch. Cooking classes in Hoian were good although I was resistant to go at the beginning. Mekong delta tour was very nice, especially tour with small boat without motor. Cities are clean and with lot of green. Food was unbelievable, both in small cheap restaurants and expensive ones.
A few meals organized by Travel Vietnam were also very good introduction into fine Vietnamese food. I would include more colonial parts of Hanoi and Saigon, they are part of Vietnamese history as well (like Rex or Opera in Hanoi and Saigon) I hope to go to Cambodia and Myanmar in 2 years and I hope to use the same agency. I just want to repeat that Mr. Dang was very professional in responding to my mails and listening to my concerns and interests His final offer was perfect match to my interests and financial abilities.
Ms Elizabeth Protic from Canada
---
Vietnam at a glimpse 8 days 7 nights from 08 April to 14 April 2015
Dear Mua Nguyen
We enjoyed our trips very much, Mua was great in planning, communicating, and execution. We did a lot in a short time and could not have asked for a better plan. The guides were great in English and in their knowledge. The drivers were amazing to go from point A to point B without an accident!! Especially our driver in Hanoi who had to drive for 9 hours. as for suggestions: In cases when the drives are a few hours, it would be good to plan something small for the middle in order not to drive for so long at once. There is so much to see (even an ordinary cafe is interesting to us western tourists).
Mr. Farshid Arman from USA
---
from .