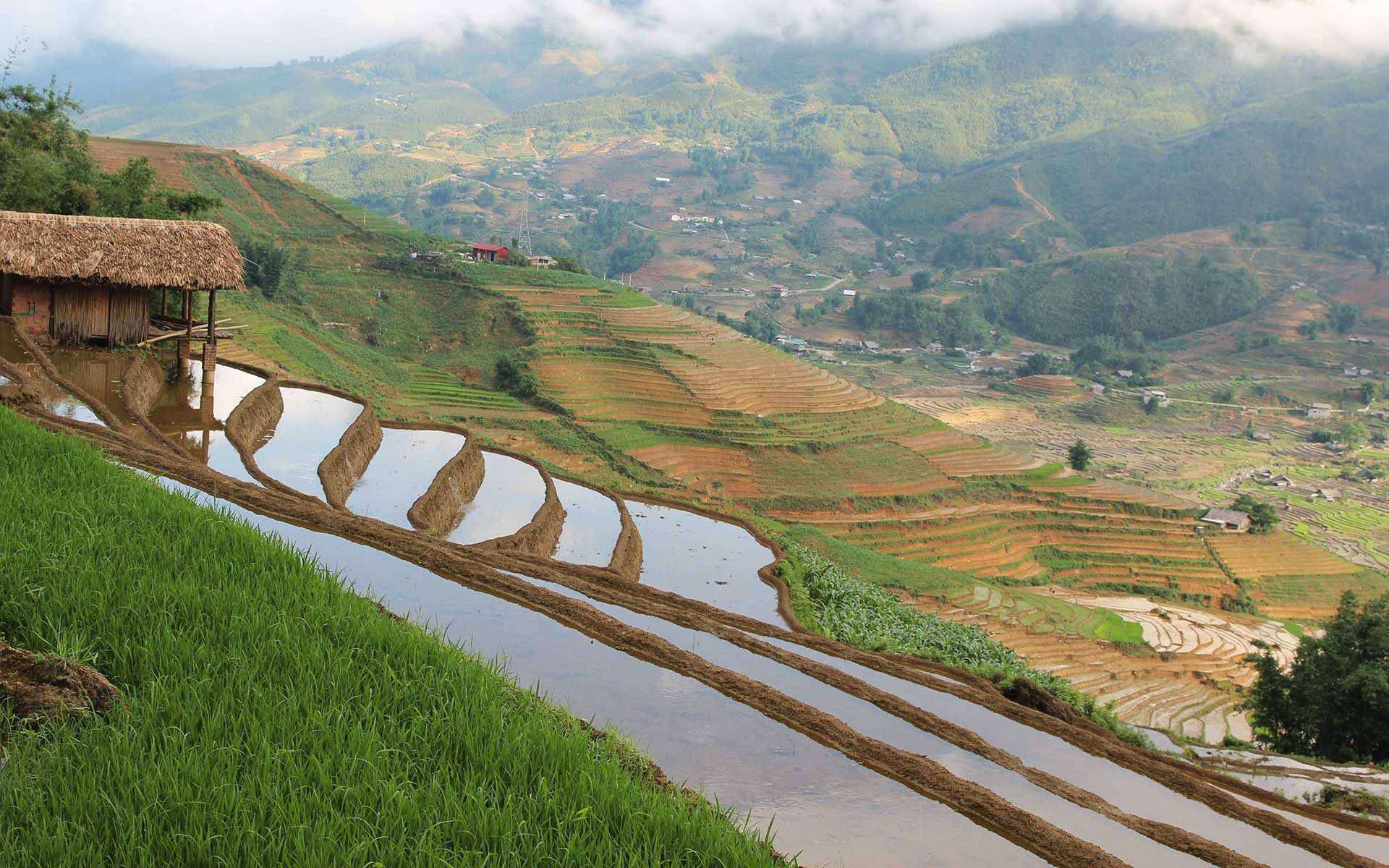 Page 3 of 7

VIETNAM & CAMBODIA DISCOVERY 15 days/ 14 nights from 22nd Dec 2016 to 5th Jan 2017
We had a wonderful family holiday in Vietnam and Cambodia, despite the negative experience with the guide in Hoi An. It was very much appreciated to have Ms Duong Nguyen to support us through the whole trip after meeting her in person in Hanoi. The fact that we were given a mobile phone made it very easy to address any concerns and Ms Duong reacted and resolved issues immediately. It gave us a lot of confidence knowing that she is always there to make sure every aspect of the trip was fully taken care of and we could always contact her with any issues or questions. Ms Duong Nguyen's exceptional level of service and professionalism ensured that we had the best possible experience in Vietnam and is the key factor in allowing me to confidently recommend Asia Travel to my friends and colleagues
Justina Paskeviciute and Family from Lithuania
---
Colors of the South 9 days 8 nights from 27 Dec 2016 to 04 Jan 2017.
Hi Anna,
Thank you for your amazing service. We had a great trip and you did a wonderful job putting together our itinerary. We loved Vietnam and I would recommend you and your company any time.
Thanks again,
Matt McKinney" from USA
---
HIGHLIGHTS OF VIETNAM & CAMBODIA – 13 days 12 nights from 20 Dec 2016 to 1 Jan 2017
Dear Rose
Thank you for all your assistance and help. We had a great holiday!
Regards
Sunil Maharaj from South Africa
---
HIGHLIGHTS OF VIETNAM – 9 days 8 nights from 24 Dec 2016 to 1 Jan 2017
Dear Rose
We are now back in Kenya, after our wonderful trip to Vietnam. We want to thank you for organising an excellent itinerary with very good tour guides, spacious minivans and comfortable hotels.
We thoroughly enjoyed our time in Vietnam, particularly the Vespa tour in Saigon and the Jasmine cruise. We have learnt a lot about the country, the culture and the people of Vietnam through your knowledgeable tour guides, who were helpful and friendly (particularly Tran in Saigon). The itinerary was well-planned and interesting, and we enjoyed tasting the local food.
We appreciate your help, guidance and efficiency that resulted in an outstanding holiday. Thank you Rose, for a memorable trip!
Regards
Narmin & Pankaj from Kenya
---
Halong Signature cruise 2 days/ 1night from 29 December 2016 to 30 December 2016
Hanh, thank you so much for helping with a fantastic trip to Ha Long bay. The cruise was amazing and the people at Signature were tge best. You've helped make the trip a memorable one and should I travel this way in the future I will be sure to see what other tours you can assist with.
Now off to Phu Quoc for some rest.
Have a great 2017 and thanks again.
Darren Roger Tickel from UK
---
Starlight cruise 2 days/ 1 night from 29 December 2016 to 30 December 2016
Hello Hanh,
We are now back in Germany. And we would like to thank you for your excellent organization of the Cruise....and other support.
We really enjoyed the Cruise. It was super and very interesting for us. Anyway Vietnam people are very friendly, we had a good time. Thanks again
We wish you a happy New Year 2017 stay happy and healthy.
Regards
Hans Ellner from German
---
Vietnam Insight (17th Dec – 28th Dec 2016)
Ms. Nguyen
We are in Hong Kong on our way back to NYC. We want to let you know that we had a wonderful trip in Vietnam. All arrangements went very smoothly; hotels and tours were all very nice with very great service at all. Tour guides and drivers were great, with a special outstanding commendation for Ms Phuoc, our Saigon/Mekong guide who was simply amazing. If we are able to get back to Vietnam I certainly hope that she can be our guide again if she is available.
Many many thanks for all.
Mr. James Drinane from USA
---
Best of the North 7 days 6 nights from 21 Dec 2016 to 27 Dec 2016
Hi Anna,
I have replied the survey form as per request.
Thank you once again for all the arrangements and please thank Sunny on our behalf too!
We enjoyed the trip so much and we are talking about going back to visit Central Vietnam in the near future
Evelyn Khoo from Malaysia
---
Myths & Mountains of North Vietnam 11 days 10 nights from 14 December to 24 December 2016.
Hi Van Anh,
I would like to start at the end. Mr Thanh our driver it cannot be stressed enough how safe we felt in the capable hands of our driver, we are from a very small town of less than 100 people and were worried about the traffic, we were put at ease immediately. Mr Tao our guide is a passionate professional guide very knowledgeable very friendly and has the ability to know when not to talk so that his customers can just look and admire (we both found him to be amazing) and then there is the wonderful Miss Van Anh it was like she could read our minds when it came to the accommodation and attractions we wanted to see, she was very prompt and attentive. These three people are excellent advertisements for you fantastic company. We will not only be recommending you but stressing to our friends the value of the local knowledge and organizational skills you offer. Emailing your company was our best travel decision ever.
Terry & Kathy McGinty from Australia
---
Vietnam & Cambodia 18 days. From 1st Dec 2016 to 18th Dec 2016
Dear Mary,
Just a brief note to let you know that we enjoyed our trip in Vietnam and Cambodia. Well organized tour and we do not hesitate to recommend your Travel Agency to our friends.
We were not given a form to comment on your services in Phnom Penh. I would however like to praise the work of the tour guide, Saopkeak Sum, who is also a sweet girl.
The driver is also a competent professional .
Greetings for the coming Xmas season and for a very happy New Year.
Yours,
Zilda & Mário from Portugal
---
VIETNAM INSIGHTS 15 days/ 14 nights from 3 Dec 2016 to 17 Dec 2016
Hi Duong,
Everything went very, very well. The only recommendation that we would make is for a group of 8 westerners, to make sure that you have the largest 10 person van available. Our vans in south and central Vietnam were sufficiently large enough, but the one in the north was a bit small. Other than that, very well done!!
Tim Onciul from Canada
---
Vietnam Discovery 15 Days (From 21 November to 5 December 2016)
Good afternoon Miss Duong.
Thank you for a great trip we both enjoyed the whole 15 days.
The drivers and the tour guides were brilliant.
Mr. Gareth Cane & Mr. Greg Lowrie from Australia

---
VIETNAM HOLIDAY 11 days/ 10 nights from 23 Nov 2016 to 03 Dec 2016
Hello cô Dương,
We are finally back to normal, we had wonderful time in the Hanoi, Halong bay and Sapa and Quảng Bình (I met my father's first cousin and his family, visited the family tombs for the first time in Đồng Hới).
We haven't done exploring Hanoi and we hope to come back visiting Hanoi again.
Thanks the wonderful gifts from you, we love it.
We wish you and family have a wonderful Christmas and very Happy New Year.
We hope to see you again when we come back visiting Hanoi and the North in the future.
Chú Hội and cô Trinh, and family from USA.

---
Highlights of Vietnam 7 days 6 nights from 25 Nov to 01 Dec 2016.
Hi Anna,
I am not sure what happened to the email I sent you! Never mind, I want to thank you for a wonderful trip... my friends and I enjoyed our stay in your country!!! You were brilliant with the arrangements you made and the assistance you offered with the visa situation. I will definitely use your services again and will refer you to others as well.
Thank you also for the gift you sent each one of us....very thoughtful and beautiful.
I hope to visit again!!
Take care,
Ms. Banoo Mundegar from USA
---
Violet cruise 3 days (27-29 Nov 2016)
Hi Vicky,
Hope you are well.
Apologies for the delay in relying back to you. We had a very long journey back to the UK straight from Halong (we have only just arrived in back in London!)
We enjoyed our time on the heritage cruise very much and halong bay is one the best things we did in Vietnam. I personally just wanted to say a big thank you to you for all your help and organisation with this trip from the very start. Your service was very friendly, helpful and made us feel at ease during the whole time.
We will be giving some good feedback and will recommend you to our friends and family.
Thank you again
Poonam and Keval from UK
---
Vietnam Tour - 5 Days/ 4 nights from 22-11-2016 to 26-11-2016
Hi Mua
Thank you so much ! We had an excellent stay and experience we will always treasure!
We will definitely love to be back to explore the rest of Vietnam in the future...
Kind Regards
Anee & friends from Africa,
---
Grand Vietnam 19 days 18 nights (3 – 21 Nov 2016)
Ms ALT - Nga Vu
HAPPY BIRTHDAY and many more.
Happy Holidays to you and your family.
I want to thank you and the four guides for a wonderful trip to Viet Nam. The guides made the trip special. All four were very professional, kind, and know their country well.
If there was some way for your company to acknowledge the good job they did for me, it would be appreciated.
Again, Happy Birthday.
Tom Collins from USA

---
Vietnam - Cambodia - Laos Discovery 14 days" from 7 to 20 November 2016
Hi Giang. It was a wonderful tour.
Thank you for all you're attentions I go very happy.
If I came back I will do again with you.
I went to Bangkok and I use another agency to book the tour and for sure I like you're agency better. You have more quality in the guides, in the cars in the professional so I congratulate you're agency.
And again thank you.
See you next time!
Fanny from Mexico
---
Vietnam & Cambodia Discovery 21 days 20 nights
Hi Anna,
I wanted also to thank you personally for a great trip and good planning. I had one of the most enjoyable trip of my life and my life has been quite long LOL.
We might decide to come again to that part of the globes and we will sure get in touch with you again once we decide to visit Laos and Myanmar.
Best
Dany from Israel

---
NORTH VIETNAM EXPERIENCE – 5 days/ 4 nights
It was a pleasure to work with Mua. The trip arrangements were made in the week before travel - she was very prompt and helpful. Mua also changed arrangements for last day when the overnight cruise got cancelled due to poor weather. The guides were very good and the driver was reliable and punctual. Would love to come back to Vietnam or visit one of the other locations!
Shyam & family from USA

---
Indochina Sails 3 days (13-15 Nov 2016)
Thank you Vicky, we had a great time. Organisation was perfect.
Laura Crosbie & Craig Savage from UK
---
GRAND VIETNAM TOUR (23 Oct – 11 Nov 2016)
Dear Tuan Phan,
I want to tell you that we were very pleased with your service. In particular the respect of the itinerary, the hotels, the professionalism and expertise of the guides, the courtesy of the drivers. Special thanks for the assistance given to me because of my limited ability to walk as a result of the accident had little before the departure from Italy. Certainly we will turn to you for future travel in Indochina and will recommend to friends and acquaintances your agency.
Still heartfelt thanks
Mauro Gamba Chiri from Italy

---
VIETNAM AND CAMBODIA DISCOVERY 18 days/ 17 nights from 19 Oct 2016 to 5 Nov 2016
Hello Duong
Thank you so much as always you have been very thoughtful. Yes we all had a wonderful time in your lovely country and Cambodia and would love to visit again one day. I have just got back to my house and very tired so will complete your feedback form a little later. Being spoilt tourists we did have a few moans but not enough to spoil our memories of a wonderful holiday. Thank you again for your efficient organization and also for your beautiful gifts. I hope you are well and wish you and your family a happy life.
With best wishes from Jackie and Conrad, Geeta and Linda from UK

---
NORTH VIETNAM DISCOVERY – 13 days/ 12 nights from 21 Oct to 2 Nov 2016
Hi Mua
The pleasure was mine and thank you for the lovely gift.
Vietnam is very beautiful and people are so kind and welcoming. The guide and the driver were very helpful all the time for any emergency services, etc.
Thank you for this nice trip arrangement. I will never forget the great experiences and I surely will visit Vietnam again. I sent you the survey now.
Many thanks and Kind Regards
Wissam Essadki from Morocco

---
Package "Visit Hanoi – Cruise Halong Bay" From 25 to 29 October 2016.
Hello Giang!
It is good to see you too. Finally! You are as pretty, but taller and slimmer just like a beauty queen!
Anyway, thank you for everything. The itinerary you have prepared for us went really smooth and we did had a great time in Vietnam!
The Halong Bay cruise was great as well as their staff. The gondola hotel people were as nice and the tour guide Sonny and Ting our driver treated us like we have been friends for a long time.
Thank you for preparing every inch of detail for us. I had a really wonderful birthday celebration. Your presents were lovely too! I appreciate all the effort of everyone. I will definitely recommend you to my peers.
We are now back at Manila. We left a small amount of token for you at Gondola Hotel. We hope it will be fine.
Thank you so much again! Until our next travel!
All the best,
Brigette Delizo from Philipines
---
MEKONG DELTA EXPLORER from 28 to 29 Oct 2016
Dear Thuy,
I gave my feedback already in the way back in paper form. And I did it here now again.
The tour was fantastic and Lan as my guide was just perfect! Looking very much forward to my next stay/booking!
Best regards
Jens J. Oestreich from German

---
Colors of Vietnam & Cambodia - 17 days from 11 – 27 October 2016
Dear Viet
I have now completed both the feedback and rated our trip on tripadvisor.
I just wanted to say a personal big thank you to you for all the help you gave us and for reorganising our schedule when the typhoon struck. Our whole experience was stress free and that was because of the excellent service given by you and your team of guides and drivers.
Also I wanted you to know how much Margie and I appreciated our beautiful gifts. They will bring back our excellent memories whenever we use them.
Many thanks
Pam from Australia

---
VIETNAM GRAND HOLIDAY from 10 to 24 Oct 2016
Hello Thuy Do,
The trip was wonderful, every accommodation was beautiful in good taste, everything went very smoothly, The food was incredible. Sunny got up at 5.45 am to take us on another bicycle ride at Tam Cot (near Ninh B) which was beautiful. we did a lot of things. We understood that there is a new highway from Halong Bay to Hanoi and the driver used the old highway so it took us many hours to get to Hanoi which seemed a waste of time. The tender (small boat) to the big boat in Halong Bay is a little dangerous. Sunny warned us not to put hands outside. My sister just held onto the post to get onto the big boat and her finger got caught between the post and the tire and her fingernail cracked and her finger turned purple. We didn't have time to tell Sunny. Also a girl from a different group almost got caught between the rocks and the tender on the island with the cave. Thank you for a wonderful trip.
Michal Roni Gan from Israel

---
Week without walls – Chiang Mai 2016. From 23rd Oct 2016 to 28th Oct 2016
To whom it may concern,
We have just returned from Chiang Mai on a school trip. This is the second time we have counted on Travel Vietnam to take students. Everything went smoothly and as planned. Just a few last minute changes, that did not affect the continuity of the program.
Moreover, the guides are usually knowledgeable and friendly and they are always willing to help.
We will definitely count on Travel Vietnam for next year.
Thank you to the team, and especially to Mary.
Anabel Ortiz - Zhuhai International School.

---
Vietnam Vacation from 14 Oct to 23 Oct
Dear Ms. Lana,
Everything worked our perfect – so this is the reason for you not hearing anything. J
Here's a couple of small notes;
- The cruise was good but not as good as the one with Paradise. I think the boat manager did the difference. On this the boat manager was very focused on telling how good they were and actually not focused on making sure that everyone had a good time.
- The guide in Hanoi was also very good, knowledgeable and polite – however very focused on the political aspect of things.
Overall – we are very satisfied and will use your services again when needed.
Have a good day – thanks!
Venlig hilsen / Kind regards / Mit freundlichen Grüßen
Add-On Products
Peer Astrup from Denmark

---
Authentic Indochina 20 days 19 nights from 04 Oct to 23 Oct 2016
Ms Van Anh:
All the hotels were excellent. Our favorite was the Romance Hotel in Hue. We appreciate the flexibility you offer which allowed us to select all the places we wanted to see. Ms Van Anh did a great job planning the trip and making last minute changes when the Paradise Caves were flooded. On a trip like this much depends on the quality of the local guides. They are the outward representation of your company. We were fortunate to have great guides. Khoa in Hanoi was the best. He not only told us about your country but seemed genuinely interested in us. When he found out Mari was a teacher he made sure we visited some schools in Sapa. Our guides in Laos and Cambodia were knowledgeable and friendly.
Thank you for all your help on this tour. It really was a once-in-a-lifetime experience for us. Being able to arrange a tour with the flexibility of deciding where we wanted to go was great. And the tour you put together was excellent. Of course we will be telling others about this trip and hope some day to return ourselves to Vietnam. It was a pleasure meeting you...
Paul and Mari from USA

---
VIETNAM DISCOVERY & RELAXATION from 06 to 23 Oct 2016
The professional service provided to us by Ms Thuy Do was exemplary. All of our questions and needs were addressed before and during our trip making our Vietnam experience easy, enjoyable and memorable. Thanks again Ms Thuy!
We thought the tour content was well-balanced and at a very good pace. We enjoyed the free-time to explore more for ourselves and appreciated the advice from our guides. We thoroughly enjoyed our holiday in Vietnam and have no hesitation in recommending your company.
MRS. LISA SAVAGE & HUSBAND from Australia

---
NORTH VIETNAM & LAOS INSIGHT from 09 to 21 Oct 2016
Hi Ms Thuy Do
Many thanks for your email. In the meantime we have already using the very nice plates :). It was great to meet you face to face after working together online on our roundtrip. We have really enjoyed the trip.
We will recommend you and your organization to other friends.
Kind regards,
Ellen Visser from Netherland

---
NORTH VIETNAM & LAOS ADVENTURE from 05 to 20 Oct 2016
Dear Thuy
Thank you for your email, and thank you also for the beautiful lacquer ware gifts you gave us. Don and Julie were surprised and delighted to receive the second set of lacquer ware which you left at the hotel and have asked me to pass on their thanks.
It was a pleasure to meet you and to finally thank you in person for organising our trip. We all had a wonderful time, and the guides and drivers we had were first class.
Unfortunately Rick is very ill in hospital - he has been in hospital since the day after we arrived home - and will have surgery on Thursday. . As you can imagine I don't have much spare time right now, but I will complete your survey and return it to you as soon as I can.
Thank you again for organising such a wonderful trip for us.
Kind regards
Roslyn Phillips from Australia

---
Vietnam & Cambodia Discovery 21 days 20 nights from 01 Oct to 21 Oct 2016.
Dear Anna,
It was a nice surprise and pleasure to meet you in person in Saigon.
We have enjoyed the trip tremendously, much of it thanks to your detailed, continuous efforts.
We appreciate very much the changes and effort you have made during the trip due to the unexpected cancelation of the flight from Hoian to Dalat.
We have filled the feedback survey.
Best regards from all of us,
Mr. Ran Granot from Israel

---
Vietnam & Cambodia Tour from 8 Oct to 20 Oct 2016
Dear Ms. Vien,
Yes, We are back home but still with our minds in Vietnam.....
Yes, you really have a beautiful country, a long and rich history, very interesting culture and very nice and pleasant people.
I really want to thank you personally for a lovely trip we had.
On one hand, I would like to mention all the very good things that we had:
meeting you in person and thank you very much for the lovely gift you gave us. thank you
each one of the hotels were great! Oriental suites in Hanoi was SUPER with very good personal service.
In almost all of the hotels we had a wedding anniversary surprise. The funny thing is that it still stayed as a great surprise for Iris even after the 10th time..... thank you very much.
Our guides were mostly very good. Huyen in Saigon was SUPERB!!!!!!
Giving us the mobile phone was a great idea although we didn't use it. It gives a sense of security that you can call your agent in any case of problem.
The hotel in Lao Cai that Aing proposed to us after the night in the train was very very helpful. Even just for taking shower and rest for 1-2 hours.
Paying all the money in the first days in Hanoi instead of traveling with large amount of money.
In all cars we had water but just from Saigon till the end we had cold water and cold wipes. It helped a lot.
But on the other hand, I would like to mention few things that you should know and maybe can improve next time:
We think that if there is a possibility to drive from Hanoi to the north with a car it is much better (and as we were told faster) than with the train.
After the ride with the night train it will be great to have few hours in a hotel to take a shower and rest (as we did in Lao Cai).
Maila, our tour guide in Sapa is very nice and special but is very hard to understand. Her English is not sufficient....
In Sapa maybe it is possible toadd the cable car also
For long drives without a guide (like from Hanoi to Halong bay and back), the driver should be able to speak English
You must check and be sure that the cruise in Halong bay gets back on time for next flight. (we missed the evening in Hoi An which is so beautiful especially at night with all the lamps...)
In Siem Reap you can skip the silk farm again (we have seen it in Hoi An).
The feedbacks for the guides should not be given to them by us. we should fill it and give all of them at the end of the trip to you in a closed envelope. We didn't feel convenient to fill bad feedback and give it by hand to the guide.....
Maybe, if it is possible, to have the long rides with better cars (Limosine)
Finally,
We really enjoyed our journey and thank you personally for taking such good care of us and will recommend you to all our friends that plan a trip to your beautiful country.
Hope to meet you again (maybe this time in Israel.....)
Sincerely,
Geva, Iris & Amit from Israel