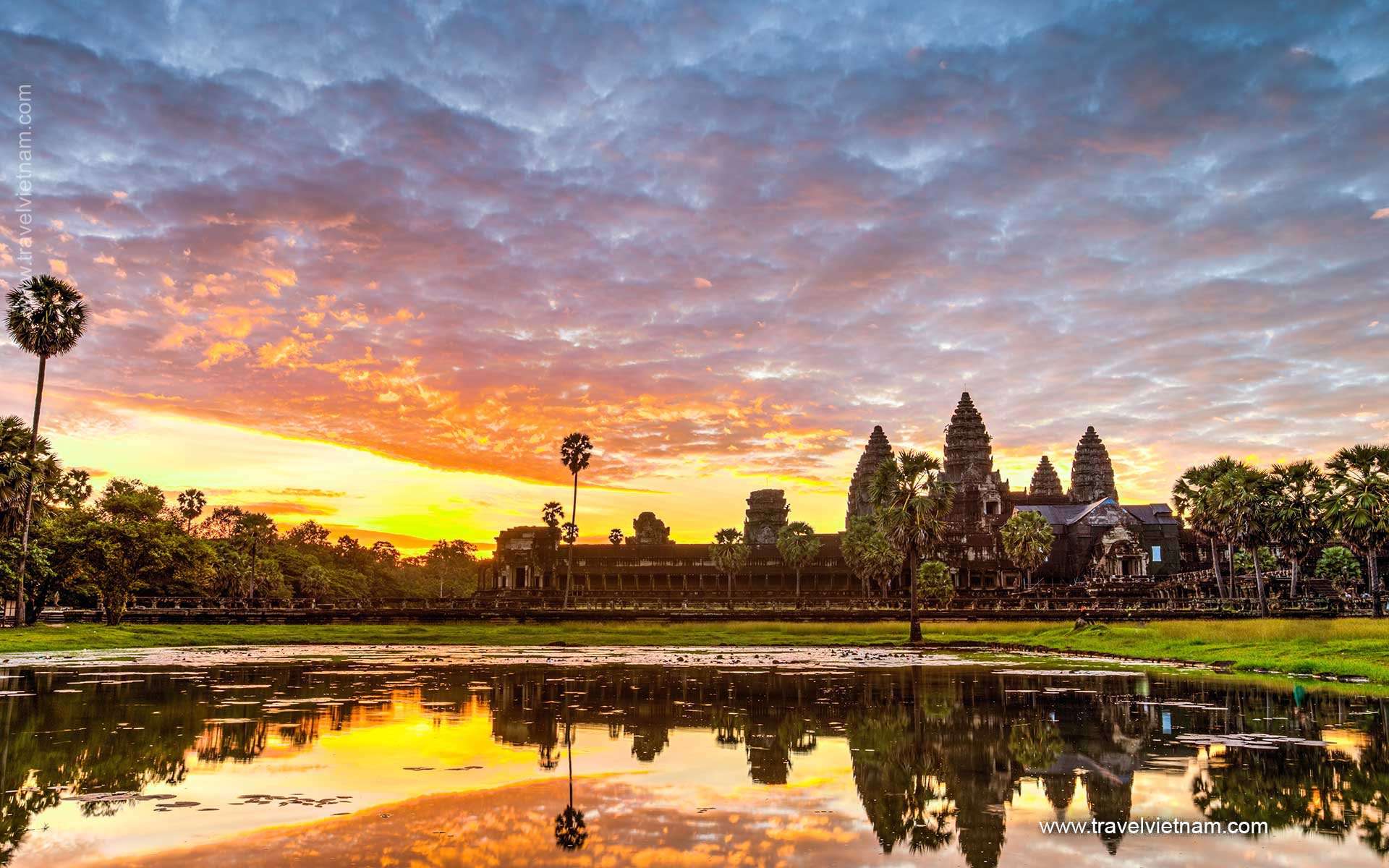 Vietnam Travel presents this Central Vietnam & Angkor Temples Package (7 Days/ 6 Nights) which offers a visit to two UNESCO World Heritage Sites: Hoian (Vietnam), Southeast Asia's major trading ports during the 17th and 18th centuries & Siem Reap (Cambodia), the gateway to the magnificent temples of Angkor. Don't forget the itineraries are customizable according to your travel interest!
"Central Vietnam Angkor Temples 7 Days"
2019-07-11 04:30:57
"Central Vietnam Angkor Temples 7 Days"
Price from: US $ 870 /pp
Start city: Danang
End city: Siem Reap
Durations 7 Days 6 Nights
Departure: Daily, upon your request.
Cities to visit: Da Nang → Hoi An → Siem Reap
Extendable with optional tours from Siem Reap

Any part of this itinerary can be tailor-made to fit your needs, e.g. tour length, activities, destinations, hotels.
This is sample itinerary for the package of
Central Vietnam & Angkor Temples - 7 Days
.
Contact us
for more details and best offer (Prices depend on your travel dates, specific hotels/ resorts and activities).
Day 1: Danang Arrival – Hoian.
Day 2: Hoian Cooking Class – Walking Tour.
Day 3: Hoian Eco Tour.
Day 4: Hoian – Danang – Fly to Siem Reap.
Day 5: Siem Reap – Angkor Temples – Sunrise over the Temples.
Day 6: Siem Reap – Kbal Spean – Banteay Srei – Sunset over Tonle Sap Lake.
Day 7: Siem Reap Departure.
Day 1: Danang Arrival – Hoian.


Welcome to Central of Vietnam! You will be welcomed by your tour guide and driver outside the baggage claim of Danang International Airport and take you to Hoian Acient Town. Arrive in Hoian, check in to the hotel and discover the ancient town by yourself. Graceful, historic Hoi An is Vietnam's most atmospheric and delightful town. Once a major port, it boasts the grand architecture and beguiling riverside setting that befits its heritage, and the 21st-century curses of traffic and pollution are almost entirely absent. The face of the Old Town has preserved its incredible legacy of tottering Japanese merchant houses, Chinese temples and ancient tea warehouses – though, of course, residents and rice fields have been gradually replaced by tourist businesses.
Meals: N/A
Accommodation: Hotel in Hanoi.


Day 2: Hoian Cooking Class – Walking Tour.


Take part in a cooking class at the Red Bridge Cooking School. Meet at the Hai Scout Cafe in Hoian's Old Town. From there you will head to Hoian's colorful market. Explore the market and interact with local vendors to purchase some fresh ingredients for today's cooking class. Next, board the Red Bridge boat for a leisurely 25 minute cruise along the Hoian River to the Red Bridge Cooking School. Discover the school's herb and vegetable garden. Learn to cook and help prepare five traditional dishes to enjoy for lunch. You will also be entertained and taught some special techniques at the fruit and vegetable carving demonstration. You will have lunch prepared by yourself. After lunch enjoy time for relaxation as you immerse yourself in the tranquility and charm of this sleepy riverside town. From the 16th to 18th centuries Hoian was a thriving international port frequented by Chinese, Dutch, French, Japanese, Portuguese and Arab traders, who came to trade in the high quality silk still produced in the region. Today, Hoian is a relaxing resort popular with tourists for its eclectic architecture, skilled tailors and numerous cafes. Take a half-day walking tour through the narrow winding streets of the ancient quarter, visiting Chua Ong Pagoda, the Chinese Assembly Hall, the 200-year-old Tan Ky ancestral house and the famous Japanese Bridge. In the evening, enjoy free time to shop, explore the town, take a walk and discover the acient town on your own.
Meals: Breakfast, Lunch.
Accommodation: Hotel in Hoian.


Day 3: Hoian Eco Tour.


(Farming & Fishing Life Tour - 6 Hours) Today enjoy an eco tour which provides you with a close-up and intimate exposure to both the local farming and fishing communities. Accompanied by tour guide, you commence the day leisurely cycling along country roads witnessing local Vietnamese rural life first hand, discovering all manner of photo opportunities - coming and visiting a beautiful organic vegetable village, watering and planting vegetable, hoeing a soil with local farmer, riding a water buffalo in a rice paddy field; seeing ducks swimming along the rice farm or farmers tending their crops. The photo opportunities are endless. As well you will experience the friendliness of the local people greeting you along the way. Later you will board boat for a river cruise to meet and engage with local fishermen and enjoy a hands-on experience of traditional net fishing. You will also experience paddling the unique Vietnamese bamboo basket boat while the waterways of coconut palm paradise. This tour provides you with a cultural window into the ways of life of both our farming and fishing communities. After an interesting eco tour you will have chance to try to make colorful lanterns with instruction form locals. You can bring them home like a special souvenir form Vietnam or a gift for your family and friends.
Meals: Breakfast, Lunch.
Accommodation: Hotel in Hoian.


Day 4: Hoian – Danang – Fly to Siem Reap.


Today you will visit Marble Mountains (Ngu Hanh Son) on the way to Danang International Airport. Take a regional flight to Siem Reap. Siem Reap with very famous Angkor is the earthly representation of Mt. Meru, the Mt. Olympus of the Hindu faith and the abode of ancient gods. The temples are the perfect fusion of creative ambition and spiritual devotion. The Cambodian 'god-kings' of old each strove to better their ancestors in size, scale and symmetry, culminating in the world's largest religious building, Angkor Wat. Check in the hotel. Free time for taking a walking around center area which very busy. Siem Reap is a nice town and deserves a good exploration. The night markets are highlights of the town.
Meals: Breakfast.
Accommodation: Hotel in Siem Reap.


Day 5: Siem Reap – Angkor Temples – Sunrise over the Temples.


Rise up early to pick up the most beautiful, haunting and spiritual moment to visit magnificent Angkor Wat at dawn. This special activity is designed also to help you see "the Temple reflex on the water" when it's much cooler and less crowded. Angkor Wat, the UNESCO World Heritage Site, which was constructed by Suryavarman II who reigned Cambodia from 1113 to 1152 and built the five towers in the 12th century and dedicated them to the Hindu God Vishnu. The plan of the pyramidal conception of the temple combined with spaces, alleys and ditches is an ancient masterpiece of architectural design and construction. Your journey continues with a visit to the South Gate of Angkor Thom, with its majestic doors and artifacts. Then admire the monumental temple of Bayon which is the heart of Angkor Thom. Go to the Elephant Terrace, Terrace of the Leper King and Takeo "Jewel of Crystal", which is dedicated to the Hindu God Shiva and was erected at the end of the 10th century. Leaving Angkor Thom by the North Gate, you travel to Preah Khan (Sacred Sword), one of Angkor's largest temples, constructed in the 12th century by Jayavarman VII. You should not miss Ta Prohm Temple, which is a wonderful combination of human genius and natural beauty with its giant trees that have grown there for centuries. Have dinner at a typical restaurant and enjoy a traditional Apsara Dance Performance, a very interesting culture experience.
Meals: Breakfast, Dinner.
Accommodation: Hotel in Siem Reap.


Day 6: Siem Reap – Kbal Spean – Banteay Srei – Sunset over Tonle Sap Lake.


Enjoy breakfast at the hotel then set out for a tranquil countryside drive to Kbal Spean which was the refuge of 11th – 13th century religious hermits and over the centuries they carved linga stands, animals and sacral friezes into the surrounding rocks and riverbeds. Today, a well-marked path leads up the forested hillside to the central area that contains most of the carvings. The walk takes about 45 minutes. After lunch drive to Banteay Srei, home to Angkor's finest stone carvings. Then, head to Tonle Sap Lake where you will embark on a short cruise visiting the local floating villages. Immerse yourself in the rich culture surrounding Siem Reap on a boat tour along Tonle Sap Lake. In the late afternoon, you will watch the sunset from Phnom Krom hilltop temple on the way back to your hotel in town.
Meals: Breakfast, Lunch.
Accommodation: Hotel in Siem Reap.


Day 7: Siem Reap Departure.


Today is free at your leisure for taking around or go to one of the city's lively open markets, Psar Chass, called the "Old Market", where you can see the locals shopping and going about their lives! Say goodbye to the World Wonder and drive to the airport to catch your departure flight. Thanks for traveling with us and see you again! Bon Voyage!
Meals: Breakfast.
Accommodation: N/A.
Wander through Hoian Ancient Town.
Experience Hoian Ecotour.
Join a sunrise tour of Angkor Wat.
Enjoy sunset over Tonle Sap Lake.
Did you know? All of our tours are private and daily depart. TRAVEL VIETNAM can organize any additional accommodations, domestic and regional flights. Call us on +84982 661 133 to speak to one of our experts.