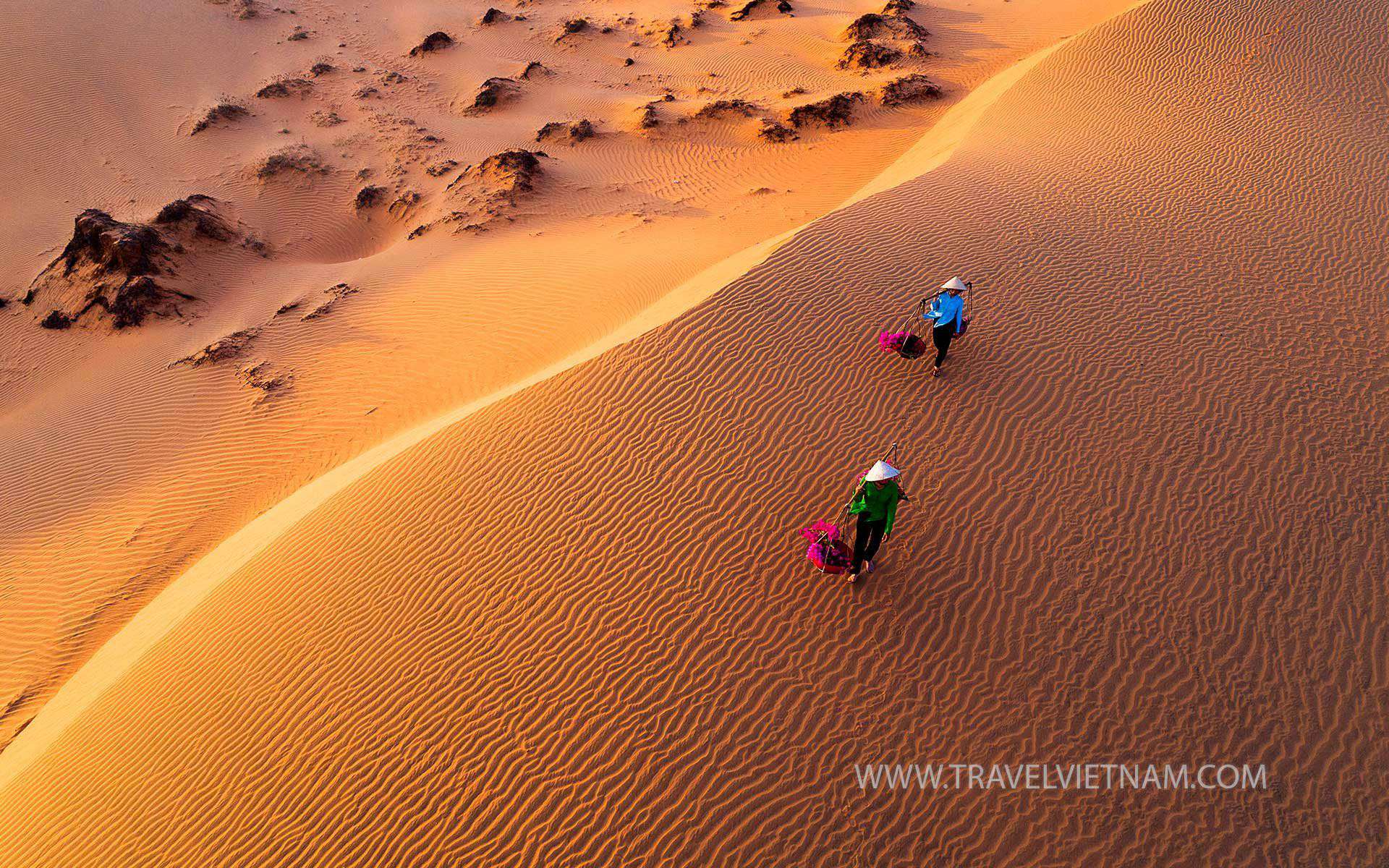 The name "Mui Ne" has many origins, which explains why it is not uncommon see the town referred to as Muine. Cape means "Mui" in Vietnamese and one origin of the name relates to the youngest daughter of one of the Cham Kings, who was the owner of this stretch of land many centuries ago. Her alias was "Ne", so when she built a temple in the cape it became known as "Mui Ne". Many of the existing towers in the area were built by the Cham people in the 8th Century. The Muine origin seems to come from the fishing community who used the cape during strong storms for shelter (known as "Ne" in Vietnamese).
Mui Ne Town is just over 200 kilometers (120 miles) from Ho Chi Minh City, with the journey taking approximately 4 hours by car or train. Mui Ne is a fishing seaside in Binh Thuan Province and its biggest attractions are beautiful beaches and the big sand dunes. In recent years the area has become known as something of a beacon for adventure seekers, with the mild, consistent winds providing the perfect conditions for kite surfing. Visitors can certainly enjoy swimming in the blue water of the sea, absorb the sunshine on the pristine sand, or try some watersports...
The development in Mui Ne has been well handled: all the hotels are low-rise, and many have wooden or bamboo bungalows on the edge of the beach. Most have good to excellent gardens and tree screening, which gives a sense of seclusion. A range of charming small properties and luxury boutique hotels line the white-sand peninsula offering accommodation to suit a variety of budgets. The beach of Mui Ne is safe for most of the year!
"Mui Ne Beach Relax"
2012-11-14 14:38:49
"Mui Ne Beach Relax"
Price from: US $ 214 /pp
Start city: Ho Chi Minh City (Vietnam)
End city: Ho Chi Minh City (Vietnam)
Durations 4 Days 3 Nights
Departure: Daily, upon your request.
Cities to visit: Ho Chi Minh City - Mui Ne - Ho Chi Minh City
Extendable with optional tours from Ho Chi Minh City (Vietnam)
- Beach relaxation.
Day 1: Ho Chi Minh City – Transfer to Mui Ne.
Day 2: Mui Ne – Free at leisure.
Day 3: Mui Ne – Free at leisure.
Day 4: Depart Mui Ne.

Prices are quoted in US $ per person, double occupancy.
Day 1: Ho Chi Minh City – Transfer to Mui Ne.
Pick up at your hotel in HCMC then drive on the National Road No. 1 to Mui Ne on a journey of 4 hours. Upon arrival, check into your hotel then spend rest of the day enjoying Mui Ne's beautiful beach or the resort's swimming pool.
Meals: N/A.
Accommodation: Hotel in Mui Ne.

Day 2: Mui Ne – Free at leisure.
Enjoy the day at leisure. Or you may like to take some optional excursions:
- Discover Mui Ne: Travel along Mui Ne by car, and see the brilliant sunrise and pristine white beaches. After visiting the white sand dunes, experience life first hand in a fishing village. See the beautiful blue boats in the harbor as they dock after a long night on the waters. You will also visit the Red Sand Dunes, where you'll have the chance to try sand sledging. The Red Canyon and Fairy Stream are also on the agenda for a very peaceful experience exploring these natural wonders.
- The Lying Buddha: This is one of the longest "lying" Buddha's in Asia, measuring 49 metres! It is also known as "the Buddha joining into Nirvana" and was sculptured on Ta Cu Mountain in 1962. A cable car takes you up to the cultural complex of Linh Son Long Doan and Linh Son Truong Pagodas, both of which were built in the late 19th century. There are spectacular views over the salt pans, lakes, rice paddies and Khe Ga beaches, as well as inland views to the mountains of Binh Thuan province. It is situated approximately 40 minutes by car from Mui Ne Town and is well worth the visit and the climb to the top! Visit the Cham Tower on the way back, as well as dragon fruit plantations.
- Jeep Excursion: Have you ever excursed by Jeep? If you are tired of sunbathing or eating seafoods, why you don't try another way to enjoy holiday. Jeep offers an awesome way to explore well-known spots in Mui Ne. Spreading your arms to hug the cold sea breeze or to feel the sound of sea whispering. By Jeep, you can save your time to get to the beautiful spots such as Mui Ne Sand Dunes, Bau Sen White Sand Dune, Posanu Temple (Cham Tower), Ke Ga Lighthouse, Lotus Lake, Dragon Fruit Gardens... Our friendly drivers and tour guides will guide you to make your holiday remarkable.
Meals: Breakfast.
Accommodation: Hotel in Mui Ne.

Day 3: Mui Ne – Free at leisure.
Another day of relaxing as you wish at the resort or experience indulgent spa treatments or take some optional excurions.
Meals: Breakfast.
Accommodation: Hotel in Mui Ne.

Day 4: Depart Mui Ne.
The morning is at leisure until check out. Your driver will transfer you back to Ho Chi Minh City. End of service.
Meals: Breakfast.
Accommodation: Hotel in N/A.
Did you know? All of our tours are private and daily depart. TRAVEL VIETNAM can organize any additional accommodations, domestic and regional flights. Call us on +84982 661 133 to speak to one of our experts.