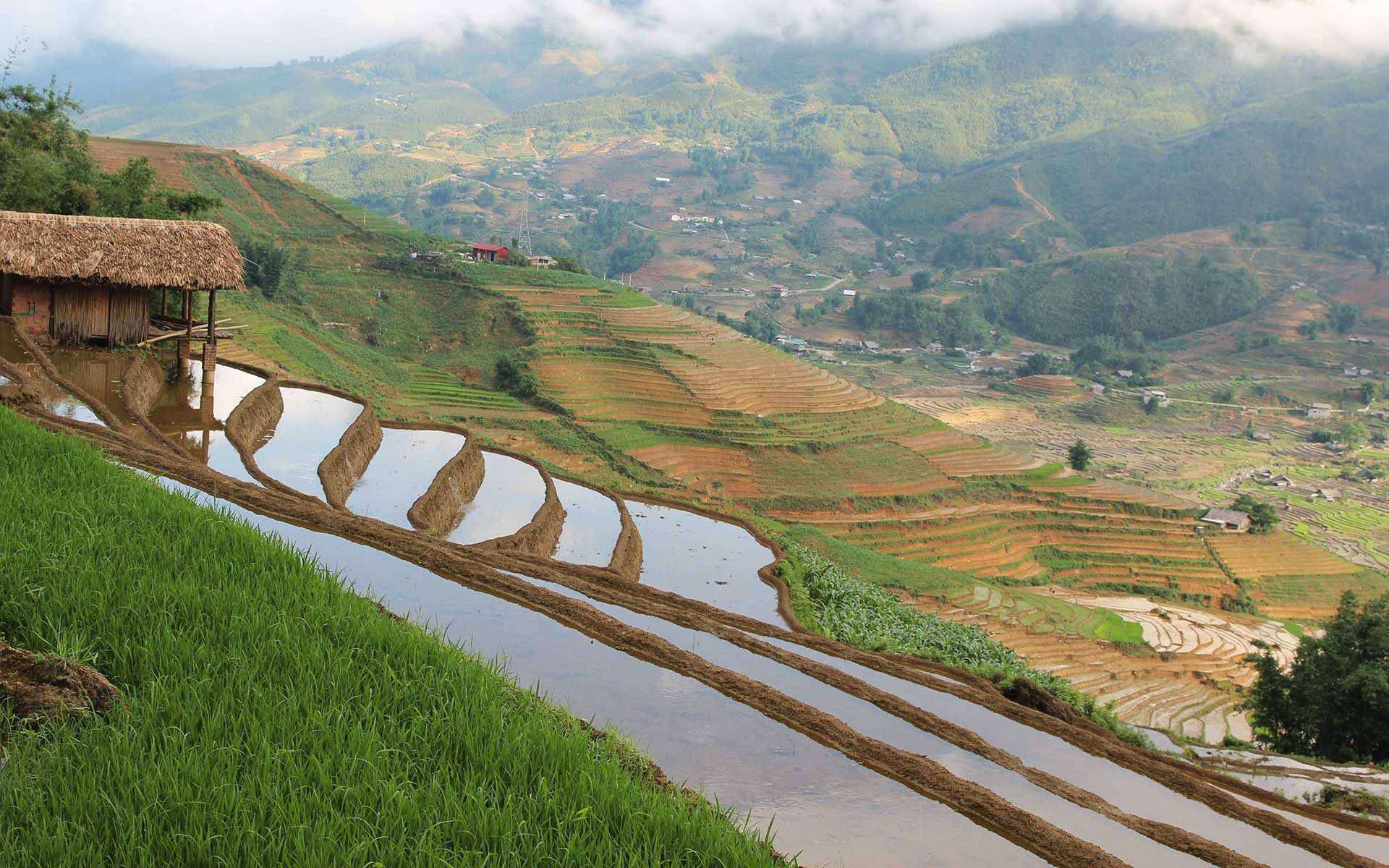 Page 2 of 7
ANGKOR WAT & NORTH VIETNAM 09 days 08 nights from Jun 09 to Jun 17 2018
As you can see, we had an excellent trip. Far better than our expectations. Our only issue was with the front desk at the Silk Path Grand Sapa Resort & Spa. This was an amazing facility and we would stay there again. However their front desk staff had very poor English skills.
Thank you so much for a wonderful holiday. We have already recommended your service to several people planning on holidays in Vietnam.
Mrs. Kerri Turner from Australia

---
HIGHLIGHTS OF VIETNAM 10 days 09 nights from Jun 15 to Jun 24 2018
I'm very pleased with every aspect of the trip. From working with our travel coordinator, who was flexible and responsive, to the cadence of the activities, tours, flights - everything.
The hotel in Can Thao was my least favorite as it was overrun with Chinese travelers, perhaps an option to upgrade in that one city could be the only improvement I could think of.
Thank you, I had a fab time and have already referred this company to many friends.
Mrs. Amy Ahlers from USA
---
ESSENTIAL VIETNAM 18 days 17 nights from May 11 to May 28 2018
Though I found the price high up front, I did not expect the excellent and personalized service we finally got which makes it really value for the money.
I valued specially the flexibility of all, from the travel consultant to guide and driver.
As only negative comment I would like to state the hardness of the beds in the homestay, maybe we could have been warned as my wife has back problems. For the rest, all excellent.
Mr. Enrique Molina Galan from Spain
---
Vietnam Holiday from May 15 to May 17 2018
There is no way to improve. Our experience withThao Ly was 1st class. And we felt it was very personal. Throughout our 3 days we felt very safe and very cared for. We will recommend TravelVietnam very highly both to friends and on Tripadvisor. Thank you so much .
Mrs. Sally Kirby from UK
---
VIETNAM & LAOS HOLIDAY 14 days/ 13 nights from 20 Mar to 02 Apr 2018
Thao helped us plan our trip to Vietnam .We reached out to her somewhat last minute, and she was able to pull together an amazing trip with several options for us. Thao made the experience of planning a huge trip to a foreign country very easy. She was incredibly responsive and helpful. We were so grateful for the organization of our trip and everything was taken care of for us from the moment we arrived in the country until our departure. We had excellent guides through the tours she booked for us. I am highly impressed with her work ethic and knowledge. She also helped us stay within our budget at lovely boutique hotels.
One of the days during our trip I, unfortunately, experienced food poisoning. Thao was very concerned about my wellbeing and even offered to take me to the doctor. No matter what time of day I contacted Thao she responded to me immediately. It was a trip we will never forget! I look forward to recommending her to friends in California
Mrs. Joan Luber Jacobs from USA

---
BEST OF THE NORTH 10 days 09 nights from Mar 22 to Mar 31 2018
Difficult to apply one rating above when there were a number of tour guides and hotels. The hotel in SaPa was disappointing. The hotel in Hanoi and the Cruise were excellent.
Drivers of mini buses were excellent. Driver of large bus to SaPa was a bit crazy.
Tour guides in Hanoi and Ninh Binh were very good. Expected more from guide in SaPa.
Overall, we found the tour that Thao Ly put together for us as excellent, although if I was doing it again, I would build in more relaxing time as we were pretty exhausted after all the tours and early morning starts.
Thank you Thao Ly for excellent service from the very start to the end.
Mr. Michael Connellan from Ireland

---
VIETNAM EXPERIENCE 8 days 7 nights from Mar 21 to Mar 28 2018
It was an amazing experience, we have made memories that will last a lifetime. Thank you for the amazing hospitality!
Mrs. Michelle Das from India

---
Khe Sanh – DMZ day trip on 19th Apr 2018
Hello Mary,
We are doing fine. We want to let you know that our guide Mr Nhan was excellent. He saw to all of our needs and had us back to our hotel on time for our dinner with or tour group. I would highly recommend Mr Nhan to anyone that needed a private guide while visiting Vietnam.
And, thank you for making our special day trip to Khe Sanh possible. We will certainly tell others about you and Asia Travel and Leisure.
With warm regards
Ed & Karen Rothery from United State
---
Cambodia & Vietnam Discovery from 05 Mar 2018 to 27 Mar 2018.
We had a wonderful trip. Ms. Anna Trinh was superb to work with - she was responsive and knowledgeable. We asked her many questions, and she was always patient and answered them quickly and completely. The final tour itinerary was wonderful, just what we wanted.
Travel was easy - the cars were clean, the drivers were prompt and safe. Our tour guides were excellent - their level of knowledge was very good, we learned so much from them and enjoyed their company and our tours. In particular our guides in Angkor Wat and Saigon stand out as exceptional, but they were all very good.
Thank you!

Mr. John Godfrey & Mrs. Jennifer Godfrey from United States
---
Vietnam & Cambodia Discovery from 26 Jan 2018 to 24 Feb 2018.
Dear Ms. Anna,
It has been long time since we left Vietnam and I am sorry it has taken me so long to write you. We are finally back home after long travel and I finally have the time ...
Matt and I would like to thank you ever so much for all your help and your assistance during our stay in Vietnam. You were very helpful indeed and we appreciate it very much. Your professionalism and excellent work made our stay in Vietnam very nice indeed. We love the most places we visited and we have wonderful time learning about your country culture and people. You were absolutely right, the last hotel in Saigon was after all very good one , we changed the room to the suite and it was lovely and the service there was excellent indeed.
Working with you was a pleasure. I learned a lot of things in the process of organizing the trip so next time I will definitely allocate more time and be more precise what is it that I need so there would be no need to make the changes. Thank you for your kindness and patience in accommodating us.
I will always gladly recommend you to all of my friends and acquaintances who would like to travel to Vietnam.
It was a pleasure working with you.
My best regards,
and with gratitude,
Sincerely,
Mr. Leon Wilson & Mrs. Krystyna Wilson from United States

---
Highlights of Vietnam 8 days 7 nights from 10th Mar 2018 to 17th Mar 2018
I entered into Goggle, Vietnam Tours, I contacted approximately 5 different companies, it was my contact with Ms Thao Ly that made me select your agency. She was superb in every way and a pleasure to work with, she had excellent suggestion for myself and three Granddaughters. She is truly an asset to your Company.
Your Guide in Saigon by the name of Hạnh, is also an asset to your Company. Her knowledge is amazing and we didn't have to keep asking her what this was or what that was? She pointed out all local foods in the markets, bought different things for us to try along the road. Hahn and Ms Thao Ly made us truly want to return to Vietnam and see more of your beautiful country.
Our Guide in Hanoi was excellent as we only had a very short time there and there were different items that my Granddaughters wanted to see and buy. He went out of his way showing us all the sites and finding everything o. Our list for the girls from "Oh My", wood carved stamps and hand-made paper. He went from shop to shop until he found what we were looking for. His knowledge was also amazing and was an asset to your Company also. Thank you to the above for making our trip special in every way.
Mrs. Mary Madison from USA
---
Vietnam & Cambodia discovery from 22nd Feb to 4th Mar 2018.
Hi Ms. Mary,
Just a quick note to say thank you for an amazing experience! Our participants commented on how wonderfully it was organized and we received lots of positive feedback (along with a few suggestions but it was overwhelmingly positive). Polly and I are just getting back on campus and have to catch up on some work here but we hope to be in touch with you soon. We can't wait to plan our next adventure on Vietnam and Cambodia (perhaps 2020). We are thinking Ha noi / Ha long bay again (I missed those last time).
Thank you so much for all that you do. We appreciate so much all of the work you put into it and it shows. Just an incredible experience!
Sincerely,
Gay Rawson/ Concordia College from USA

---
VIETNAM & CAMBODIA HIGHLIGHTS 14 days/ 13 nights from 26 Jan 2018 to 8 Feb 2018
The trip we took was very ambitious for travelers our ages (71-78 years), but the guides and the drivers we were with were so understanding and took care of all of our wants and needs. If we were younger and didn't have such a long list of places in the world we have yet to see, we would most certainly return to Vietnam.
Thank you, Travel Vietnam, for providing the most special and memorable trip for us.
Shirley Stamen Jaffe from USA

---
VIETNAM & CAMBODIA DISCOVERY from 12 Jan to 1 Feb 2018
This trip went as exactly as planned. Every day was interesting, informative and fun. We had plenty of exercise and the pace of each day was good: very busy, with time for relaxation after. Our agent, Lana Vien, responded to all my requests on where we wanted to visit and the types of things we wanted to see and do. She also made good suggestions. Communications were always prompt.
Bottom line: terrific vacation with lots of opportunity to see important sights, see how people live in Vietnam and Cambodia and learn.
Mrs. Ronnie Tessler from Canada

---
Indochina discovery 11 days 10 nights. From 7th Jan to 17th Jan 2018.
Hi Mary,
We are back home now and we wanted to send you a note to thank you for the great job you did for us. The trip that you put together for us was wonderful. We had no problems at all. The tour guides were very pleasant, professional, helpful & knowledgeable, and the hotel choices were superb. All the tours that we participated in were very interesting, enlightening and enjoyable. Overall it was a fantastic trip and we hope to use your services again in the future.
All the best!
Gary & M.Colleen Wess from USA

---
Best of Cambodia & Myanmar 12 days 11 nights (4 Jan – 15 Jan 2018)
Dear Nga Vu,
I would like to begin by saying that your arrangements for our holiday in Cambodia and Myanmar were faultless. From the moment we arrived in Siem Reap until we left Yangon our holiday was perfect. The guides were all excellent, the drivers were extremely good and the cars comfortable. Our hotels were all very comfortable and welcoming. What more can I say except Thank You ! I will have no hesitation in recommending you and your Company to our friends who wish to travel in Asia.
When we decided to travel to Cambodia and Myanmar we investigated our trip with several travel agents and without a doubt you offered the best service. One of your key assets Nga is that you Listen to what your clients suggest and make arrangements to suit their requirements. Some of the Travel Agents have no room for flexibility and therefore cannot and will not programme your itinerary as you wish. Travel Vietnam were excellent and I am sure this is partly down to your personal ability to accommodate our wishes rather than impose your preferences over ours. Every place we asked to visit you arranged and our guides were extremely well informed in all locations and all spoke excellent English.
As a special mention I would like to refer to the guides (all of whom were polite, professional, knowledgeable and spoke good English) you arranged in each location.
In Cambodia we had Narin who was very good, very helpful, knowledgeable and spoke good English.
In Mandalay our guide was a lady called Ms Khin Nandar. At all times she was very professional, interested in our visit and when our cases did not arrive with our flight immediately handled the airline and took all the problems away from us and arranged safe delivery of our cases the next day. Ms Kin Nandar also took us shopping that evening to buy clothes for the next day - she simply took the worry out of luggage problem and enabled us to carry on. I would highly recommend her as a guide.
Our guide in Bagan, Than Lunin Soe was excellent too. He is a kind, sensitive guide who is aware of his client's needs and interests. When we were hesitant about climbing Mt Popa he suggested taking us to the Mt Popa Resort which overlooks the Temple and offers a magnificent view. He found a table on the terrace for us and ensured we were happily settled for lunch. His attention to detail was very good.
When we arrived in Yangon, Sann was waiting for us at the airport and the driver Win was ready with the car. Again we could not fault either Sann or Win, both were excellent.
All the above guides made our trips so much more enjoyable and so very interesting and easy. When time permitted they introduced other places to visit. There were never any problems and the the guides and drivers were never late once.
Each hotel had something special to offer and we have absolutely no complaints.
I do hope the above comments are helpful and should we come to Asia again, we will be in touch with you Nga, you are a credit to Asia Travel and Leisure. Thank you.
Kind regards,
Vicki from Great Britain

---
Vietnam Discovery - From 30 Dec 2017 to 11 Jan 2018
Dear Huyen
Thanks so much again for a truly fantastic trip. We really enjoyed it all, even the buffalo ride!
I have written a review using the link you provided.
All the best
Mr. Saul Johnson from South African

---
VIETNAM HOLIDAY 6 days from 31 Dec 2017 to 5 Jan 2018
Hello Duong
It was a pleasure to meet you too, and thank you very much for my present, it was a lovely surprise.
We had a really wonderful time in your beautiful country.
Thank you for the arrangements, we were so happy with all your services and will recommend you.
Kind regards
Giovanna and family from UK

---
Best of the north Vietnam". From 23rd Dec to 26th Dec 2017.
Hi Mary,
Thank you very much for all the help with our vacation. We were very happy with the experience and would definitely recommend your team to our friends.
Regards,
Mabel Casino & Teresita Casino from Philippines

---
Vietnam & Cambodia discovery 29 days 28 nights. From 18th Nov 2017 to 16th Dec 2017.
Dear Mary,
I'd like to take this opportunity to thank you very much for the VIETNAM & CAMBODIA DISCOVERY itinerary you put together for us last November / December, 2017.
We have been back in New Zealand for almost a month and have time to reflect on what a wonderful experience it was. I have given a talk to my book group, many who expressed interest in undertaking a similar trip in the future. The one person who was in Vietnam early 2017 was most envious of the Ha Giang and Ba Be sectors that we covered. He very much wished he could have done a similar trip. I showed the group a You Tube clip ; Vietnams Final Frontier : the Ha Giang Loop, filmed by Mark Sommer, it is 20 minutes long. So many of the things we saw are included in the clip, even to the accommodation we used at the Lake !
The whole experience exceeded our expectations in so many ways. The people we met were just lovely, the food delicious, the coffee was excellent as was the beer brewed in Vietnam. It was informative, entertaining and always just great good fun.
It is hard to identify the very best of what we enjoyed but I guess it comes down to the warmth and friendliness of the people, your guides and drivers, and the pleasure of being able to meet with you as well.
Vietnam is rich in so many ways ; the people, its strong economic growth, tourism and aqua and agriculture. Infrastructure is excellent and the hotels and transport, be it road, plane or train were all as punctual, if not more so, than the services we have here in New Zealand.
We hope one day to return to your beautiful country.
Meanwhile, please accept our thanks for your great planning, and best wishes to you and your family for a healthy and successful 2018.
Sincere best wishes,
Judy and Richard Thompson,
Phyl and Neil Goodwin,
from New Zealand VIETNAM & CAMBODIA DISCOVERY from 5 Oct to 27 Oct 2017
Hello Lana - Greetings from Canada!
Thank you very much for all of your help in planning and arranging the perfect customized private tour of Vietnam and Cambodia for the four of us!
Lana, from the start, it was obvious that you truly cared about us and wanted us to have the best travel experience possible that would meet our specific interests, needs and timeline. Your extensive knowledge, excellent advice/suggestions and great attention to detail made for a memorable vacation that surpassed all of our expectations.
Lana, you absolutely were available to us 24 hours per day via your cel phone to assist us when we needed it. We also appreciated that you replied back to us quickly via email and were very patient and accommodating as we made changes to our plans for the trip and then sent us completely updated itineraries each time we revised it. Your professionalism is amazing. You are by far the best travel consultant we have ever worked with and your company is the best we have encountered. We are so happy we chose you to organize our Vietnam and Cambodia vacation. We have already been telling our family and friends all about our trip/travel experience and told them that we highly recommend you and your company and several are interested in booking with you in the future.
Providing us with a cel phone for our trip was brilliant. As we were travelling in two countries for 23 days, having the cel phone (pre-loaded with every contact number we could possibly need for the various offices along the way, tour guides and drivers) put us at ease right away knowing we could contact someone (including you, of course) any time we needed help. It came in handy a couple of times, like when we called you in a panic because we realized we lost our camera in the back of a transfer van on our last day in Vietnam. We were calling you from the speedboat that was taking us from Vietnam to Cambodia that day and you told us you would track down the camera for us. You went out of your way to locate the camera for us and get it to us in Cambodia the nest day - Lana, we are so grateful to you! (It had all of our photo's for our Vietnam portion of the trip on it and I would have been devastated to loose them all!) This also speaks highly of the companies you choose to use - when they checked the back of the van for you and found it, they were honest and returned the camera immediately.
We also greatly appreciate the other special things you did for us. Such as, giving us some wonderful Vietnamese gifts when we had the pleasure of meeting you in person, upgrading our rooms a few times, substituting the trip up to the top of the tower with drinks included when the 2 museums were closed in Saigon, quickly re-arranging our trip and a flight when our Halong Bay cruise had to be cut short due to bad weather and the very delicious set menu/multiple courses authentic Vietnamese dinner that we were treated to at the Home restaurant in Hanoi. We enjoyed this meal very much, trying all the traditional local dishes, and the restaurant atmosphere and décor was lovely.
As per your email, you asked us to provide you with any suggestions we may have for improvements for future trip planning for other clients. We have four suggestions for you:
First of all, we suggest booking a Halong cruise on a different ship other than the V' Spirit, as we were very disappointed in the quality of the vessel, there was only one tour guide/contact person for the entire ship/for all passengers and there was a huge lack of proper communication/lack of proper customer service after it was first announced that the cruise might or might not be cancelled due to bad weather. (We realize trips have to change based on bad weather conditions, we don't have a problem with that.) After the announcement at breakfast, that the cruise might be cancelled, they immediately kicked us out of our cabins, making all of us "check out" (both the 1 night passengers and the 2 night passengers) even though a decision had not been made and we were told it would be a long time before it would be made. When the 2 night passengers asked if we could keep our cabins until the decision was made, we were told we had to check out - to make matters worse, they then came to each cabin as we were packing up and told us again individually at our cabin that we had to get out and check out upstairs. When we asked if we could stay in our cabin because we are booked for 2 nights and had 1 night left if it was not cancelled, until the decision was made for certain, shockingly, we were told No, because they needed us to check out so they could make up the rooms (cabins) for the next passengers! When we explained that we are the next passengers as we were booked for 2 nights (and had only stayed 1 night so far) they said No, everyone has to get out and put your luggage in the hallway and go upstairs to the dining room. For hours and hours, all passengers were then cooped up in a small dining room in uncomfortable chairs at the tables, stuck sitting around because the rest of the ship was now off limits because we had technically all checked out of our rooms and the weather was so bad the outside deck was closed to us, so it was not a pleasant experience especially when the passengers were getting angrier and angrier at not being given any updates or information about what would happen if the cruise was indeed cancelled. This left most of the passengers getting very worried and anxious and then got worse when the rumour went around that they would not be compensated in any way for the cancellation and might end up being stranded at the dock with no transportation/no bus and no hotel/no accommodation. When the 2 night passengers started talking about how ridiculous it was to be kicked out of our cabins when no decision had been made yet and all of us were told they had to make up the cabins for the next passengers and the crew was becoming more unprofessional - then we started wondering if it was all just a big scam to just get us all off the boat, so they could get an entirely new bunch of passengers on the boat and make more money. We lost all respect for this company at how badly they handled this situation and had no qualms about jamming all of us in the small dining room for a very long time, when there was no need for them to do that. They became unprofessional with the passengers as time went on during this fiasco and were actually short/rude toward the end of it. We were very disappointed and unhappy with the V' Spirit company, thus we recommend you do not suggest them to clients in the future, to avoid them possibly having the same negative travel experience that we had with them. (I have provided this lengthy feedback to you as I want you to be able to make an educated decision as to whether or not you will use them again in the future. We hope not.) Even if the cruise had gone ahead for a second night, we would have been disappointed, because primarily the second day is just a duplicate of the first day. Because the 1 night only passengers have to be taken back to port/the dock the next morning, you set sail again for the second night covering the exact same location/places you already saw the day before, so it is absolutely not worth it to do a 2 night cruise as it simply is do-over (copy) of the first day. Please note: The only saving grace for us was that we had the cel phone that you had provided to us and when we called you (Lana) you told us not to worry, you were prepared to save us from this situation and ended up rearranging the trip - you adjusted everything for all four of us, including our driver/van, our flights and hotel rooms, all done before we even got back to the dock. That was totally appreciated, thank you again!

Secondly, we recommend finding better restaurants for lunch in the Angkor Wat area in Siem Reap. The service was good but the food was very poor quality and not very tasty. We don't know if there are any restaurants that are better than these ones or not in this small area but it is worth finding out, as they were not very good.

Thirdly, our Siem Reap Tour Guide made a suggestion that we swap our 2 Angkor Wat tour days, so it would be less taxing on us. He suggested this because the way it was scheduled, we had a travel day from Vietnam to Cambodia the previous day and then had to attend the Phare Circus that night and then would have to get up extra extra early the next morning to go and stand in line to get the 3 day Visitor's passes for Angkor Wat and then go all the way to Angkor Wat in time to witness the beautiful sunrise. We took him up on his great suggestion because then we could get the Visitor's passes the next day/on the first day without having to wake up extra extra early and we could rest up a bit more and not have to get up earlier the second day either as we would already have the Visitor's passes prior to going to see the sunrise at Angkor Wat, so we recommend following this format/schedule in the future for clients whenever possible.

Lastly, if any of your future clients want to book an overnight trip/accommodations on a sampan style boat, we absolutely loved every minute that we were on the Song Xanh Sampan trip (by Victoria Hotel group) and the two bedrooms on it are perfect for two couples and the shared bathroom was fine. The living room area was comfortable and it was nice having the dining area (table and four chairs) at the other end of the boat. The food was very delicious and their excursions were excellent. It was a truly unique experience travelling along the Mekong River/Mekong delta area by sampan and we loved it. We highly recommend this company/sampan. The staff were very professional, yet fun, and treated us extremely well. They were so attentive and did so many things for us that we felt completely pampered and totally spoiled by them.

All of the local tour guides and drivers that you booked for us were exceptional. Our local tour guides were so knowledgeable and willing to answer all of our questions and many were kind enough to share their personal histories/experiences with us which allowed us to have an insight into their lives and culture. We appreciated this so much as it was very enriching and special to us. All of the drivers were very safety conscious/cautious drivers and we felt safe at all times. We also liked when they provided icy cold bottles of water to us and cold mini towel packets as we are not used to the combination of extreme heat and high humidity. All of the vans were in very good condition and the air conditioning worked great. The tour guides and drivers were always early to pick us up and open to changing the schedule if we wanted.

All of your staff provided excellent customer service and truly wanted us to have the very best vacation we possibly could and were enthusiastic in helping us to achieve that.

We thank you Lana for all your help and we will definitely contact you again in the future when we want to plan another trip to south-east Asia!

Take care,
Heather and Scott McRitchie from Canada
---
VIETNAM & CAMBODIA DISCOVERY from 14 Oct to 11 Nov 2017
This was my second trip with Travel Vietnam and Ms. Lana Vien as consultant. The attention to detail, wonderful accommodations and guides/transportation made my trip with friends so memorable that I was determined to return with my husband and other friends to share with them the beauty of the people, country and culture of Vietnam. They were equally impressed.. This time, while I would have been content to revisit every site I had seen before, I was delighted that this trip included excursions that were new to me, example, the eco-tour in Hoian led by the amazing Lily and the cajuput boat trip were SO special and arrangements were made for our traveling companion (who is blind) to ride on the back of a motorbike so that she could enjoy the day with us as we biked through the rice fields and organic gardens. This is NOT a cookie-cutter tour! Our needs and preferences were considered at every turn. When we needed to get laundry done but did not want to pay the high price of hotel service, we were taken to local launderers and driven back the next day to pick it up. When we were unable to go to Ninh Bin due to weather, a substitute dinner was compensated to us.
The guides, Sonny in the North, Hoang in Central Vietnam, Don in HCMC and Mekong, and Jerry in Cambodia were all fantastic and imparted their amazing breadth of knowledge to our group of five who asked incessant questions. After 23 days, we left Asia exhausted but filled with amazing experiences and memories that will last a lifetime!
Thank you, Travel Vietnam, Lana and all the fantastic guides. You do tourism beautifully!
Gratefully, Marty and Mike Nihill
Mrs. Martha Nihill from United States
---
SIEM REAP & VIETNAM DISCOVERY from 02 Nov to 22 Nov 2017
Lana
Thank you so much for organising and planning our dream holiday
It was perfect in every way
Your staff were all amazing, knowledgeable, friendly and very efficient
Thank you once again and maybe we will be fortunate enough to use your company in the future
Thanks Lana to you and your team
Mrs. Helen Bouch from UK

---
Vietnam Discovery from 14 Oct 2017 to 24 Oct 2017
Dear Ms Trinh,
We wanted to write to you personally to let you know how much we enjoyed our holiday in Vietnam and to thank you for organizing this memorable trip. We had such an amazing time discovering your diverse and beautiful country, it's people and of course the delicious food.
We found your tour was so well organized and we did not have to worry about anything throughout our trip. Every little detail was taken care of ahead of time and we did not wait for anything.
All of the tour guides were great but we wanted to let you know that Tao during our North Vietnam stint was particularly outstanding in making us feel comfortable and looked after. He was very personable and a delightful guide - I'm sure he is popular with all of your customers.
Thank you also for arranging the upgrades of our hotel rooms which we had in Hanoi, Sapa, Hoi An and the Mekong Delta. Some of these hotels also provided complimentary cakes, fruit and made our trip that much more special. It was also very kind of you to give us a gift - we will treasure this and use it to decorate our new home.
We have filled in the feedback form via the link below, but wanted to write to your personally as well to show our appreciation for organizing this trip which we will never forget. And of course, we will be recommending your services to all of our family and friends who are interesting in travelling to southeast Asia.
Thank you again,
Best wishes
Mr. Minothkanth Kanagaratnam & Mrs. Dona Kuruppu from Sri Lanka & New Zealand

---
ESSENTIAL VIETNAM from 23 Sep to 01 Oct
Dear Ms Lana Vien,
Good Day.
Now I have come to the end of the trip and I must thank you for the excellent arrangement you made for the entire 9 day trip starting from arrival Saigon to departure Hanoi.
The trip to Halong Bay on Alisa Cruise, my family liked the most.
I will definitely recommend Travel Vietnam to my friends.
Thanks and regards
Mr. Lokanath Tripathy from India
---
Best of Sapa 4 days (19-22 Aug 2017)
Vicky,
Great experience with excellent guide and driver. I mean both, including the driver. We appreciated his cautious and safe driving in an environment with so much dangerous driving.
Appreciate
Thanks
Xavier Le Mintier & partner from France

---
VIETNAM HIGHLIGHTS 9 days/ 8 nights from 7 Aug 2017 to 15 Aug 2017
Our trip was fantastic - possibly the only thing that we could think to recommend is perhaps cold towels in the bus as the weather is very hot and humid.
Gaynor Azzie and family from South Africa

---
BIKING MEKONG DELTA & NHA TRANG BEACH BREAK from 31 Jul to 10 Aug
Lana
Thank you- we have had a truly Fantastic time and you have done an amazing job organising our time in Vietnam, it was perfect. I would truly recommend Travel Vietnam and yourself to any of my friends wanting to visit this beautiful country.
Best regards
Nathan, Florence, Alexander and Elise from Britain

---
Vietnam & Cambodia discovery 16 days - from 25th Jul to 9th Aug 2017
Dear Mary D,
Thank you for your email. It was indeed a pleasure to meet you briefly at the hotel. I would like to thank you for your gifts to the group and tell you that this was indeed a trip we will all remember. It was amazing. I am pleased we chose you to proceed with the trip. Hopefully we will be back or choose another area your travel agency covers.
I shall complete the feedback and also try and post to facebook and tripadvisor as this will be helpful to other travellers.
Please also find attached the image we took at the hotel.
Kind regards,
Marios.
Marios Kazamias & friends from Cyprus

---
HIGHLIGHTS OF VIETNAM from 25 Jul to 02 Aug
Once I connected with Lana, she worked professionally and efficiently with me to put the itinerary / tour together based on our schedule / availability. She was able to make adjustments quickly and very effectively when needed. She kept contact with us during the tour and was always there to answer any questions or provide suggestion or needed information. Lana was outstanding in all aspects, and I will send a separate email to Mr Alan Hoang providing greater detail of our high level of satisfaction with Lana.
We had five guides overall and they were all fantastic. I cannot rate one above another simply due to the fact that they were all so good. All spoke English very well and provided us with a wealth of information about the various areas of Vietnam that we visited. They also all responded very well to the many questions that we had, and went out of their way to accommodate us and make suggestions or give direction when we needed it (for meals, etc). As well, the drivers were all most excellent. We were amazed at how well they navigated through all the traffic and all the scooters. And they were always on time, and very polite and helpful.
Overall the trip was fantastic, and the choices / suggestions for the sites to visit and see were excellent. As well the hotel choices were very good.
I would love to visit Vietnam again, and whenever we can make that happen (it's quite a long flight to get there!), we will definitely be looking to work with Travel Vietnam again.
Mr Hoang,
I have filled out the survey that Lana requested, but I wanted to write to you directly to express personally our appreciation for Lana's great job.
I have worked both personally and professionally with many people over the course of many years, and I must say that I have been most impressed by Ms Lana Vien.
From the very moment she took us on as clients, both her professionalism and personal touch and involvement was
absolutely fantastic! She took great interest and care in making everything "right" for us, and was attentive to every detail of our trip. Her ability to happily and flawlessly adjust to our needs was impressive – including adjusting to a late change in our international flight schedule.
And once our tour started, Lana continued to watch over us, keep in contact, help us with our questions, and make suggestions when it was appropriate. She took care of us from start to finish. This certainly made our planning, travel, and tour more enjoyable by lowering our stress level, and allowing us to relax and thoroughly enjoy the tour/trip. We are highly appreciative of everything she did for us! --and we just cannot thank her enough.
Hopefully you can recognize her in some way for all her great work.
Obviously Vietnam Travel is a highly professional company, and we will be happy to work with you again whenever we are able to return to the area. As well, we are happy to recommend you (and specifically Lana as well) to other potential customers. –Feel free to use us as references.
Thank you again,
Cheers,
Nate Bedee
Mr. Nate Bedee from United States

---
GRAND VIETNAM & CAMBODIA from 17 Jun to 08 Jul
Hi Lana, It is very good to be home. We love to travel but there is no place like home.
On behalf of the Debbie Erlandson group I would like to say a big thank you to you and Travel Vietnam for our wonderful holiday. We really liked the private tour, not having to deal with 40 people is a blessing. All our accommodation was superb. It would have been nice to have more time in Saigon but as the airline changed our flight from Dalat that didn't happen.
We all thought Vietnam was a beautiful country and we were very lucky with the weather as you are coming into your wet season. I am sure with the private tour we saw parts of Vietnam that many tourists wouldn't have seen.
Once again many thanks from all of us,
Regards,
Mrs. Debbie Erlandson from Australia
---
BEST OF THE NORTH 10 days/ 9 nights from 26 May 2017 to 4 Jun 2017
Hello Duong,
Thank you so much for arranging the trip for me and my friend, we had an amazing time in Vietnam! I learned so much about the culture through our tour guides and talking to the locals. The food was tasteful and I loved trekking through the rice fields of Sapa and sailing in Halong Bay. I'll go and fill out the survey and write how much I loved the trip.
Sincerely,
Christina Oftedal from Norway
---
3 days 2 nights trip on Halong Violet Cruise"
Giang,
Thank you very much for all your quick responses and help since I contacted you.
You've been very helpful the whole time.
We had such a great anniversary trip on the boat, not to mention, with the free upgrade,
it made our trip to a whole other level!
I'll definitely recommend this website to my friends who would like to take a trip on Halong Bay.
I've finished the E-survey and I hope that helps.
Thank you again.
Ms. Chieh Yin Liu & Partner from Taiwan
---
SIGNATURE VIETNAM 10 days/ 9 nights from 19 May 2017 to 28 May 2017
Thank you Duong!
One of them stopped by my office yesterday with a beautiful scarf for me. They had a fantastic trip and
Were very complimentary of the guides. All around a very good trip!
I will use you again when I need something in the area
I will fill out the attached survey and send back.
SHELBIE HELD from USA
---
Package Visit Hanoi – Cruise Halong Bay 5 days from 9 May to 13 May 2017
Hi Giang,
How are you? I am safely back in Malaysia. Thank you very much for organising our trip. The Orchid Cruise was the highlight of our trip, it was very very very excellent! We all loved it. I will definitely recommend Orchid cruises to everyone. The rooms were spacious, and the bathroom had a fantastic view of the bay, the food was good, and the staff and crew were friendly. The cabins were very clean and new too. 5 star luxury cruise at its best!
Sofitel Metropole was marvellous! We all loved our stay there. We used the swimming pool and it was great, there was a lifeguard who saved me from almost drowning! Wish out stay there was longer tho.
Golden Silk Hotel was not as good hotel but it was in a very good location. The rooms were a little old, and it smelled a little musky. It was clean but a bit dated. The spa in the hotel was a bit old. Sometimes the receptionist couldn't really speak good English. But overall it was still okay, not too bad.
Mr.Huy was a very knowledgeable and friendly guide, we loved him, and Mr.Tec the driver was also very polite and gentle. We had a really good 1 day tour of Hanoi and grateful that we got to see many places and Mr.Huy accomodated our request to see the lacquer and embroidery factory. We gave them both a lot of tips as we thought they were excellent. The private van was spacious and clean, and new, we were happy with it. We were impressed that there was even wifi on the van!
Lastly, thank you to you Ms Giang, for your hardwork and also for the gift. I will not hesitate to use TravelVietnam for my future travels and look forward to seeing you in Malaysia someday. Do let me know if you plan to come and I can try and give you some tips. If you visit Australia, let me know too and I can give you a few tips. Of course, I am no travel agent, so my tips may not be that good but I will try my best.
Kind regards and thank you again,
Ms. Gitanjali & Group from Malaysia

---
BEST OF THE NORTH from 26 Apr to 03 May
Our guide, Son, was excellent and my wife and I really comment him. Living so far away, I do not think that we shall visit Vietnam again, but I hope to use your services for Laos and Myamar.
Dr. Moshe Hashmonai from Israel
---
ESSENTIAL VIETNAM 9 days/ 8 nights from 20 Apr 2017 to 28 Apr 2017
We did not use your guide services in South Vietnam so I did not provide a rating.
The guide in Hoian was a little difficult to understand but our guide in Hui was excellent.
Unfortunately we were unable to do the kayaking in Halong Bay as the activity had been stopped during our stay.
Locations of hotels were excellent and good for the category of the accommodation.
It was a pleasure to deal with Ms. Duong Nguyen to customize our trip as she always responded to my questions in a timely manner and any issues were quickly dealt with.
A visitor from Canada
---
BEST OF THE NORTH from 14 Apr to 22 Apr 2017
We were extremely happy with Travel Vietnam, from the initial enquiry stage right through the booking process and eventually our trip. I have recommended you to friends already and will be using you next time I visit Vietnam.
In particular I would like to thank our tour guide in Hanoi, Shiny, he was incredibly friendly &a knowledgeable and we felt completely safe & secure in his company, he is a real asset to your company.
I would also like to express our satisfaction with our driver Mr Thang, always friendly and courteous, and always had a smile on his face, his driving was impeccable and again we felt very safe in his vehicle.
The hotel staff at La Siesta Trendy in Hanoi also deserve a special mention. They were all very friendly, helpful and welcoming, they made us feel at home and like nothing was ever too much trouble for them.
Thank you Lana for all your help and guidance in booking our trip.
We had the best time and will definitely be back to see the rest of your fascinating and beautiful country.
Thank you Travel Vietnam!!!!!!
Kindest regards
Cherie Ann Holmes from New Zealand
---
South and North travel service
Many, many thanks to Giang Duong for her incredible supervision and planning of our travels this month!! She was very responsive to our requests and always answered our questions quickly and pleasantly as well as being very informed on all of our travel needs. I would highly recommend her to anyone!! Travel Vietnam is the way to travel!
---------------
Hi!
We had an AMAZING trip thank you SO very much!! I just left a review for you on the link you sent to me.
It was so very nice to meet you too!! Thank you for the delicious present and for your warm greetings and great assistance.
My phone died on our trip but I will look for the pictures to send to you  I want them too!
Have a wonderful day!!
Mrs. Elizabeth A Reed & Mr. Alan Reed from United States
---
Vietnam discovery 14 days". From 5th Apr to 18th Apr 2017
On behalf of our group of 5 friends, We would just like to thank the management team at Travel Vietnam for providing such a wonderful service over the 14 days, We where able to experience the culture,people,food and wonderful scenery of Vietnam that will be life time memories! and great conversations!!. for us all.
A very special thanks to our Consultant Mrs Mary D, Who at all times showed true professionalism and excellent communication to ensure our requests where met and also for her incredible knowledge of making excellent suggestions for our Itinerary, if you have a reward system in place, i would strongly recommend that she be rewarded for her efforts as this has been my third trip with Travel Vietnam and Mrs Mary D has been our consultant from the start and if and when i travel to Vietnam again, I would not hesitate the slightest to request her services again.
Also we would appreciate it if you could please pass on our highest regards to all your drivers as they showed incredible road skills and always put our safety first and they where also very obliging to help with our luggage at various times.
Please pass our highest regards to all your guides and thank them highly for their efforts.
And finally a very special thanks to your Guide in the south Miss Tran Nguyen, what an incredible asset she is for your company to have, this woman really knows her job and has a very special way of communicating her information to tourists in such a wonderful manner.
So thank you once again Travel Vietnam for a lifetime incredible experience!
We hope to see you again!
Highest regards
Chris Allender & party from UK & AU
---
VIETNAM HOLIDAY 14 days/ 13 nights from 3 Apr 2017 to 16 Apr 2017
Dear Duong,
A lot of thanks for the planning of our travel in Vietnam! We are just back at home and we all think that you are a perfect organizer! We'll never forget this travel, it was wonderful.
We have all enjoyed: very interesting visits and sites, attentive French guides (French language of Hien in Hanoi was fantastic!), prudent and kind drivers, wonderful cruises in Ha Long Bay and Mekong, good choices of hotels (particularly in Hue and Hoi An!), welcome at the airports, all was really perfect. We haven't got any problem!
We particularly wish to thank you for the visit of Cu Chi yesterday. We know it wasn't planned in the program and that you have added it because our flight was very late in the evening. A lot of thanks for this too and for your kind gifts in Hanoi!
We keep your address and your brochure, we'll give them to persons interested to visit Vietnam or Asia and we'll speak about you.
Have a nice day!
Best regards,
Micheline Zegels and family from Belgium
---
"Halong Violet Cruise + Train service + Seaplane Halong Bay from 27 March to 16 April 2017"
Hi Giang,
Just a note to thank you for your service and help. The car service to Halong Bay was very nice... clean car, friendly and safe driver, and wifi in the car was a super bonus, a very nice touch. Our driver also stopped at Hong Ngoc Handicraft center, without being pushy about it at all, and we really liked this stop... we picked up some things and the staff were friendly, helpful and not pushy.
The Halong Violet was a very nice boat, friendly helpful staff; it would be nice if a few more of them spoke better English, but Sammy was usually around and helped us navigate things. Our room was wonderful; the big bathtub and large movie selection were really nice surprises. Because the weather was misty (no one's fault of course), and there was no kayaking (too bad the government put this rule in... a real disappointment), and the excursions were crowded/boring, we took advantage of both of these things and caught up on our relaxing.
The float plane service went flawlessly and we are happy we spent the extra money to do this... it was nice to see the islands from the air and get a better sense of the whole area. Our driver from the airport to our hotel was friendly and a good driver.
Thank you again for our gift and for coming to meet us at the hotel.
All the best to you!
-----------------------------
We booked our recent Ha Long Bay 3-day tour through Ms Giang Duong, a travel agent with Travel Vietnam, a division of Asia Travel & Leisure in Hanoi. Ms. Giang responded quickly to emails, supplied us with well-thought-out alternatives, and also assisted with our Vietnam visas. She was professional, friendly and knowledgeable. She provided a personal touch by meeting us at our hotel the evening before our Ha Long trip, and bringing us a beautiful gift. Thank you to Giang and Travel Vietnam in Hanoi.
Visited April 2017
Mrs. Shauna J Trieb & Mr. Mark A Trieb from United State
---
Siem Reap & Phu Quoc Escape – 11 days/ 10 nights (from 2 April to 12 April 2017)
Hotels in Cambodia and Phu Quoc were excellent. Lavender boutique hotel in HCMC was in excellent location however felt a bit run down (low end of 3 stars).
Excellent choice of program and locations. Phu Quoc provided excellent balance for re-creation. Probably next time we will add a bit more nature/adventure vs culture/mainstream tourism.
It was good again to have the guides showing us the places for good food and best spots.
We are certainly looking forward to our next trip. Many thanks to Mua for the perfect organization and attention.
Roland Ringel & wife from German
---
Vietnam & Cambodia highlights 6 days. From 31st Mar – 5th Apr 2017
Dear Mary,
Everything was fantastic and we had a very pleasant time both in Vietnam and in Cambodia.
Thanks again for your help.
Best regards,
Pilar from Spain
---
CAMBODIA AND VIETNAM HOLIDAY 13 days/ 12 nights from 23 Mar 2017 to 4 Apr 2017
We were extremely pleased with your services. You attended to all our needs very professionally. Our hotel at Sokka hotel in phnom Penh could be improved. The knowledge of the guides was very good but just just improvement on pronanouciation as at times the guide had to repeat the sentences so we can understand him/ her better.
We are very happy and have already recommended you to our friends.
Many thanks for organizing a memorable holiday for us and hope to use you again in the future.
Ms. Rita Houri from UK
---
Halong Bay Emperor Cruise – 2 Days 1 Night program (From 2 April to 3 April 2017)
Working with Giang Duong was excellent - her communication and eagerness to assist are what made this trip a success.
We will definitely be reaching out to you for any future travel needs in Asia.
Thank you,
Mr. Jake Grinsted Group from United State
---
VIETNAM & CAMBODIA DISCOVERY 16 days/ 15 nights from 12th March 2017 to 27th March 2017
Dear Gracie
How is your pain inside your nose? I hope you feel better.
I send your office the E-survey and want to thank you again for the wonderful job you made for us.
It was a success trip and we are looking forward traveling with you again.
All the best
Ronit & Avi from Israel
---
VIETNAM DISCOVERY 16 days/ 15 nights from 9 Mar 2017 to 24 Mar 2017
From Mrs. Rhonda Thornton,
Dear Lana,
Having just returned from a tour with your company with friends from Australia (Peta, Susanne and Julie) I wanted to thank you and express my appreciation for the wonderful service Travel Vietnam provided.
It was a truly wonderful trip and it has provided many happy and lifelong memories for me and this was made possible by your efforts. Prior to the trip and during the trip you have been very supportive, thoughtful and accommodating. Hence I wish to thank you very much for your assistance, patience and generosity.
Warmest regards Rhonda Thornton
-------------------------
From Mrs. Peta Darcey,
Hi Lana
I completed the survey but wanted to personally thank you for arranging such a great holiday for my friends and me. All the guides were very knowledgeable and accommodating and provided very high standard of customer service with a smile every minute we were with them and shared detailed information about the region they love.
Sonny in Hanoi and Huyen in Saigon were very friendly and knowledgeable and nothing we asked for was too much trouble and the driver in Hanoi not only negotiated the crazy Saigon traffic safely but also handed us a chilled towel each time we returned to the bus, which we thought was over and above regular service. Little extras like this make the difference between a good driver and a 5 star customer service professional. We would like to have recognised his outstanding customer service with a small tip but unfortunately had no Vietnamese or USD cash remaining when we arrived at the airport in Saigon. Huyen patiently answered all our questions about the locations and attractions and shared her insights into Vietnamese history with us and her excellent English language skills were an added bonus.
The only small issues we encountered were that the Halong Bay cruise catering staff appeared to be unaware one of our party eats only vegetarian food and one of our drivers had no Travel Vietnam paperwork to confirm his identity, but I understand you are already aware of this. Neither was a major issue but I felt you would like to know.
I will definitely contact you again if further travel in your region is contemplated.
Kind regards
---
AUTHENTIC VIETNAM CAMBODIA 19 days/ 18 nights from 5 Mar 2017 to 23 Mar 2017
Our driver Sarat in Siem Reap to Phnom Penh was very excellent but the vehicle condition was poor (new tires needed).
Guide Jack in Siem Reap was very good and knew how to make our day at the Angkor Temples special and individualized.
Guide Sukho in Phnom Penh was the best English speaker of all our guides and was an amazingly excellent guide, especially for the grim topic.
Long in Saigon was a guide we very much enjoyed our time with.
Dan in Central Vietnam was very attentive and always trying to please. We may have benefited by having some tour time without commentary. One place he brought us for our lunch was very poor and the more expensive than it should have been.
A favorite guide was Hieu in Sapa - she is definitely a guide that you should use often and pay well.
All the hotels were excellent. Overall it was a wonderful way to experience the people and culture of Cambodia and Vietnam. Thank you Duong Nguyen for all your work arranging and individualizing the trip for us.
Susan Steingraber from USA
---
"Three days on Halong Violet Cruise and Central service" from 15 to 21 March 2017
Dear Giang
Thank you for your lovely email. We are not yet back in Adelaide but still in Saigon. I will be very happy to recommend you on Trip Adviser when I return to adelaide but will, of course, complete your feedback form now.
We have loved every part of Vietnam and cannot forget your efficiency and assistance with our travel plans right from the beginning. I have already recommended you to some friends from Australia - their surname is Spencer - I think they will travel to Vietnam next year. I have told them to contact you right from the beginning to organize internal airfares and accommodation, cruises and tours.
Good luck with your career Giang and also your future. We loved meeting you and wish we could have spent more time with you.
Warm wishes
Barbara
-----------------------------
We were so lucky that Ms Giang Duong was our travel agent, assisting us with flights, cruises and accommodation while in VietNam. She was excellent in all aspects of travel and is the best travel agent I have had when travelling overseas. Her personal service, prompt response to questions and nothing was too much trouble for her. I had a problem with my Viet Nam visa which she quickly assessed and assisted in a professional and caring manner. Great result! I cannot recommend Ms Giang highly enough. How lucky for me that we found her and please be assured I will recommend her and your travel company to others.
Thank you so much,
Mrs. Sandra Raie WATKINSON & Mrs. Barbara Wendy McMAHON from Australia
---
South East Asia discovery 15 days. From 5th March to 18th March 2017
Dear Mary,
We had a wonderful holiday and thanks to your excellent attention to details everything turned out perfectly.
Thank you once again for all your help and your lovely gift.
As you know we spent the last part of our holiday in Bangkok. We came home to cyclone conditions but thankfully our home was safe even though we live on a river.
I will do the survey and many thanks again.
Cheryl McKenzie from Australia
---
Bangkok tours from 15 Mar 2017 to 17 Mar 2017.
Dear Anna,
We had a great trip. The country is beautiful, the people very nice and friendly, and your company service was excellent.
Our guide, April, has great knowledge of land, culture , history and people, her English is excellent and she is very nice and friendly. The drivers that were taking us places were also very nice, and the vans were very comfortable.
The only problem we met was traffic jams in Bangkok…. but this is hardly possible for any of us to solve.
Thank you again for your great service, we'll recommend your company to our friends , and we're looking forward to work with you again in any trip we'll plan to Asia.
Best regards,
Dorothy from Israel
---
HIGHLIGHTS OF VIETNAM 9 days/ 8 nights from 9th March 2017 to 17th March 2017
Hi Gracie
I can sum up our tour as very good, we did not however give us ourselves enough time to enjoy all that Vietnam had to offer. We will return and take more time.
Hotels were situated exactly where we like to stay in downtown areas and we thank you for that.
Hanoi
Tirant Hotel perfect choice.
I would rate the guide as excellent, her language skills, knowledge, personality were a 10/10
The driver also was a 10/10 very helpful, drove safely, and was punctual.
We enjoyed being with both.
Halong Bay
Gray line cruises, personally I would not recommend, the crew was very courteous and helpful they did in fact arrange a early disembarkation to allow more time to arrive at the airport. The boat however was very worn and showed its age. If I were to do this cruise again I would find another cruise line.
The visability unfortunately on the cruise was very poor, nothing anyone could do but enjoy and visualized the beauty of this area.
Hoian/Hue
The La Residencia Hotel was a perfect choice, unbelievable service from all staff.
The Moonlight great location with good service.
The guide was somewhat lazy and we had the feeling he too much interest in taking us to shops he had an obvious relationship with to receive a commission. On trip to from Hoian to Hue he was asleep quite a bit. His English at best was fair.
The driver was punctual and courteous no issue here.
Saigon
Grand Silverland Hotel again perfect choice and also great service.
Guide was excellent with a good knowledge of the area, good language skills, enthusiastic, just fun to be with, 10/10
Driver also was very good, punctual, drove safely and a good attitude.
In conclusion we would certainly use Travel Vietnam again and hopefully we can plan another trip this time next year and stay longer.
Thank you for all your help
Regards,
Richard Hamilton & Wife from Canada
---
Motorbike tour 15 Mar 2017
Hello Vicky,
Apologies for not replying sooner to your email. We arrived back home in Australia yesterday. Our bike ride in Saigon was one of the highlights of our trip. Our drivers and guide were excellent. Viewing the traffic from the bus the motorbikes looked chaotic: but once we were on our bikes it was exciting and we always felt safe. It was the best way to get a feel for the city in our short stay. The places we were shown were amazing and we would not have seen these had we gone on a tour organised by the ship.
The guide gave us interesting and informative information and was cooperative in adapting the tour to our wishes.
Thank you once again for your efficient organisation of our tour. We will recommend your services to our friends. We gave your details to an English couple we met in Hong Kong who were on their way to Hanoi. They already had plans for Hanoi but were impressed with our photos and video of our tour.
With many thanks for a memorable tour,
Phil and Chris Hughes from Australia
---
HIGHLIGHTS OF VIETNAM – 10 days/ 9 nights (from 2 to 11 Mar 2017)
We had a wonderful trip. All of our guides were excellent but our guide in Saigon was a 10+++, we felt like we had known her for years after spending a few hours with her. She was very knowledgeable as well as funny.
Something that we have never experienced before was actually getting a chance to meet with the person who created our tour and have them go over the details of our trip. This told me that Travel Vietnam is committed to providing their customers with the best quality of service and personal attention.
Thank you for a great vacation!
Stephen Bishop & wife from USA

---
Hanoi – Halong bay 2 days 7-8 Mar 2017
Hi Vicky
Just wanted to say thank you for all your help sorting out our travel. Everything has gone like clockwork and the service you and your driver have provided has been excellent.
The seaplane flight was incredible, we loved every minute of it.
We will contact you again when we next visit Vietnam.
Kind regards
Ivan and Ryan from UK
---
Essential Vietnam 12 days 11 nights from 23 Feb 2017 to 06 Mar 2017.
Hello Anna,
Sorry for the slow reply to your email. We are still travelling! After leaving Viet Nam, we flew from Bangkok to Barcelona, where we are spending two weeks in southern Spain, before flying home from London on April 4th.
We greatly enjoyed our 12 days in Viet Nam. The highlights for us were the Syrena cruise on beautiful Ha Long Bay and our longer stay at the Silk Path hotel in Hanoi., The Silk Path is a truly excellent hotel, with a wonderful location near the lake. The entire trip was very well planned and everything went well from beginning to end. All of our guides and drivers were very professional and helpful, and we enjoyed meeting each of them.
During our two free days in Hanoi at the end of the trip, I was able to visit the National University where I worked for a short time in 1993. Of course, much has changed in Hanoi over the past 25 years, but there were still many familiar sights and good memories from that time.
Thank you for all of your help in planning our trip. I will do the survey when we get home to Canada in a few weeks.
Best regards,
Larry LeDuc from Canada
---
Highlights of Vietnam 13 days 12 nights from 16 Feb 2017 to 28 Feb 2017.
Dear Ms. Anna,
Thank you for organizing such a wonderful trip. We had a lovely time visiting Vietnam. I greatly appreciate all of your help in arranging our vacation and making it run so smoothly.
Best,
Kathleen from USA
---
Vietnam-Cambodia Discovery 12 days from 17 to 28 Feb 2017
Hi Vicky,
We had a marvellous holiday thanks to you. Our trip to Hanoi and Saigon was fun but our trips to Siem Reap and Phnom Penh were a little rushed. The guides in Hanoi and Siem Reap were very good. Our guide Xuan has been very helpful and knowledgable. You have a good guide in him and we have been very pleased with his services.
The hotels were good and spacious. The Halong cruise was excellent and the ship very comfortable.
The weather in Hanoi was the best.
Maybe one should come here in November or December.
Thanks again. Good to meet you in person at last.
Best regards.
Ali Qizilbash from Canada.
---
Vietnam Discovery – 21 days from 08 – 28 February 2017
Hi Viet,
I will be filling out the online survey momentarily. In the meantime here are some thoughts.
Our trip was one of the best we have ever undertaken. We enjoyed the country and especially the people we met and talked to.
It was very thoughtful for you to meet us and buy us dinner. We enjoyed your company and the conversation about your brother's wedding and living in Vietnam. Thanks for the gift of the plates...Pat has a place picked out for them when we arrive home.
I am glad we went to Sapa even though the weather was bad. Meeting our Hmong guide (Kim) and being taken down the mountain was a real experience. She was remarkable. She is 26 years old, married with three children She lives in a village where there is no electricity and no running water. She was happy and gave the impression she had all she needed and nothing she wanted. We could all learn something from her.
Halong Bay was remarkable but far too developed and too many tourists. On our cruise there must have been 30 or 40 boats stopped overnight. I hope that the beauty of that spot won't be spoiled by too much development.
One of the highlights was Dalat when we went to a temple with our guide Mr. Thom. He was about our age and opened up to us about his experience from the war. It all started with me asking him about names on benches surrounding the temple. ( for example, " With Gratitude ,Viet Nguyen of Sydney Australia " ) . These are people who escaped the war and after 30 or more years came back home to visit their ancestors and purchase a bench. Pat and I both were overcome with emotion listening to the stories he told about his country and his people and the terrible times the Vietnamese people experienced.
In Hoi An we met Lilly and she was a real "firecracker ". She was 26 and still lives at home. Her parents were arranging a marriage for her and she was not going to go through with it so she got a small tattoo and when the boy's parents saw it, that was the end of the marriage. She was very outspoken and sometimes she had to remind herself she was dealing with foreign tourists. She had a great sense of humor and after she got to know me she could be very funny in the things she would say. For example I heard her talking to the staff on the boat and I could hear the English phrase "hello people " After she finished her conversation with the staff I asked her about the phrase . She was initially embarrassed that I had picked up on it but went on to explain that was what foreign tourists were called. I asked her why and she said because none of the tourists could say anything meaningful in the Vietnamese language they always greeted the Vietnamese people they met by saying "hello ". Hence the moniker "hello people ".
In Na Trang we met Marie on the boat cruise. She is Ukrainian and fluent in 3 languages and can get by in another two. A beautiful girl from Odessa who came to a very foreign country to make a better life for herself. She had excellent English skills and I learned a lot about her life in Odessa and her background. Finally in Saigon our guide was Nhan. She was also around 26 years old. As with the other young guides she was quite outspoken. She told us that Vietnam had only one religion and that was " money ". From what Pat I saw in our trip from North to South she is probably correct. We may have noted a theme in talking about the young women who were our guides. They were confident and outgoing and given their ages (like you) are the face of the new Vietnam .
We started in Hanoi and the further south we got the more economically advanced the country seemed to be. That has a good and bad side as well. In Da Nang the entire coast is being built on and I suspect it will be but a few years and all you will see is high rise after high rise.
We were treated like royalty during our trip. The drivers were always early to pick us up and the guides were attentive to our requests, always asking on the days we were driving on long trips they always gave us water ( lots of water ) and stopped frequently so we could use the " happy room " . Our initial trips were terrifying as I had never experienced the chaos of traffic in Vietnam. The scariest drive was at night to the Victoria Hotel in the Mekong. It was dark and there where motorbikes all over the place. I still don't know how Mr. Lung did it because I never could.
All we had to do each day was to show up at the appointed time and the guides and driver looked after everything else. If you ever get a new career it should be in the army organizing troop movements and invasions !
The hotels rooms were great...some better than others but all were clean and close to the center of the places we stopped in.
What we wanted before we went was an opportunity to experience Vietnam and its people. In some places that was hard to do because Vietnam has been overrun by foreign tourists ( about 13 million last year and not counting Vietnamese travelling in their own country ) In other places like Sapa and the Mekong we got to see the people before development had overtaken the area.
When I was in Vietnam all I ate was Vietnamese food . I never saw a fat Vietnamese so I thought I wouldn't gain any weight on the trip but I am sure I did. (Pat thinks it was all the beer I was drinking and she is probably right.
The people in the tourist industry are well trained and have the best customer service we have experienced in our travels.
One grumble is the Vietnamese wine ( we like white wine ) which was not very good .
All in all a wonderful trip and an experience of a lifetime
Thanks Viet
Dave and Pat Helm from Canada
---
Vietnam & Cambodia 15 days 14 nights - 13 Feb – 27 Feb 2017
Dear Nga Vu
We also had a very good time. Vietnam is realy bautiful country and totally different. Sa pa with the tribes' poeple is an excepctional experience; a traphic on the streets of Hanoi and Cho Chi Minh (Saigon) is a little bit scare but also challenging; Hoian with old down town and scary monsume rain almost every year make you thing and admire the poeple who live over there; the river cruise through Mekong delta with caramel manufactory seems to be a unique experience; the Unesco accepted monuments of Angkor Teples doesn't need any comment. Thank you very much for making to us the schedule of the travel and reserve very comfortable hotels. We appreciate the time and knowledge of the guides, although the guides of Vietnam are more accesible and friendly than those of Cambodia. Now we are at home and teflecting everything we have done and experience with you help, Thank you again and maby we would meet in the future.
Warm regard,
Ryszard Gron, and my companieros from Poland
---
Family Trip in the North of Vietnam" From 19 to 26 February 2017.
All my family and I were sincerely very very pleased to travel with your agency. We traveled from February 19th to 26th with you and there was not any problem or annoyance. Everything was perfect.
We want to say a big THANK YOU to your consultant, Ms. Giang Duong. She was absolutely friendly, efficient, available, professional and careful.
We also want to say thank you to our driver, Mr. Hung. He was always punctual, smiling, reassuring and professional.
Thank you to Mr. Tuan, our French-speaking tour guide: friendly, interesting, professional and he wields French language very well!
At last, thanks a lot to the whole people in our 3 hotels and on the Halong Bay cruise!
Seriously, we'll warmly recommend your agency, and particularly Ms. Giang!
Cảm ơn rất nhiều và hẹn gặp lại!
Trân trọng,
Louis Vidal & Family from France

---
VIETNAM HOLIDAY 16 days/ 15 nights from 9 Feb 2017 to 24 Feb 2017
Dear Duong
Our lovely journey to Vietnam is coming to the end
It was impressive what we have seen of this site beautiful country.
Thank you for this very well organized tour.
Thank you and see us again for a next tour with your company
Michael and Karin from Switzerland

---
Highlights of Cambodia & Vietnam 11 days 10 nights from 14 Feb 2017 to 24 Feb 2017.
The organization was excellent, with fast response to emails and updated itinerary provided quickly. We booked the holiday only 3 weeks before travelling, and everything ran very smoothly. We had a fantastic time and would recommend this company to friends and family. Thank you.
Thanks & best regards,
Mr. Abhijit Mohite from UK
---
VIETNAM HOLIDAY 14 days/ 13 nights from 10 Feb 2017 to 23 Feb 2017
Apart from the first guide in Cao Lai,and the car from Hoian to Hue everything was wonderful.
The Nam Hai and the Violet are great but they do not give the right value for the money!
Ms Doung has been of a great support before, and especially during the tour when she solve all the problems that aroused during the tour, she gave us a very attentive service and a high quality service.
She is the best tour operator we ever met."
Dr. Lazar Iulian from Israel

---
Taste of Vietnam – 15 days 14 nights - 7 Feb – 20 Feb 2017
Ms. Nga Vu,
Thank you again for all your help. We arrived well and on time to Korea. We thoroughly enjoyed our trip and were very happy that we used your services. We hope we can make it back to Vietnam one day.
Amy (and Soonhyung) from Korea + Canada

---
ESSENTIAL VIETNAM 11 days/ 10 nights from 9 Feb 2017 to 19 Feb 2017
Dear Ms. Nguyen,
I completed the feedback link. Thank you again for a great trip. Everything was excellent and we will definitely recommend Travel Vietnam to our friends and family in the future.
Have a great day and good luck,
Jordan Habiby from USA

---
VIETNAM DISCOVERY 19 days/ 18 nights from 1st Feb 2017 to 19th Feb 2017
We were given the evaluations just as we were departing each time, so I wanted to share our experiences in more detail.
All the guides were good. We feel the last one, Ni, was the best, but the guide Mai in Sapa was also great. The drivers all did a very good job. The last one was the best of a very good group. The best hotel was the Residencia in Hoi An. The worst was the Holiday One in CanTho. The hotel in Hanoi wasn't great but the staff was very nice and helpful. The view from our room in Sapa was stunning.
We are very happy with the trip you planned for us. Thank you again for all your hard work.
Cassia Cottage is very nice. Great food, great staff, a lovely way to end our trip.
The Le Gourmet restaurant in Hanoi had very good food. The French pastry shop around the corner from our Hanoi hotel was also very good, as was the Morning Glory restaurant in Hoi An. We also liked the 96 restaurant in Hoi An.
Best regards,
David Morris from USA
---
Package ORCHID CRUISE – 3 Days 2 Nights from 16 February to 18 February 2017
Dear Giang Duong,
Thank you very much for your email.
We had a wonderful time in Halong Bay. If we ever travel to Vietnam again we will certainly contact you. For the moment we are considering on going back to Myanmar maybe next year.
Thank you very much for the upgrade at the cruise and all the compliments during our trip.
Kindest Regards,
Max Reidel from Chile
---
Highlights of Vietnam from 6 to 16 Feb 2017
Hi Vicky,
Client, Feroza and partner were happy with the tour in Vietnam.
Thank you for your services.
Regards,
Ms. Feroza Vatcha & partner from India
---
Package Sofitel Legend Metropole Hotel and Halong Violet Cruise (From 10 to 14 February 2017)
Hi Giang
Sorry Lena's e-mail is not working so sorry in the delay in replying to you. Firstly thank you for the lovely gifts and a huge thank you for arranging the trip we really enjoyed it.
Violet was a great Boat, the Food, Staff and the care shown was brilliant. Tang, our Driver there and back was really good, friendly and very safe which we really appreciated.
Great trip and we will recommend your services to friends.
Best regards
Batchelor from United Kingdom
---
Vietnam Holiday 9 days 8 nights - 5 Feb – 13 Feb 2017
Dear Nga Vu,
Just to inform you that we have sent the e-survey as requested. Nevertheless, we would like to thank you for your assistance and for all the information provided. We really enjoyed the trip and the opportunity to see some of the beauties of your Country. Also the organization of the different trips was perfect, as well as all the people who took care of us were so friendly and helpful.
Please be sure that we will contact you again if we decide to return to Vietnam or to any other Country covered by AT&L. In this short period since we are back I have already mentioned your Organization to several friends and will keep doing so in the future.
Our best wishes,
Carmen & Evaristo from Spain
---
Sapa Adventure from 4 Feb 2017 to 8 Feb 2017
From our first email to Travel Vietnam to all the arrangements, everything was prepared for us seamlessly. Duong was very responsive and helpful to all our questions and was patient when we had to confirm our dates. The Sapa tour was very worthwhile and the scenery was amazing. However, on the very last day of the trek, we had a little too much free time considering after the trek, we were tired and would have preferred to rest and shower in our room. Maybe consider switching the trek to one of the earlier days? We had a delightful time and would definitely recommend Travel Vietnam."
Ms Joanna Ng from USA

---
Hanoi - Halong Bay - Danang and Hoian - 9 days/ 8 nights from 26 Jan 2017 to 3 Feb 2017.
Our representative, Rose Mai, was totally professional, fast to respond to my emails, and set us up with an amazing trip. All connections were on time and our guides were professional. Our driver who took us to Halong Bay did an outstanding job - his was the ONLY van waiting at the pier as we disembarked to go to the Hanoi airport. Every other passenger had to stand in the road waiting for their drivers to show up. Also our driver in Danang was really great - he picked us up at 4:30am outside of our unit, not at the front desk, which was so much more convenient. Rose's recommendation of the Fusion Suites in Danang was something I would have never considered, and we were so pleased with their customer service that we plan on returning next year! Thanks again for a truly perfect trip.
Mara Winke from USA

---
VIETNAM HOLIDAY 15 days/ 14 nights from 19 Jan 2017 to 2 Feb 2017
Dear Duong
We are home, very tired, but very happy
I will write to you soon in details the feedback but the bottom line is that we were very satisfied with the trip and with the service of you and your company.
best regards
Miki & Eli from Israel
---
NORTH VIETNAM & ANGKOR WAT 12 days 11 nights from 20 Jan 2017 to 31 Jan 2017
Hello Mua,
At first, I would like to thank you for your kindness and all the things that you've done for us : everything was very well planned.
We really enjoyed all the excursions, the places and the guides that you choose for us.
This experience was really a success since the beginning till the end of the tour.
All the guides were really open-minded and they taught us a lot of things about history and culture from their country.
It was a real pleasure also to visit Cambodia after Vietnam, it was really different and we will keep a lot of great memories from all the trip.
Thank you so much, again. You can be sure that we will recommend Asia Travel to all of our friends if they want to travel to Asia.
Best regards.
Marie-Luce & Noemie Lapierre from France
---
BEST OF THE NORTH 8 Days 7 Nights from 20 Jan to 27 Jan 2017
Lana I can not tell you how much I enjoyed Khoa. He was smart, knowledgeable, respectful of our wishes and made the trip to North Vietnam the highlight of our Asian adventure. What a treasure. Thank you so much for a wonderful experience. It made us want to return to Vietnam soon and explore the rest of the country. Five Stars!
Robert Moss from United States
---
VIETNAM HOLIDAY 12 days/ 11 nights from 16 Jan 2017 to 27 Jan 2017
Hi Duong
Thanks for your kind words!
I just got back to Canada a few days ago.
We took one week vacation in Phu Quoc island, Malinda resort is a good place that you can arrange your guests stay in.
That was a very pleasure time during the trip.
I love everything about the tour both visiting places and accommodations. All of the tour guides that we had were really professional but the only one in the middle. We were really impressed by the guy in Nha Trang.
In general, we loved everything about the trip and would totally take it again. I will give feedback as what we experienced.
I hope you had a wonderful time with you family and friends.
Best luck on your career ! and again, thank you very much for the gifts, they are lovely!
Sarah Nguyen from Canada.
---
Insight of Vietnam Tour 15 days/ 14 nights from 7 Jan 2017 to 21 Jan 2017
Thank you for a wonderful trip to Vietnam. The quality of the services we received were beyond our expectations. I would like to especially mention our guides in Dalat (Dinh) and Ho Chi Minh City (Huyen) for their great skills, knowledge, and extra kindness in spending time with us to share so much about their experiences and culture. All the other guides were excellent but these two were the best. Thank you also for providing the mobile phone for emergencies. We used in when our flight from Hanoi to Hue was cancelled and sent to Danang instead due to bad weather. Mua immediately arranged for our guide and driver to meet us in Danang and they spent an extra long day driving from one city to the other and back in order to meet us and bring us to our hotel in Hue.
I would also like to mention how much we enjoyed our cooking class at KOTO in Hanoi and the rice farm eco-tour in Hoi An. The chef in Hanoi and the guide in Hoi An both added special enjoyment to our trip.
My only suggestion for improvement is about two of the hotels. We were not impressed with the hotel in Can Tho. Although it was modern with many amenities, it was not on a par with any of the others. The room was large and nicely decorated but it smelled moldy, the carpet was stained, and the location is very noisy with a night club across the street. On the other hand, the hotels in Hoi An and Hanoi were just wonderful. The hotel in Hoi An was among the best I have ever stayed in in many travels around the world. The hotel in Hanoi was lovely as well, although I would recommend putting your guests in one of the larger rooms (ours was very small with no closet so we could not unpack). In both, the staff and service were first class and I would be very happy to stay in them again.
I hope these comments are helpful. Again, thank you for an excellent introduction to Vietnam. We will certainly recommend your company to others.
Robert & Sharon from USA
---
Vietnam Luxury Journey - 10 Days from 10 - 19 January 2017
Dear Viet,
We are safely back home and I would like to thank you again for the excellent organization of our trip. Everything worked like clockwork, without any problems anywhere. From the guides to the accommodations, transportations and food there was absolutely nothing that was not perfect (except for the weather ? ).
As I wrote in the individual feedback forms, all the guides were excellent, but I would especially like to mention Tao, our guide in North Vietnam. He was the best of the best. Please once again convey our thanks to him.
I don't know how soon we can come back to Vietnam, but if we do, I will certainly contact you and we will recommend you to all my friends planning a vacation in southeast Asia.
Best regards
Mr. Haluk Sardag & Family from Turkey
---
Indochina Tour 23 days 22 nights from 27 Dec 2016 to 18 Jan 2017.
Anna,
Now at home I continue dreaming about the wonderful travel to Vietnam, Cambodia and Thailand. Everything was great and I am very happy you visited us at the Silverland Hotel in Saigon, and thanks again for the beautiful plates you gave to us, now at home they made to me a souvenir of you and Vietnam.
Also I want to thank again for the help of all, company and guides in Cambodia, Soka and Tola gave to me for collect in Phnom Penh my Colombian documents and wallet I have left in the hotel and send it to Siem Reap and return them to me personally. It has been very special and appreciate it very much.
Thank you again, I hope some day I can come back to your beautiful country and by sure I will recommend you and your agencies to my friends. I have answer your E-survey with my comments which express the wonderful travel we have had.
Best regards,
Ms. Lucia Restrepo from Colombia
---
SOUTH EAST ASIA HOLIDAYS – 19 DAYS from 28 Dec 2016 to 15 Jan 2017
I have no suggestions for improving the quality of this trip, only praise. Our trip went seamlessly in respect to your flight reservations, accommodations, drivers and guides. One of our party became ill in Cambodia. The assistance you and your team provided allowed the rest of our party to move on as we knew she was being well cared for and was safe. You made the necessary changes in her schedule to join us as soon as she was able providing changes in flight, drivers to and from the airport and even team members to visit her in the hospital to assist with language limitations and emotional support.
We had a fabulous trip in all respects thanks to your caring and efficient team and your attention to detail. I have, and will continue to, recommend your agency to anyone thinking about visiting SE Asia, an area very close to my heart as the countries are beautiful, the people welcoming, and the culture rich with history.
Debbie Thompson
Ms. Debbie Thompson from Minnesota - USA

---
BEST OF THE SOUTH 5 Days 4 Nights from 11 Jan to 15 Jan 2017
Dear Lana,
Thanks a lot for the great services you arranged for us.
We had a lovely trip and I will tell my friends or family when they have travel plans to Vietnam.
Best regards,
Hetty Post from Netherland
---
VIETNAM HONEYMOON 16 Days 15 Nights from 29 Dec 2016 to 13 Jan 2017
Tx lana! We loved all choosen Sites/ schedules/ places/Hotels/cars etc. We missed nothing ❤️, only water puppet could be replaced by 36 streets in banoi. We have already recommend you to our friend, and will come back to you for our next kambodia, Myanmar trip. Tx a lot you made us a perfect honeymoon.
Best regards
Barbara Breulmann Flasch from Austria

---
Vietnam Holiday 10 days 9 nights - 1 Jan – 11 Jan 2017
Dear Nga Vu,
Thank you, Nga! We had such a great time and we were amazed at how much we were able to see and do in such a short period of time! We will definitely be back to Vietnam - we particularly enjoyed Hanoi and Hoi An - and we'd love to explore different areas as well when we come back. It was so nice to meet you in person finally and to meet Sunny as well. We hope you have a happy lunar new year and hope to see you again in the future!
Kim & Ryan from USA

---
Vietnam discovery 13 days 12 nights. From 28th Dec 2016 to 9th Jan 2017.
Dear Mary D,
We've Just back in Italy. We had a great stay in Vietnam. Your country is Marvellous and if our vacation was unforgettabe the great merit is yours.
Thanks a lot for the remarkable work you did.
Sincerely grateful
Fabio D'ANTONA and his family from Italy
---
Cambodia & Vietnam discovery 14 days from 24th Dec 2016 to 6th Jan 2017.
Thank you sooo much Mary, we had just a wonderful trip thanks to your precise and detailed planning(I have filled out the form too), we are used to Swiss timing always being on time but everyone during our trip was just on time or earlier than the scheduled time, it ran like a clock, we were just completely impressed how you could arrange to run it all so perfectly...
Our return trip was good too, we had a 10 hour time to visit and see Hong Kong too, and after the authenticity of Vietnam it was quite horrible.
Your big celebration is coming up and I hope to be in time for the new year if I manage, hope you get some few days off to have a well deserved holiday...
Thank you soooo much, and so long.
Esra & Fabrizio Jauch from Switzerland
---
VIETNAM FAMILY HOLIDAY 15 days/ 14 nights from 23rd December 2016 to 06th January 2017
Hello Gracie!
We are on our way back to Finland and I want to take this opportunity to thank you for everything.
You did a marvellous job in arranging our programme for a holiday we will never forget. Everything went better than we could have dreamt of, the guides were knowledgeable and the setup gave us a wonderful opportunity to learn about Vietnam. And what a beautiful country it is! We enjoyed every day of our trip.
Cam on Gracie. Planning this trip with you was a pleasure. You helped with every small detail, we were so lucky to have you as our contact in Vietnam. We sincerely hope to come back! I might have lost a piece of my heart in Hanoi...
All the best to you Gracie and your family.
On behalf of the whole group I want to thank you once more!
Take care,
Anna Kurten & Family from Finland