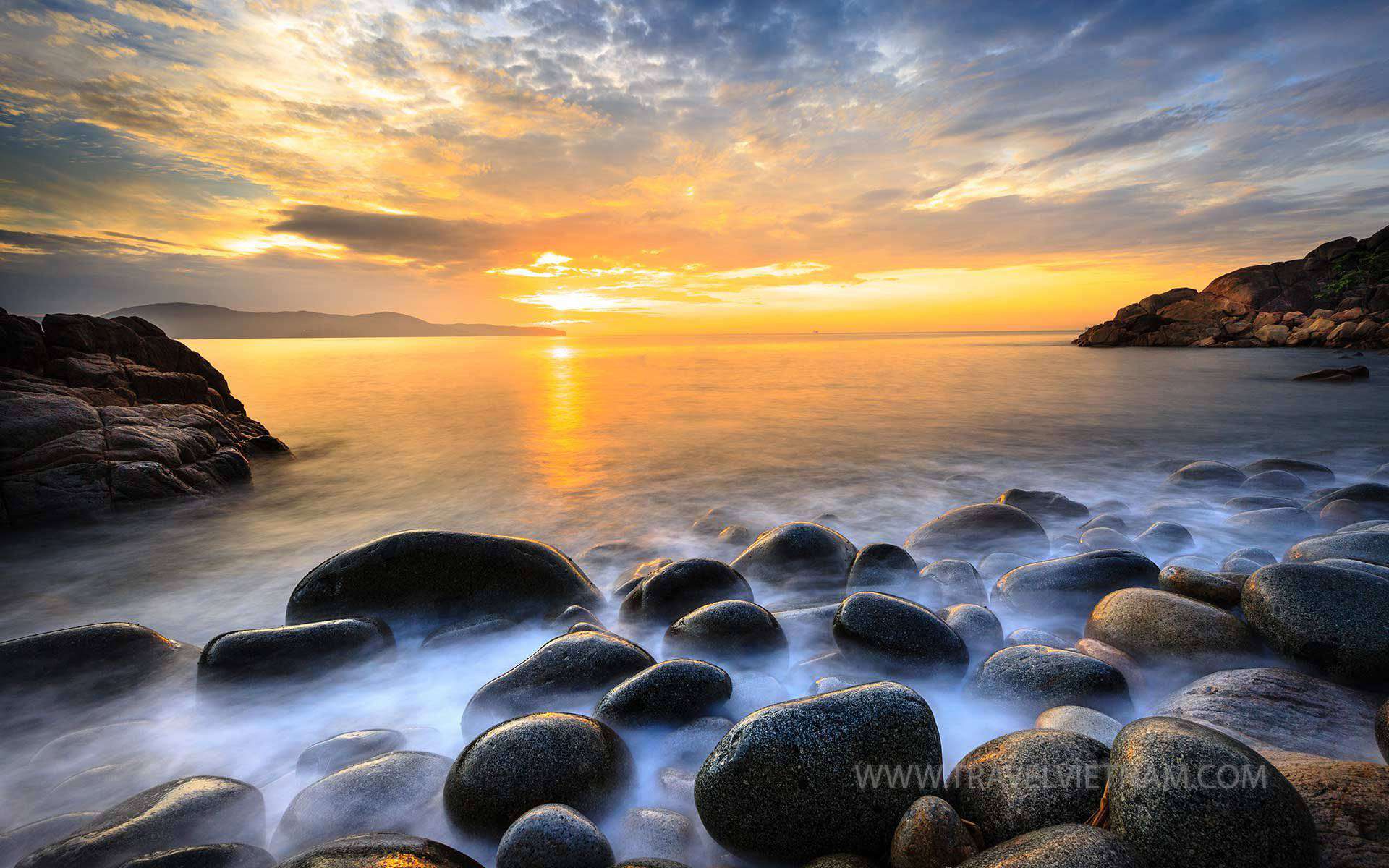 Quy Nhon is a prosperous coastal city in Central Vietnam, boasts a terrific beach-blessed shoreline and grand boulevards. However, it is a less frequently-visited, relative newcomer to the lineup of Vietnam beach cities. Flights to Quy Nhon from Ho Chi Minh City or Hanoi will be between one and two hours in length. You may enjoy arriving by train from the two main tourist gates of the country or from Danang and Nha Trang.
Beach holidays in Quy Nhon are a perfect getaway for anyone who is a nature lover and who has the fascination to absorb the beauty of our Vietnam. There are numerable options to explore this amazing city with our Quy Nhon beach vacation.
"A beach vacation in Quy Nhon"
2012-11-14 14:38:49
"A beach vacation in Quy Nhon"
Price from: US $ 102 /pp
Start city: Quy Nhon (Vietnam)
End city: Quy Nhon (Vietnam)
Durations 3 Days 2 Nights
Departure: Daily, upon your request.
Cities to visit: Quy Nhon (Binh Dinh)
Extendable with optional tours from Quy Nhon (Vietnam)
Please contact us for best offers as a variety of hotels/ resorts at budget prices available on this Quy Nhon Beach Vacation package such as:
- FLC Luxury Hotel Quy Nhon
- Muong Thanh Quy Nhon Hotel
- Royal Hotel And Healthcare Resort Quy Nhon
- Seagull Hotel
- Aavani Quy Nhon Resort & Spa
- Aurora Villas & Resort
- Life's A Beach...
Prices are quoted in US $ per person, double occupancy.
Day 1: Arrive in Quy Nhon.
Pick up at Phu Cat Airport of Binh Dinh Province or Quy Nhon Railway Station, transfer to your hotel along Quy Nhon seaside. After checking in your hotel, you can start your beach break by swimming in the blue sea or enjoying fresh seafood lunch/ dinner depending on your flight/ train time.
Meals: N/A.
Accommodation: Hotel in Quy Nhon.

Day 2: Quy Nhon – Free at leisure.
Today is free to relax on a beach. Top up your tan. Treat yourself to an afternoon in the spa or get as active as you like with plenty of fun in the sun.
Vietnam Tours provide various activities and tours around the city. Recommended excursions in Quy Nhon are as below:
- Hon Ngang Island Picnic: Just a 15-minute boat journey away, Hon Ngang Island offers a seductive escape that is yours to treasure in blissful privacy. Chat over the culinary options with our culinary expert, choosing between tasty salad creations, seafood treats and barbeque delights, paired with a selection of beverages. Savour your picnic on a rug laid out with cushions and a low table. Relax afterwards, drinking in the tranquil ocean panorama. Enjoy a stroll around your tiny private island, followed perhaps by a cool swim and a spot of snorkeling, feeling fully refreshed before the journey back to the hotel.
- Local market tour: Visit Quy Nhon central market market and night market in order to get a real sense of local adventure. From haggling over souvenirs, arts and crafts and pottery items, to finding the best food vendors and discovering the night market's secret highlights, this trip can be tailored to your personal preferences. Travel by car or scooter for a private tour of between one and three hours.
- Binh Dinh Deep Sea Fishing: Try your hand at fishing from the rocks or the seashore with our hand made bamboo fishing rods. A bite is almost guaranteed!
- Half-day Bicycle Tour at Xuan Ha: Stepping back in time is a charming adventure with this 18 kilometre self-guided cyclo tour. Travel at your own pace to a village that remains untouched by tourism. Don't miss dining at the floating restaurant which serves the seafood catch of the day in truly local style.
- Dap Da Village Tour: Take a comfortable trip in an air conditioned luxury car to this artisanal village to see its handcrafted pottery, woodwork, blacksmiths and Vietnamese rice hats.
- Cham Historical Journey: Your local guides will take you on an up-close historic journey through the 11th century Cham dynasty. Discover the complex of Banh It towers, an old tower cluster of Champa people. Standing at the foot of the towers or on the peak on a high mount, you can sense the immenseness of the universe and never-ending of time. Explore the three spires of the Duong Long Towers, the most beautiful and fascinating relic from the Cham Pa culture, and admire the carved stone designs which are drawing the attention of researchers. Finish your fantastic journey with the Doi Tower (twin towers) and contemplate the giant linga and yoni stone statues in white that represent man's maintenance and immortality.
- Quy Nhon City Tour on 4 or 2 wheels: Choose your transportation mode, by scooter or by car, and depart for a well-rounded mix of the city's attractions, including the Cham Doi Towers, Long Khanh Temple, the bustling Dam
Market and the buzzing Queen Beach offering multiple arts and crafts objects and souvenirs. End your excursion with a cultural stop at the fascinating Binh Dinh History Museum.
- History and martial arts at Quang Trung Museum: Located in the southern part of the central region, Binh Dinh province is not only known as the land of Vietnamese traditional martial arts but also the birthplace of King Quang Trung, leader of the Tay Son uprising at the end the 18th century. The museum dedicated to this national hero is a historic landmark that will certainly attract your attention.
- Waterfalls: Take a hike up the surrounding mountains and during the wet season you may discover one of the many Waterfalls. Some are just a 30 minute walk away. Alternatively you can rent a scooter and find some a little further afield.
- Boat Trip: Discover the local islands and enjoy a freshly caught shell fish Barbecue. Alternatively take our taxi boat that runs daily between your hotel and "The Beach" to discover the traditional fishing village or chill on our secluded private beach.
- Snorkelling: Discovering the sealife can feel like a treasure hunt but when the waters are warm and clear the shell fish and sea urchins are in abundance.
Meals: Breakfast.
Accommodation: Hotel in Quy Nhon.

Day 3: Quy Nhon Departure.
After breakfast, you will be free to do as you please until transferring to Quy Nhon's Phu Cat Airport or Quy Nhon Railway Station for your departure flight/ train.
If time permits, you may take part in an optional tour as your choice.
Meals: Breakfast.
Accommodation: N/A.
Did you know? All of our tours are private and daily depart. TRAVEL VIETNAM can organize any additional accommodations, domestic and regional flights. Call us on +84982 661 133 to speak to one of our experts.