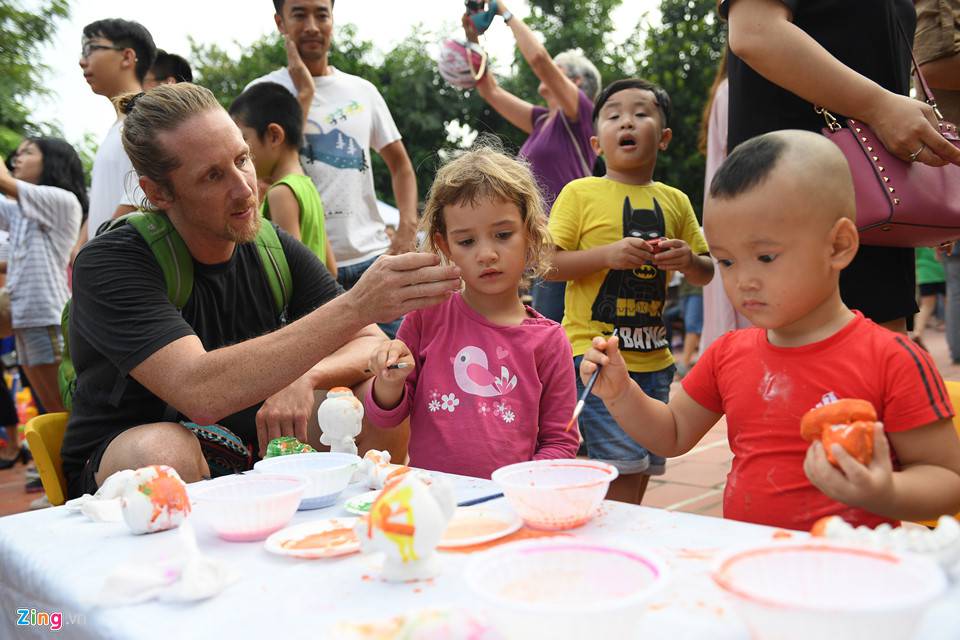 It is so amazing to have a family. Our life goal, happiness and the reason why we forfeit all the life plans of becoming an astronaut or traveling around the world… Wait, you can still do that! And Vietnam offers much to enjoy with kids – the enchanting water puppet theatres, the markets full of strange sounds and smells, laid-back beach resorts and islands, friendly local communities and of course the cuisines and fresh fruits.

Ok, maybe becoming astronaut is a kind more complicated, but definitely traveling to far exotic places can be done. All you need is the general direction, time, some money and some tips for traveling with kids. I know you are already very experienced as a parent, but it is always good to learn from others mistakes then from yours.

Probably the biggest benefit of traveling with kids is not even the sake of your leisure, but the opportunity to gather so much experience, firstly for the kids. There is no better school of life then real life adventure, meeting new people, new place and new cultures. Kids will love the boat-oriented fun on Halong Bay and Mekong Delta and will absorb history and perspective at the French and American War sites. Plus, the whole family will enjoy exploring the colorful, incense-filled temples, riding bikes through rice paddies and more!

This is a list of tips for traveling to Vietnam, but it can be applied really for any kind of travel:
Time: You need to plan extra time for simply everything. Whether it is visiting the pagoda, or lunch, or just checking out. You need extra time to get to the airport, you need extra time to board (that's why you have a priority once traveling with kids). Plan a bit less, don't get hectic on a number of things you want to see. Plan half, leave the other half to the natural pace.
Insurance: you need a travel insurance, for the whole family. It's a must. The better one, the safer it might be. Apart from that, print down the list of places you will get help in case.
Toiletries; diapers, wet tissues (heaven sent item), extra clothes, towel. Kids have tendency to makes things wet, dirty at the astonishing pace. Sometimes 5 sets daily are not enough. Wet tissue is probably the most usable thing ever invented for the kids, and recommended for all travelers. Btw: extra set of clothes for the kids and for you.

Food: ready snack, instant formula, hot water bottle (be aware of the airplane restrictions though).

Medical: antihistamine, fever relief syrup, plasters, pantheon spray.

Play: tablet filled with videos, games, drawing apps etc., some kids' favorites.



Asia is very safe in general, however there are number of things you should remember when traveling there:


Asian Streets: Asia is a likely a bit more crowded than your home country. Especially Vietnam, where you experience zillions of people, motorbikes and cars everywhere, basically there is plenty of everything everywhere, so you need to be sure that your kid stay within the range. Full name and phone number on the kid's back is doesn't sound that silly, but you can also use some of the modern world amazing electronic tracking devices - just in case.

Asian Food: food is safe, but can be surprisingly spicy. Also very often contains a lot of monosodium glutamate, which you rather should limit in your kid diet. Also sadly, although fruits are safe when fresh, washed and peeled, fresh green might contain parasites, therefore soaking them in salty water for at least 10 minutes or even steaming them is highly recommended.

Tropical conditions: it is often superhot and super sunny. It is also often super dirty. It all raises the concern about the bacteria around. You can be sure that your child will gather extra amount of it during the trip, unless you lock them in a vacuum chamber. Hand sanitizer is not going to solve the problem, so first is to check which vaccinations you need for Asia (check which ones are suitable for the kids), second is a common sense (no its not ok to swim in a stalled water in the middle of the jungle), finally third is keeping kids well fed and hydrated; means drink more than you think you have to. Same applies to kids. This will eventually lead to become very familiar with toilets in Asia. So just in case; more diapers, more extra clothes for changes, more wet tissues.

Budget hotels: Many budget hotels don't have lift. This means there can be a lot of stairs. Budget hotels won't always have a spare person to help with your luggage. This is something to keep in mind when you are packing.

Vietnamese are some of the nicest, friendliest, kindest and happiest people you could meet. They're charming without being pushy, helpful, lovers of children and just genuinely nice. You can find a lot of online guides from families traveling to Vietnam with kids. Since the friendliness, and safety, it is one of the top choices for family vacations.

If you are planning a holiday with your children to Vietnam and Indochina, please feel free to chat with our travel consultants or just email us to get further advice.

Then, Welcome to Vietnam!



Last updated on 2021-03-22 15:32:22.
Other Family Travel