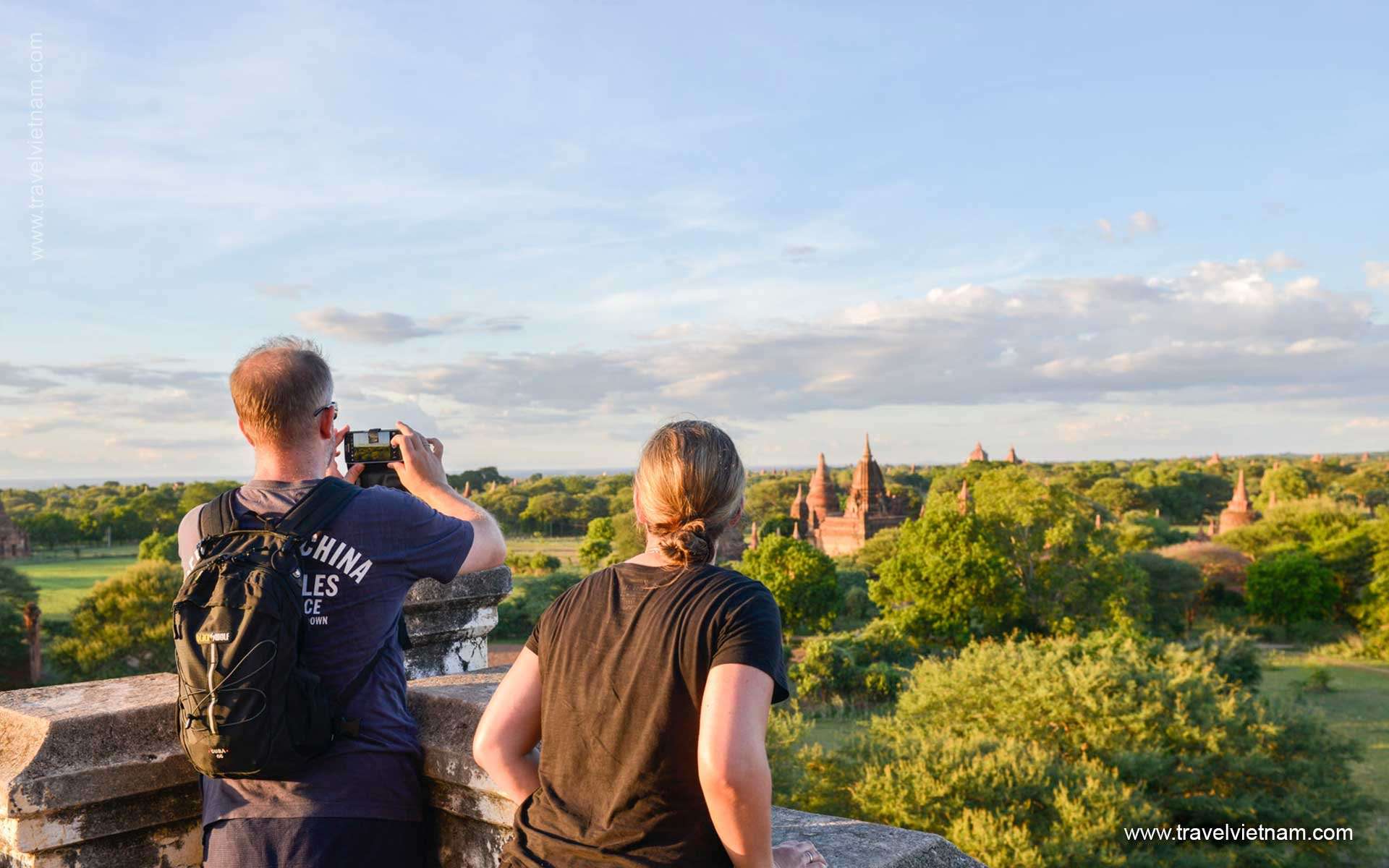 The 12 day journey from Siem Reap - Cambodia with a transit flight in Bangkok (Thailand) to Mandalay, Bagan, Inle, Yangon - Myanmar (Burma). The trip covers the greatest Heritage sites of Southeast Asia...


"From Angkor Wat to Bagan 12 Days"

- by

Vietnam Tourism

, 2011-01-01 00:00:01

"From Angkor Wat to Bagan 12 Days"

Price from: US $ 1884 /pp

Start city: Siem Reap

End city: Yangon

Durations 12 Days 11 Nights

Departure: Daily, upon your request.

Cities to visit: Siem Reap - Mandalay - Bagan - Inle Lake - Yangon

Extendable with optional tours from Yangon


Any part of this itinerary can be tailor-made to fit your needs, e.g. tour length, activities, destinations, hotels.

This is sample itinerary for the package of

From Angkor Wat to Bagan - 12 Days

.

Contact us

for more details and best offer (Prices depend on your travel dates, specific hotels/ resorts and activities).

Day 1: Siem Reap Arrival.

Day 2: Sunrise at Angkor Wat – Rolous Group – Tonle Sap Lake and Floating Village.

Day 3: Siem Reap – Ta Prohm – Banteay Srei – Angkor Thom – Sunset.

Day 4: Siem Reap free at leisure – Fly to Mandalay.

Day 5: Amarapura – Sagaing – Ava.

Day 6: Mandalay – Mingun – Mandalay Palace & Fly to Bagan.

Day 7: Bagan temples exploration.

Day 8: Bagan Sightseeing.

Day 9: Bagan – Inle Lake.

Day 10: Inle Lake Sightseeing.

Day 11: Inle Lake – Yangon – City Tour.

Day 12: Yangon Departure.


Day 1: Siem Reap Arrival.
Welcome to Siem Reap, the gateway into the Angkor temples. Designated a World Heritage Site by UNESCO, the Angkor Archaeological Park encompasses dozens of temple ruins including Bayon, Banteay Srei and the legendary Angkor Wat. Upon arrival, our tour guide and driver will welcome you at the airport and drive you to city center. Take an orientation walk around hotel area and later in the afternoon explore the Psar Chass, also known as the "Old Market".
In the evening, enjoy the welcome dinner with the traditional performance of Khmer dance.
Meals: Welcome Dinner.
Accommodation: Hotel in Siem Reap.
Day 2: Sunrise at Angkor Wat – Rolous Group – Tonle Sap Lake and Floating Village.
For the early birds and photographers, we offer morning tours for those who want to see the sunrise upon the Angkor Wat and after sunrise we'll return to hotel for breakfast (or you can have option with packed breakfast to explore more temples).
Continue your Cambodian experience with a tour of the ancient capital of King Indravarman I (877-889), now referred to as the Rolous Group and known as the birthplace of classical Khmer art and architecture.
In the afternoon, head out of town and embark on a short cruise along Tonle Sap Lake to visit the local floating villages. Stay there until sunset.
Meals: Breakfast.
Accommodation: Hotel in Siem Reap.
Day 3: Siem Reap – Ta Prohm – Banteay Srei – Angkor Thom – Sunset.
Begin the busy but interesting day by a drive from the hotel to the jungle-covered temple of Ta Prohm which is a wonderful combination of human genius and natural beauty with its giant trees that have grown there for centuries. The temple became more famous after Tomb Raider was filmed there. Afterward, proceed further to visit Banteay Srei that is also one of the must see sites. This beautiful temple was built in 967 AD by Jayavarman V's guru, it showcases the most exquisite, deep and complex carvings in all Khmer architecture. Lunch of your choosing can be near Srah Srang at a local restaurant on the way for your convenience.
After recharging battery, you'll continue your exploration by a stop at Preah Khan meaning "Holy Sword". This is one of the largest temple compounds in Angkor and is defended by four concentric walls. The main shrine and its adjoining buildings are richly decorated with Buddhist motifs and scenes from Hindu epics. Drive further through the North Gate of Angkor Thom to see the enigmatic faces of Bayon Temple that's known as the heart of Angkor Thom. You'll also see the intricate base reliefs of the Terrace of the Elephants, Angkor Thom is filled with fabulous monuments on the way to get there.
Once you reach the South Gate of Angkor Thom- the beautiful and old Gate with its majestic doors and artifacts, you'll begin a tradition boat trip along the water way where history, nature and culture come alive. You can also see the beautiful sunset at Great wall. On the way, stop at Prasat Chrung temples located at the southeastern corner of Angkor Thom and they are dedicated to the Bodhisattva Lokeshvara (Avalokiteshvara). The uneasy access there keeps Prasat Chrung remain untouristic and pretty charming. From this point, you'll enjoy the best sunset.
Return later to the hotel and the rest of time is at your leisure.
Meals: Breakfast.
Accommodation: Hotel in Siem Reap.
Day 4: Siem Reap free at leisure – Fly to Mandalay.
Get transferred to the airport for your flight to Mandalay, with a stopover in Bangkok.
Your local tour guide will meet you at the airport and take you to your hotel for check-in.
After short refreshment, take a tour of Shwenandaw Monastery - noted for its exquisite wood carvings, and Kuthodaw Pagoda - known as the world's biggest book. Conclude the day by visiting Mandalay Hill to watch the sun-set and the panoramic view of the city.
Meals: Breakfast.
Accommodation: Hotel in Mandalay.
Day 5: Amarapura – Sagaing – Ava.
In the morning, drive to Amarapura. Being famous for Mahagandaryone Monastery Amarapura is the best place to experience the monk life in Mandalay. Every day at mid-morning, monks and novices line up silently to receive their daily offering of alms and food from faithful Buddhists.
Next, head to Sagaing, discover the monk education, visit Budda cave, Uminthonze pagoda and Sunooponnyashin pagoda. Behold the panoramic view of Mandalay.
We then cross the river by ferry to Inwa (Ava), situated on the banks of the Irrawaddy River. Once a royal capital, Inwa is now a quiet rural oasis. Enjoy a horse cart ride around the peaceful countryside, visiting Bagaya Kyaung, a beautiful teak wood monastery, Maha Aungmyay Bonzan Kyaung, and Nan Myint tower.
End of the day, walk over Ubein Wooden Bridge, the longest teakwood of its type & enjoy great sunset view here.
Meals: Breakfast.
Accommodation: Hotel in Mandalay.



Day 6: Mandalay – Mingun – Mandalay Palace & Fly to Bagan.
After breakfast, board a private boat and motor down the Ayeyarwaddy to Mingun, home to several unique pagodas, including the ruined Mingun Pahtodawgyi—the remains of a massive unfinished Buddhist stupa begun by King Bodawpaya in 1790. Visit the 90-ton bell before heading to the distinctive architectural pagoda, Myatheindan. Return to Mandalay in the afternoon to visit Mandalay palace—the royal palace of the last Burmese monarchy, constructed between 1857 and 1859 by king Mindon.
Late afternoon, take a short flight to Bagan. Get picked up on arrival.
Meals: Breakfast.
Accommodation: Hotel in Bagan.
Day 7: Bagan temples exploration.
Bagan is Myanmar's archeological wonderland, where over 3,000 ancient temples blossom from the countryside. Start your tour with a trip to the bustling Nyang U Market in Old Bagan then explore the beautiful, gold leaf Shwezigon Pagoda and learn about the Burmese Buddhist tradition. We continue our tour with a visit to Ananda Temple, stopping along the way in the Bagan plain to admire some of the surrounding temples. In the afternoon, take a tour of a local lacquer wear workshop and learn about this traditional craft. At sunset, drive to Shwe San Daw Pagoda and climb to the top to enjoy a sunset over the surrounding plain and winding Ayeyarwaddy River.
Meals: Breakfast.
Accommodation: Hotel in Bagan.
Day 8: Bagan Sightseeing.
Enjoy an entire day devoted to exploring Bagan's magical temples. Begin your tour with a visit to Myinkaba temple, then head to the peaceful village, Manuha to get a taste for local life and culture and discover the unique 11th century, Nanphaya temple. In the afternoon you are invited to take a horse cart ride to some of Bagan's grandest temples then head to Tayokepyay pagoda to watch the sunset.
Meals: Breakfast.
Accommodation: Hotel in Bagan.



Day 9: Bagan – Inle Lake.
Leave behind Bagan plain for the morning flight to Heho where driver and tour guide of Myanmar travel await to take you to visit the local market of Nyaung Shwe, one of a handful of towns along the banks of the immense Inle Lake. The lake sustains Intha families, who live entirely on stilted villages, their crops grown on cleverly suspended floating gardens. Take in the scenes by boat tour, marveling at the leg-rowing fishermen.
Enjoy the rest of the day and the tranquility of one of the most spectacular lakes in Southeast Asia. A lake probably most remembered for its Intha fishermen, their extraordinary boat rowing techniques and its lovely sunset.
Meals: Breakfast.
Accommodation: Hotel in Inle Lake.
Day 10: Inle Lake Sightseeing.
This morning, a boat takes you to a beautiful temple of Indein, located on the hill overlooking the lake. It will be relaxing to walk along the corridors and enjoy the giant columns which have been left to the nature for centuries. Continue with the sightseeing to Phaungdawoo Pagoda, famous for its richly gilded five small Buddha images, also is believed to be the holiest in Inle Lake; Ngaphechaung monastery, once known as jumping cat pagoda. As you go toward Nam Pan village the various cotton and lotus weaving factories and cigar making houses will attract your sense of traditional Intha life.
Meals: Breakfast.
Accommodation: Hotel in Inle Lake.



Day 11: Inle Lake – Yangon – City Tour.
Have breakfast in the hotel, leave by boat to the northern bank of the lake where the car and driver is wait for you. Take a nice drive to Heho airport for the flight to Yangon. On arrival, enjoy the city tour of Yangon, visiting its highlights such as Sule Pagoda, the heart of Yangon city; Chaukhtayi Pagoda and Kandawgyi Lake.
Late afternoon, visit to the grandiose gold pagoda complex: Shwedagon Paya. Explore the pagoda then savor the sunset from the highest spire. In the evening enjoy a farewell dinner of traditional Burmese cuisine at Karaweik Palace.
Meals: Breakfast & Farewell Dinner.
Accommodation: Hotel in Yangon.
Day 12: Yangon Departure.
You are free for last minute shopping at Bogyoke Market. Formerly named Scott's Market, it is now the main tourist destination where you can find antique, Burmese handicrafts & jewelry shops, art galleries & clothing stores.
Your driver will transfer you to the Yangon International Airport for your departure.
Meals: Breakfast.
Accommodation: N/A.
1. Are tour dates of flexible?
Yes, this tour package is private and you can depart on any dates at your convenience.
2. Can I extend or change my stay?
Absolutely! Extra days can be arranged in most areas if desired. Let us know how you would like to customize your trip and we will do our best to accommodate you. You can ask helps from our travel consultant to amend or extend your stay (subject to availability of hotels and flights; surcharge may be applicable).
3. Are the rates displayed per person or per room?
The prices shown on our website are per person based on twin/ double accommodation.
4. Any surcharges if my travel dates are during Christmas or New Year Holidays?
The rates are regular price and they are not included a compulsory dinner (Gala Dinner) on the day of Christmas or New Year Eve. Surcharges depend on specific hotels you stay at, so our travel consultants will give further information to you in communications.
5. Are there any discounts available?
We offer select trip discounts periodically throughout the year, especially in the low season (Summer time in Vietnam is from May to Sep). Please contact our travel consultants to get more details.
6. How do I pay when I want to book this tour?
We accept payment by debit/ credit card (Visa, Master, Amex), cash and bank transfer. When you confirm a booking with us, we will send you our online payment link or bank details to deposit 30% of the total tour cost. The balance will be due as soon as you arrive in Cambodia. Our travel consultants will give more details via email about payment instruction.
7. Are meals included?
We have tried to balance flexibility and convenience regarding meal options. This tour package includes daily buffet breakfast at hotels and some lunches or dinners as listed in parenthesis next to the tour itinerary on each day tour. In the major cities, where there are a wide variety of restaurants, we generally do not include meals to allow our travelers the flexibility of choosing their own food preferences. Our tour guides can recommend some options for our clients to choose from according to traveler's interest & budget.
8. What type of food is typical of Vietnam?
Vietnamese cuisine is quite varied from the North to the Centre and to the South, having had many external influences over the years that have created an interesting mix of cooking methods and ingredients. French presence in the recent past has led to the assimilation of French cuisine influence, and is often attributed with Pho noodle soup's rise to popularity. Most meals include rice, as well as fish sauce which is a popular condiment added to almost every meal throughout the country.
9. What if I have a special request on food?
You just need to share us your request on type of foods, we will choose a right restaurant and order suitable menus for you.
10. What are the accommodations like?
Vietnam Tours only recommends good hotels rated from 3 stars to luxurious resorts. They are located within walking distance of the town center and the reception generally speaks English. For more information, check with your travel consultants to view pictures of our suggestion on standard hotels/ lodges/ resorts. Don't forget that you can give your favorite name of hotel brands to us, so we can get your concept.
11. What type of transportation is used?
Our Vietnam tours utilize a variety of primarily private transportation (arranged just for your groups) including new and modern vans/ cars, motor boats, etc. We use a mix of private (vans/ cars)/ public transportation (domestic flights, sharing cruises, trains) to provide travelers with the safest and most efficient transit in each area.
12. Is this tour suitable for kids?
Yes! If you have children traveling with, ask your travel consultants to customize the tour program to fit a variety of interests and ages. We also focus on family friendly vacations with less travel and minimum drive times and maximum in-country activity that will keep younger minds engaged.
13. How many people are typically on your tours?
We only offer completely private tours, so only the people you book for will be on the tour. If you are alone, it will just be you and your guide. If you are a couple, just the two of you and your guide, and so on. We believe this is the best type of tour, so that it can be personalized to you, go at your own pace, and so that you can have the full attention of your guide for the duration of the tour.
14. Is this trip a good choice for solo travelers?
Yes, it is. You will still have a private tour guide and driver to accompany throughout the journey. However, you have to cover all expenses regarding accommodations (single room), tour guides, transportations because no-one shares cost with.
15. Do tour rates include international flights?
This tour only includes domestic flights. We find that it is usually less expensive for travelers to book these separately and this also allows you the flexibility to choose the schedule and routing that is most convenient for you. You can purchase international flights on your own, or we can certainly help you arrange these flights with an airfare consolidator who specializes in international flights.
16. How do I get to the hotel from the airport when I arrive?
When you arrive at airports, you will be greeted with your name on our driver/ tour guide's welcome sign, then get transferred to your hotel.
17. How if bad weather such as storm, flood, landslide occurs during my holiday with Vietnam Tours?
Our Travel Consultants and Tour Operators keep checking weather forecast every-day, if the weather is bad and it may affect to your safety, we will discuss with you regarding a tentative program immediately.
18. How much should I budget for tips?
Tips are not compulsory on any of our tours. However, it is customary to offer a small tip for exceptional service. Other travelers opt to bring small souvenirs from their home to give to tour guides and drivers along the way.
19. Is travel insurance included? And is it recommended?
Travel insurance is not included in our tour price. Absolutely, we recommend you to contact with your local agent in your country to buy travel insurance before you go.
20. How to change or cancel my reservation?
- You can change or amend your schedule in advance or during your trip but surcharge maybe applied according to our contract with local suppliers, hotels and airlines. Regarding cancelation terms, please check out this link: https://asiatravelandleisure.com/terms-conditions.html
Want to Ask a question?
Accommodations (3 star hotel in average).
Daily breakfast.
Transportation by A/C car as itinerary.
5 flights: Siem Reap – Yangon – Bagan – Mandalay – Heho – Yangon.
English or French speaking guide.
Meals as mentioned in the itinerary.
All entrance fees, boat trips, performance & excursions.
Did you know? All of our tours are private and daily depart. TRAVEL VIETNAM can organize any additional accommodations, domestic and regional flights. Call us on +84982 661 133 to speak to one of our experts.