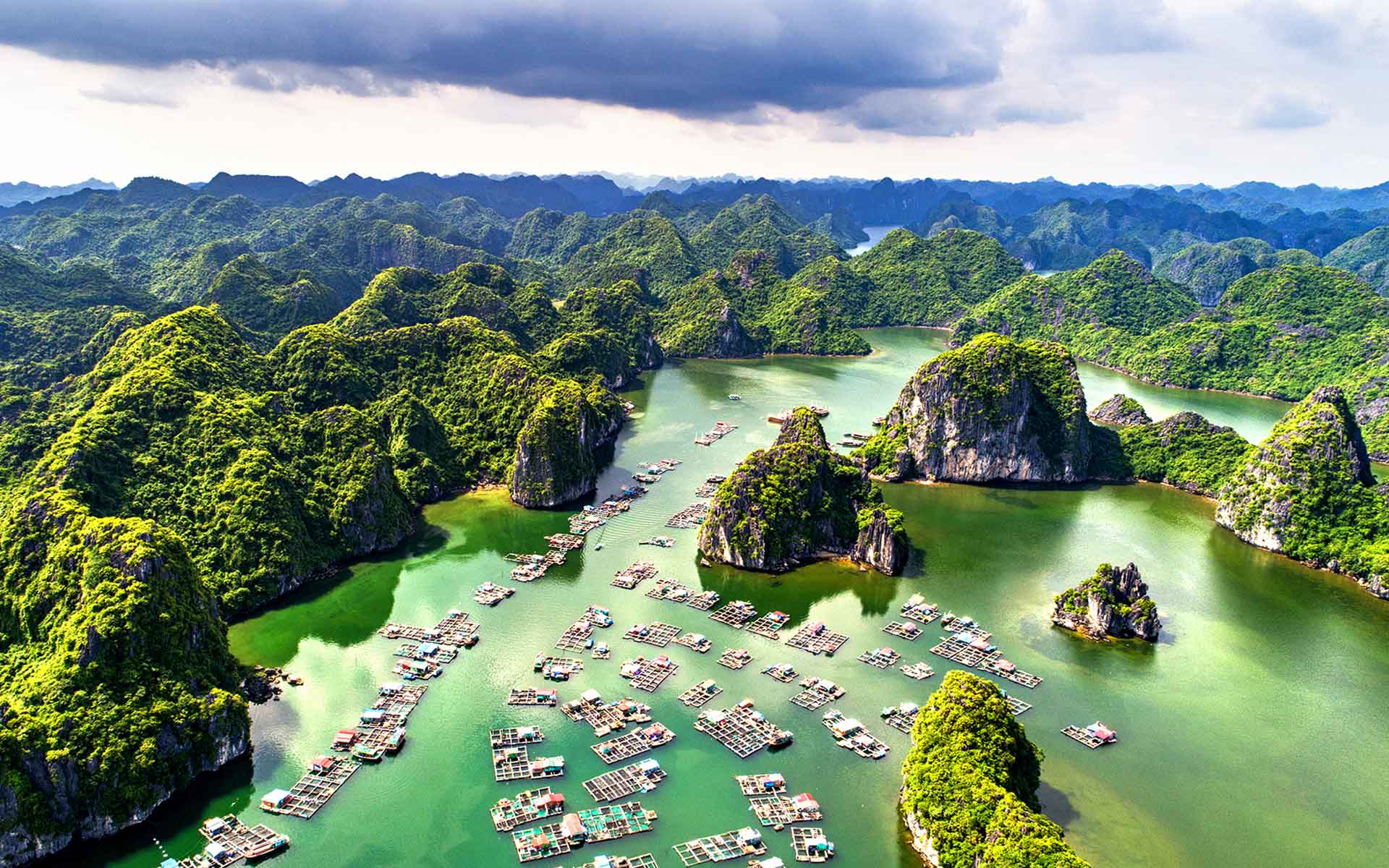 Lan Ha Bay is located south of Halong Bay, just off the coast of Cat Ba Island. Geologically, Lan Ha bay is an extension of Halong Bay but sits in a different province of Vietnam: Hai Phong. The bay itself is home to 400-or-so karst islands, of which Cat Ba is the largest. Travelling on a Lan Ha cruise is a great alternative if you are looking to break out of the dense tourist area of Halong Bay, and far fewer people are even aware of this destination. It has remained under-the-radar and is far smaller in size compared to Halong Bay proper, but Lan Ha Bay offers a similar experience and view with slightly different excursions. Some of the area's best snorkeling and rock climbing is to be found in the quiet waters and rugged cliffs of Lan Ha Bay. With over a hundred small beaches, many of them in picturesque locations at the feet of the abrupt limestone cliffs which make up these islands, it is never difficult to find a good spot for swimming, or organizing a private beach BBQ or overnight camp here.


Located at the East of Cat Ba Island and borders Halong Bay to the south. Tranquil and less touristy area because it is located adjacent to the "tourist giant" neighbor. Lan Ha Bay is less touristic, less inhabited, cleaner, and just as beautiful as Ha Long Bay itself. Lan Ha Bay is also called "Kayaking Paradise". Visitors can even paddle through a cave!

[Table of Contents]
Top Attractions in Lan Ha Bay
– Dark and Bright Cave: Is not only known for the stunning limestone structure at every turn but also for the interesting natural habitat. On the cliff one still find traces of fossils of fresh-water snails, which prove that the cave was inhabited thousands of years ago. Monkeys run to and fro in groups, benjamin fig trees shade the landscape and many orchids hang their sweet-scented flowers.
– Tra Bau Area: Just one day you can have a very enjoyable experience in the fishing village of Tra Bau as a real fisherman with fishing activities, swimming, kayaking. Especially you will have the opportunity with your friends to take amazing pictures.
– Ba Trai Dao Islets: They are a group of three small mountains with the height of 23 meters, seen from a far, resemble three peaches. It's featured with Ba Trai Dao Beach which is one of the most beautiful beaches on Halong Bay. However, tourists just can swim at the beach in about 2 – 3 hours a day because the tide rises and engulfs the beach.
– Trung Trang Cave: Is located in Trung Trang valley being the largest valley of Cat Ba Island, about 300 ha, lower than sea level from 10 to 30m and 15 km to the northwest of Cat Ba town.
– Monkey Island: Is about 1 kilometer away from the Cat Ba town. This is a mountainous, sandy island formed by millions of waves and winds bringing sand, rocks, coral, shellfish, shells, shrimps and crabs to the foot of the mountain is inhabited by semi-wildlife of more than a thousand monkeys.
– Viet Hai Village: Entirely situated among the immense sea and surrounded by high mountains and jungle of Cat Ba National Park, Viet Hai fishing village is situated in Cat Hai District, Haiphong City. Visiting Viet Hai fishing village, you will feel the tranquil and peaceful atmosphere. Exactly you will find the hidden charm village of Vietnamese people.
Recommended overnight cruise options:
– Top Luxury cruises: Ylang Cruise, Ginger Cruise.
– 5 star cruises: Indochine Cruise, Heritage Cruise, Era Cruise, Mon Cheri Cruises, Orchid Cruise.
– 4-star cruises: V'Spirit Premier Cruise, Calypso Cruise, Peony Cruise.
Last updated on 2021-05-06 18:41:11.