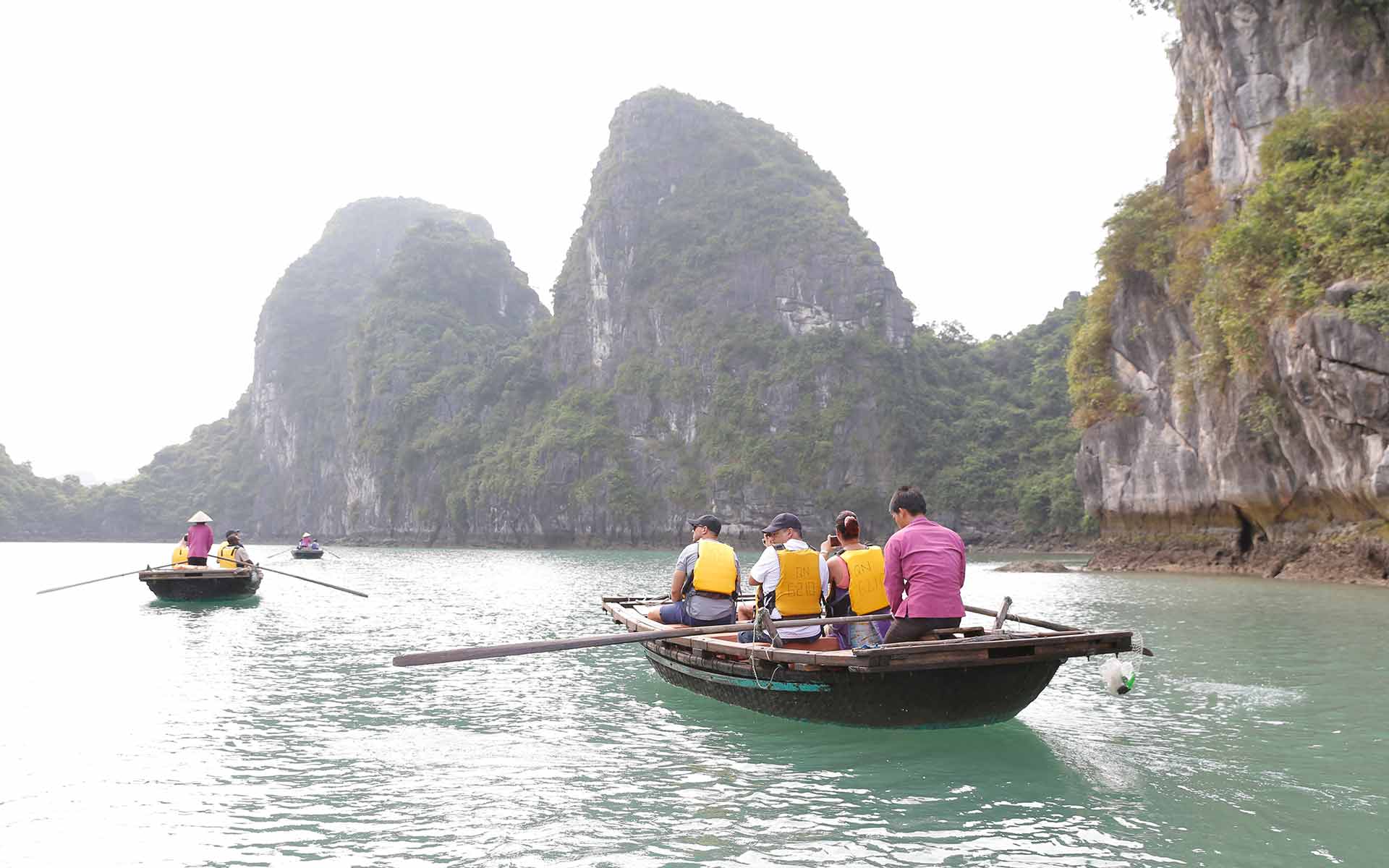 Bai Tu Long Bay is a trough in the Gulf of Tonkin, located in Quang Ninh Province. Bai Tu Long Bay covers a part of Halong City, Cam Pha Town and Van Don Island District. The Southwest side is adjacent to Halong Bay, the east by the sea, the west by the mainland with Cam Pha Town and the northeast by Co To Island. Bai Tu Long Bay is an off-the-beaten-track destination that has recently been in high demand among international visitors. Possessing a similar landscape with Halong Bay, Bai Tu Long Bay features clearer water and less-touristy attractions. According to the legend, millions of years ago when Vietnam was attacked by its invaders, Emperor Jade sent Mother Dragon and her children to help the Vietnamese.
After the invaders were defeated, the dragons fell in love with the peaceful seascape and decided to make their home in the bay. The place where Mother Dragon descended is now called Halong Bay, while Bai Tu Long Bay is where the young dragons descended. As located in further east of Halong Bay, a 3-day cruise is a better idea if you want to explore this hidden bay. The longer itineraries toward Bai Tu Long might be a barricade for most people, which leads to why most still prefer Ha Long Bay that requires a briefer time of visit. What makes Bai Tu Long stand out is the beauty of karsts and limestone mountains rising from the water or mystical caves in tranquil mode. A number of attractions that still remain their primitive charm will trigger your curiosity.

[Table of Contents]
Top attractions in Bai Tu Long Bay
Bai Tu Long Bay: Located in the East of Halong Bay and close to China-Vietnam border. Less visited due to its location which is harder to reach and fewer accessible caves. Still remain unspoiled.
– Cong Do Area: Cong Do is an ideal place for swimming thanks to its many beautiful beaches with emerald waters and white sandy banks like Tra Gioi Beach, Cay Bang Beach, Cat Oan Beach…
– Co To Island: A hidden charm with pristine beaches, white sand and blue water.
– Vung Vieng Fishing Village: Exploring Vung Vieng floating village, you are not only be immersed in the quiet and peaceful atmosphere, surrounded by the rocky mountains but also in the process of discovering the cultural distinctions when talking to the fishermen, who are happy to show you their traditional fishing tips, dropping and pulling the net.
– Thay Cave: Each Stone Mountain in Thay cave contains hundreds of thousands stone blocks which were heaped up together look like stacks of giant books.
– Thien Canh Son Cave: Is a wild cave located in Bai Tu Long Bay, in the center of Cong Do island. The entire ceiling shines with thousands of glittering stalactites, creating unique images: the stone statues, stone dragons, and flowers are likely to make an ideal world. Out of the cave, visitors will be surprised with the stunning scenery of Bai Tu Long Bay and Halong Bay from above. At the foot of the cave, there is the beach with calm blue water and soft white sand. Lush, diverse flora cover rock islands from the foot to the top.
Recommended overnight cruise options:
– Top luxury cruise: Emperor Cruise.
– 5 star cruises: Au Co Cruise, Signature Royal Cruise, Athena Royal Cruise.
– 4 star cruises: Starlight Cruise, Athena Luxury Cruise, Sealife Cruise, Dragon Legend Cruise.
– 3 star cruises: Oriental Sails, Swan Cruises.
Last updated on 2021-03-14 04:43:30.