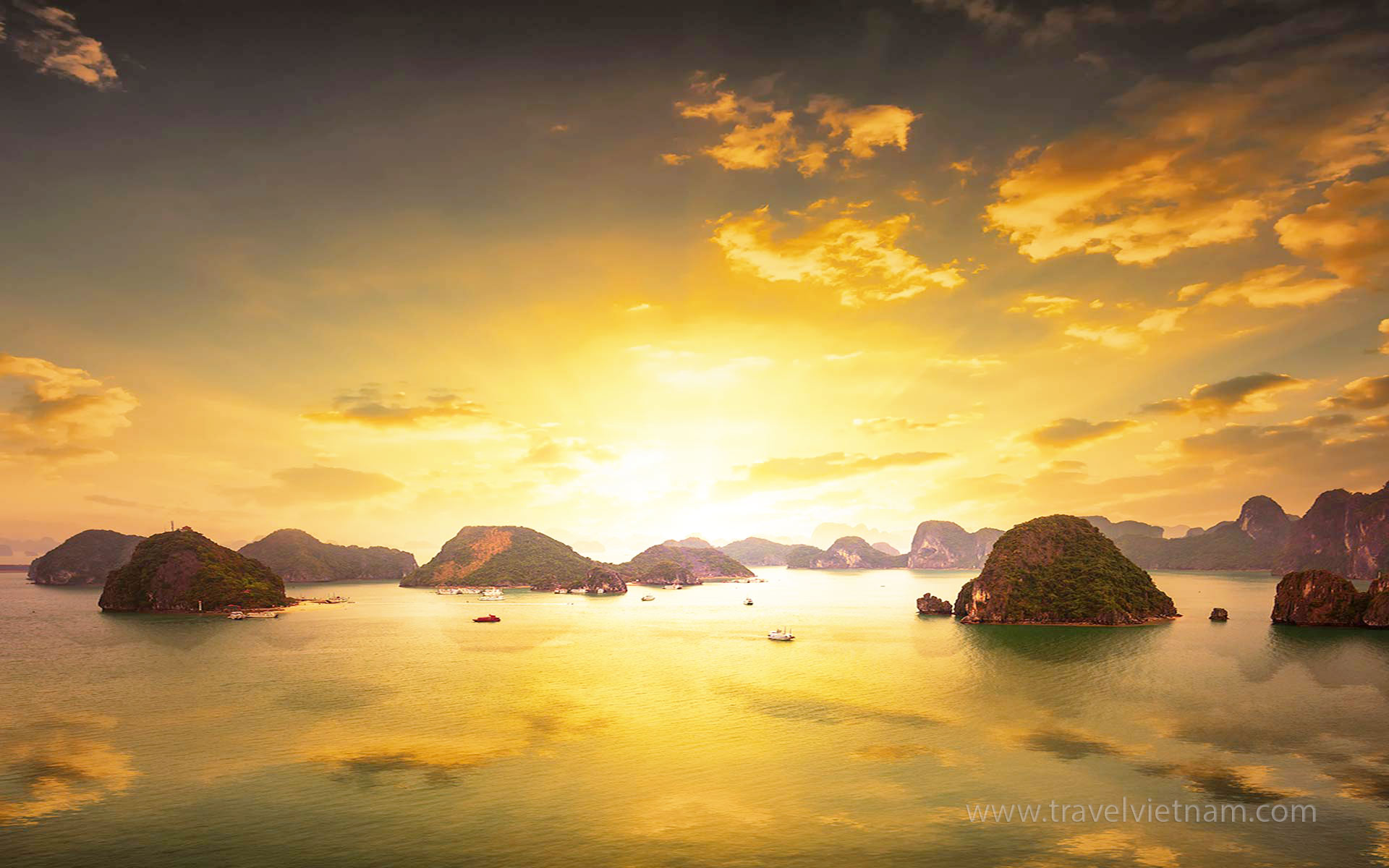 HA LONG BAY (the central main part, 434 km2)
A spectacular seascape of some 775 limestone islands and islets towering from emerald water, Halong Bay is also an outstanding example of earth's history. Halong Bay is surrounded by Bai Tu Long Bay, Lan Ha Bay, Cat Ba Island, Tuan Chau Island and Halong City. Limestone towers, green islands and islets boast karst caves, caverns and grottoes, many hidden and still waiting to be discovered. Some islands are completely hollow. Framing the islands are gorgeous beaches, the emerald sea lapping gently on the soft, white sand. The Bay was first recorded as a UNESCO World Heritage Site in 1994 thanks to its exceptional natural beauty and aesthetic importance. In 2000, it had the honour of being recognised the second time for its significant geomorphic features, as a billon-year-living proof of Earth's formation. Many visitors are unaware that Halong Bay actually has an immense value to the world because of its rare concentration of biodiversity, culture and history. Hence, this unique is exactly what makes Halong Bay a magical destination where visitors have chance to get up close and personal with the beating heart of Vietnam. Here are the 15 best things to do in Ha Long Bay.

Top Things to do in Halong Bay:
1. Seaplane Tours
2. Go Parasailing
3. Make a Whistle-Stop at Cat Ba Island
4. Take a Hike, Go Trekking
5. Enjoy a Leisurely Cruise
6. Go Cave Spelunking
7. Snap Insta-Worthy Photos
8. Feast on Fresh Seafood
9. Go Diving and Snorkeling
10. Climb Bai Tho Mountain
11. Ride the World's Highest Cable Car
12. Go Kayaking and Canoeing
13. Discover the Legendary Behind Trinh Nu Cave
14. Visit a Floating Village
15. Go Squid Fishing


Top Attractions in Halong Bay
Hundreds of boats and tourists, especially in the peak season, sailing every day. Most crowded and getting polluted.
– Sung Sot Cave: One of the most famous caves in Halong Bay, Sung Sot Cave ("surprised cave") has 3 chambers with both stalactites and stalagmites from end to end. You'll need to walk up 700 or so steps to get to the mouth of the cave, so wear appropriate footwear! The caves can be extremely busy, so watch your belongings.
– Cua Van Floating Fishing Village: Cua Van is one of four Halong Bay floating villages. The community here lives on floating houses and make a living by fishing and selling their goods to the mainland cities and beyond. You can also check out the small museum that details the history and lifestyle of the village.
– Tung Sau Beach: If you're a fan of kayaking, head to this area to hop in and make your way around the karst mountains. Your guide will also take you into a cave to go spelunking!
– Ti Top Island: Ti Top Island is home to an incredible viewpoint overlooking the bay and its islands. You have to climb 423 steps to the top, but it's 100% worth it.
– Luon Cave: Luon is a small cave where you can go on a traditional bamboo boat ride – sometimes you'll also see lots of monkeys!
Recommended Halong Overnight cruises:
– Top Luxury cruises: Hera Cruise, Paradise Peak Cruise, Heritage Line Violet Cruise.
– 5 star cruises: President Cruises, Paradise Elegance Cruise, Heritage Line Jasmine Cruise.
– 4 star cruises: Paradise Sails, Pelican Cruise, Aphrodite Cruise.
– 3 star cruises: Glory Legend Cruise.



Last updated on 2021-06-26 20:23:10.