One of Asia's most vibrant and welcoming cities, Saigon (as it is still popularly known) is a cultural melting pot with something to offer every traveler. It is a brazen, industrious and dense metropolis, the largest city in Vietnam and the business capital of the country. With a population of five million, this city of Vietnam is crowded, noisy, yet it is also exciting and historic, the essence of the nation.
The wide Saigon River, which takes a huge turn from the east of Saigon, links the city with the sea. Unlike Hanoi, the capital of Vietnam, Saigon may lack charm and elegance, but the city with its essential French colonial character has enough to draw your attention. The colonial villas, wide avenues and a lively cafe society in the city remind you the days of French dominance. Join Travel Vietnam to discover the many faces of this fascinating city.
District 1 is the best place to start with its many historic French-built landmarks - the Opera House, Notre Dame Cathedral, and Hotel de Ville to name but a few. We visit the remarkable Cu Chi Tunnels where the Viet Cong hid during the Vietnam-American War, the former Presidential Palace, and the sobering War Remnants Museum. We'll introduce you to the enormous variety of exotic local produce at the sprawling Binh Tay Market in Cholon, the city's bustling Chinatown, and nearby the colorful Thien Hau Pagoda. Visiting Saigon while it passes through a remarkable and rapid phase of transformation will fascinate and delight. Above all, experiencing the heartfelt warmth and humor for which the Saigonese are renowned will stay with you long after you've departed for home.
In recent years Ho Chi Minh City has transformed into a city offering visitors a fantastic abundance of shopping, dining and nightlife. Explore the many new shops and boutiques of a rejuvenated Dong Khoi Street - the famous Rue Catinat of the French elite in the colonial era - where fine silks and tailored clothes, hill-tribe crafts, Vietnamese antiques, ceramics and embroideries vie for the attention of visitors. Or take a browse through nearby streets and the central Ben Thanh Markets for modern fashions, jewelry, CDs, luggage, and an array of local products - all amazingly cheap. Finish the day with a Vietnamese feast at one of our favorite restaurants, or perhaps try one of the city's delectable French or Western eateries. There's a gastronomic treat awaiting every taste bud and every budget. And if you're in the mood for a boogie, party on at a city bar or nightclub - Metropolis, Monaco, or the infamous Apocalypse Now are a must.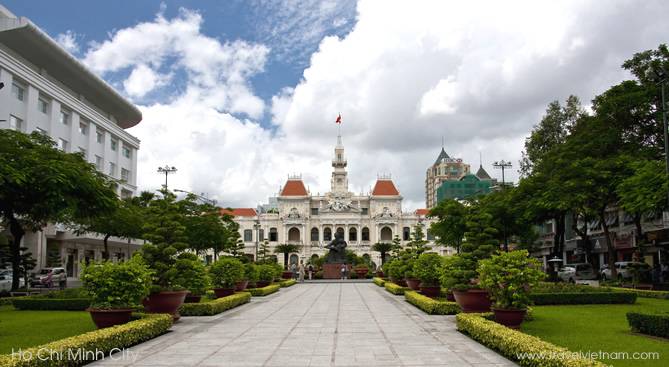 Sightseeing in Ho Chi Minh City
War Remnants Museum - This museum was opened in less than five months after the fall of the South Vietnamese regime. It has moved to new premises with 3 stories of exhibits and various U.S. military hard-wares (tanks, jets, helicopters, howitzers) on display outside the building. This disturbing display of man's cruelty during the Vietnam (American) War includes halls full of gruesome photographs, a simulated "tiger cage" prison and jars of deformed fetuses attributed to contamination by Agent Orange. An exhibit on the 3rd floor tells the story of the war journalists from all over the world who documented, and often disappeared or died in the war.
Reunification Palace – Originally called Norodom Palace and Palace of Indochina Governor General, it was built in 1868 and inaugurated in 1873. This is a restored 5 floor time warp to the 60s left largely untouched from the day before Saigon fell to the North (construction started in 1962 and finished in 1966). Formerly South Vietnam's presidential palace, the war ended on April 30, 1975 when tank No.843 crashed through the gate. A replica of that tank is now parked on the lawn outside. Be sure to check out the impressively kitschy recreation room, featuring a circular sofa, and the eerie basement, full of vintage 1960s phones, radios, and office equipment, supposedly left exactly as it was found when the North took over.
Notre Dame Cathedral – Built between 1877 and 1880 in a French style, this cathedral is one of the oldest and biggest Catholic churches in Vietnam. Its neo-Romanesque architecture and two 57.6-high square towers tipped with iron spires dominate the city's sky line, reminds of the cathedral in Paris. In front of the cathedral is a statue of the Virgin Mary. Tourists can attend mass held three times on weekdays and six times on Sundays.
Centre Post Office - constructed when Vietnam was part of French Indochina in the early 20th century. Designed by the famous architect Gustave Eiffel in harmony with the surrounding area, it has a Gothic architectural style. Inside the Saigon Central Post office of special note are two painted maps that were created just after the post office was first built, the first one located on the left side of the building is a map of Southern Vietnam and Cambodia titled "Lignes telegraphiques du Sud Vietnam et Cambodge 1892" which translates to "Telegraphic lines of Southern Vietnam and Cambodia 1892" and the second map of greater Saigon is titled "Saigon et ses environs 1892" translating to 'Sai Gon and its environment 1892"
Ben Thanh Market - Recognizable from its clock tower on the large traffic circle, this is the largest old-style market in the central district, with several hundred small stalls stuffed with goods on almost impassably narrow aisles. Due to its popularity with tourists, the market is now divided between tourist goods (jeans, T-shirts, smaller souvenirs in abundance) and regular items (fruit and vegetables, rice, kitchen wares, flowers, meat, fast food and local-style pickled fruits and candies). Most items are not price-marked, and vendors always quote a 50-100% higher price to tourists, so bargaining hard will save you money. Right at the north side of Ben Thanh Market are some shops that are operated by Ben Thanh Group and they sell goods at fixed price and much cheaper than the stalls in the market. No bargaining needed. If the good selection of knock-offs here just won't do, there's plenty to be had in the surrounding side street shops or night market later.
Cu Chi Tunnel – One of the most famous historical vestiges of Vietnam's national liberation war, it is located in Cu Chi District, approximately 70km from Ho Chi Minh City's center. The network consists of over 200km of tunnels connected with one another like a cobweb. Inside the tunnels are kitchens, food and ammunition storage caches, medical care chambers, meeting chambers, commanding chambers, etc. From this underground village, the revolutionary forces staged the 1968 general offensive and Ho Chi Minh campaign in April 1975 to liberate South Vietnam. Cu Chi Tunnels is open daily from 8a.m to 4p.m.



Last updated on 2021-04-21 05:51:34.