Often referred to as Halong Bay on land, Ninh Binh's unique views include farmland dotted with Catholic churches against a backdrop of dramatic limestone cliffs. Head to the Van Long Nautre Reserve to see the rich and well protected biodiversity of the region. Hoa Lu served as the country's capital until 1010 AD. Located about 12km from the centre of Ninh Binh, it now contains two small temple complexes and approximately eight million stands selling tourist trinkets. Watch your step entering and exiting the ancient gates as the bottom half of the gate is raised to keep out evil spirits.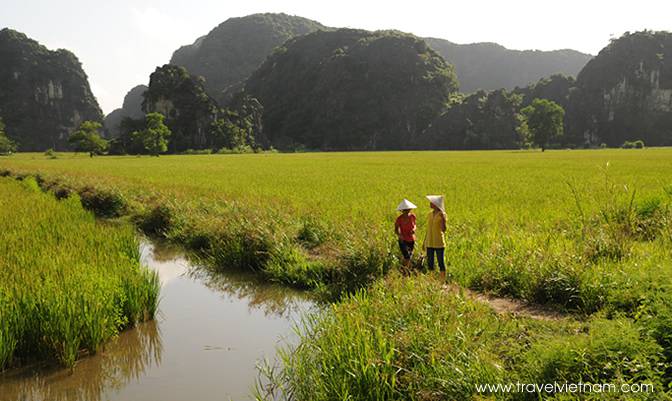 Tam Coc and its less frequented twin Trang An are not to be missed. You should leave at least two hours for the trip up and down the river at Tam Coc, most likely propelled by a pair of feet.
The seat of Catholicism in the north, Phat Diem is Vietnam's most impressive cathedral. At 20km, it is a bit of a drive from Ninh Binh cıty center but its massive dimensions make it worth the trip.
Wıth Travel Vietnam, tourists will have chance to cycle through country lanes and across emerald-green rice fields, row traditional sampans through the rice fields to visit three caves in Tam Coc (Hang Ca, Hang Giua and Hang Con).
Sightseeing in Ninh Binh
Hoa Lu Ancient Capital - The capital of Vietnam during the Dinh (968 - 980 A.D) and early Le (980 – 1009 A.D) dynasties. The Dinh chose the site to put some distance between them and China, as well as to take advantage of the protection of the region's rocky outcrops. Most of the ancient citadel has been destroyed, but it used to cover about 3sq. kilometers. Yen Ngua Mountain provides a scenic back-drop for Hoa Lu's two surviving temples, both intimate spaces dominated by beautiful dark-red lacquered pillars. The first, Dinh Tien Hoang, was restored in the 17th century and is dedicated to the Dinh dynasty. At the front of the main temple building is the stone pedestal of royal throne, inside are bronze bells and a statue of Emperor Dinh Tien Hoang with his three sons. The second temple is dedicated to Le Dai Hanh, an early Le monarch. Inside the main hall is the usual assortment of drums, gongs, incense burners, candle holders and weapons, with a statue of the king in the middle. In the left-hand section of this complex, a museum features part of the excavations of the 10th-century citadel wall.
Cuc Phuong National Park - Established in 1962, this national park is one of Vietnam's most important protected areas. Located on 2 limestone mountain ranges, the landscape of Cuc Phuong contains a wonderfully rich ecosystem, including 307 species of bird, 133 species of mammal, 122 species of reptile, 2000 plant species and counting. The rocky outcrops of Cuc Phuong form the site of valuable pale ontological and anthropological vestiges, including a fossilized sea reptile dated at 200 - 230 million years old, while the remains of prehistoric people who lived in the forest some 7500 years ago are also to be found in the numerous mountain caves. In earlier times, Cuc Phuong was home to the Muong minority people and to this day a few scattered villages around the park's periphery still house these interesting people and their unique culture. If you visit these communities you can still see their traditional stilt houses, waterwheels, bamboo rafts and brocade looms.
Tam Coc – Bich Dong - Take a ride up the Ngo Dong River through rice paddies and limestone karsts to see some of Northern Vietnam's best natural wonders, the Tam Coc. The three caves, Hang Ca, Hang Hai and Hang Bai offer similar scenery to that seen in Ha Long without the suffocating crowds. Go a little further and end up at Bich Dong Pagoda, situated atop Ngu Nhac Mountain and still kept in fantastic condition. This charming cluster of cave temples is a couple of kilometers north of Tam Coc. The Lower Pagoda is located at the foot of the outcrop, from which it's climb of about 100 steps to the Middle Pagoda, then a shorter but still steep ascent to the Upper Pagoda. Inside each cave temple, looming statues and the smoke of burning incense create an otherworldly atmosphere.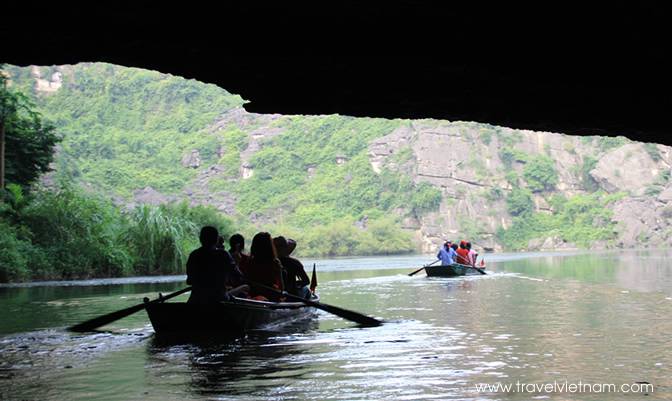 Trang An Eco-tourism Complex – a scenic watery area covering more than 2,000 ha. The Trang An eco-tourism complex boasts 12 historic relics and numerous grottoes and caves, including a system of 48 aquatic caves and caverns, springs, streams and rivers serving as portals into limestone mountain ranges. Besides, the very rich fauna and flora that has survived time adds more weight to the spectacular beauty of the eco-tourism complex. Here, it is home to large trees such as cho chi (Parashorea chinensis), and nghien (Burretiodendron hsienmu), and rare species of animals, like Phuong hoang dat (Buceros bicornis) and Vuon yem trang (Nomascus leucogenys). Here, traces of pre-historic people believed to inhabit 5,000-30,000 years ago have been found in Boi and Truong caves and on archaeological sites on Cho cave limestone mountain and Hay limestone mount.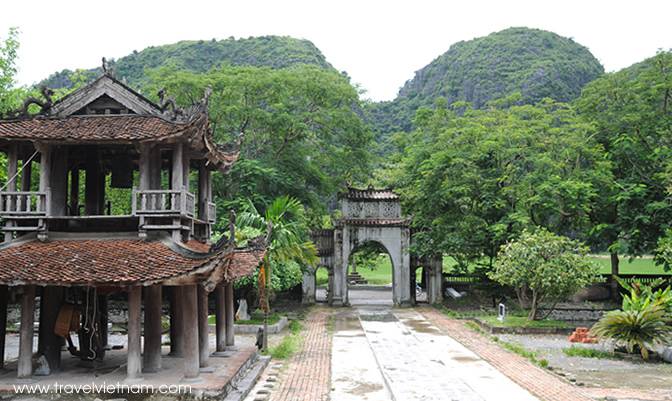 Last updated on 2021-06-27 19:26:18.
Other Vietnam Attractions