Geographically, Ba Be National Park is a reserve in Bac Kan Province, northeast Vietnam, whose role is to protect a freshwater lake (Ba Be Lake) along with surrounding limestone and lowland evergreen forests. It is located about 240 kilometers northwest of the capital city - Hanoi.
Ba Be means "Three Lakes", however, all of them converge into a single continuous body of water. The lake is 8 kilometers long in total, about 400 meters wide, and has the deepest point of 35 meters. It is covered with many limestone mountain chains which have numerous caves and underground streams...


If you're keen on the ecotourism activities, Ba Be National Park is the ideal place to visit because it is featured by diversified and specious fauna and flora. The vegetation in Ba Be National Park mainly consists of limestone and evergreen forest. There are approximately more than 417 species of plant. Climbing bamboo is a regional endemic plant common on the hill slopes near the lake shore. Furthermore, Ba Be National Park also attracts those tourists that are interested in animal life with plentiful animal system. There are 600 species, in which 66 are specious; some were recorded in Viet Nam Red Book.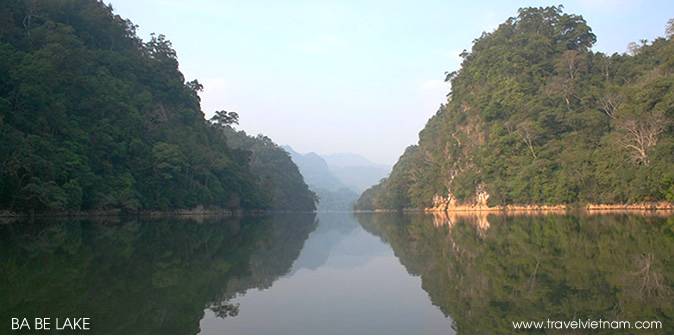 Ba Be National Park was established to conserve important ecosystems, rare plant, animal species, and the special landscapes as well as manage the sustainable use of natural resources. It also assists local communities to improve their current living conditions and mitigating pressures on forests and biodiversity.
The population in Ba Be National Park is about 3,000 people from five different ethnic groups. For over 2,000 years, Ba Be has been inhabited by Tay people, who make up the majority (58%), Nung and Dao people may have arrived about 100 years ago and Kinh and Mong are relatively recent arrivals. This characteristic creates the good condition for many cultural activities including, visiting local villages, markets and musical performances.
To enjoy these sites, there are two main activities for tourists to choose from: boat tours around Ba Be Lake and Nang River stopping off at various beauty spots or trekking through the valleys, forests and visits to caves.
Sightseeing in Ba Be National Park
Puong Cave - A large cave with 30m high, 300m long in Ba Be National Park. Puong Cave located on the Nang River, 5km from the town of Ba Be District, was created by the rivers current as it flowed next to the base of the Lung Nham Mountain, which is a chain of limestone mountains. Looking into the cave, you will see that it is inhabited by a population of thousand of bats belonging to 18 species. After exploring the cave, tourists will note that Nang River flows at the foot of the limestone mountain, goes through Puong Cave to reach Ba Be Lake and consists of a series of spectacular cascades between perpendicular walls of rock.
Dau Dang Waterfall - Located where the Nang River enters Tuyen Quang Province. The waterfall is 16km from Ba Be District, 3km from Ba Be Lake. It flows for 2km where the Nang River is blocked by various sized stones slopping for nearly 500m. The pleasant look of the waterfall and the primitive nature of the forest are extremely impressive. Furthermore, there is a special rare and valuable species of fish living in the river, some of these fish weigh over 10kg.
Pac Ngoi Village - Has more than 40 traditional stilt houses located on the slope of mountains which surround Ba Be Lake, emphasizing the beauty of this famous eco-tourism destination. Surprisingly, while the traditional stilt houses have almost been eradicated in many other provinces, the antique, unique and original houses of ethnic groups are still highly valued and preserved in Pac Ngoi despite the presence of modern architecture. Tourists coming to Pac Ngoi are not only entitled to witness with their naked eyes the most wonderful scenery of Northern Vietnam: a plethora of austere yet interesting stilt houses blending themselves with the glimmering mist and the shinning Ba Be Lakes, but also to stay in the rhythm of the Tay culture. They create a world that shares nothing in common with the big cities where electronic lights and high buildings are ubiquitous. They are just there, in their beautiful social center, waiting to share their most interesting stories about life with you.
Fairy Pond - Situated on "Lake Three" of Ba Be Lake, Fairy Pond is a small water body in a rock basin isolated from the main lake. Like the other special features of Ba Be, Fairy Pond is evoked in local legend; the name is in reference to the story of a local hunter who visited the island and became bewitched by fairies whom he found bathing at the pond. The pond is home to a number of local fish and other aquatic animals. Local fishermen sometimes come here to try their luck, though this is surely as much for the quiet and seclusion as it is the hope of a large catch.
Last updated on 2021-01-29 18:23:08.
Other Vietnam Attractions