The Con Dao Islands are an archipelago of Ba Ria - Vung Tau Province, in southeastern Vietnam, and a district of this province. Situated at about 185km from Vung Tau and 230km from Ho Chi Minh City, the islands comprise of 16 mountainous islands and islets. The total land area reaches 76 km² and the local population is about 5000 inhabitants.
Overview of Con Dao Island
Until recently, the isolated 16-island archipelago of Con Dao (its largest island, Con Son, is commonly called Con Dao Island), 110 miles off the mainland's southeastern coast, was a place most Vietnamese wanted to forget. For 113 years, this island was home to one of the country's harshest prison systems, established by French colonists in 1862 and later ruled by South Vietnamese and American forces until Saigon fell to the North Vietnamese in 1975, at which point the prisons were closed. These days, officials on government-sponsored group tours make pilgrimages to the crumbling stone prisons, which have been turned into museums that depict the suffering endured by their comrades.
Con Dao served as a prison island for political prisoners during the French colonial era, when it was known as Poulo Condore, and in later years the Saigon regime imprisoned opponents of the regime in the infamous cells known as the "tiger cages". The old prison buildings are still standing and are open to the public as is a small museum tracing the island's history.
Besides having an interesting history, Con Dao is also an island of immense natural beauty with forested hills, deserted sandy beaches and extensive coral reefs making for some excellent diving.
Con Dao is one of the few places in Vietnam that is home to rare dugong, sea turtles, and dolphins, and to varieties of orchids found nowhere else in this country. It is a shining example of good conservation. 80% of the land area of the archipelago is a National park offering primary jungle teeming with interesting life such as the endemic black squirrel and the crab eating macaque. Beautiful beaches and hidden lagoons are also to be found here, with very few tourists Con Dao is a paradise off the beaten track. Most of the surrounding marine are is a no-take marine protected area. The level of protection and care shown to this island is evident in the pristine reefs that surround it, home to a large variety of marine life incomparable to anywhere else in Vietnam.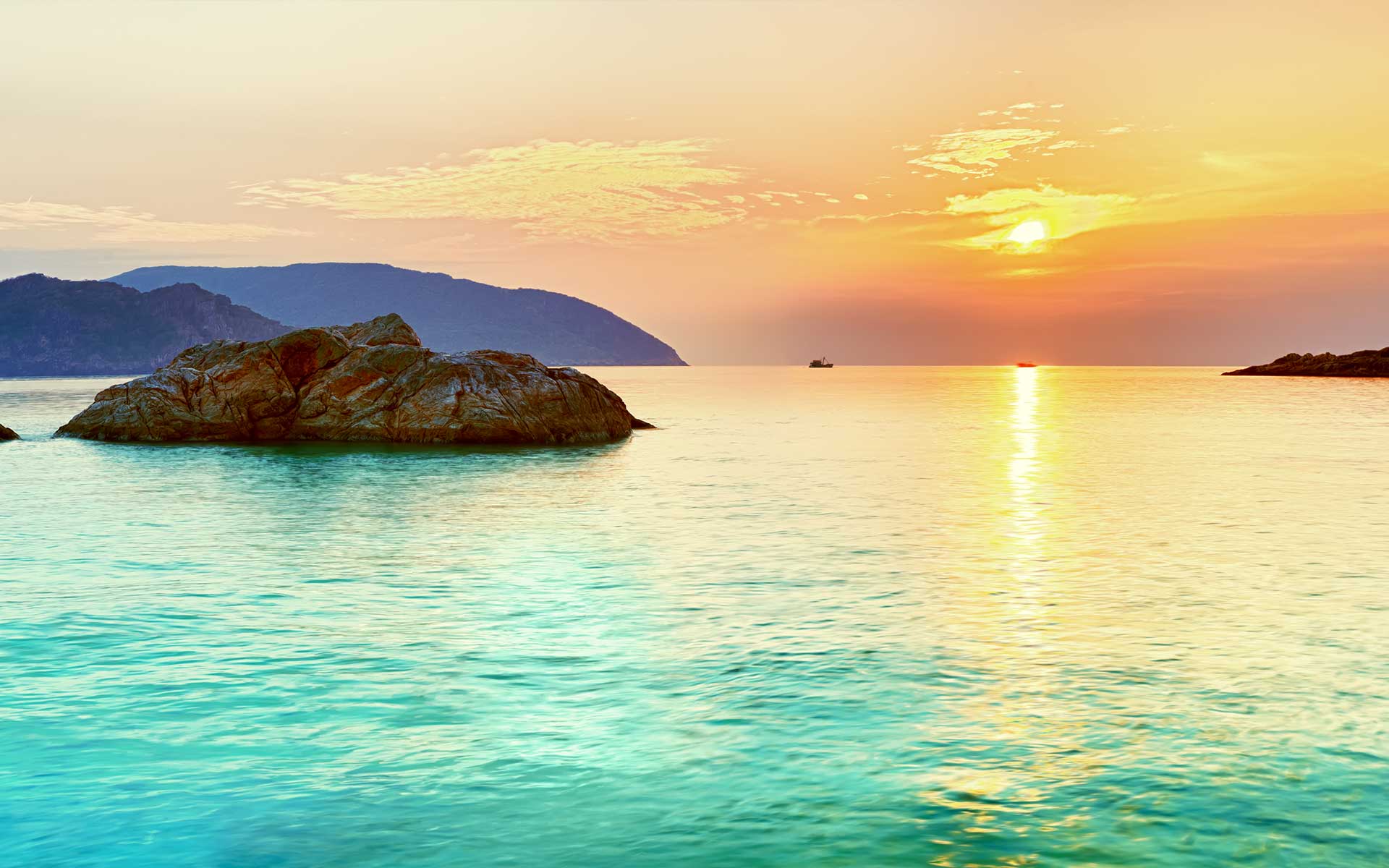 Life in Condao Island
The ocean around Con Dao Island is a heaven for sea life and the splendid forest cloaks the land. This is ecotourism at its best. Clean, smooth sand banks, blue sea, dolphins jumping and racing after boats, tropical almond trees swinging in a cool sea breeze, peaceful narrow roads, and forest covering most of the island, make Con Dao seem like heaven to visitors from far and wide. Teenage boys pulled up on Honda scooters, kicking off their shoes and rolling up their jeans to play soccer on the white sand; young mothers led small charges by the hand into the gently lapping aquamarine water; an elderly woman, her teeth lacquered black in the style of her ancestors, watched a group of children fly colorful, animal-shaped kites on the pier, built in 1873.
A lack of development and, until recently, of access (the number of 45-minute flights from Ho Chi Minh City has gradually increased from a handful per week four years ago to three times a day now) has also helped to keep the islands' beaches empty and immaculate. The azure waters are brimming with Vietnam's best coral reefs, and the forests bustle with macaque monkeys and black squirrels, one of several species indigenous to Con Dao.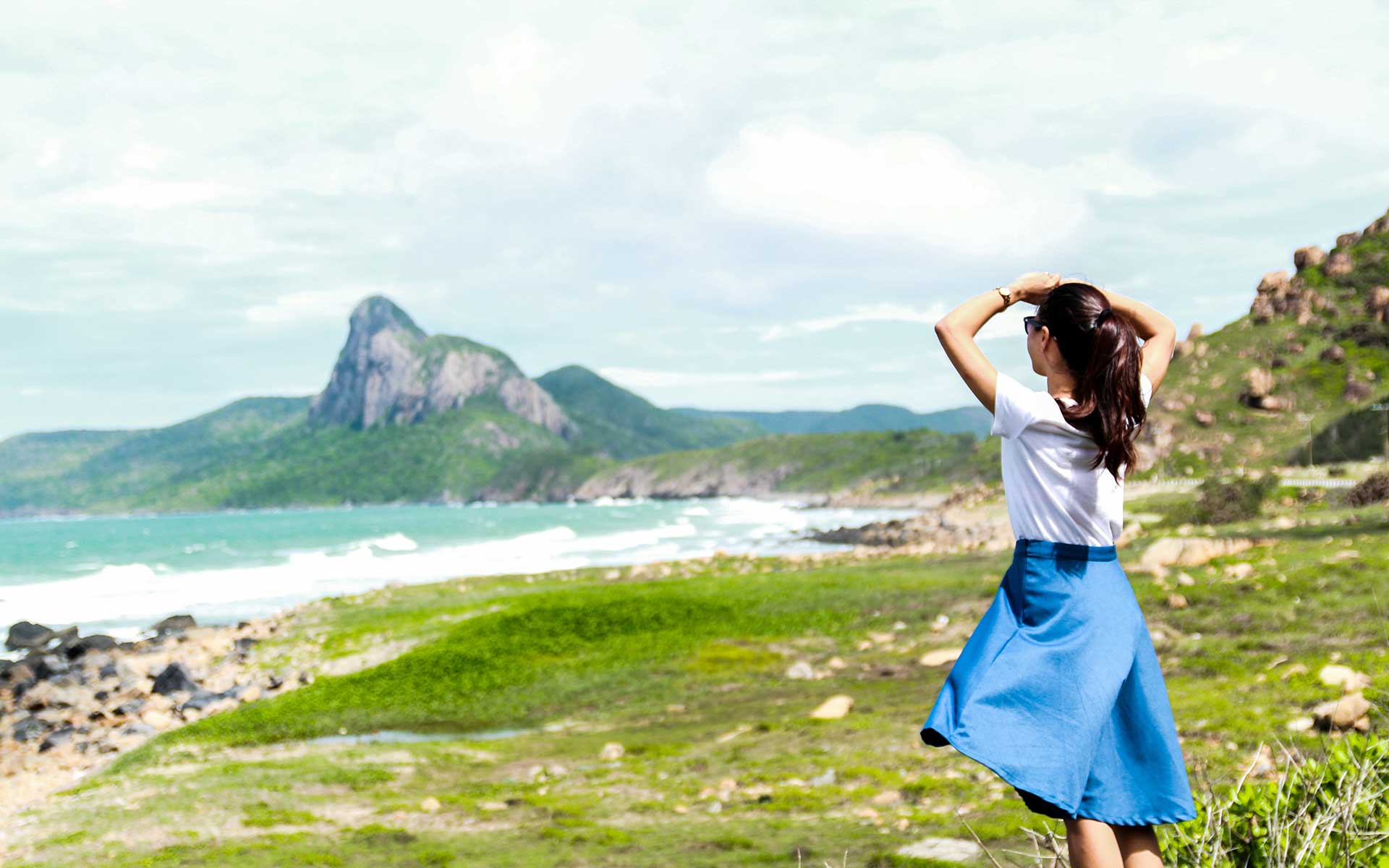 Con Dao National Park
The Con Dao National Park arranges guided treks through dense tropical jungle and to remote beaches like Dam Tre Bay, a deep, sheltered cove that is home to golden fields of swaying seaweed and giant clams with electric blue lips. There are also snorkeling trips to Bay Canh islet, where fine sand lures endangered hawksbill and green sea turtles during the May to September nesting season. But cruising the winding cliff-side roads on a rented scooter might be the most memorable way to experience Con Dao, where the only traffic is the occasional black-haired goat or wild pig. Hidden down a sandy track marked "Mieu Cau," about eight miles northeast of town, is Dam Trau Beach, a crescent-shaped expanse of golden sand and sapphire fringed by feathery casuarinas, the peace disrupted only by the arrival of flights from Ho Chi Minh City.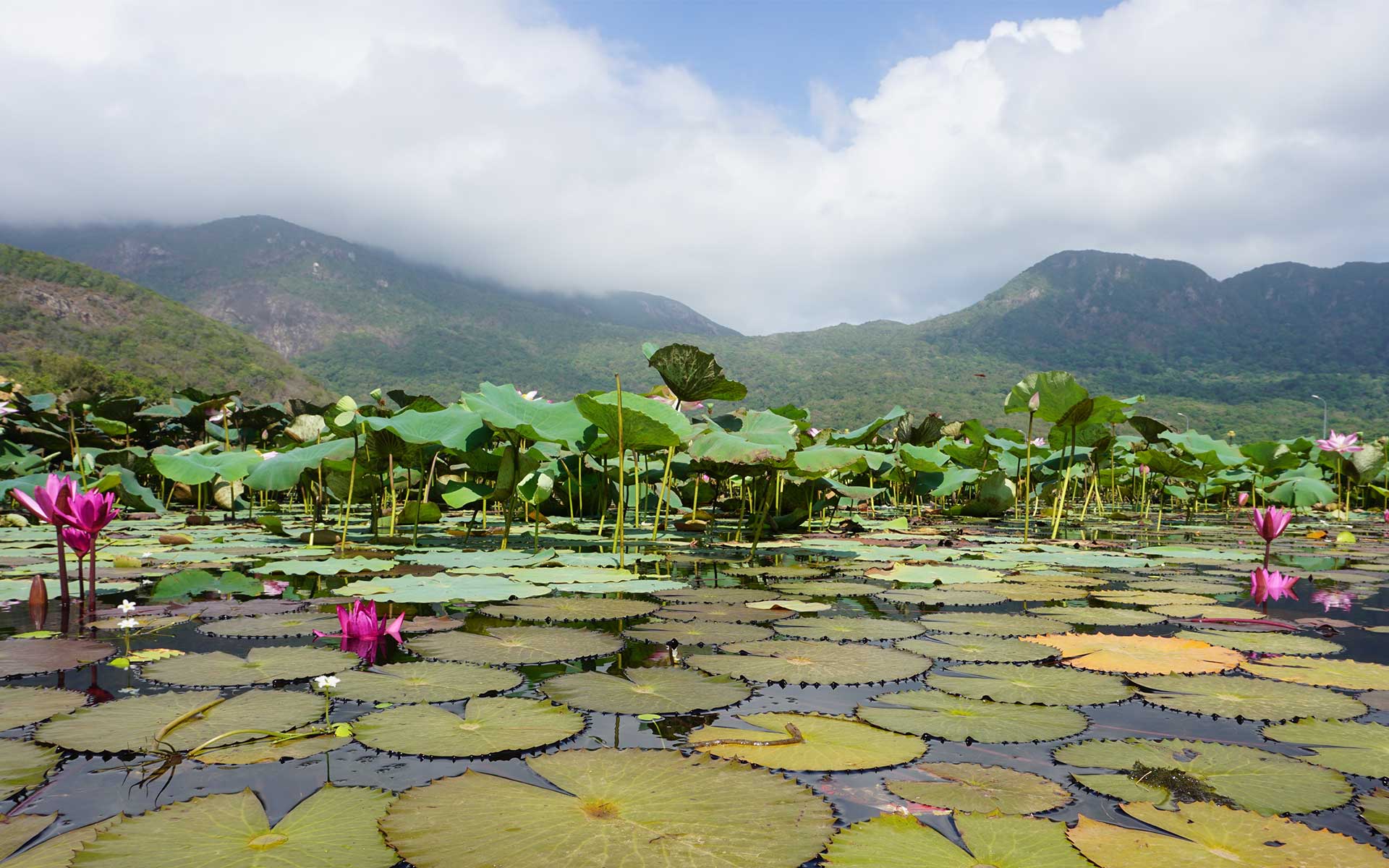 Ben Dam - Con Dao Port
Head west to encounter rolling dunes and Con Dao's main port, Ben Dam, where spearmint-green, sun-beaten fishing boats bob in the turquoise water. The island's prettiest beach, the boulder-peppered Bai Nhat, emerges only with the low tide. If you're lucky, that will happen in late afternoon when the sun drops behind the 1,000-foot-high Love Peak, so called because it looks like two heads nestled together.
How to get to Con Dao Island
With its upgraded airport, there are now direct flights from Hanoi and Ho Chi Minh City to Con Son Island. The tiny airport is about 15km from the town centre. If you want to go by boat there is a hydrofoil service from Vung Tau to Con Dao twice a week at 350,000 VND each way, and also one departing from Tra Vinh in the Mekong Delta which is run by Greenlines. The fares and timetable are no longer advertised on the Vietnamese language version of their website though, so it is worth checking before making the trip to Vung Tau.

Sightseeing in Con Dao

The Revolutionary Museum
Exhibits on Vietnamese resistance to the French, communist opposition to the Republic of Vietnam, and the treatment of political prisoners. There is also a mock-up of the islands and some curiously embalmed animals – including a monkey smoking a pipe.

Phu Hai Prison
Built in 1862. Its total area is more than twelve thousand square meters including 10 big lock-ups, 20 rooms for solitary confinement, one special lock-up (for death penalty prisoners during 1946-1954), one cellar for rice basking and one area for breaking up rocks. This is the biggest and oldest prison in Con Dao and also bears the hallmarks of different historical periods.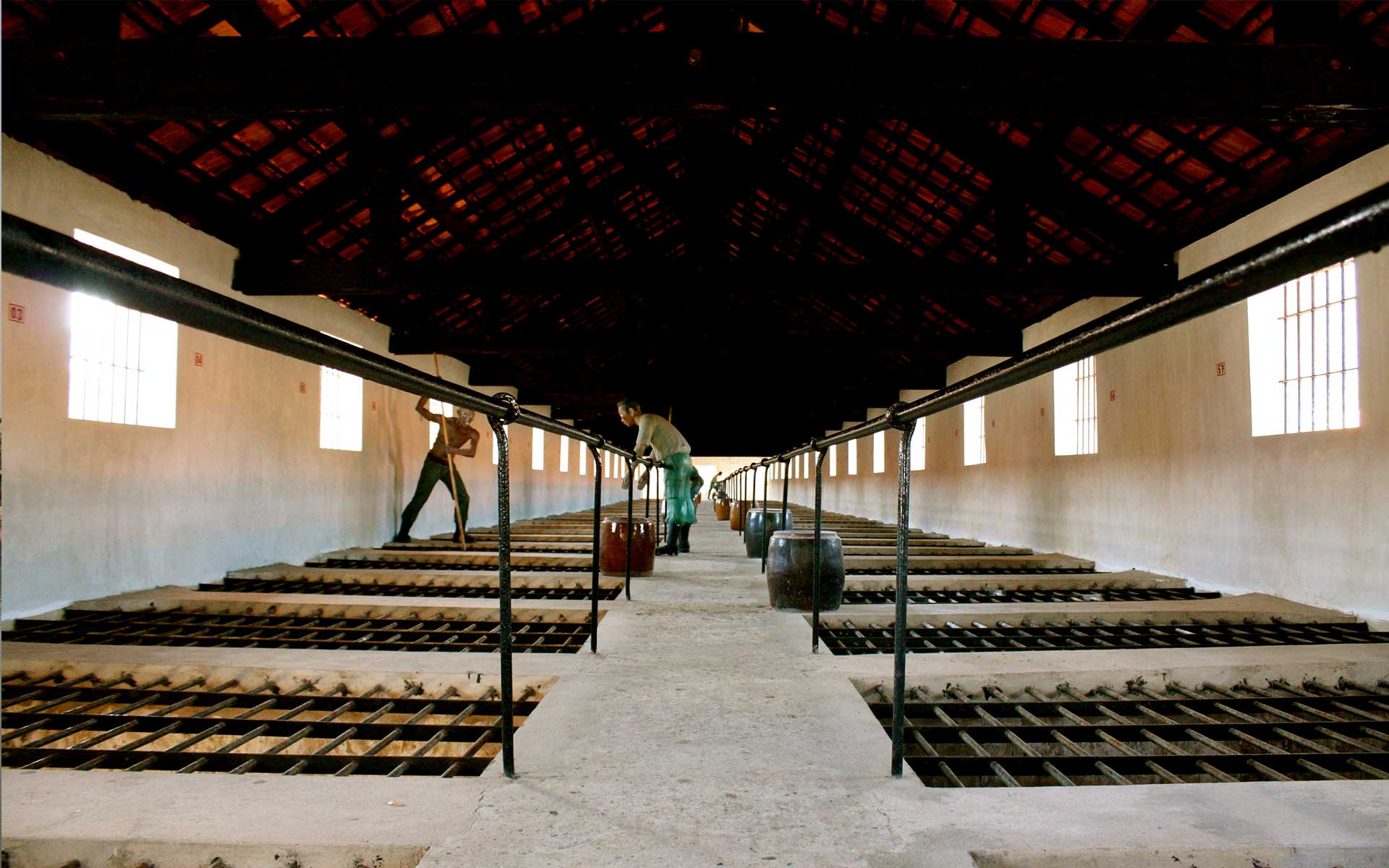 The notorious Tiger Cages
Built by the French in the 1940s. From 1957 to 1961 nearly 2000 political prisoners were confined in these tiny ceils. Here there are 120 chambers with ceiling bars, where guards could watch down another 60 solariums with no roof at all.
Phu Binh Camp
Built in 1971 by the Americans, this one has 384 chambers and was known as Camp 7 until 1973, when it closed following evidence of torture. After the Paris Agreements in 1973, the name was changed to Phu Binh Camp.
Over the course of four decades of war, some 20,000 people were killed on Con Son and 1994 of their graves can be seen at Hang Duong Cemetery. Sadly, only 700 of these graves bear the name of the victims. In the distance behind the cemetery you will see a huge monument symbolizing three giant sticks of incense.



Last updated on 2021-03-17 00:10:59.