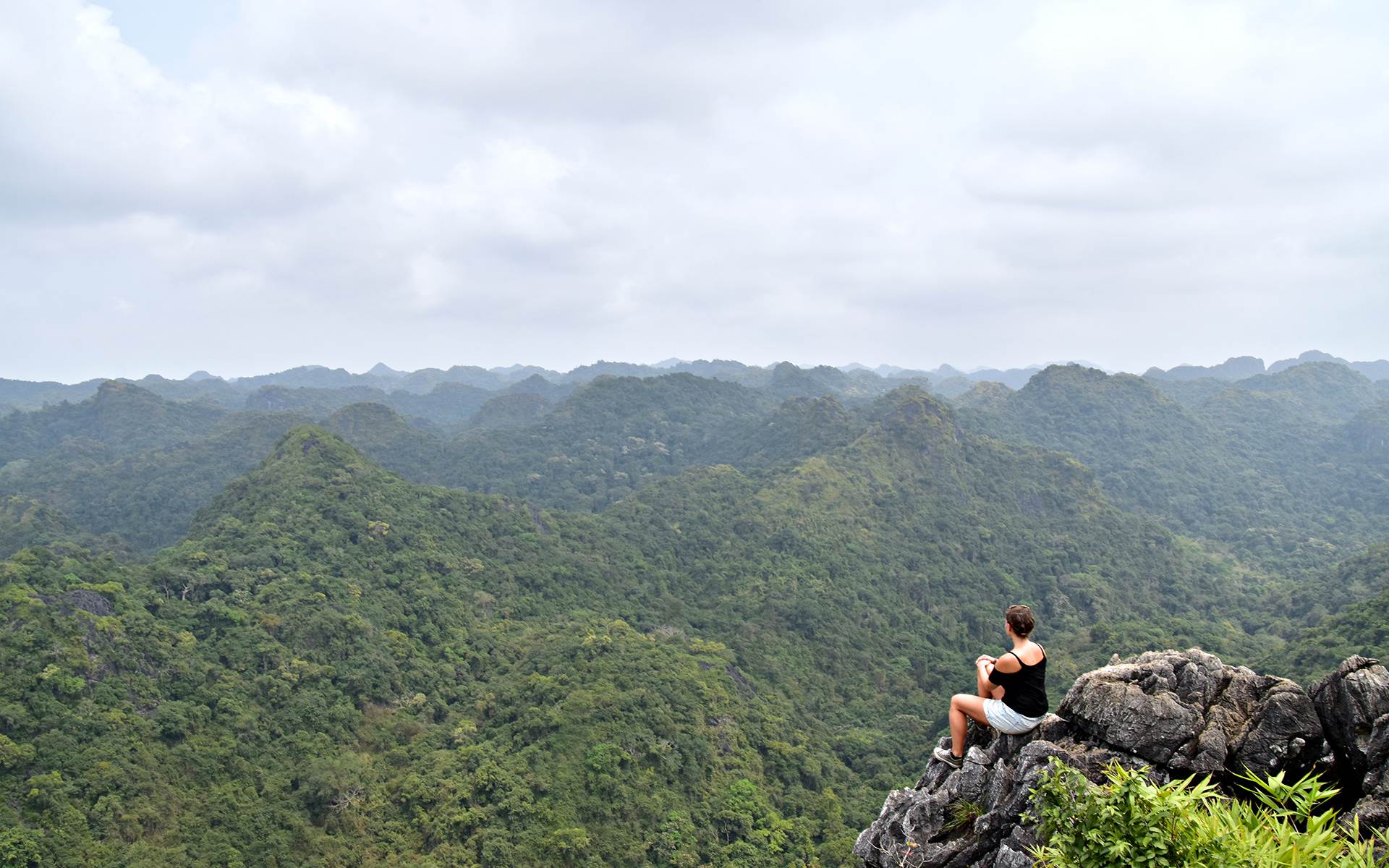 Cat Ba Island is the largest of the 366 islands spanning 260km2 that comprise the Cat Ba Archipelago, which makes up the southeastern edge of Ha Long Bay in Northern Vietnam. Cat Ba island has a surface area of 285 km2 and maintains the dramatic and rugged features of Ha Long Bay. The island has a wide variety of natural ecosystems, both marine and terrestrial, leading to incredibly high rates of biodiversity.

Types of natural habitats found on Cat Ba Archipelago include limestone karsts, tropical limestone forests, coral reefs, mangrove and sea grass beds, lagoons, beaches, caves, and willow swamp forests. Cat Ba Island is one of the only populated islands in Ha Long Bay, with roughly 13,000 inhabitants living in six different communes, and 4,000 more inhabitants living on floating fishing villages off the coast. The large majority of the population can be found in Cat Ba town, which is located at the southern tip of the Island (15 km south of the national park) and is the commercial center on the Island. Since 1997, Cat Ba town has grown rapidly and has become a tourist hub for both the Island and greater Ha Long Bay.
Overview
Cat Ba Island is a Northern Vietnam travel destination no less famous than Halong Bay, especially among Vietnamese tourists. Cat Ba Island is divided into two distinctive parts: the lively Cat Ba Town with a concentration of tourism services, and the remote Cat Ba National Park with dense jungle and rich biodiversity.
Cat Ba Island is the largest out of 366 islands in the Cat Ba Archipelago, and also in Halong Bay, with a surface area of about 140 km2. The island is home to 6 communes with around 13,500 inhabitants. It is one of the few inhabited islands in Halong Bay because the islands here are often small and steep, unsuitable for habitation.
The ferry port in Cat Ba Island is located at the east while the town is in the south. It took around 45 minutes to get to the town by bus. In the middle, it's Cat Ba National Park, home to one of the most endangered langurs on Earth – the white-headed langurs. In the town itself, most of the buildings facing the sea are either hotels or restaurants.
The roads in the town are narrow, but they're more than enough for motorcycles. Outside the town, road conditions might not be as good, with holes here and there. For example, the road from the Cai Vieng Ferry Harbor to the town. But the highway from the town to Cat Ba National Park is well-maintained. Overall, it's easy to get around the whole island.
Since 1997, Cat Ba Town has grown rapidly and has become a tourist hub for both the Island and greater Ha Long Bay.
Map of Cat Ba Island
Almost half of Cat Ba Island (which has a total area of 354 sq km) and 90 sq km of the adjacent waters were declared a national park in 1986 to protect the island's diverse eco­systems. These include subtropical evergreen forests on the hills, freshwater swamp forests at the base of the hills, coastal mangrove forests, small freshwater lakes and coral reefs.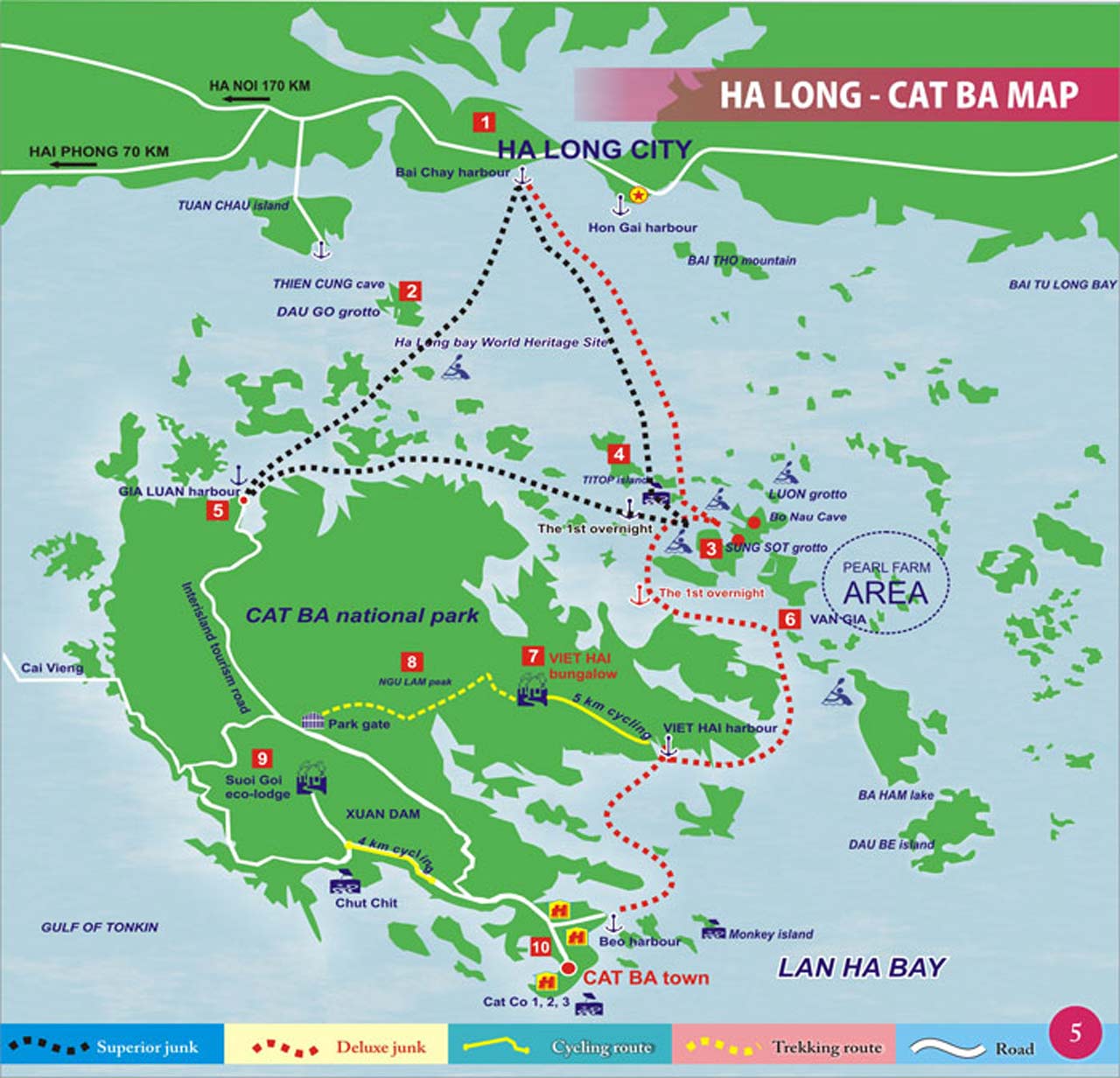 Sightseeing in Cat Ba Island
Beaches
A 15minute walk southeast from Cat Ba Town, the three beautiful Cat Co cove beaches boast white sand and good swimming. Cat Co 2, backed by limestone cliffs, is the beach to head for; here you'll find a lovely sheltered sandy bay, a snack bar and some simple thatched beach huts. However, as developers have been eyeing up this beach for some time, check first to see if it remains a haven of tranquility. Cat Co 1 and 3 were once equally as attractive, but both have now been developed as resorts. On weekends in summer they get packed with Vietnamese tourists and litter becomes a real blight. The wooden cliffside walkway that once connected Cat Co 1 and 2 is broken.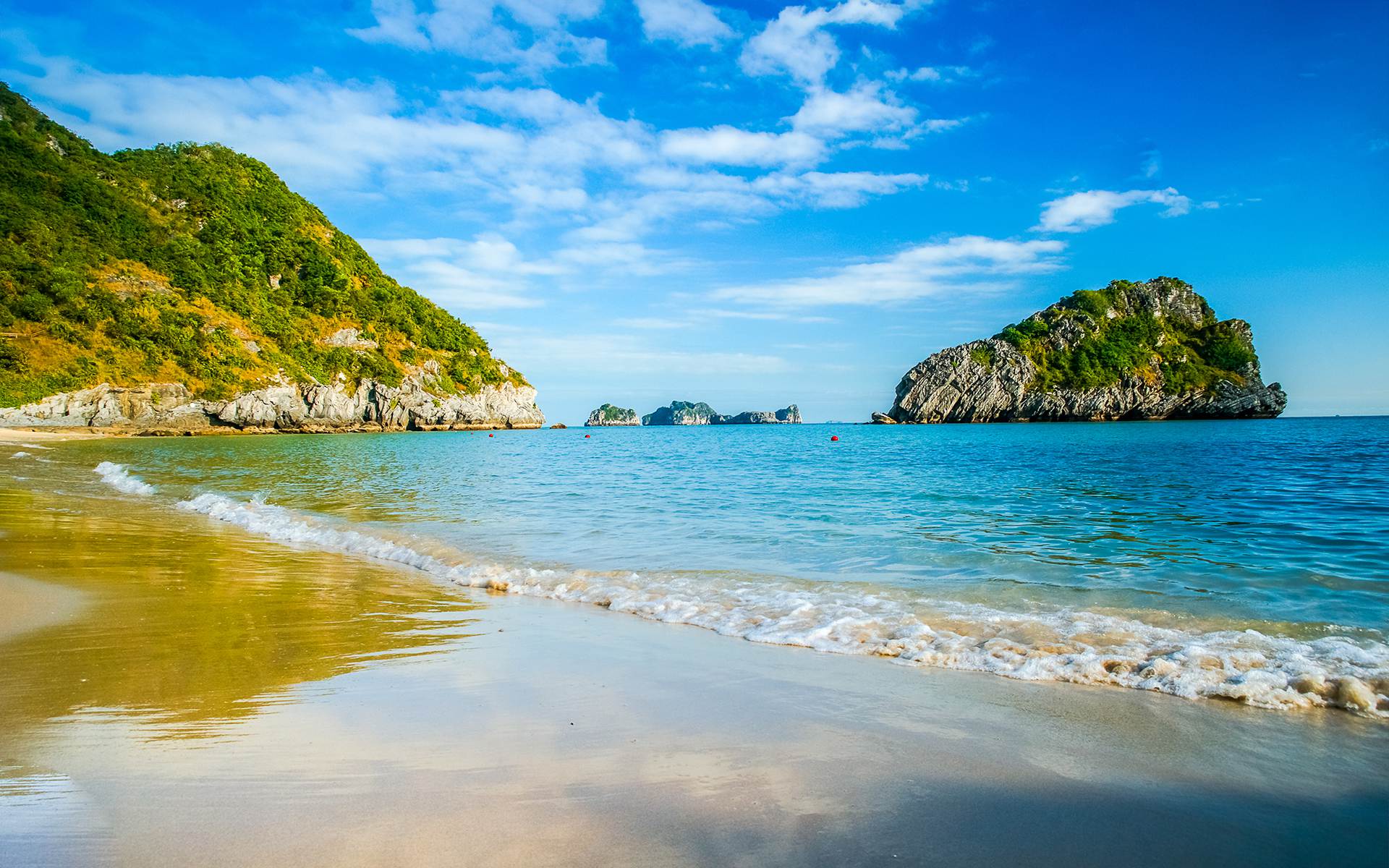 Lan Ha Bay
The 300 or so karst islands of Lan Ha Bay are directly south and east of Cat Ba Town. Geologically they are very much an extension of Ha Long Bay, but geographically these islands lie in a different province of Vietnam. They share the same emerald sea, and the limestone pinnacles and scenery are every bit as beautiful as Ha Long Bay, but these islands have the additional attraction of numerous white sand beaches. Around 200 species of fish, 500 species of mollusk, 400 species of arthropod and numerous hard and soft coral live in Lan Ha Bay. Larger marine animals in the areas include seals and three species of dolphin. Sailing and kayak trips here are best organized in Cat Ba Town. Lan Ha Bay also offers superb rock climbing and is the main destination for adventurous tourists.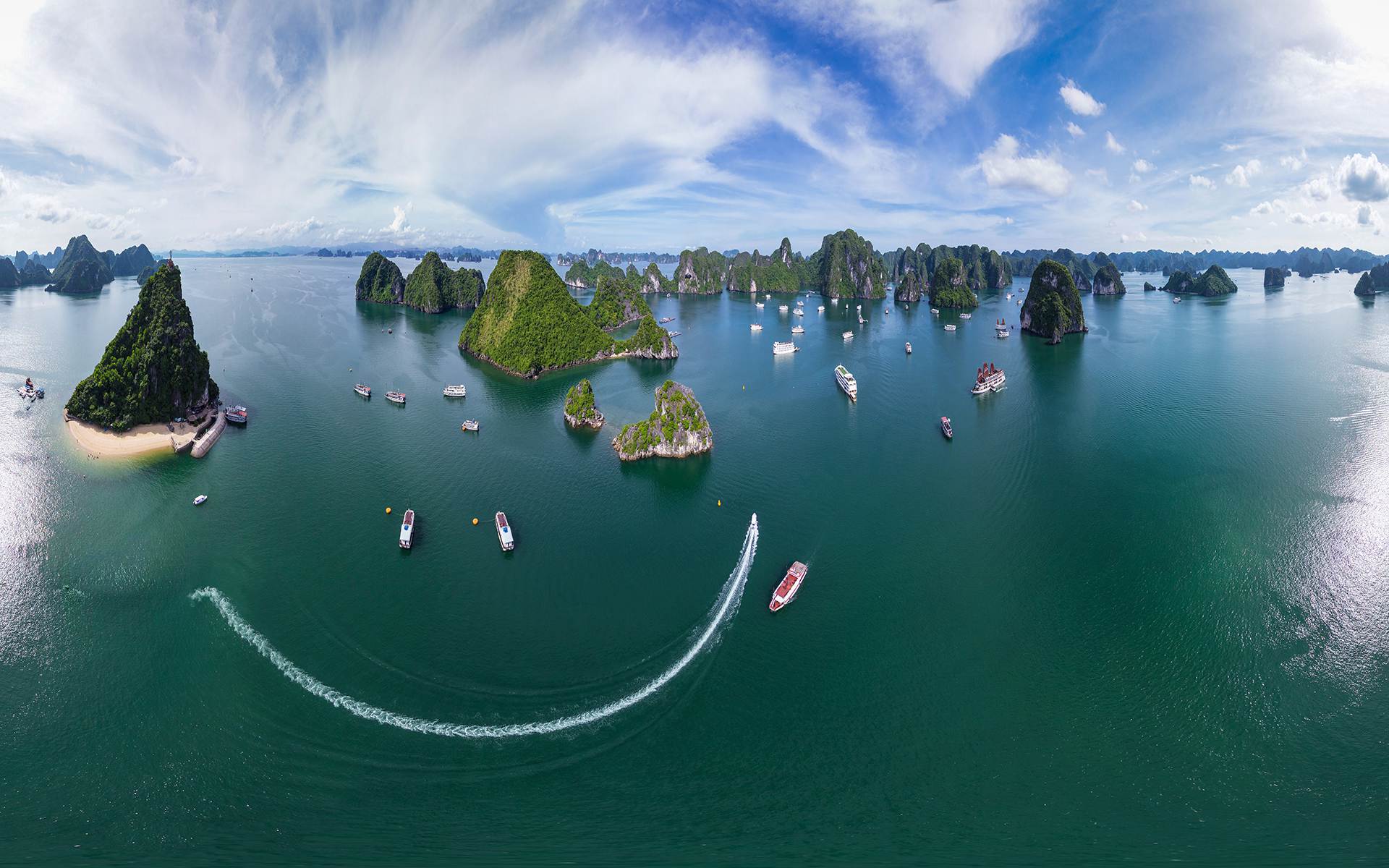 Hospital Cave
Built between 1963 and 1965, this incredibly well-constructed three-story feat of engineering was in constant use until 1975. It has historical significance, as it served both as a secret, bomb-proof hospital during the American War and as a safe house for Viet Cong leaders. Visitors will be shown around 17 rooms, the old operating theatre and take you to the huge natural cavern which was used as a cinema. The cave is about 10km north of Cat Ba Town on the road to the national park entrance.
Cat Ba National Park
- Founded in 1986, it covers 16.196,8 ha including 10.931,7 ha of karst island and 5.256,1 ha of marine ecosystems. The park is located on Cat Ba archipelago (consists 366 islands) and is the heart of Cat Ba Biosphere Reserve, about 150km southeast of Hanoi, 50 km east from Hai Phong city and next door with well-known Ha Long Bay. Cat Ba National Park differs from other national parks in Vietnam because of the great variety of landscapes and ecosystems, including tropical evergreen forests, mangrove, freshwater lake and streams, isolated sandy beaches, coral reefs, caves and grottos. The Park is a tourist attraction to millions of domestic and overseas visitors. Come to Cat Ba, travelers not only can worship the beauty of landscapes, seascapes, relax on isolated beaches in Lan Ha Bay or visit primeval forest but also have chances to discover many unique, precious species of fauna, flora and local culture.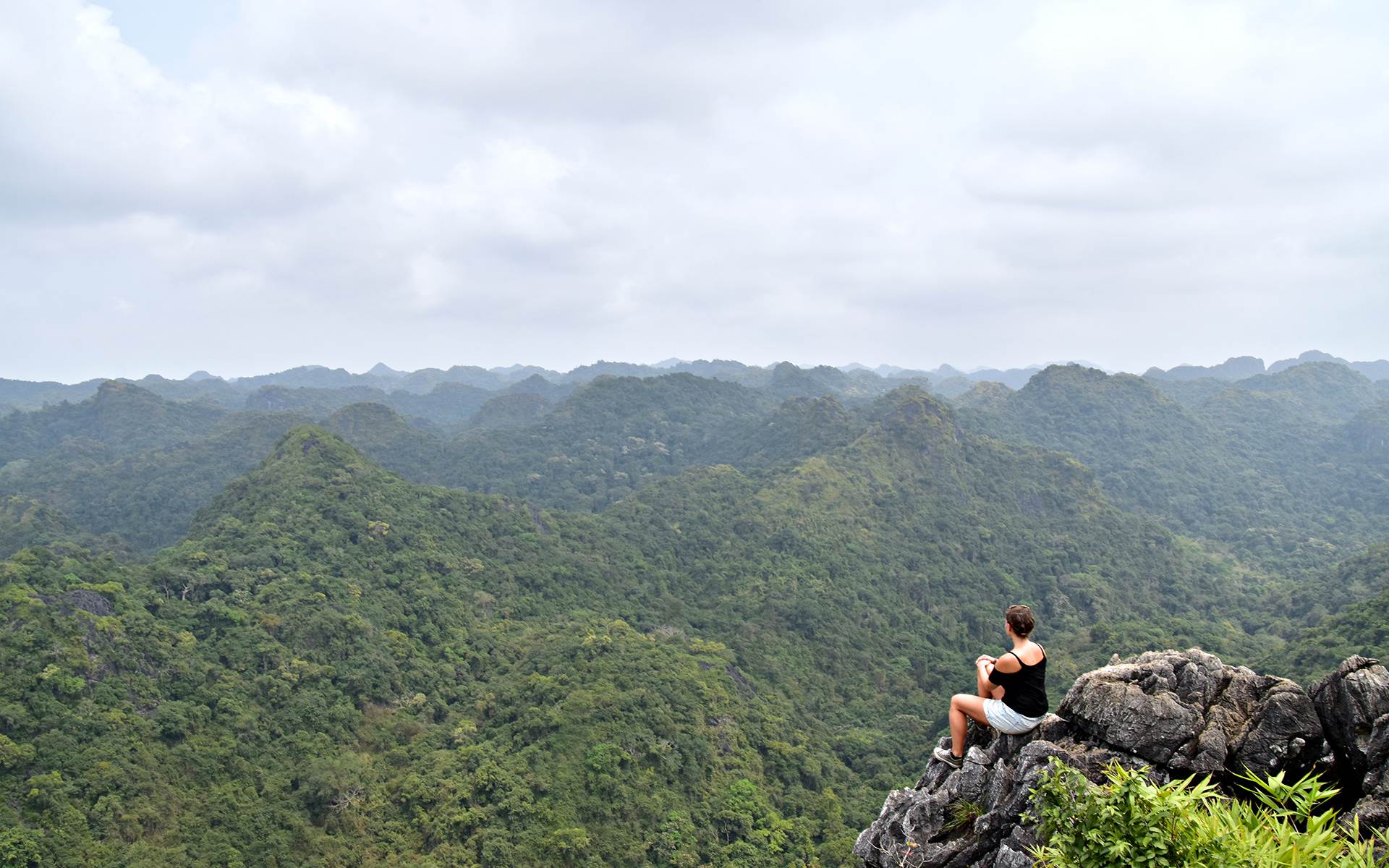 How to get to Cat Ba Island?
Cat Ba island is usually part of the itinerary of a Halong Bay cruise. Companies like Orchid, Azalea, Peony, La Regina Legend, Era, Ylang, Heritage, V' Spirit Premier, Scarlet Pearl, Stellar of the Seas, and Perla Dawn include the island in their itinerary. Tourists typically stay overnight at Cat Ba en-route to Halong Bay.
Gia Luan Pier, where boats from Ha Long City and Tuan Chau dock, is on the northern coastline. From there you can go to the main town, where most of the islanders live and most of the accommodation, tourism services and dining options are located. Alternatively, you can buy a ticket from Luong Yen Bus Station. After a three-hour bus ride to Hai Phong City, you'll spend another 30 minutes on a hydrofoil to Phu Long Pier. From there, it takes another hour for buses to arrive in Cat Ba Town.
From Hanoi to Cat Ba island (~ km)
The most comfortable way by 2 night cruise from Hai Phong to Lan Ha Bay. The Itinerary has day 2 to discover Viet Hai Village and Cat Ba Island.
The second best way is to take the private car/van from Hanoi to Cat Ba. There is a ferry but when you have a private car to this island. You could be able to discover Cat Ba National park and get around on the island by your own private car/van.
Or hopping on a Hanoi-Haiphong highway bus will get you from Hanoi to Cat Ba island in around 3-5 hours (4 hours on average). There are various operators, but try Cat Ba Express, Good Morning Cat Ba for reasonable price and good service.
Bus + speedboat
Starting from Hanoi to Got pier through Sea Bridge Tan Vu – Lach Huyen (*). Then speedboat to Phu Long pier where you meet another bus for transfer to the centre of the town)
* At the beginning of September 2017, in Hai Phong city, the longest bridge crossing the sea in Vietnam, but also in South East Asia, Tan Vu – Lach Huyen (Tân Vũ Lạch Huyện) was opened. The bridge begins in Hai Phong city on the highway leading from Hanoi ends up on Cat Hai island. The length of the bridge cross the sea is 5.4km. Cat Hai island is about 1.5km from the largest island in Halong Bay – Cat Ba island.
Bus + Cable car
Starting from Hanoi to Cable car station (*) at Cat Hai through Sea Bridge Tan Vu – Lach Huyen to Phu Long station where you meet another bus for transfer to the center of the town
*Cat Ba Cable car – the largest cable car in the world. This project is owned by Sun Group, connects 4km Cat Hai – Phu Long operation on 6/6/2020 with a capacity of 4500 passengers / hour. There are 60 cabins and maximum 30 passengers can accommodate in one cabin.
Operation hours: everyday, except Tuesdays
Morning: 9.00 – 11.30
Afternoon: 13.30 – 16.00 (weekdays) or 13.30 – 18.00 (Saturday, Sunday).
Ticket price: 150,000VND / person
Child policy: 100,000VND / child from 1m-1.4m; Free for child under 1m.
From Halong city to Cat Ba Island (~ km)
Once in Halong, the best way to get to the island is to take a ferry. There is Tuan Chau ferry to Gia Luan harbour – Cat Ba island. From there it's about a 40-minute drive to Cat Ba town. There's a bus that costs around 30.000VND. There are taxis as well but be mindful about prices.
The daily ferry so easily as it is operated every 1 hour from 6.00 AM till 18.00 PM. It takes only 45- 50 minutes per ferry journey. In the high season it departs in every 30 minutes. However, please be aware that the ferry operation sometimes depends on the minimum number of passengers to start running.
From Hai Phong city to Cat Ba island (~ km)
There are multiple ways to travel to Cat Ba island from Hai Phong:
Speedboat (Mekong Hoang Yen): from Ben Binh to Cat Ba pier (~45 minutes)
Bus (Good Morning Cat Ba): Tan Vu Lach Huyen Bridge to Cat Ba (1h40′)
Private Car/Van
Best time to visit Cat Ba Island
Cat Ba Island is located in North Vietnam, so there are four seasons there.
Winter – I visited Cat Ba Island in January during the winter months. The temperature wasn't as cold as expected. As someone who's afraid of cold, I would say it's just mildly cold there. Totally bearable. During the winter season, the number of tourists dropped drastically. If you hate traveling with tourists everywhere, I would suggest visiting during winter. The tours and hotel rates are much cheaper too during this off-peak season. Kayaking is okay, but swimming in Ha Long Bay is too cold for me. I almost got hypothermia.
Spring – The best time to visit Cat Ba Island is during the spring season. Tourists aren't as many yet, and the weather is just pleasant for all kind of activities around the island. It rains occasionally though. But the water is now warm enough for any water activities and swimming. For the best months, it's March & April.
Summer – From May to August, the summer season in Cat Ba Island is chaos. Local and overseas tourists flocked in, restaurants are all full, hotels are booked out, beaches are occupied and tours are much more expensive. But still, it's the best time for water sports.
Autumn – From September to November, Cat Ba Island is invaded by tropical storms and rains. It might not be the best time to visit Cat Ba Island but if you're not planning to do any water sports activities or tours, Autumn can be a good choice.
Where to stay in Cat Ba Island?
There are plenty of hotels available on Cat Ba island. You'll find that most of them are located on the waterfront. Please note that if you book and join a Halong cruise, it already covers Cat Ba Island, either in a 2-day/1-night or 3-day/2-night package. This means you don't need to book a separate accommodation because you just need to return to the ship and sleep comfortably in your cabin. Nonetheless, we did some research to find the highest recommended places to stay in case you do want to experience an overnight stay on the island.
Sea Pearl Hotel
Category: Midrange
Address: No 219, 1/4 Road, Cat Ba, Vietnam
Price from US$ 35 – US$ 50/room/night.
Monkey Island Resort
Category: Midrange
Address: Monkey Island, Cat Ba, Vietnam
Price from US$ 50/room/night.
Cannon Fort Cat Ba Hotel
Category: Midrange
Address: 243 Nui Ngoc, Cat Ba island, Hai Phong, Cat Ba, Vietnam
Price from US$ 45 - US$ 65/room/night
Cat Ba Princess
Category: Midrange
Address: 243 Nui Ngoc, Cat Ba island, Hai Phong, Cat Ba, Vietnam
Price from 40$/room/night up.
Cat Ba Eco-Lodge
Category: Home-stay - (around 13 kilometers from Cat Ba harbor):
Address: 243 Nui Ngoc, Cat Ba island, Hai Phong, Cat Ba, Vietnam
Price from US$ 35 – US$ 50/room/night
Monkey Island resort (Cat Dua island):
Category: Midrange
Address: No 219, 1/4 Road, Cat Ba, Vietnam
Price from US$ 35 – US$ 50/room/night.
Flamingo Cat Ba Beach Resort
Category: 5-star
Address: No 219, 1/4 Road, Cat Ba, Vietnam
Price from US$ 100/room/night.
Hôtel Perle D'Orient – Mgallery (at Cat Co )
IslaCategory: 5 Star
Address: No 219, 1/4 Road, Cat Ba, Vietnam
Rooms range from 110 USD/room/night
A trip to Cat Ba Island can be done separately or in combination with a visit to Halong Bay. This is an oasis where you can relax for one or for several days.
In order to save your budget, you should combine your cruise trip to Lan Ha Bay with a visit to Cat Ba Island. Cat Ba is easily accessible and matches neighbouring Halong Bay and Bai Tu Long Bay for stunning natural beauty. After a day discovering Halong Bay, cruise will take you to Cat Ba. Please contact our Travel Consultants to get more details and best offers!
Last updated on 2021-04-14 15:26:46.