Vietnam's most fertile region, the Mekong's riverine environment is simultaneously unique and beautiful. From Vinh Long, travel by sampan along narrow canals to tropical fruit orchards and bonsai gardens; sample freshly-picked fruits and the local delicacy, fried elephant ear fish; and navigate though the waterborne bustle of the area's famed floating markets.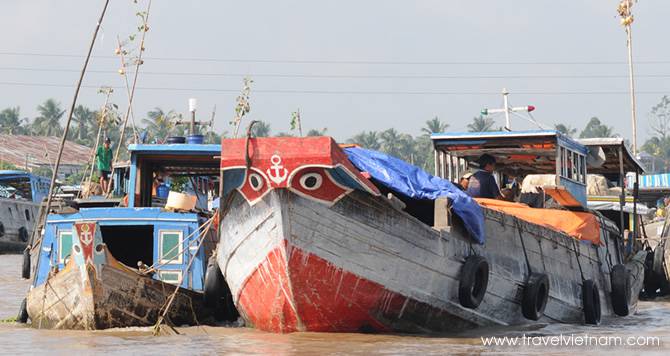 Many of our tours through Vietnam take a day trip from Saigon to the province of My Tho, gateway to the Mekong. We then take a boat ride to one of the islands located in the middle of the Mekong River. On the island we visit a fruit orchard and sample some delicious fresh local produce. We take the opportunity to visit an ancient house over 170 years old built by the French, enjoy their hospitality and share with them some tea or rice wine. In this area, people get around by water way, therefore motorboat is a pretty convenient means of transportation. Floating markets are held every morning from 5:00am to about 11:00am. Phung Hiep (Hau Giang) market is the biggest since it is located at the intersection of seven major canals. It is also a photographer's delight because it can be seen above from a bridge. Cai Rang (Can Tho) and Cai Be (Tien Giang) are two other notable floating markets in the delta. Boats loaded with produce from nearby orchards of the Mekong Delta converge to the floating market. Boats were painted the opening eyes - the eyes are painted on the bow for good luck, a wide-awake crew and good and safe trip. They carry mostly fruits but also coconuts, vegetables and fish and sellers hang whatever they have for sale on the top of a bamboo pole to let buyers see their products. Large floating markets are not complete without its floating restaurants, floating gas stations and an occasional tour boat filled with tourists.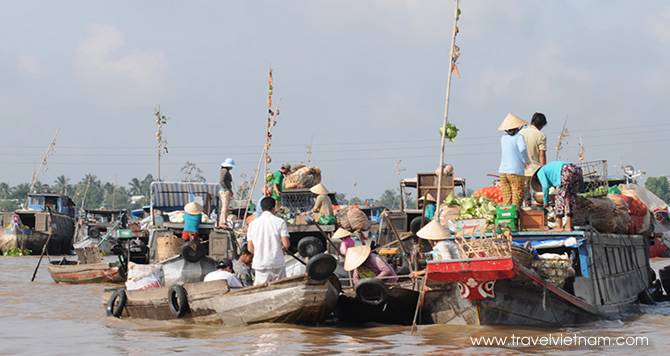 We also offer you another way to explore Vietnam's "rice bowl" by cycling through the lush countryside and sleepy villages of the Mekong Delta on biking adventure tour that takes you deep into the agricultural heart of the country.
Both our Vietnam & Cambodia Adventure and Mekong Discovery to the scenic little town of Chau Doc. Chau Doc is home for many Khmer, Cham and Chinese and is only a few kilometers from the Cambodian border. Chau Doc is located on Bassac River. Since the opening of the borders in 2000 there has been a real boom. Many visitors who travel from Vietnam to Cambodia are passing the nice city. From here there are daily connections to Phnom Penh by speedboat (approx. 5hrs). See more information about Visa when you travel pass this border gate.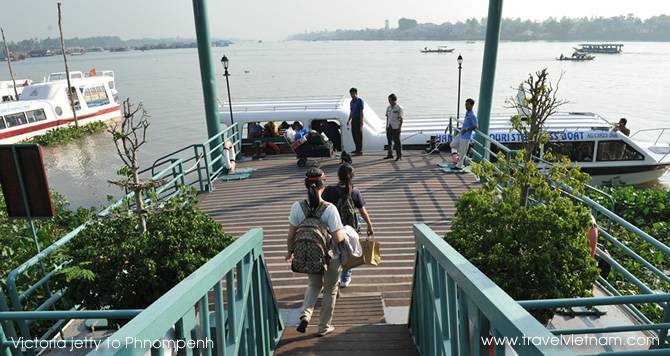 Last updated on 2021-04-03 12:27:08.