Located in the Gulf of Thailand, 120km from Rach Gia by sea, Phu Quoc is the largest island in Vietnam, covering a natural area of 593km. This island is surrounded by 40km of white sand beaches and turquoise seas. What's more, Phu Quoc National Park ensures protection for almost 70% of the island. Hence, it is considered as a "Pearl of the southern sea area".


As well as relaxing and taking in the outstanding natural scenery, you can go river swimming, navigate old cave systems or explore the island by motorbike. If that sounds like too much effort, take a dip in the sea and enjoy some deliciously fresh seafood, followed by a cocktail or two.
Of the unique sights and smells when traveling around the island, the many racks of drying anchovies and squid are the most potent. Anchovies are the special ingredient used to make Phu Quoc's fish sauce an important part of the Vietnamese diet. Many of the fish sauce factories are open to visitors, but be warned that the strong smell can be unsettling.
The rainy season is from July to November, but the temperature is very hot all year round. Phu Quoc is an hour's flight from Ho Chi Minh City. Another way to Phu Quoc is ship from Rach Gia, this mode of transportation will takes tourists nearly 3hrs. Tourists should book flights/ships and accommodation well in advance during peak periods.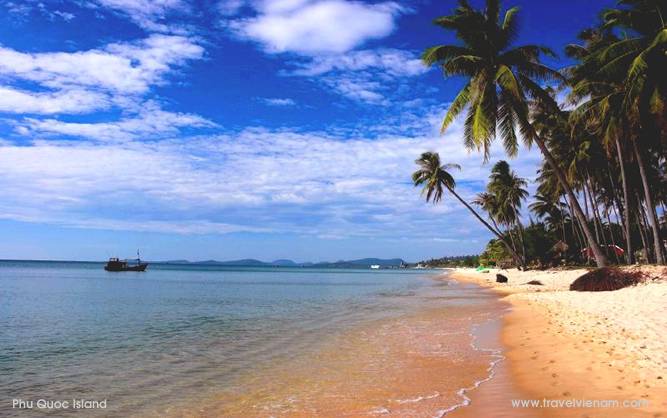 Sightseeing in Phu Quoc Island
Long Beach - A long, spectacular stretch of sand from Duong Dong southward along the west coast, almost to An Thoi Port. The water is crystal clear and the beach is lined with coconut palms, but for now development has been concentrated in the northern section near Duong Dong. The majority of hotels back on to Long Beach, stretching a long way down the western coast. Although this is the most frequented beach on the island, the stretches between resorts are often quiet. Independent beauticians offer massages on the beach for a more relaxing visit.
Dai Beach - One of the best beaches in the north, this long stretch of sand capped with rocky promontories is often deserted. The sand is a little darker here, but as the beach sees few visitors, it is clean. You may see some of the local boys hunting crabs.
Sao Beach - On the south east coast, this beach has the whitest sand on Phu Quoc. The small bay is sheltered, almost guaranteeing calm sea conditions. Whether you rent a mask and snorkel to hit the water or paddle your way in a kayak, this beach is one of the best.
Fish Sauce Factory - Follow your nose and you will soon find the fish sauce factories that Phu Quoc is known for. There are three factories open to visitors, with Hung Thanh being the easiest to access as well as the largest of Phu Quoc's fish-sauce makers. Most of the sauce produced is exported to the mainland for domestic consumption, though an impressive amount finds its way abroad to kitchens in Japan, North America and Europe.
Phu Quoc Pearl Farm - On an isolated stretch of Long Beach, Phu Quoc Pearl Farm is a requisite stop if you're in the market for pearls. A small shop sells pearl necklaces and earrings, and wall panels describe how the oysters yield their bounty. There's a small cafe on site. Avid pearl hunters can find cheaper wares at kiosks in the village of Ham Ninh, but here one has a guarantee of authenticity.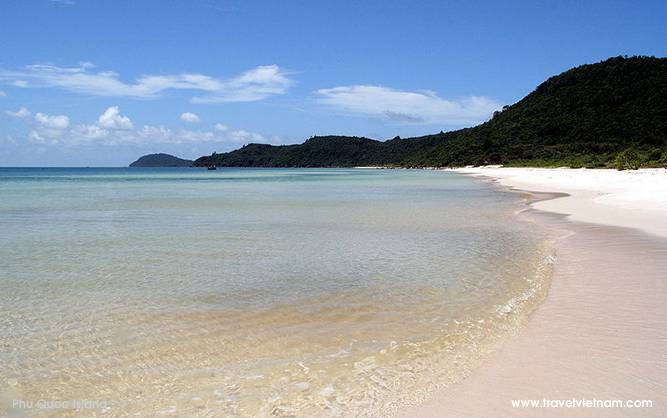 Last updated on 2021-02-28 22:50:05.
Other Vietnam Attractions