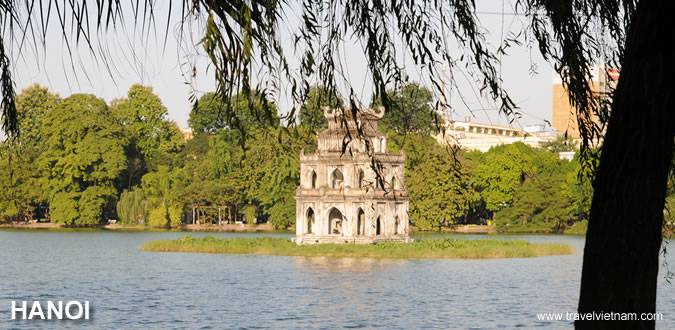 Hanoi is the capital of Vietnam and the country's second largest city. The city is located on the right bank of the Red River. Hanoi is located at 1,760 km (1,090 mi) north of Ho Chi Minh City and at 120 km (75 mi) west of Hai Phong city.
From 1010 until 1802, it was the most important political centre of Vietnam. It was eclipsed by Hue, the imperial capital of Vietnam during the Nguyen dynasty (1802-1945), but Hanoi served as the capital of French Indochina from 1902 to 1954. From 1954 to 1976, it was the capital of North Vietnam, and it became the capital of a reunified Vietnam in 1976, after the North's victory in Vietnam War. October 2010 officially marked 1000 years since the establishment of the city.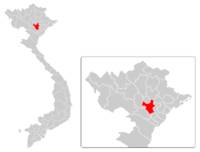 HANOI
Coordinates: 21°2′0″N 105°51′00″E

Region Red River Delta
Central City Hanoi
Capital of Vietnam September 2, 1945
Area 3,328.9 km2

Population (2011)
• Total 6,699,600
• Density 2,013/km2

Demographics
• Ethnicities Kinh

Calling code 04
Website www.hanoi.gov.vn

Topography
Hanoi lies on both banks of the Red River, yet focuses heavily on the Red River's right bank. Hanoi terrain with the average height of 5-20m above sea level can be seen to slope north-to-southward and west-to-eastward. By deposited alluvium, three quarters of its natural area is plain which sits on the Da River's right bank, on both banks of the Red River and tributaries of other rivers. Its hills and mountains mostly rise in districts of Soc Son, Ba Vi, Quoc Oai, and My Duc.

Climate
Hanoi features a warm humid subtropical climate (Köppen Cwa) with plentiful precipitation. The city experiences the typical climate of northern Vietnam, where summers are hot and humid, and winters are, by national standards, relatively cold and dry. Summers, lasting from May to September, are hot and humid. The average temperature in summer is 29.2oC but can reach up to 390C.The winters, lasting from November to March, are relatively mild, dry (in the first half) or humid (in the second half), while spring (April) can bring light rains. Autumn (October) is the best time of year in term of weather. The city is usually cloudy and foggy in the winter time.

Tourism
Throughout the thousand years of its eventful history, marked by destruction, wars and natural calamities, Hanoi still preserves many ancient architectural works. The Old Quarter, near Hoan Kiem Lake, has the original street layout and architecture of old Hanoi. In the past, each street specialized in a particular trade. That explains why Hanoi has the name of 36 districts. At present, although many of the streets no longer have the products for which they were named, some still keep its trade for earning people's livings.

Join us to explore the shady gardens of the Temple of Literature, Hanoi's ancient university, with its colorful Confucian temple. The temple of Literature (Van Mieu Quoc Tu Giam), built in 11th Century was known as the country's first University. This is the proud of Vietnamese education attract both local & foreigner visitors. Visit the vast Ba Dinh Square, Hanoi's political centre, and see Ho Chi Minh lying in state in his imposing Mausoleum. Also visit his simple house on stilts, and the historical displays of the Ho Chi Minh Museum. Enter the gloomy confines of the infamous Hanoi Hilton, the city prison built by the French and later used by the North Vietnamese to house American fighter pilots shot down over the north.

Hanoi also characteristically contains 18 beautiful lakes such as Hoan Kiem Lake, West Lake, and Truc Bach Lake, etc. which are the lungs of the city, with their surrounding gardens and trees providing a vital source of energy.

Many traditional handicrafts are also practiced in Hanoi including bronze molding, silver carving, lacquer, and embroidery. Hanoi has many famous traditional professional handicraft villages such as Bat Trang pottery village, Ngu Xa bronze casting village, Yen Thai glossy silk...

Transportation
Hanoi is 155km from Halong, 658km from Hue, 763km from Danang, and 1,720km from Ho Chi Minh City. Besides, Hanoi is served by Noi Bai International Airport, located in the Soc Son District, approximately 40 km north of Hanoi. Noi Bai is the only international airport for the northern regions of Vietnam. There are domestic flights from Hanoi to Danang, Dien Bien, Ho Chi Minh City, Hue, Nha Trang, etc. and international flights to many countries in over the world.

Hanoi is also the origin departure point for many Vietnam Railways train routes in the country. The Reunification Express runs from Hanoi to Ho Chi Minh City from Hanoi station (formerly Hang Co station), with stops at cities and provinces along the line. The train route between Hanoi and Ho Chi Minh City covers a distance of 1760 kilometers and takes approximately 33 hours. As of 2005, there were 278 stations on the Vietnamese railway network, of which 191 were located along the North-South line.



Last updated on 2021-05-10 22:09:37.