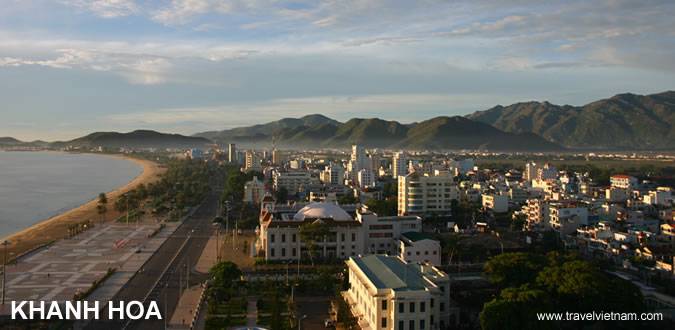 Khanh Hoa lies along the coastline of South Central Vietnam. The province is adjacent to Phu Yen province on the north, Dak Lak and Lam Dong provinces on the west, and Ninh Thuan province on the south.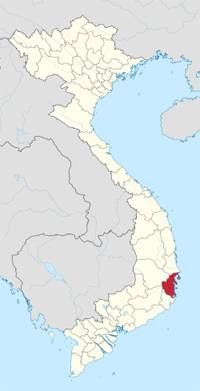 KHANH HOA PROVINCE
Coordinates: 12°15'N 109°12'E

Region South Central Coast
Capital Nha Trang
Area 5,217.7 km2

Population (2011)
• Total 1,174,100
• Density 225/km2

Demographics
• Ethnicities Kinh, Chinese
Co Tu, Ra Glai

Calling code 058
Website www.khanhhoa.gov.vn

Topography
The province is mostly mountainous. The highest peak is Vong Phu Mountain (2051m) at the border to Dak Lak Province. The only large lowland area is located around Ninh Hoa town in the north of the province. Partly as a result of this, not much land is available for agriculture. 87,100ha or 16.7% of Khanh Hoa's total area are used for farming, one of the lowest shares in the South Central Coast. Forests cover more than half of the province's area.

Khanh Hoa Sea is considered to be the deepest sea in the country with a coastline spanning over a length of 200 km. With more than 200 islands of various sizes, Khanh Hoa Sea adjoins a lot of international marine routes. The fact that its coastline is home to many spectacular bays such as Cam Ranh Bay, Van Phong Bay, Nha Trang Bay makes Khanh Hoa one of the most well-known destinations in Vietnam. Besides, its many inland rivers, among which Cai River and Danh River are most famous, also contribute to the province's reputation in general.

Climate
The province enjoys a mild climate with an average annual temperature of 26.7°C. There are two distinct seasons: the rainy season lasts from April to December, with the other months being the dry season, except in Nha Trang where the rainy season lasts for just two months. The climate on the summit of Hon Ba Mountain (located 30 km from Nha Trang) features a climate like that of Dalat and Sapa.

Tourism
Khanh Hoa has been deeply marked by the strong ancient culture of the Cham. Until today, Champa Kingdom has left an invaluable inheritance of ruins and historical sites to visit. Khanh Hoa is endowed with beautiful natural sites and sand beaches. Visitors will enjoy the group of five or six islands situated close to each other. The largest of the islands is Hon Tre, which is located 3km from Nha Trang.
The city of Nha Trang has long been renowned for being a sea resort with plenty of historical vestiges and wonderful sceneries: Cham Po Nagar Towers, Long Son Pagoda, Ba Vu Mausoleum, Bao Dai Palace, Hon Chong, Hon Yen, Tri Nguyen Fish Pond, Bai Tru, Suoi Tien, Dai Lanh Beach, etc. and many islets offshore. Nha Trang Bay has been recognized as one of 29 most beautiful bays in the word since July 2003.

Cam Ranh Bay is considered as one of three harbors that have the best natural conditions over the world. Having the area of over 60 square kilometers and the 18-20m average depth, this bay is out of the wind as a result of being surrounded by many mountain ranges.
Van Phong Bay has a wonderful nature, temperate climate, idyllic beach with mostly fine sand, surrounded by hills, mountains and tropical forests, colorful coral reefs, several vestige of salt-watered forest, specific and valuable sea creatures, which is endowed with an ideal environment. These are great potentials for the development of ecological tourism in Van Phong.

Among Khanh Hoa's island districts, Truong Sa island district has strategic position on national security and it is also the area which has abundant natural resources for economic development of the country. Truong Sa and Hoang Sa island in Danang city were affirmed to belong to Vietnam's sovereignty.

The Thap Ba Festival is the largest festival in this region organized to commemorate the female genie Po Nagar. The festival is divided into two parts: the Thay Y (clothes changing ceremony) on the 20th, and the Cau Cung ceremony on the 23rr of the 3rd lunar month.

Transportation
The National Highway 1A and the railway from north to south run through Khanh Hoa Province, linking it with the other provinces in the North and South. The National Highway 26 links Khanh Hoa to some provinces in the Central Highland. Nha Trang is 205km from Dalat, 238km from Quy Nhon, 441km from Ho Chi Minh City, and 1,278km from Hanoi. Besides, Cam Ranh Airport is 35km south of Nha Trang has flights from Hanoi, Ho Chi Minh City and Danang to there.



Last updated on 2021-02-02 17:11:37.