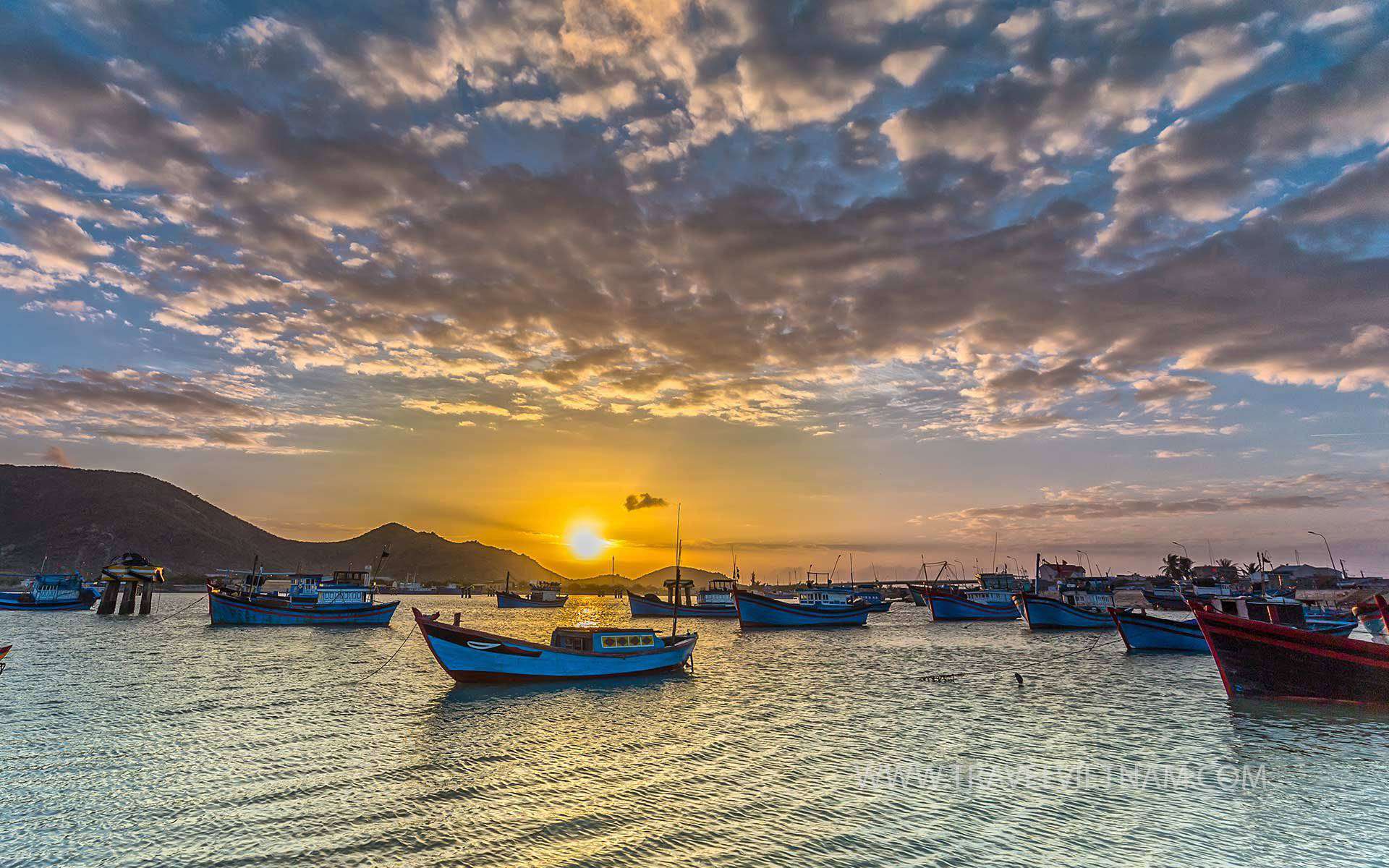 Located just a 1.5 hour drive south of Cam Ranh Airport (Nha Trang), Vinh Hy Bay is ideally situated on a spectacular part of coastline on the edge of Nui Chua National Park in Ninh Thuan Province. As an eco-tourist spot, the area is surrounded by white sandy beaches, dense forest, mysterious caves and cascading waterfalls, the perfect setting to embark on activities such as fishing, climbing, caving, snorkelling and guided nature walks through the national park.
Drop everything and leave your cares behind, Vietnam Tours invite you an escape to Vinh Hy Bay and stay at Amanoi, Vietnam's most exclusive luxury resort. It blends perfectly with stunning natural surroundings and an endlessly relaxing retreat. The service is second to none, combined with a tranquil atmosphere, understated yet luxurious rooms and excellent facilities make it the ideal choice for an indulgent escape.
For those who don't want to spend much on luxury accommodations, just share your travel ideas and budget to our travel consultants to get more information and best offers!
" Escape to Vinh Hy Bay"
2012-11-14 14:38:49
" Escape to Vinh Hy Bay"
Price from: US $ 1266 /pp
Start city: Nha Trang (Vietnam)
End city: Nha Trang (Vietnam)
Durations 4 Days 3 Nights
Departure: Daily, upon your request.
Cities to visit: Vinh Hy (Ninh Thuan)
Extendable with optional tours from Nha Trang (Vietnam)
- Relax in Vinh Hy Bay
- Stay at Amanoi, Vietnam's most luxury resort.
Prices are quoted in US $ per person, double occupancy.
Day 1: Nha Trang Airport – Transfer to Vinh Hy.
Pick up at Nha Trang's Cam Ranh Airport, transfer to your luxury resort in the bay of Vinh Hy. Fusing contemporary elegance with traditional Vietnamese architectural styles, Amanoi's luxury resort Pavilions, Spa Houses and Residences are perched along a coastal ridge with views of Vinh Hy Bay and the East Sea or tucked into a valley overlooking the National Park.
Opportunities for exploration, insight and relaxation abound at Amanoi, secluded on Vietnam's south-central coast, where the rolling hills dip into the sea. It is time for you to take a break from today's hectic world.
Meals: N/A.
Accommodation: Amanoi Resort.

Day 2: Day at leisure in Vinh Hy Bay.
The next days are the most wonderful time of your beach break for a reason that you can spend all time as you wish.
A short buggy ride down to the shoreline reveals Amanoi's swathe of golden sand – a private beach looking out to the quiet and sheltered waters of Vinh Hy Bay. While the pretty fishing village lies just around the headland, Amanoi's beach enjoys an uninterrupted horizon of blue.
Fitness & wellness, and optional tours are tailored for those who are interested in exploring the landscapes around Vinh Hy:
- Wellness & Spa Experiences at Amanoi: Set on the shores of a tranquil lake dotted with lotus blossoms, the Vietnam spa retreat is a place to balance mind and body. The extensive menu of treatments includes scrubs, wraps, facials and haircare, as well as four Signature Journeys using Aman's all-natural products and half-day and full-day wellness experiences that promote serenity with a combination of therapies.
- Land: Visiting the Cham Tower of Po Klong Garai and shopping in nearby Phan Rang City; walking around the fishing village of Vinh Hy, and then visiting the Rag Lai indigenous tribe only a few minutes away up in the hills; trekking into the nearby rock formations.
- Water: Hobie Cat sailing, kayaking, snorkelling, swimming in the ocean or the beach club pool, or simply lazing in the sun.
Meals: Breakfast.
Accommodation: Amanoi Resort.

Day 3: Day at leisure in Vinh Hy Bay.
Spend your day lounging at the beach or by the pools; walking, running, or trekking; luxuriating at the Spa; stretching your muscles in a Pilates or Yoga class; and resting...
Meals: Breakfast.
Accommodation: Amanoi Resort.

Day 4: Vinh Hy Departure.
Transfer to Cam Ranh Airport for your departure flight. You may like to book additional travel services with us.
Meals: Breakfast.
Accommodation: N/A.
Did you know? All of our tours are private and daily depart. TRAVEL VIETNAM can organize any additional accommodations, domestic and regional flights. Call us on +84982 661 133 to speak to one of our experts.