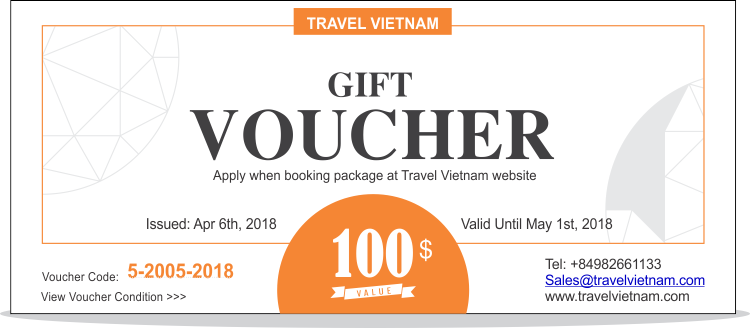 This voucher is issued in Apr 6th 2018, valid until May 1st 2018. Apply for booking travel package via website www.travelvietnam.com Booked & confirmed from Apr 6th 2018 until May 1st 2018 .
- Apply for Travel Vietnam Package of $1000 and up.
- This voucher is non-refundable and cannot be exchanged for cash in part or full and is valid for a single transaction only.
- Strictly no extension of the expiry date from the date of issue will be allowed
- Travel Vietnam retains right to reject any voucher that has been tampered with or found in any way unacceptable
- This voucher can not be redeemed in order to purchase gift cards
Please provide Voucher Code to Travel Consultant of Travel Vietnam to deduct directly to your tour cost.