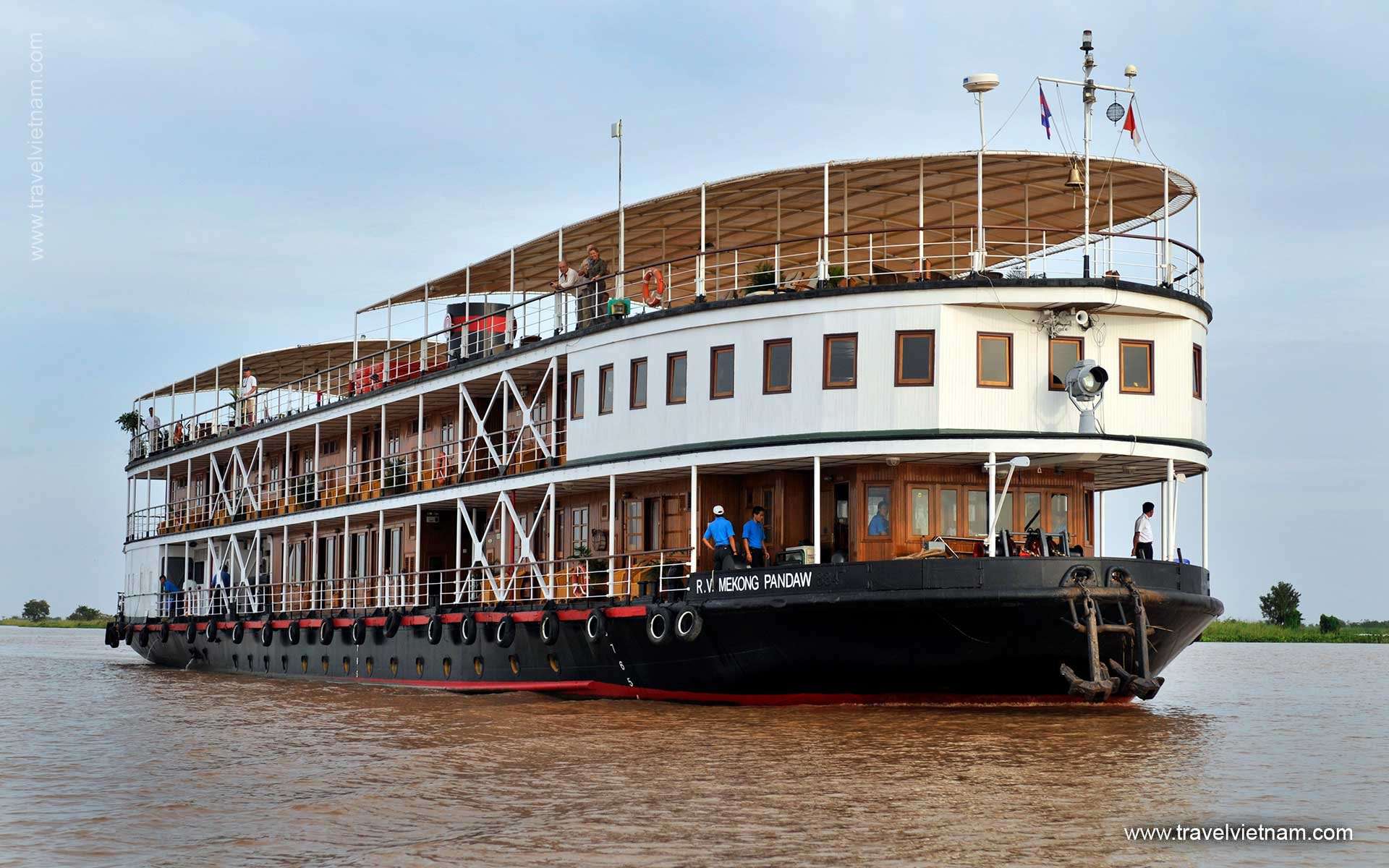 Cruise on Pandaw, Siem Reap - Saigon or vv, 8 days 7 nights. A shipping link between Saigon and Angkor is immensely practical for the traveller as it makes it possible to connect three important destinations on one trip with easy plane connections at either end: Saigon the exotic Frenchified former capital of South Vietnam, Phnom Penh, the quaint Cambodian capital, and the stupendous World Heritage monuments at Angkor.





Cruise category:

Address:
5th Floor, HTK Building, 98 Nguyen Van Cu,
200000
Long Bien,
Hanoi
,
Vietnam
Phone:
+84 982 661 133
Price range: $385 - $8215

Cabins:

The Pandaw stateroom is the most celebrated feature of our ships. Finished in brass and teak, the main and upper deck rooms are very spacious at 168 square feet (15.6 sqm).
Much loved by all our passengers we have ensured that with each ship we build the stateroom remains the same. Our cabins do not have mini-bars, satellite TV's, internet or phones. There is a 24 honesty bar on the sundeck. Pandaw passengers usually want to escape from the tiresome features found in international business hotels.
Many passengers describe life on board a Pandaw more like being a guest on a private motor yacht than a cruise ship. Where we go and what we see is intrepid in extreme. What you come back to is a floating base of discreet comfort, caring service and all the good things one looks for in life.
BRIEF ITINERARY:


Upstream
Day 1: Saigon / My Tho / Cai Be
Day 2: Cai Be / Sa Dec
Day 3: Chau Doc / Border Crossing
Day 4: Phnom Penh
Day 5: Tonle River / Kampong Chhnang
Day 6: Kampong Cham / Mekong River
Day 7: Kampong Cham Area
Day 8: Transfer to Siem Reap
Downstream
Day 1: Siem Reap / Kampong Cham
Day 2: Kampong Cham Area
Day 3: Tonle River / Kampong Chhnang
Day 4: Phnom Penh
Day 5: Cruising the Mekong / Border Crossing
Day 6: Chau Doc
Day 7: Sa Dec / Cai Be
Day 8: My Tho / Saigon
RV Mekong Pandaw
Upstream Cruises from Ho Chi Minh to Siem Reap or Vice Versa - Eight Days
Day 1: Ho Chi Minh / My Tho / Cai Be
Transfer from our designated rendezvous point in Ho Chi Minh to the
port of My Tho by coach for embarkation.
Day 2: Cai Be / Sa Dec / Cu Lao Gien
In the morning passengers will take an exciting Sampan boat excursion
to Sa Dec via Vinh Long, along canals and backwaters. Passengers will
visit Cai Be and its colourful floating market and Sa De to see the local
market and the ancient house of Mr, Huyn Thuy Le, the 'lover' of
Marguerite Duras, a famous French novelist. In the afternoon, we visit
Cu Lao Gien island and a Catholic monastery called 'La Providence'.
Day 3: Chau Doc / Border Crossing
Visit a Cham tribal village, a cat fish farm, and enjoy a trishaw ride round
Chau Doc. Return to the ship by boat for lunch and cast off for the
Cambodian border for the usual formalities.
Day 4: Phnom Penh
Passengers will visit Phnom Penh and will be provided with their own
private cyclo*. The Cyclo Centre Phnom Penh which provides the cyclos
is a charity that provides basic welfare and medical services to cyclo
drivers (www.cyclo.org.uk). In the afternoon, optional excursion (by coach) to the
Killing Fields and the Khmer Rouge's grim Tuol Sleng or S21 detention centre. This
tour is included in the cost of your cruise but must be requested at the time of booking.
Day 5: Tonle River / Kampong Chhnang
Excursion up the Tonle River to Kampong Chhnang either by ship or
by coach depending on water levels. In Kampong Chhnang passengers
will take a wonderful motor boat excursion into the lakeside wetlands
that form the mouth of the river. Here many fishtraps may be seen.
Day 6: Kampong Cham / Mekong River
We stop at the little-known Chong Koh silk-weaving village for a morning
walk at leisure. In the afternoon we stop at Peam Chi Kang village to
visit the wat or monastery and school. In the wat the splendid village
racing boats are stored.
Day 7: Kampong Cham Area
Passengers visit the hilltop temple of Wat Hanchey in the morning. In
the afternoon, travel by bus to visit the Twin Holy mountains of Phnom
Pros and Phnom Srey (Man and Woman Hill). Continuation to the
ecotourism village of Choeungkok supported by the Frech-Cambodian
NGO Amica and the Pandaw-supported Kampong Cham orphanage.
Day 8: Transfer to Siem Reap
Early morning coach transfer to our partner the Raffles Grand Hotel
D'Angkor in Siem Reap. Refreshments will be provided and we will stop
at Kampong Thom along the way. Arrive at Siem Reap mid afternoon.
Includes: Entrance fees, guide services (English language), gratuities to crew, main meals, locally made soft and alcoholic beverages, jugged coffee and selection of teas and tisanes, mineral water. Transfers between the meeting point (In Saigon: Renaissance Riverside Hotel / In Siem Reap: Elephant Bar at the Raffles Grand Hotel d'Angkor) and the ship at the start and end of a voyage.
Excludes: Port Tax US$ 65/person (Saigon - Siem Reap or Siem Reap - Saigon) or 35 USD/person (Saigon - Phnom Penh or Phnom Penh - Saigon, and Phnom Penh - Siem Reap or Siem Reap - Phnom Penh), International flights, port dues, airport transfers, laundry, all visa costs, fuel surcharges (see terms and conditions), imported beverages such as wines, premium spirits and liqueurs, fancy soft drinks like Perrier, espressos and cappuccinos at bar.

Note: The rivers you will sail on are subject to seasonal rises and falls of water level, in some places as much as 30 metres. Water levels can change dramatically overnight and a sudden rise can impede our progress upstream considerably and even prevent us from passing under certain bridges. A sudden fall can result in our being unable to get into certain places or go as far upstream as we would hope. Groundings on sandbars are not infrequent and are part of the excitement of any Pandaw expedition. Published itineraries are indicational only and subject to sudden change. In such events alternative itineraries will be provided and we do our best to ensure that if a stop is missed we make up for it with another stop. Passengers are thus forewarned and expected to be flexible and patient. River cruising in Asia can be a dramatic and adventurous experience - not like cruising the controlled waterways of Europe or America. Note also that we operate in areas with little or no developed infrastructure and subject to the strictures of local officialdom. Be prepared for this and it is all more the fun!