Vung Tau is a city in Southern Vietnam, about 125km from Ho Chi Minh City (Saigon). Its close proximity to Saigon and its beauty and fresh air makes it a very popular destination for weekends.
Vung Tau is the tourist and commercial center of Ba Ria-Vung Tau (an industrial province in Southeastern Vietnam). The whole city area lies on a peninsula which is separated from the mainland by a gulf river called Co May River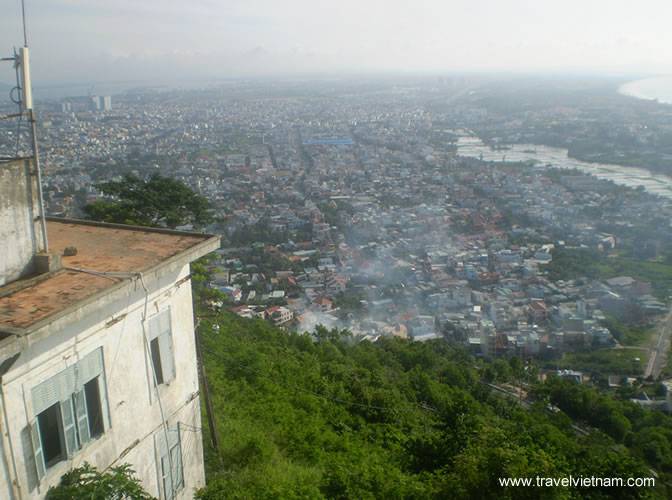 During the 14th and 15th centuries, the cape that would become Vung Tau was a swamp which European trading ships visited regularly. The ships' activities inspired the name Vung Tau, which means "anchorage". The Portuguese navigators passed Vung Tau many times and named it after Saint Jacques. The French invaded Vietnam afterwards and called it Cape Saint Jacques. The cliff of Vung Tau is now called Mui Nghinh Phong (literally means "Cape of greeting the wind").

During the Vietnam War, Vung Tau was home to the Australian Army and American support units, and was a popular spot for in-country R&R for U.S. combat troops. After the war, this city was a common launching place for the Vietnamese Boat People fleeing the communists. On August 12th 1991, the province of Ba Ria – Vung Tau was officially founded and Vung Tau town officially became Vung Tau city.

Located in Southern Vietnam, this city has only two seasons per year : dry season (November - April) with the dry and slightly cooler weather during winter months and around Tet Holiday (Chinese New Year) and the rainy season (May - October).

Hydrofoil is a quick way to get to and from Vung Tau. This is also a good way to see the commercial maritime areas as the boat runs through the Saigon River to the sea. After one hour and 15 minutes, Vung Tau peninsula appears with its two mountains (conveniently called "Big Mountain" and "Little Mountain") at the waterfront. This is a more comfortable way to get to Vung Tau rather than taking the bus. It's a little more expensive at 200,000 VND/person (US$10). On the weekends, be sure to get your tickets at least a day prior to departure.

Sightseeing in Vung Tau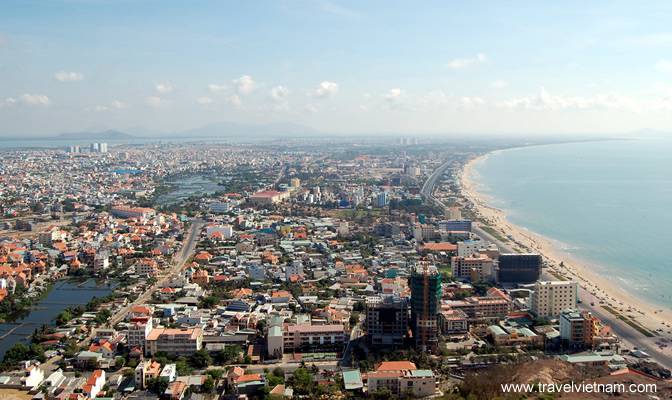 Vung Tau Lighthouse - First built in 1907 on the lower peak of Little Mountain, was rebuilt in 1911, to 3 meters in diameter and 18 meters in height, and moved to the higher peak where it stands today. The lighthouse projects light as far as 35 sea miles (64.75km) and is equipped with telescopes to follow and direct ships at sea. Next to the platform, 4 old French cannons (about 10m long and weighing several tons) were once used to defend the area from naval attacks. This lighthouse affords a panoramic view of the whole of Vung Tau and is a really interesting site.

Thang Tam Temple -was built in the Minh Mạng Dynasty (1820-1840) as a place to worship the three men who set up the 3 villages of Thang in Vung Tau. Visit this site to discover the story of the three men who led three villagers to this land and started a new way of life. The architecture is particularly interesting around the Tam Quan gate, the sanctum, the public commune, the meeting room and the scene for military opera stage that is skillfully engraved. On the right of Thang Tam commune is the Whale Tomb where there is a set of great bones of whales picked up from 100 years ago and on the left is Ngu Hanh Temple

Martyr's Memorial - A stone obelisk on a hill-top, located on the way to the sea, the Martyr's Memorial hill is said to be the biggest traffic circle in Indochina.

Statue of Jesus Christ - The enormous 28m figure of Jesus gazing across the East Sea with outstretched arms is located at the southern end of Little Mountain. Built in 1971, this Giant Jesus rests on a 10m high platform. The interior of the statue is hollow and contains a spiral staircase of 129 steps, ascending from the foot of the statue to its neck. The two shoulders of the figure are balconies, each able to accommodate up to six people, which offer a splendid view of the surrounding landscape. This is the largest sculpture in the Southern Vietnam. Recent construction of a pathway has made the 30-minute hike up the mountain more pleasant and the panoramic view from various vista points along the way is magnificent.

Villa Blanche (Bach Dinh) - Built by the French (1898-1916) as a summer holiday house of French Governor General Paul Doumer. Villa Blanche is located on the slop of Big Mountain, along Tran Phu Street, at 50m above sea level. The outside walls were decorated with beading and the Hellenic statues. From its balcony there's a panoramic view of Front Beach and opposite the Villa at the foot of that mountain is Hai Nguu islet with a stone rock shaped like a water buffalo wallowing in water. Today Villa Blanche exhibits hundreds of antiques collected from Cau Islet-Con Dao and is the culture destination attracts hundreds of tourists every.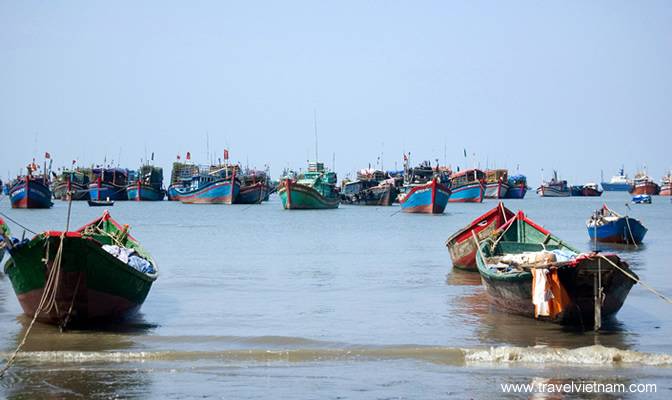 Other Vietnam Attractions