Chua Huong (Perfume Pagoda) is located in Huong Son (Perfume Mountain) 70 km southwest of Hanoi. Chua Huong is not one temple but a cluster of temples and shrines in the general vicinity of Huong Son. According to the book, Huong Son Thien Tru Pha, Huong Tich temple was built during the reign of Le Chinh Hoa (1680-1705), by a monk who happened on the site on his way to search for enlightenment. Other shrines and temples were later built in this area to take advantage of the beautiful scenery in this area. Perfume Pagoda has a long history in Vietnamese literature. This temple's name has been a theme of many songs, topic of poetry, used in literary works as well as backdrops for paintings. The uniqueness of Huong Son is that the mountains, river and forest appear like an oasis for Buddhists in the middle of the great plains of northern Vietnam. This location truly incorporates all the elements of beauty that is often used in Eastern philosophy and arts.


Duc Pier Visitors to Perfume Pagoda must drive through Ha Dong city, Van Dinh Township to Ben Duc. The road is in poor condition so it can take more than 2 hours to travel the 50 miles from Hanoi to Ben Duc. Although there is a road from the pier to the base of Perfume Mountain, most people choose to use row boats on Yen Vi river, which is by far the more romantic and scenic route to Perfume Pagoda.
Chua Huong is famous for the annual pilgrimage of Buddhists. Every year, between February and March, Hoi Chua Huong or Chua Huong Festival draws hundreds of thousands of people from all over the country. The festival is also a very popular place for young couples to meet and it is also a place where many budding romances are formed. During this time of the year, Ben Duc is packed with thousands of row boats used for shuttling visitors.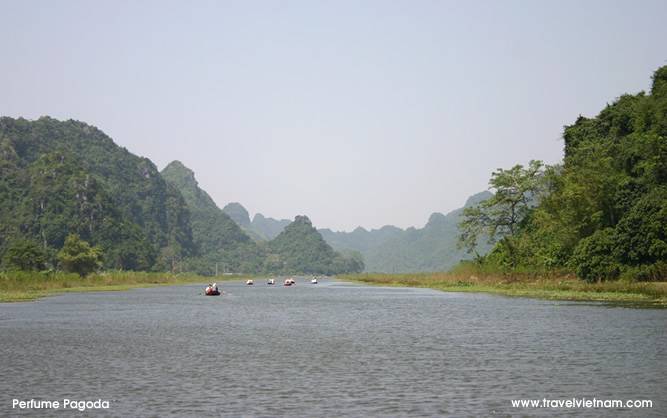 Trinh Temple There is an informal protocol when arriving to Chua Huong. The first stop must always be a visit to Den Trinh. Den Trinh means, "registration shrine". All visitors to Chua Huong must first "trinh" or register at the shrine and to announce their intentions.
Thien Tru Temple The next point of interest would be a visit to Thien Tru Temple (Chua Ngoai - Outer Temple). The temple was built in the 18th century. Thien Tru means heavenly kitchen. This name was derived from the imagination of the locals in this region. Supposedly, the rock formations in this area look like chefs busily working in the kitchen. The name Thien Tru is also the name of a constellation - for the god of the kitchen.
Thien Tru temple is famous for the Thuy Tien Tower, a granite monolith. To the right of Thien Tru Temple is Tien Son grotto. Tien Son is famous for the five granite statues and the various formations on the walls of the cave. When struck, these formations sound like a Vietnamese percussion instrument called "Khanh", and some sound like bells.
The Temple of Thien Tru is surrounded by hills and mountains. There are also many man-made towers built by various kings during their reign. Today, to accommodate the thousands of tourists each year, there are lodging facilities for those who wish to stay overnight.
Huong Tich Grotto A visit to Chua Huong is incomplete without going to Chua Trong or Inner Temple (also known as Dong Huong Tich - Huong Tich grotto). The path to Huong Tich grotto is forged by nature through thousands of years of changes. Today, the path leading to Chua Trong is a series of smooth granite slabs stacking on one another creating a series of switch backs leading to the temple.
Upon arriving to Huong Tich grotto, one must descend 120 steps as the temple lies deep within the grotto. At the entrance to the grotto, there is "heaven's gate" (path to heaven) and "hell's gate" (descend to hell).
In the 18th century, Lord Trinh Sam had five words, "Nam Thien De Nhat Dong" meaning, "the most beautiful grotto under southern sky", carved onto the granite slab at the entrance to Huong Tich grotto. According to legend, the cave was discovered two thousand years ago. However, local people only began to place a shrine there in 1575, and later a larger temple was built.
There are many colorful stalagmites and stalactites within the cave. Each is given a name for their purported features. Some of the more famous ones are Cay Gao - Rice Stick, Cay Vang - Golden Stick, Nui Co - The Maiden and Nui Cau - The Youth. Nui Co and Nui Cau supposedly look like the head of young children. It is believed that couples who wish for children often pay homage to Huong Tich grotto and to especially visit Nui Co and Nui Cau to pray for their first born.
At present, visitors can hike the 2 kilometers (1.25 miles) up the mountain, or take a cable car.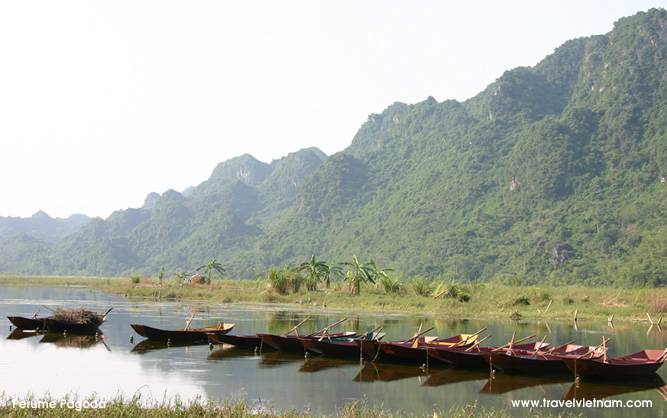 Last updated on 2021-02-26 14:54:52.