Located at 1650m above sea level in Vietnam's remote northwest mountains, Sapa is famous for both its fine, rugged scenery and also its rich cultural diversity. Sapa is an incredibly picturesque town that lies in the Hoang Lien Son mountain range near the Chinese border in northwestern Vietnam, known as "the Tonkinese Alps". Sapa and its surrounding region is host to many rice terraces, lush vegetation, and Fansipan, the highest peak in Vietnam, as well as some hill tribes like H'mong and Red Dao communities, who continue to maintain their strong traditions and warmly welcome visitors to their homes.


Sapa is also famous for its street market, which attracts villagers from the surrounding hills and is particularly busy on Saturdays. The unique embroidery, jewelry and clothes of the H'mong and Dao are good buys here, and the sight of dozens of minority women in their traditional clothing is a memorable part of any stay in Sapa.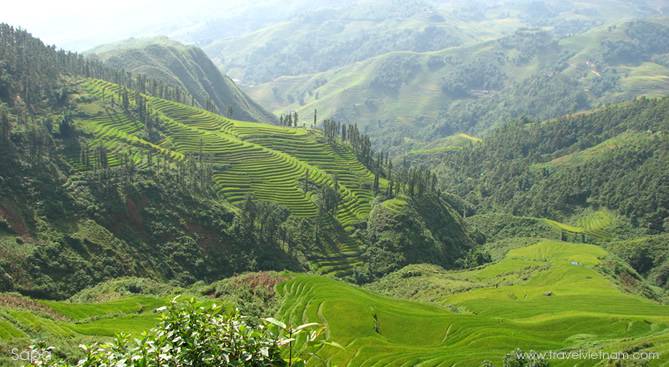 Let Travel Vietnam introduce you to the cultures and landscapes of this unique region. Take a guided hike through yawning valleys decorated with terraced rice fields and pass through remote hill tribe villages like Cat Cat, Y Linh Ho, Lao Chai, Ta Van villages. Trekking is an excellent way to explore the daily life and familiarize yourself with the cultures of the H'mong, Dzao and Dzay people who populate the region. If you are interested in adventurous activities, you cannot miss the chance to conquer Fansipan Mountain – Vietnam's tallest peak at an altitude of 3,143 meters. The hike is challenging, but the panoramic vistas from the "roof of Vietnam" makes the hard hike all worthwhile.
Bac Ha Market: Every Sunday morning - The biggest ethnic market in the Lao Cai province, where you will find buffaloes, horses, blacksmiths, saddlers, but also traditional medicine doctors, with their thousands of mountain herbs and plants, and lots of traditional clothes and local artifacts. Several groups of deep-colored H'mong are found there, as well as Dao, Tay, Nung, and Phu La. Make sure to arrive before 9 a.m., the market ends at about 12:30.
Can Cau market: Every Saturday from 6 a.m. to 12, in the middle of the paddy fields and corn fields, the various H'mong groups from the highland villages sell their farming products and buy fabrics, farming tools and kitchenware. The local H'mong wear traditional costumes that are so gaudy and heavily embroidered that the Chinese, the French and the Vietnamese have nicknamed them the "Flowery Hmong". Numerous H'mong farmers travel back to their villages on horseback, the only way to carry heavy loads in these steep areas.
Coc Ly market - Is a unique market, which takes place on Tuesday. Coc Ly is a very small market located by the Chay River, where you can meet several ethnic minorities such as Flower H'mong, Black Dao, Phu La, Nung and Tay. Walk from section to section, corner to corner, seeing and smelling different local products, spices, vegetables, farming tools, handicrafts, even medicinal herbs. Coc Ly is also a famous cattle market where local farmers from villages in the region buy and sell cows, horses, water buffaloes, pigs and other animals. You may opt for a boat trip on the Chay River, in the middle of stunning landscape and villages that have remained totally traditional.
Muong Hum market - every Sunday from 6 a.m. to 1 p.m. This market, the biggest cardamom market in the area, has existed since the French colonial period and serves as a meeting place for the ethnic groups living in the mountains: Giay, Dao, White H'mong. Those living in the highlands, like the Hmong and the Zao (Dao) come down to sell their specific products such as cardamom, mountain plants and other spices. In Muong Hum, taste the paddy rice brandy (made with unhusked rice) from the Dao village of San Lung. Its fruity flavor and mildness have made it famous well beyond the limits of the Lao Cai province.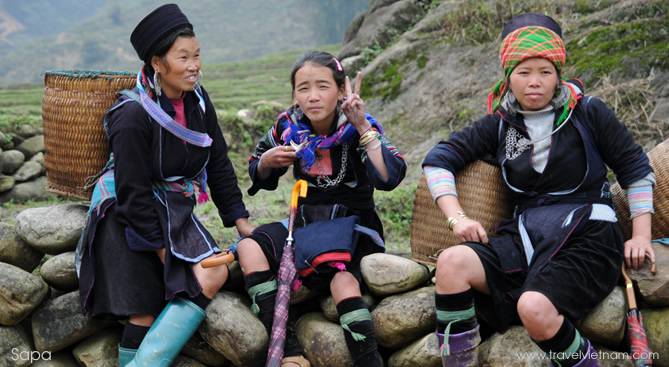 Last updated on 2021-07-02 09:47:34.