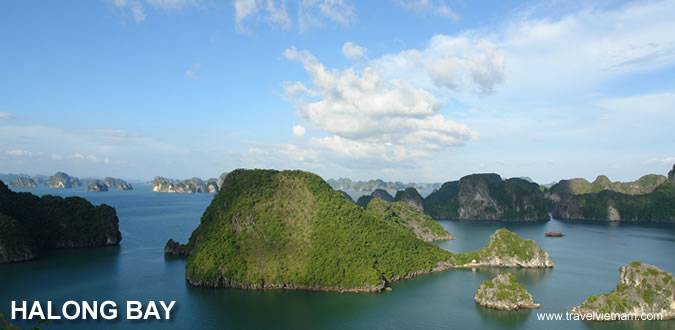 Halong Bay is one of Vietnam's top attractions – The name "Halong" translates as 'where the dragon descends into the sea" You will experience the unforgettable view of blue water intermingled with over two thousand limestone islets. Halong Bay is made up of 1,969 islands of various sizes, 989 of which have been given names. There are two kinds of islands, limestone and schist, which are concentrated in two main zones: the southeast (belonging to Bai Tu Long Bay), and the southwest (belonging to Halong Bay). This densely concentrated zone of stone islands, world famous for its spectacular scenery of grottoes and caves, forms the central zone of Halong Bay, which has been named a UNESCO World Heritage Site.
From Hanoi, you could get to Halong bay by car or helicopter but driving is the most economical and common way to go.
Viewed from above, Halong Bay resembles a geographic work of art. While exploring the bay, you feel lost in a legendary world of stone islands. There is Man's Head Island, which resembles a man standing and looking towards the mainland. Dragon Island looks like a dragon hovering above the turquoise water. La Vong Island resembles an old man fishing. There are also the islands of the Sail, the Pair of Roosters, and the Incense Burner, which all astonishingly resemble their namesakes. The forms of the islands change depending on the angle of the light and from where the islands are viewed. At the core of the islands, there are wonderful caves and grottoes, such as Thien Cung (Heavenly Residence Grotto), Dau Go (Driftwood Grotto), Sung Sot (Surprise Grotto), and Tam Cung (Three Palace Grotto).
It is also a region of highly-concentrated biological diversity with many ecosystems of salt water-flooded forests, coral reefs, and tropical forests featuring thousands of species of animal and plant life.
It is highly suggested to take a three day two night stay in Halong Bay, enjoying a night on Boad a luxury cruise, kayaking to some of the floating villages and grottos. In the evenings, enjoy a cocktail watching the sunset over the green water of the gulf of Tonkin.
More photos of Old Halong Bay and Halong Bay Today

Travel Vietnam recommends some of The Best Cruises on the bay: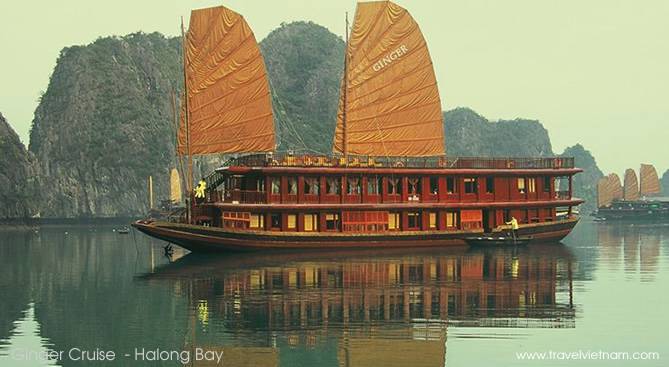 Last updated on 2021-02-19 18:29:56.