Located around 70km northeast of Lao Cai City, the mountainous district of Bac Ha boasts a high potential for tourism. Having a mild temperature, Bac Ha reveals its most stunning beauty of the spring when peach and plum trees are in full blossom. Tam Hoa plums are grown everywhere in the locality.

However, the most beautiful plum gardens are found in Ban Pho Commune at the foot of Co Tien Mountain, about 4 km from Bac Ha Town. In the drizzling rain, purely white flowers of Tam Hoa plum trees in full blossom are gone with the mild spring wind like white butterflies flying away. That is why Bac Ha is also called "Cao nguyen trang" (White valley). Possessing a variety of natural sightseeing places of breathtaking beauty, Bac Ha also has an appeal of a rich culture of 14 ethnic minority groups inhabiting in the area.

Sightseeing in Bac Ha
Bac Ha weekly market – One of the biggest weekly market in Northwestern Vietnam. The market is held every Sunday morning, gathering all the locals for bartering and stocking up on goods. It's not only a market, but a chance for them to meet, talk and gossip. Every Sunday morning, the market is packed with H'mong, Red Dao and Ha Nhi ethnic minorities. Visitors can find a surprising feel of hand-made embroidered items, tasting "Thang co" (mixture of all parts of horses) and corn wine, which are famous food and drink of the ethnic minority people in the area.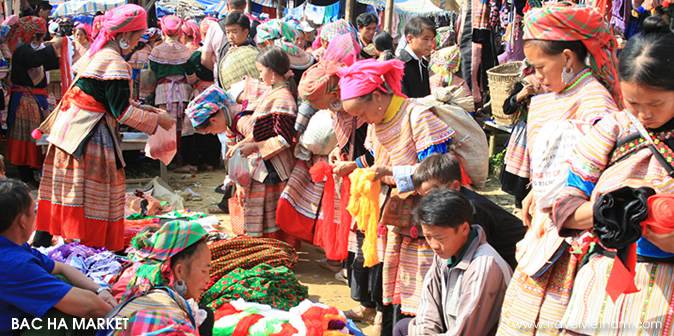 Hoang A Tuong Castle – A Unique structure depicting combination of Western architecture and Oriental Feng Shui principles. The owner of this two-story building is Hoang Yen Chao – father of Hoang A Tuong. The Hoang A Tuong Castle covering an area of 4,000m2 was built between 1914 and 1921 on a low hill overlooking the Bac Ha Valley. The building has a total floor space of 400m2, entailing living rooms, bedrooms, meeting rooms, and an accommodation area reserved for maids and guards. The castle holds a defense system with fortified walls and bunkers serving as watchtowers to spot movements hailing from all directions to the building. A relic of the French colonialism, the Hoang A Tuong Castle remains quite intact.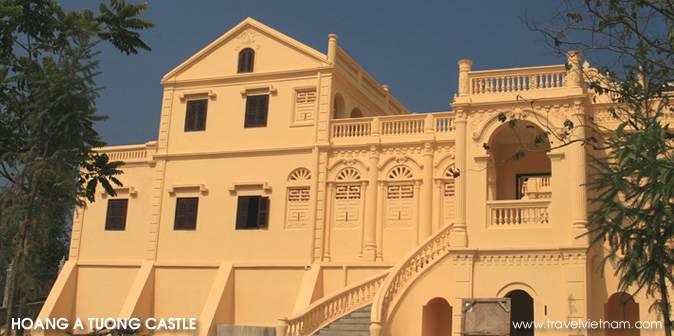 Bac Ha Temple – Dedicated to Gia Quoc Cong Vu Van Mat who brought fame to Bac Ha land and the nation's northwestern border under the Mac and Late Le dynasties. On the 7th day of the 7th lunar month, a festival is held at Bac Ha temple for the locals and people from far and near to pay tribute to Gia Quoc Cong.
Last updated on 2021-06-20 12:35:31.
Other Vietnam Attractions