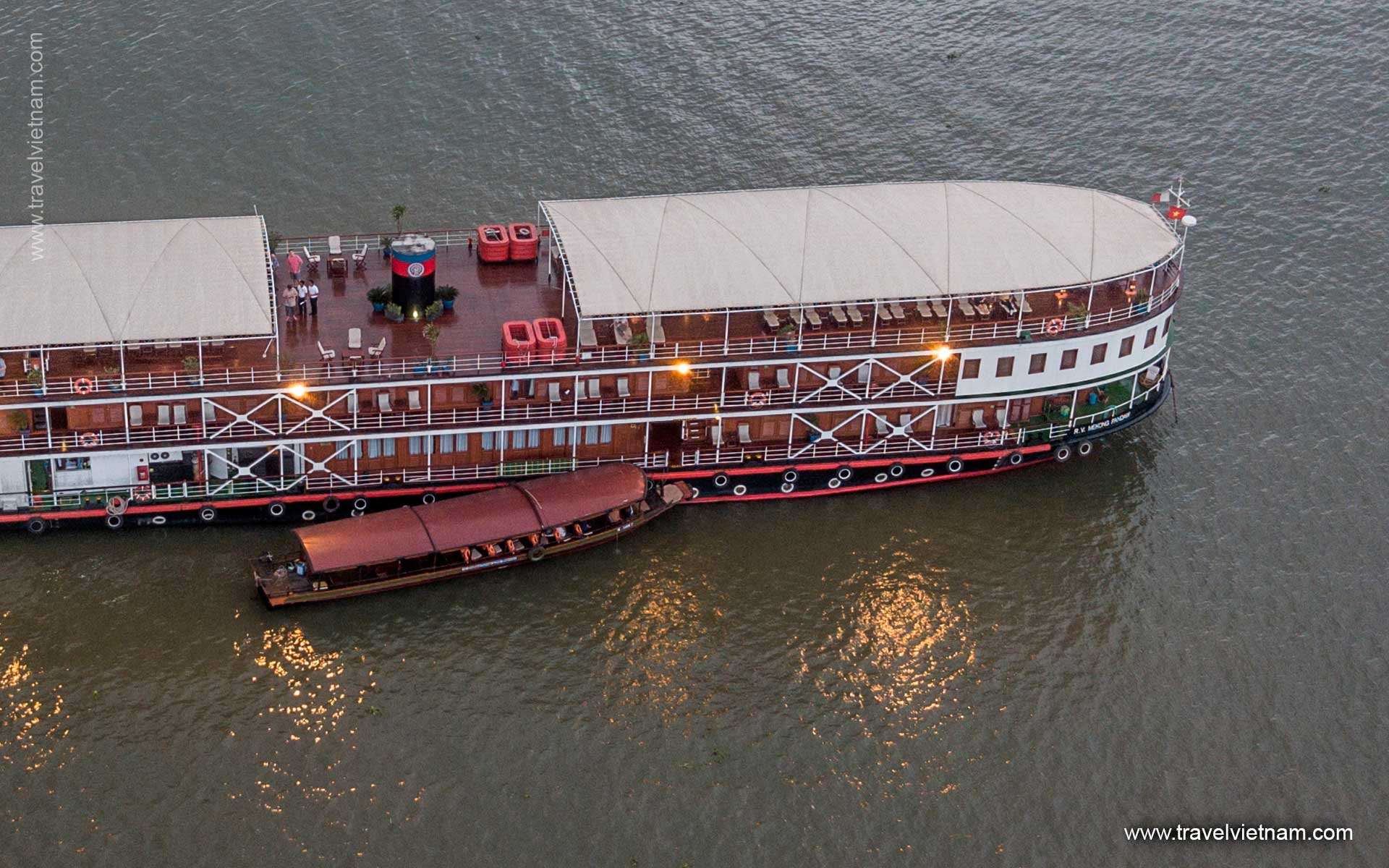 Cruise on Pandaw, Siem Reap - Saigon or vv, 8 days 7 nights. A shipping link between Saigon and Angkor is immensely practical for the traveller as it makes it possible to connect three important destinations on one trip with easy plane connections at either end: Saigon the exotic Frenchified former capital of South Vietnam, Phnom Penh, the quaint Cambodian capital, and the stupendous World Heritage monuments at Angkor.


Categoria di Crociera:

Indirizzo:
5th Floor, HTK Building, 98 Nguyen Van Cu,
200000
Long Bien,
Hanoi
,
Vietnam
Phone:
+84 982 661 133
Catena di prezzo: $385 - $8215

Cabins:
The Pandaw stateroom is the most celebrated feature of our ships. Finished in brass and teak, the main and upper deck rooms are very spacious at 168 square feet (15.6 sqm).
Much loved by all our passengers we have ensured that with each ship we build the stateroom remains the same. Our cabins do not have mini-bars, satellite TV's, internet or phones. There is a 24 honesty bar on the sundeck. Pandaw passengers usually want to escape from the tiresome features found in international business hotels.
Many passengers describe life on board a Pandaw more like being a guest on a private motor yacht than a cruise ship. Where we go and what we see is intrepid in extreme. What you come back to is a floating base of discreet comfort, caring service and all the good things one looks for in life.
Downstream Cruises from Siem Reap to Ho Chi Minh - Eight Days
DAY 1 — SIEM REAP
Embark on your Pandaw at Kampong Cham following a road transfer from Siem Reap (Angkor). The vessel will proceed upstream to moor midstream for cocktails and to meet key crew.
DAY 2 — WAT HANCHEY, OBT CHIRO VILLAGE & WAT NOKOR BACHEY
Sunrise cruise to Wat Hanchey an important centre of worship during the Chenla period located on top of a hill above the mighty Mekong River with some of the best Mekong views in Cambodia. Visit 8th century structures some destroyed by American bombings during the Vietnam War. Well noted for its bizarre Fruit and Animal statues.
We cruise back downstream to Kampong Cham where after lunch we travel by Bus to the local OBT Chiro Village where the education of local children is high on the agenda. Pre-Hospitality training courses, plastic recycling, bee keeping, farming and handicraft skill projects are set up to improve the skill set of local children. We then travel to the Wat Nokor Bachey dating back to the Jayarvaman VII period. Built completely from Black Sandstone which makes it standout from other temples built during this period. Many legends surround this complex one being it was built by a king who accidently killed his father then married his mother as per Greek legend. This temple was built in penance fir his crime.
DAY 3 — SILK ISLAND
Sail down the Mekong/Tonle River convergence to visit Koh Okhna Tey, or 'silk island' to study the entire silk making process from worms to weavers. There will be a demonstration of the ancient Khmer martial art of Bokator. Return to ship and cruise downstream towards Phnom Penh. Evening lecture on Angkor and Khmer culture.
DAY 4 — PHNOM PENH
Morning orientation of Phnom Penh by cyclo visiting the Royal Palace and Silver Pagoda followed by the National Museum with its marvellous collection of Angkorian statuary. Afternoon optional visit to the Killing Fields and Genocide museum or take a tuk-tuk to explore the riverfront and finish with High Tea at Raffles Hotel. Overnight in Phnom Penh city port with its lively bars, restaurants and night life.
DAY 5 — VIETNAM BORDER
Early sailing to the Vietnam border for formalities and during this stationary period there is an optional tour of the working ship and fruit carving classes on deck. Afternoon, explore the labyrinthine canal system around Tan Chau to visit a Taoist temple where the monks will read fortunes. Continue through local villages by Xi Loi stopping off to help locals tend their fields before stopping off to visit a fish farm and earn merit by releasing fish back into the Mekong.
DAY 6 — CON PHUOC ISLAND
In the morning sail up a small canal to moor off Con Phuoc Island and go ashore to explore the island by tuk-tuk seeing basket production and visiting a 100-year old Catholic Church and local woodworking artisans.
After a short cruise downstream in the afternoon we take a short coach trip where we visit Gao Giong 'green oasis' with its bird sanctuary. Here a diverse selection of water birds and egrets that gather in the tens of thousands across the Duong Tharp Muoi or 'Plain of Reeds'. Rowing boats traverse the canals to take us to see the principal nesting areas.
DAY 7 — BEN TRE
After breakfast the ship moors off Cho Lach island for pot making and further glimpses of Delta life, agriculture and local Viet hospitality including a culinary lesson in making traditional Banh Xeo. Upon return to the boat we take a cruise downstream to Ben Tre. Where we travel by sampans through mangroves and bamboo groves to the fruit orchards of Ben Tre. In these local artisans are at work and are invite visitors into their homes for tea, fruit and honey products made from their own honey. This is an area rich in bird life and on our return journey we travel by horse cart through the lush countryside.
DAY 8 — MY THO TO SAIGON
Moor at My Tho for road transfer to Saigon.
Sailing on a Pandaw ship is an outdoor, fresh air experience. However comfortable and roomy the staterooms, passengers prefer to spend their time sitting outside, on the promenade decks or on the vast observation deck above. Unlike most other cruise ships, every window on board (except for the portholes on the lower deck) can be opened and closed to suit your comfort.
As we sail, we find that our passengers like to sit on deck, absorbed by the awe-inspiring riverside panoramas that unfold before them. From the comfortable vantage point of a teak-floored Pandaw deck, it's hard not to become hypnotised by the unceasing human and wildlife activity that characterises the great rivers of Asia.