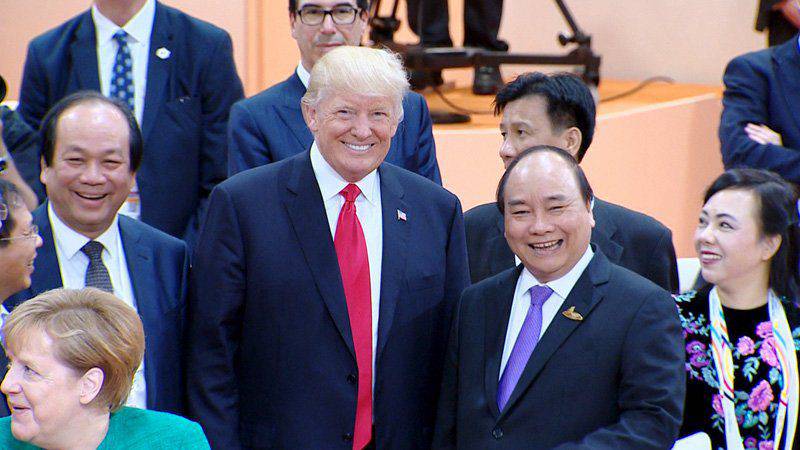 The event will take place this November from 6-11 in the central city of Da Nang. Vietnam and the United States are exerting their full efforts to prepare for U.S. President Donald Trump's visit to Da Nang this November for the 2017 Asia-Pacific Economic Cooperation (APEC) forum. Careful preparations are being completed for the trip, Ministry of Foreign Affairs spokesperson Le Thi Thu Hang declared during a regular press conference on Thursday evening of September 28, 2017.


APEC is a regional economic forum established in 1989 and comprised of 21 member states, including Australia, China, Japan, South Korea, Thailand, the United States, and Vietnam. The forum is aimed at creating greater prosperity for the peoples of the region by promoting balanced, inclusive, sustainable, innovative, and secure growth as well as accelerating regional economic integration. Vietnam joined the forum in 1998 and successfully chaired APEC 2006. Vietnam is scheduled to host the 2017 gathering in the central city of Da Nang in November.

According to Lam Quang Minh, director of the Da Nang Department of External Relations, basic preparations for this year's event have already been completed. Infrastructure, transportation, and accommodation are also being taken care of, Minh elaborated. Staff members have been sharpening their English skills for the event, the official continued, adding that 425 volunteers able to speak English and some other major languages have been selected to staff the event.

Da Nang ready to welcome international tourists during APEC events
Besides the improvement and embellishment of its infrastructure, streets and accommodation facilities, the tourism sector of Da Nang has built various tours in order to serve international delegates and reporters attending the event.

The city will provide six tours for international reporters which will introduce them to the tourist sites in the central region and Da Nang, including Ngu Hanh Son – the Museum of Cham Sculpture – Son Tra Peninsula; Ba Na Hills; Ngu Hanh Son – Hoi An ancient town; Da Nang – Hue ancient capital; Than Tai Hot Spring Park; and a cruise on the Han River.

A safe destination, attractive products, professional staff and good services have contributed to the stable increase of foreign tourists to Da Nang in recent years. Local authorities and travel agencies will work to ensure visitors attending APEC week and other international travelers are all served well.

"The APEC week will take place during the peak season. We have prepared carefully focusing on infrastructure and service quality. We have also worked with neighbouring tourism centres such as Hue and Hoi An to create a product chain" (Nguyen Xuan Binh – Deputy Director for Da Nang City's Tourism Department).

"Our top priority is visitors from APEC members. However we will still serve those from other countries with pre-bookings and ensure service quality" said by Cao Tri Dung – Chairman of Da Nang City's Travel Association.





Last updated on 2021-06-23 10:16:49.