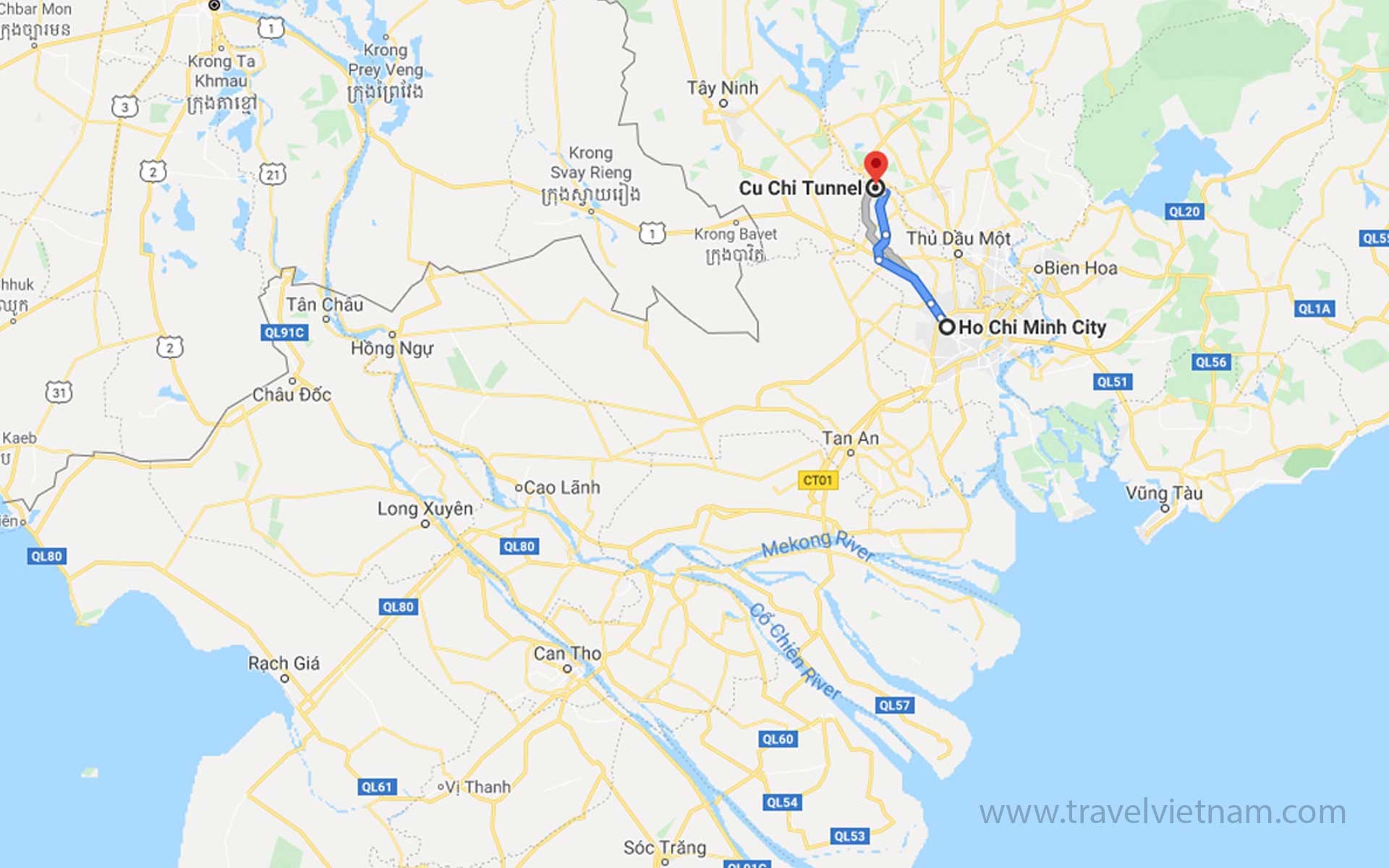 Chu Chi tunnels or Cu Chi tunnels - Which one is right name? It may sounds similar by visitors but Vietnamese says " Cu Chi".
Why it name Cu Chi?
The name of the District Cu Chi which located 40 km in the North – west of HCM City.
In Nguyen Dynasty Cu Chi belong to Binh Duong distric, Tan Binh, Phien An. In 1836, Cu Chi became part of Binh Duong District, Gia Dinh Province. In 1956 Cu Chi became a new district of Binh Duong. In 1963, South Vietnam setup Hai Nghia province and half of Cu Chi remain the same name and belong to Hai Nghia Province. The other half belong to Phu Hoa, Binh Duong province.


After 1975. These two parts rejoins and became Cu Chi District of HCM City. Cu Chi is local name of plan "Strychnos" which growing wildly here and people use its seed as local remedy.

Cu Chi Tunnels - popular tourist attraction

The 75-mile (121 km)-long complex of tunnels at Củ Chi has been preserved by the government of Vietnam, and turned into a war memorial park with two different tunnel display sites, Ben Dinh and Ben Duoc. The tunnels are a popular tourist attractions, and visitors are invited to crawl around in the safer parts of the tunnel system. The Ben Duoc site contains part of the original tunnel system, while the Ben Dinh site, closer to Saigon, has tunnel reconstructions and some tunnels have been made larger to accommodate tourists. In both sites low-power lights have been installed in the tunnels to make traveling through them easier, and both sites have displays of the different types of booby traps that were used.

It were designed and dug with simple tools and bare hands during the French occupation in the 1940s, and further expanded during the Vietnam War in the 1960s to provide refuge and a defensive advantage over the American soldiers. Despite all the bombings in their town, the Cu Chi people were able to continue their lives beneath the soil, where they slept, ate, planned attacks, healed their sick, and taught their young. Some even wed and gave birth underground, but over 10,000 lost their lives here.
More information about Cu Chi tunnels
Last updated on 2021-02-21 11:09:16.