Located on the Mekong Delta, Long An is surrounded by Tay Ninh Province and Cambodia on the north, Ho Chi Minh City on east, Tien Giang Province on the south and Dong Thap Province on the west.
General information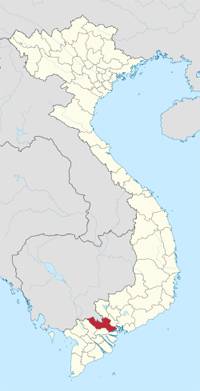 LONG AN PROVINCE
Coordinates: 10°40′N 106°10′E
Region
Mekong Delta
Capital
Tan An
Area
4,495.5 km
2
(1,735.7 sq mi)
Population
(July - 2020)
•
Total
2,002,767
•
Density
450/km
2
(1,200/sq mi)

Demographics

•
Ethnicities
Kinh, Chinese
Khmer, Tay
Calling code
0272
Website
eng.longan.gov.vn
Topography
Long An is divided into smaller areas by a complex network of rives and canals. Silt from Vam Co Dong and Vam Co Tay rives has raised the level of the field of Long An. This silt makes a good condition for agriculture. The terrain is quite flat except some hills and mounds on the north. The western area belongs to the Plain of Reeds.
Long An is situated in an advantageous position in the Southern Key Economic Region of Vietnam. It serves as a bridge between Ho Chi Minh City in the north and 12 provinces in the Mekong Delta in the south. The province also has Cambodia to its west and the East Sea to its east.
Long An is a low-lying coastal region, and therefore some areas of it are subject to flooding during the rainy season, which lasts from the beginning of August until November.
The province has numerous rivers. Two of the main ones are the Vàm Cỏ Đông and Vàm Cỏ Tay, which connect with the Tiền to form a larger river system. Another important river in the region is the Soài Rạp.
Climate
Long An is on tropical monsoon climate. The rain season lasts from May to October and the dry season lasts from November to April next year. Annual average temperature is 27.4oC.
Tourism in Long An
Coming to Long An, visitors are attracted to Long An by value of Oc-Eo culture that develops on the Mekong Delta from 1st BC to 6th century BC. 12,000 objects of 20 prehistoric monuments and 100 Oc-Eo culture relics have been found there. Beside these, Long An preserves valuable sites including House with Hundred Columns, Rach Coc Fort, Ton Thanh Pagoda. House with Hundred Columns was built in Long Huu Commune in 1901. The architecture and sculpture of the house were realized by 15 clever and skillful workers. The house consists of 68 round wooden columns, 12 square wooden columns and 40 brick columns.
The ornaments on the ends of the columns are representations of lush vegetation, including trees, flowers and birds. Rach Coc Fort was built in Long huu Commune in 1903 and is one of the greatest forts in Vietnam. It is 300m long and 100m wide. It has five floors, three of which are underground. Ton Thanh Pagoda is located in the Thanh Ba hamlet of My Loc Commune. Built in 1808 by northern emigrants, Ton Thanh Pagoda is the oldest pagoda in Long An Several valuable ancient statues with its design in 19th century still are remained in the pagoda. Vietnamese poet Nguyen Dinh Chieu lived in the pagoda from 1859 to 1861.
Sailing upstream the Vam Co Tay River, travelers will reach the center of the Thap Muoi Field, the typical eco-tourism site of the lowland in the South. Tourists can see cajuput forests whose aroma attracts herds of bees, and immense ponds of lotuses showing their beauty in sunlight. There are many rare animals such as herons, red cranes, turtles, snakes, and many more.
In drought years, people living in the agricultural production areas of Long An usually organize rain-seeking ceremonies to worship Heaven and Earth in the hopes that they will be granted rain.
Top Attractions in Long An
Location: Ton Thanh Pagoda is situated in Thanh Ba Hamlet, My Loc Commune, Can Giuoc District, Long An Province.
Characteristics: This is the oldest pagoda in Long An.
Location: Binh Ta Vestiges are situated in Binh Ta Hamlet, Duc Hoa Ha Commune, Duc Hoa District, Long An Province.
Characteristics: The vestiges are remnants of the Oc Eo-Phu Nam culture from the first to seventh centuries.
Other top attractions to visit in Long An Province are:
Lang Noi Tan Lap
Can Duoc Market
Khu Du Lich Canh Dong Bat Tan
Jump Arena
West Lakes Golf & Villas
The best hotels in Long An
Not many hotels in Long An. Currently there are only a few 3-star hotels. Below is a list of some good 2 star hotels and 3 star hotels.
Lang Noi Tan Lap Hotel.
Highway No.62, Hamlet 3, Tan Lap Village, Moc Hoa District, Long An Province, Vietnam
Lucky Ruby Border Casino.
Quoc lo 62, Au village, Thmei Commune, Kien Tuong Town, Long An Province, Vietnam
Lucky89 Border Casino
Prey Va-Moc Hoa Border, Au Village, Thmei Commune, Kien Tuong Town, Long An Province, Vietnam
When is the best time to go to Long An?
Long An is situated in the humid monsoon climate zone, bordering the two regions of the South East and the South West. So it is characterized by the climate of the Mekong Delta. The average monthly temperature ranges from 27.2 to 27.7 degrees so you can travel to Long An on any season of the year.
Economic
The market of Long An industrial park is developing very strongly in recent years, thanks to its location adjacent to Ho Chi Minh City as well as Tay Ninh. In addition, Long An IPs benefit greatly when playing the role of a bridge with the Mekong Delta provinces and distribution and logistics centers in the southern region.
List of industrial zones in Long An
Long An International Port
Phuoc Dong Wharf Industrial Park
Cau Tram Industrial Park
Southeast Asia Industrial Park (North Tan Tap)
Tan Kim Industrial Park
Expanded Tan Kim Industrial Park
Nhut Chanh Industrial Park
Hoa Binh Industrial Park
Long Hau Industrial Park
Duc Hoa Industrial Park I - Hanh Phuc
Thuan Dao Industrial Park
Expanded Thuan Dao Industrial Park
Xuyen A Industrial Park
Vinh Loc Industrial Park 2
Phuc Long Industrial Park
Tan Duc Industrial Park
Duc Hoa III Industrial Park - Viet Hoa
Duc Hoa III Industrial Park - Thai Hoa
Duc Hoa III Industrial Park - Anh Hong
Duc Hoa III Industrial Park - Hong Dat
Duc Hoa III Industrial Park - Resco
An Nhut Tan Industrial Park
Tan Do Industrial Park
Phu An Thanh Industrial Park
Hai Son Industrial Park
DNN Industrial Park - Tan Phu
Nam Thuan Industrial Park (Dai Loc)
Thinh Phat Industrial Park
Viet Phat Industrial Park


Transportation
Long An has National Highways No.1A crossing Tan An City, National Highway No.62 linking to Binh Hiep Border Gate to Cambodia, National Highway No.50 from My Tho (Tien Giang) to Ho Chi Minh City via Can Duoc. Long An is 47km from Ho Chi Minh City.
Last updated on 2022-06-01 03:39:22.
Other Administration Units