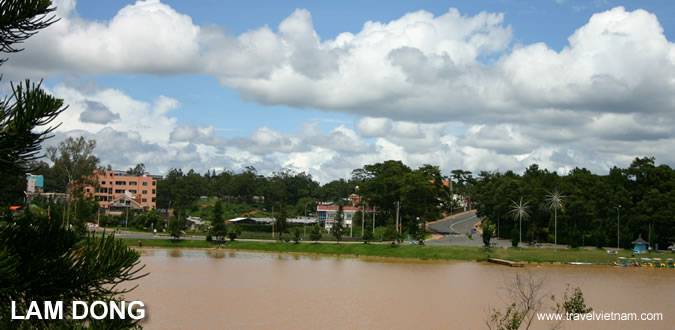 Located in the Central Highlands region, Lam Dong is a mountainous province, and 70% of its area is covered in forest. To the north, it borders on Dak Lak and Dak Nong provinces, to the south-east, on Khanh Hoa, Ninh Thuan and Binh Thuan provinces, and to the west, on Binh Phuoc and Dong Nai provinces.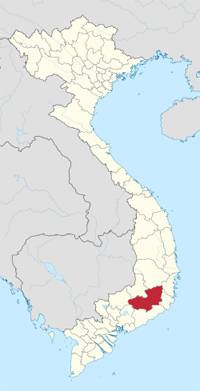 LAM DONG PROVINCE
Coordinates: 11°57'N 108°26'E

Region Central Highlands
Capital Da Lat
Area 9,773.5 km2

Population (2011)
• Total 1,218,700
• Density 125/km2

Demographics
• Ethnicities Kinh, Co Ho
Ma, Nung

Calling code 063
Website www.lamdong.gov.vn

Topography
The remarkable characteristic of Lam Dong's topography is the fairly distinctive division of tiers from north to south. The north of the province is high mountains, the Lang Bian plateau, with summits of altitudes between 1,300m - above 2,000m such as Bidoup (2,287m), Lang Bian (2,167m). The east and the west are mountains with modest altitudes (500m- 1,000m). The south is topographically the transition from the Di Linh- Bao Loc plateau to the semi-flat country.

Climate
Lam Dong province has a tropical climate with monsoon. On the whole territory, due to a complex topography, there is a difference in elevation and degree of vegetation covering. However, the weather of Lam Dong is temperate and mild all the year round, notable changes are rare in the annual cycle. The temperature varies distinctly between areas and the higher it is, the lower temperature is. The range of the average annual temperature is 16oC - 23oC. Dry season is from December to March next year. Rainy season is from April to November.

Tourism
The unique tourism of Lam Dong Province is made from the combination of topographical, climatic and hydrographical factors. Together with its forests and regional flora and fauna, Lam Dong offers distinctive scenery with many picturesque lakes, falls, hills and pine forests. Some of the natural scenic spots include Xuan Huong Lake, Dan Kia - Suoi Vang Lake, Tuyen Lam Lake, Lake of Sighs, Valley of Love, Da Nhim Lake, Camly Falls, Datanla Falls, Prenn Falls, Pongour Falls, Voi (Elephant) Falls, Ponguar Falls, Golf Hills, Lang Bian Mountain, etc.
Places of historical and cultural interest include some French style palaces, Linh Son Pagoda, Linh Phong Pagoda, Truc Lam Zen Monastery, Dalat Cathedral, Cat Tien archaeological site.

Dalat, capital of Lam Dong Province, exhales its own poetic and romantic charm. Situated at 1,500m above sea level, Dalat is often called 'Eternal Spring' City for its pleasantly warm temperatures during the day and quite cool at night, down to perhaps 10oC. The annual average temperature is 180C. Due to its favorable weather, Dalat is a supplier of temperate produce for all over Vietnam, for example, cabbage and cauliflower. Also, it has a nickname "City of Flowers". Dalat looks like a cross between Vietnam and the French Alps. Many of its hotels and houses were built in a French style during the French colonization. There are many places for tourists interested in architecture to visit, such as Dalat Railway Station, designed by French architects Moncet and Reveron, or Hang Nga guest house, "Crazy house" which is also an interesting place to stay. Apart from architectural places of interest, Dalat also has lots of beautiful sites such as Xuan Huong Lake – center of town, Lake of Sorrow (Lake of Sighs) – 5km Northeast of town on Ho Xuan Huong Road, Valley of Love – Phu Dong Thien Vuong Street, Lang Biang Mountain – has a 1900m peak, ideal for a 3-hour hike, Prenn Falls – 10km outside the town, Pongour Falls – one of the largest and widest waterfalls in Vietnam, 30km south of town on highway 20, etc.

Lam Dong Province is homes of many ethnic groups such as Co Ho, Ma, Nung. Therefore there are distinctive festivals like Ma Festival, Co Ho – New Rice Ceremony, Buffalo – Stabbing Festival of the Co Ho ethnic group, Worship of the Source Spirit of the Ma ethnic group or Worship of the Water Spirit – the largest ceremony of the Chu Ru ethnic group.

Transportation
Dalat is 110km from Phan Rang (Ninh Thuan), 200km from Buon Ma Thuot (Dak Lak), 205km from Nha Trang (Khanh Hoa), 293km from Ho Chi Minh City, and 1,481km from Hanoi.

Lien Khuong Airport is 30km south of Dalat. There are daily flights to Ho Chi Minh City and Hanoi, and two flights a week to Danang.



Last updated on 2021-05-17 17:28:41.
Other Administration Units