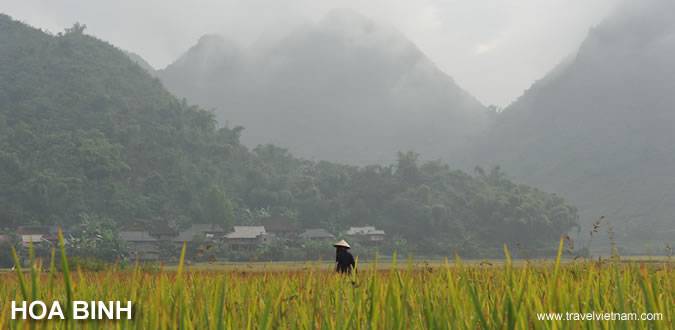 Located on the entrance of the Northwest region of Vietnam, Hoa Binh Province is proud to be one of the oldest areas in Vietnam with the world-famous "Hoabinhian Culture" (Van hoa Hoa Binh). Hoa Binh is located in the nation's northwestern region. It borders Phu Tho province and Son La province to the northwest, Hanoi to the north and northeast, Ha Nam province to the southeast, Ninh Binh province to the south and Thanh Hoa province to the south.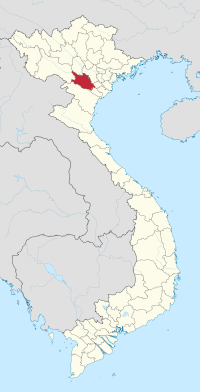 HOA BINH PROVINCE
Coordinates: 20°20'N 105°15'E

Region Northwest
Capital Hoa Binh
Area 4,608.7 km2

Population (2011)
• Total 799,800
• Density 174/km2

Demographics
• Ethnicities Muong, Kinh,
Thai, Tay, Dzao

Calling code 0218
Website www.hoabinh.gov.vn

Topography
Hoa Binh's topography is divided into two distinct regions. The mountains (northwest) has an average elevation of 600-700m. The midlands (South East) have an average elevation of 100-200m, with less fragmentation of the whole area of 2535.1 km2.

Climate
Due to the topography of high mountains, Hoa Binh possesses a hot and humid climate with high levels of precipitation during the rainy season. Moreover, thanks to the topographic combining mountains and lakes, this land has a typical high mountain climate with fresh air and coolness. These helps to explain the reason why Hoa Binh is now becoming one of the most wanted destination in Northern area for tourists after hard working hours with too much stress and tension. Some of foreign tourists express love to this area by giving "Hoa Binh" a name of "Peace" land.

Tourism
Generally, Hoa Binh has a great potential to develop its tourism. As a mountainous area, Hoa Binh possesses beautiful caves like Thac Bo cave, Hang Ret, Hoa Tien cave, the Pu Nooc primitive tropical forest give tourists many types of activities like adventure mountain climbing, hiking, hunting. Traveling activities can be hold within the Lake with nearby bay, islet and peninsula where many species of animal and plants are being preserved. The villages of the Dao, Muong, Tay sparsely located around the lake, the valley have created a charming landscape picture. Hoa Binh has many hot mineral springs and primitive, secret valleys namely Kim Boi mineral spring, Mai Chau Valley (with rice paddles and stilt houses planned for tourism purpose). A big hydroelectric plant in Vietnam is also located here as a source of electric supply and a mean of flood prevention. Hoa Binh has great tourism potential thanks to the endowed natural environment and man-made construction. In the future, with reasonable planning and preservation, Hoa Binh will surely become one of the most beautiful destinations of Vietnam, especially with regard to ethnic travel.

The residents here consist mainly of Muong ethnic group and various ethnic minorities such as Thai, Dao, Tay. This contributes a lot to the cultural diversity of this mountainous province as well as the development of its tourism industry. Travel Vietnam's tourists will be taken along highway 6 to Mai Chau - a small town nestled in the midst of a lush valley and surrounded by emerald-green rice fields, Trek through terraced rice paddies and small villages, discovering the natural beauty of the valley and encountering the culture of the White Thai people, living in the region. Coming to Hoa Binh on Tet Holiday, ones may have chances to attend a wide range of festivals organized by yhe locals in different areas and by different ethnic groups. To illustrate Chua Tien Festival in Lac Thuy Prefecture, "Khai Ha" Carnival of Muong Bi people and "Xen Ban Xen Muong" Carnival of Thai ethnic group.

Transportation
Hoa Binh Town is 82km from Hanoi which can be approached by road and water transportation. Ones can travel by cars or coaches from Hanoi, along National Highway No.6 to Hoa Binh Town, National Highway No.15 from Thanh Hoa to Mai Chau or National Highway No.12B from Ninh Binh to Hoa Binh.



Last updated on 2021-06-01 08:10:08.