Ho Chi Minh City or Saigon, situated in the southern of Vietnam, is still called Saigon by most of the natives. The modern city used to be considered as the Pearl of the Orient by the French. It is a brazen, industrious and dense metropolis, the largest city in Vietnam and the business capital of the country. The city center is situated on the banks of the Saigon River, 60 km from the South China Sea and 1,760 km south of Hanoi, the capital of Vietnam. It borders Tay Ninh and Binh Duong provinces to the north, Dong Nai and Ba Ria – Vung Tau provinces to the east, Long An Province to the west and the South China Sea to the south with a coast 15 km long.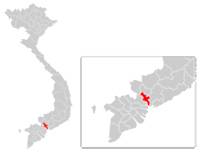 HO CHI MINH CITY
Also Known As Saigon
Renamed 1976
Coordinates: 10°46′10″N 106°40′55″E

Region Southeast
Area 2,095.6 km2

Population (2011)
• Total 7,521,100
• Density 3,589/km2

Demographics
• Ethnicities Kinh, Chinese
Cham, Khmer

Calling code 08
Website www.hochiminhcity.gov.vn

Topography
Ho Chi Minh City is located at 10°10'- 10°38'N, 106°22'- 106°54'E in the southeastern region of Vietnam. The average elevation is 19 meters (62 ft) above sea level. In general, the topography of Ho Chi Minh City is not complicated but fairly diverse it, therefore, owns good conditions for developing.

Climate
The city has a tropical climate, specifically a tropical wet and dry climate, with an average humidity of 75%. The year is divided into two distinct seasons: the rainy season, from May to November, and the dry season, from December to April. The average temperature is 28 °C, the highest temperature sometimes reaches 39 °C around noon in late April, while the lowest may fall below 16 °C in the early mornings of late December into early January.

Tourism
Over the last 10 years, Ho Chi Minh City has experienced a spectacular change in its cityscape. And today, this city has a cosmopolitan and energetic atmosphere. The once low-rise landscape of the city's central area, District 1, is now marked with shining skyscrapers including high-rise apartments, international hotels, luxurious restaurants and bars and companies. This bustling, vibrant, industrial hub of the nation is the biggest city of Vietnam as well. Saigon is also the cultural center and economic capital of the country.

Despite its quite recent past, Ho Chi Minh City nevertheless possesses various beautiful buildings, displaying a characteristic combination of Vietnamese, Chinese and European cultures. These include War Remnants museum and former Presidential Palace, the Notre Dame Cathedral, the Old Post Office, Saigon's China Town, Ben Thanh Market, as well as many pagodas and churches (Vinh Nghiem, Giac Vien, Giac Lam, Phung Son pagodas...). After more than 300 years of development, Ho Chi Minh City presents many ancient architectural constructions, famous vestiges and renowned sights. It is remarkable for its harmonious blending of traditional national values with northern and western cultural features.

Some festivals in Ho Chi Minh City: Nghia An Hoi Quan Festival (15th day of the 1st lunar month and 24th day of the 6th lunar month), Anniversary of the Death of the Hung Kings (10th of the 3rd lunar month), Le Van Duyet Festival (1st day of the 8th lunar month), Death Anniversary of Tran Hung Dao (20th day of the 8th lunar month).

Transportation
Ho Chi Minh City is the main junction for trains, roads, water, and air transportation systems for domestic trips and for foreign destination. Ho Chi Minh City is 1,720km from Hanoi, 99km from Tay Ninh, 70km from My Tho, 125km from Vung Tau, 168km from Can Tho and 308km from Dalat. The City has National Highway 13 which connects Vietnam with the rest of Indochina.

Besides, Thong Nhat express train connects Ho Chi Minh City and Hanoi, via many provinces in Vietnam.

Tan Son Nhat International Airport is the biggest airport with many domestic and international routes. There are flights from Hanoi and Da Nang to Ho Chi Minh City and between the city to many regions as well a lot of countries on over the world.



Last updated on 2021-06-20 18:12:32.
Other Administration Units