The best way to see Ha Long Bay is on an overnight cruise. There are so many Ha Long Bay cruises to choose from, that it can be daunting to figure out which fits for you. In order to make your planning that much easier. Here is the list of 7 Best luxury Ha Long Bay overnight cruises rated by our customers and we recommend them to you for your tours to Ha Long in 2022 – 2023.

Paradise Grand Cruise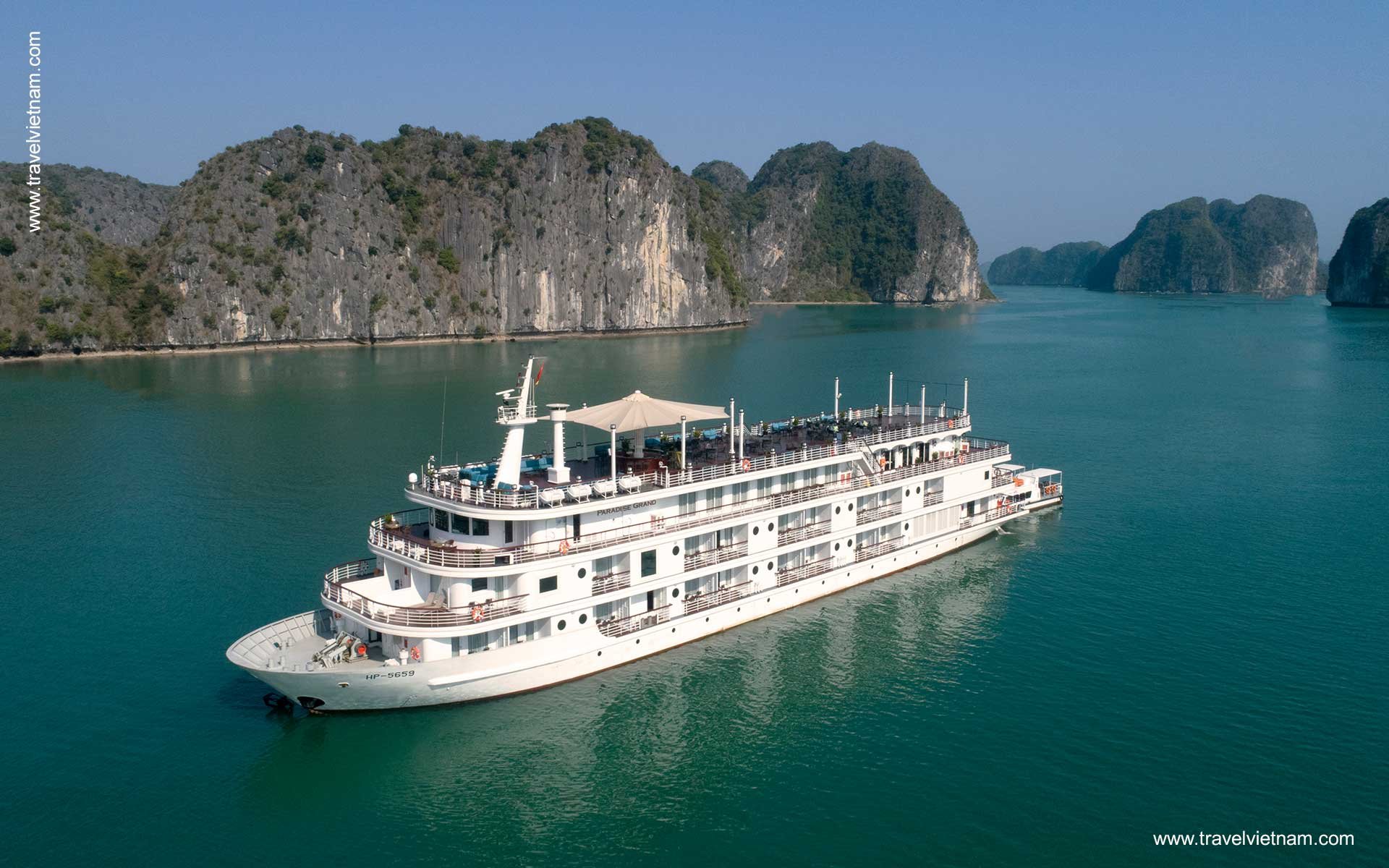 Paradise Grand is the first Paradise Cruise to ever explore the excursion route of Lan Ha Bay, Cat Ba Island. A brand new steel boat elevates your experience to a higher level. Be delight in the attentive service, savor the finest cuisine with Michelin-standard à la carte menu, indulge your senses in a specially tailored treatment. You are closer to a once-in-a-lifetime vacation and exploration.

Each expansive cabin features a spacious private balcony or a terrace and broad windows offering panoramic views, and includes a butler service. Various activities can be enjoyed on board such as watching movie, enjoying spa treatments or joining yoga classes.

With a day spa, library and fitness room, an exquisite menu and world class wines, Paradise Peak Cruise is the epitome of deluxe cruising. Built from the finest materials, with attention paid to the tiniest of details, the Peak rules Ha Long Bay with style and sophistication.

With 39 cabins of unrivaled degree of luxury (three types of room: Grand balcony, Executive Grand balcony, Grand balcony Suite and Capitan Grand's view Suite), Paradise Grand Cruise offers a trip to remember. The Paradise Grand allows you to live your dream in reality, with endless comfort and care. If you are a gourmet, The Paradise Grand will meet your satisfaction. The Michelin starred a-la-carte menu is designed to cater to a wide range of taste, blending the flavors of Vietnam and international fusion. An ex-quite collection of cocktails and beverages will further complete your meals.
Paradise Elegance Cruise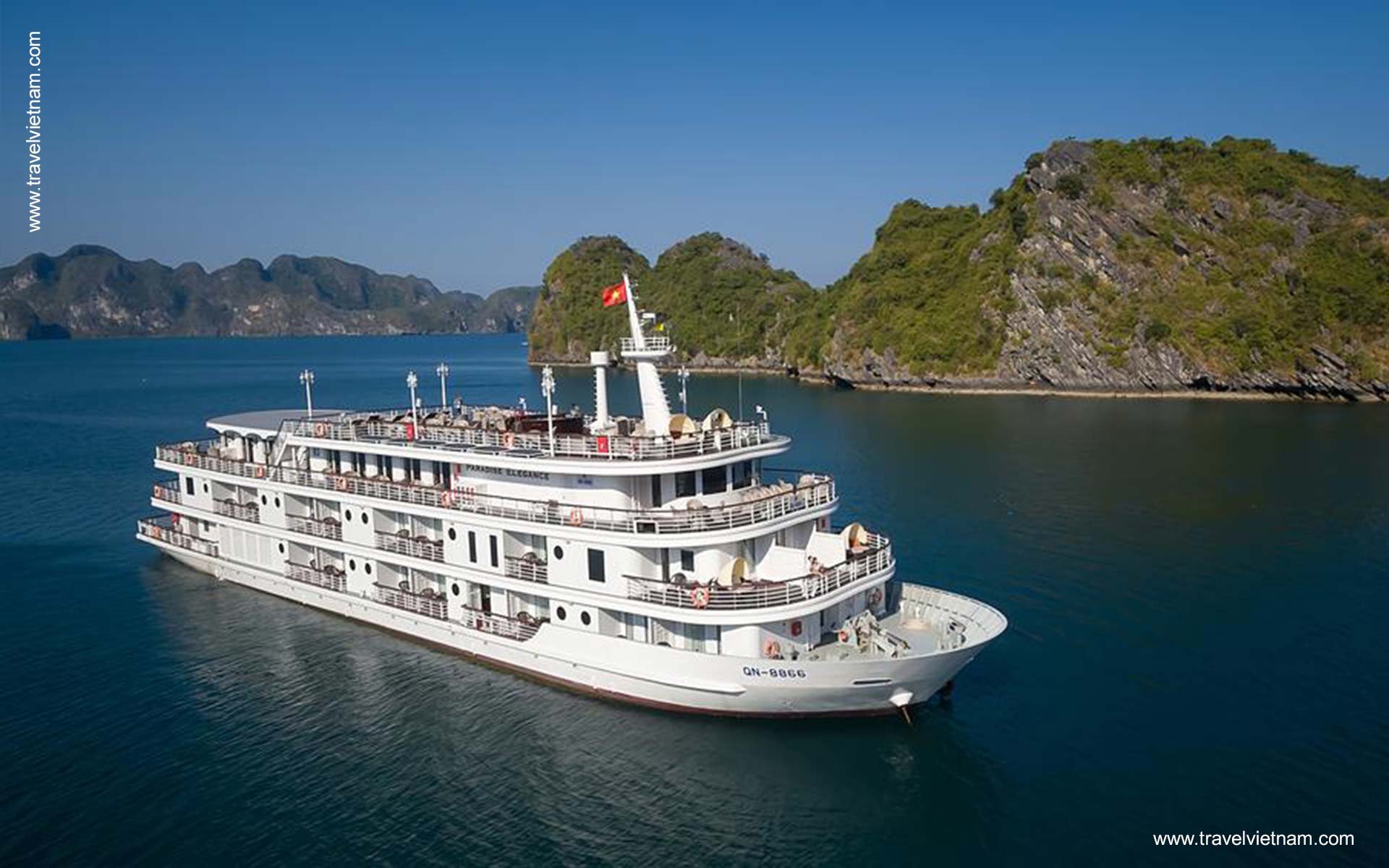 Transcending the boundary between modern style and classic sophistication, Paradise Elegance Cruise is the newest cruise ship to grace the Paradise fleet and a welcome contemporary addition to our more traditional junk designs. Each one of 31 designed cabins has intimate, cozy lighting, a private balcony, and a floor to ceiling glass door offering the most spectacular Ha Long Bay view even from within.

The design has been refreshed but the philosophy remains constant, as the newest nautical masterpiece continues to take you to the highlights of Ha Long Bay at the least busy times, and Paradise Elegance Cruise commits to offer the highest level of service in the bay.

Paradise Elegance Cruise also houses Ha Long Bay's newest floating spa, a sumptuous haven in which to relax and rejuvenate with a varied list of unparalleled spa therapies that remain at the pinnacle of onboard relaxation.
Book Paradise Elegance Cruise at: https://www.travelvietnam.com/cruises/halong-cruises/paradise-elegence-cruise.html
Indochine Cruise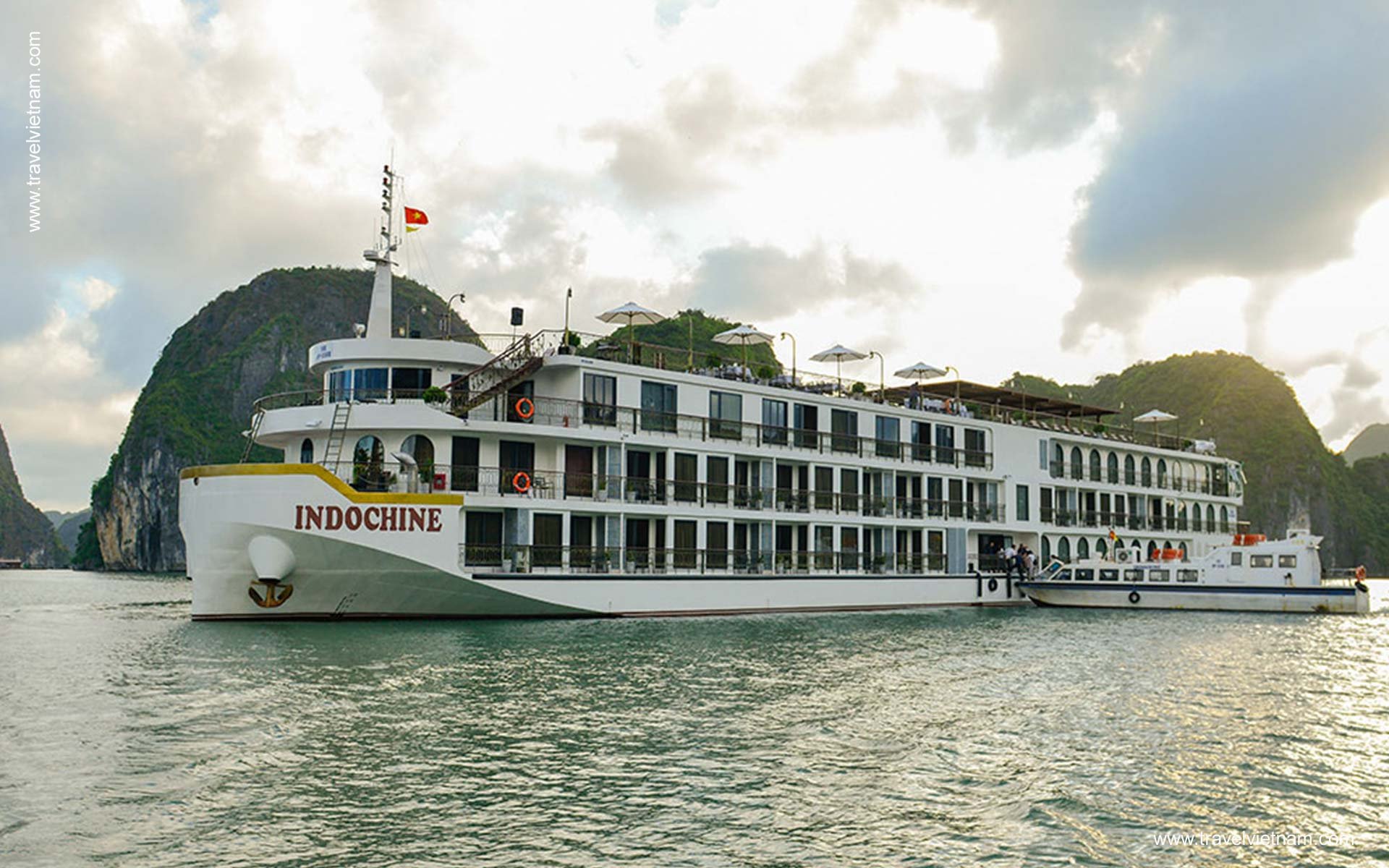 Indochine Cruise is a steel cruise ship offered latest technologies. Indochine Cruise is built to the highest of international standards, ensuring optimum comfort and safety. Indochine Cruise sails within Lan Ha Bay – one of gorgeous parts of Ha Long besides Ha Long Bay and Bai Tu Long Bay. This exquisite cruiser will be top of the range and her maiden cruise in early 2019.
Indochine Cruise will take you to all highlight and unique excursion of the pristine Lan Ha Bay. From the largest floating fishing village to the beautiful white sand beaches. Lan Ha Bay is comprised of over four-hundred tropical islets with secluded sandy beaches and has managed to retain a relatively pristine environment by avoiding substantial tourist attention. Discover an array of natural wonders including Cat Ba Island – Lan Ha's most iconic resident. This tropical oasis is the largest landmass in the Ha Long Bay complex, stretching over an area more than 200km2. Officially recognized by UNESCO as a World Biosphere Reserve, Cat Ba is famous for its limestone mountains, extensive cave systems, tropical forests and casual island lifestyle.

Trips on Indochine Cruise are organized to fishing villages, private tours to remote islands are popular, spa services operate daily, and kayaking is available through caves in search of secluded lakes. On-board activities from films to board games are also available to keep guests entertained into the evening.
Book Indochine Cruise at: https://vietnamtravel.com/cruise/indochine-cruise/
Signature Royal Cruise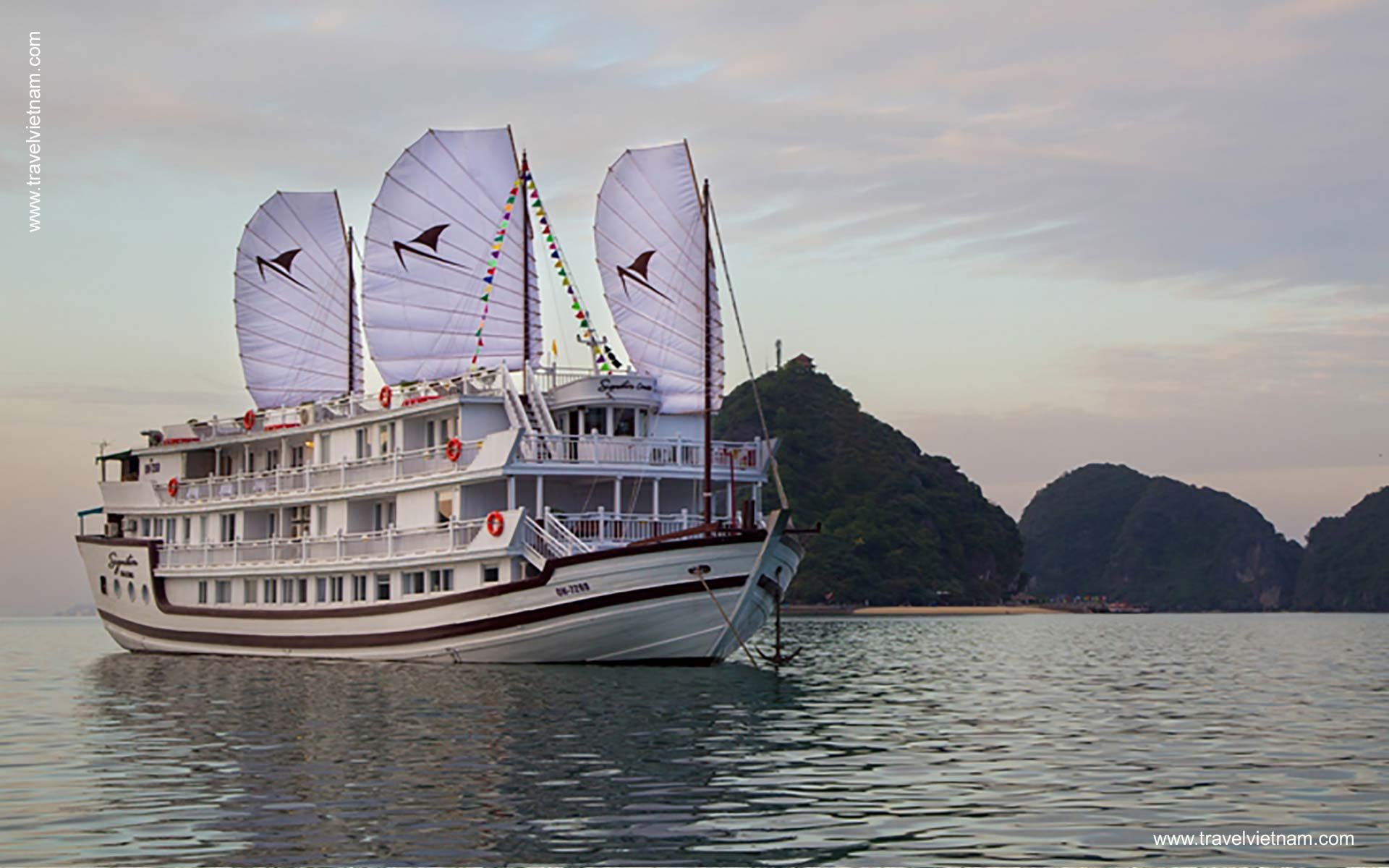 Signature Royal Cruise's captain and crew would like to welcome you aboard their state of the art vessel and luxury cruise. Here at Signature Royal Cruise, they pride themselves on providing their high quality amenities and exceptional services to the guests and endeavor to make your stay with Signature Royal Cruise as pleasurable and relaxed as possible.

Discover amazing scenery and visit breathtaking locations around the Gulf of Tonkin including Ha Long Bay, Lan Ha Bay, Bai Tu Long Bay and much more. Enjoy tantalizing cuisine in the elegant dining room prepared by the specialty chef and his team, including fresh caught succulent seafood, Vietnamese, International and fusion delights. The craft offers an assortment of activities including a spa and massage center, a fully stocked bar, a magnificent roof top sun deck, daily side trips to interesting locations, relaxing Tai Chi lessons, delicious cooking demonstrations and numerous other events.
Book Signature Royal Cruise at: https://www.travelvietnam.com/cruises/halong-cruises/signature-cruise.html
Heritage Line Violet Cruise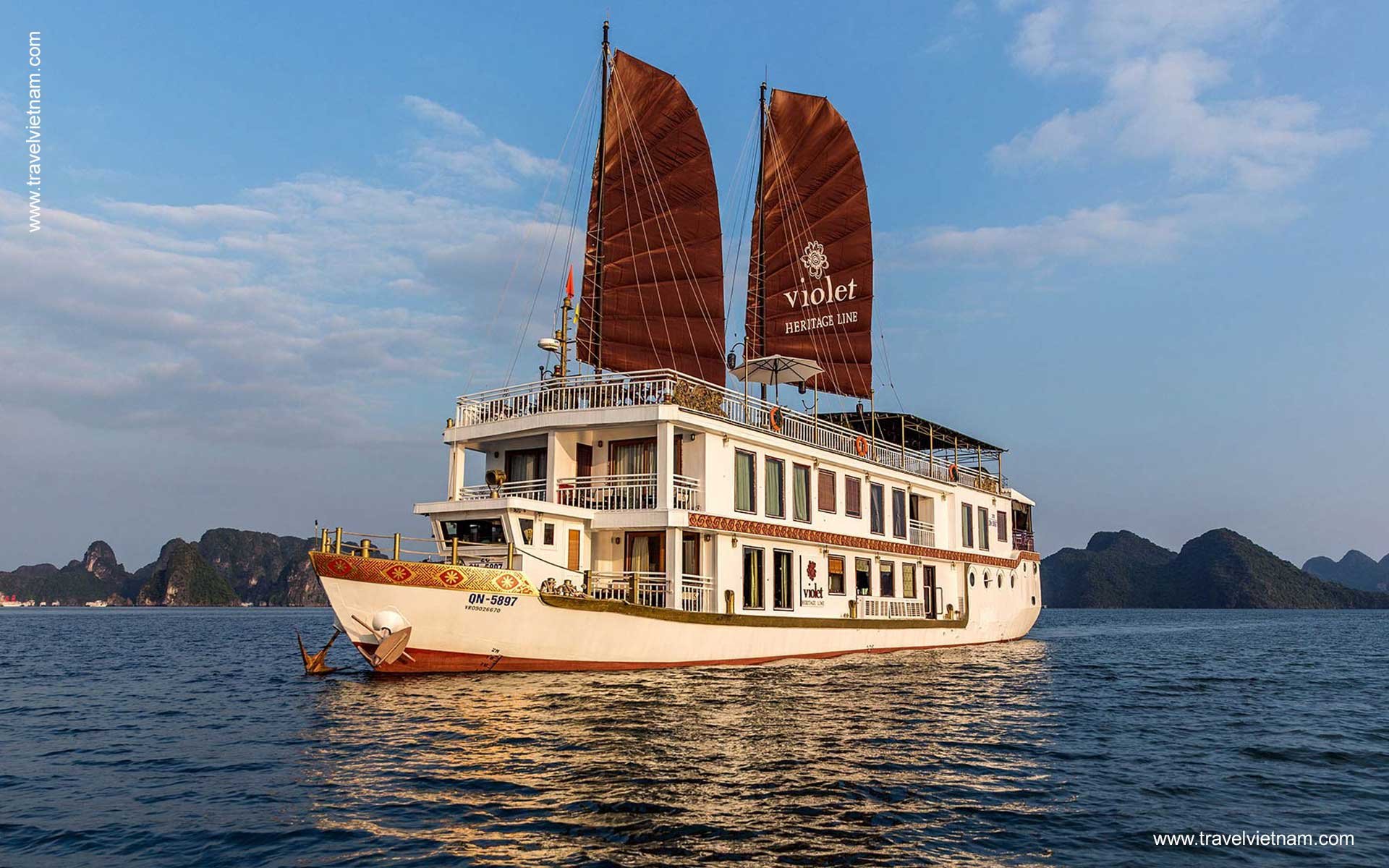 Heritage Line's family of boutique cruise ships includes "Three Sisters" in Ha Long Bay, and the coquettish Violet Cruise, named after the beautiful Violet Chirita, a delicate purple-flowered plant that grows nowhere else but on the rocky slopes of Ha Long Bay, is truly one of its kinds among the luxury cruises in Ha Long Bay. With just six luxurious cabins, Violet gives visitors an exclusive look at the wonders of Ha Long Bay. In this small yet luxurious craft, visitors can appreciate the bay's massive scale, the boat's red sails dwarfed by the bay's towering limestone islands.

Built to resemble a traditional Asian junk, the wood-clad Violet features gleaming wooden floors, opulent silks and velvet, and cabins with floor-to-ceiling windows that frame the breathtaking views. Guests will find all the amenities they would expect in a larger vessel, including a gym and sauna, a spa with unrivaled views, a restaurant and a lounge, and a rooftop Sundeck. For an intimate experience of Ha Long Bay, there is nothing to compare to the lovely Violet.
Book Violet Cruise at: https://www.travelvietnam.com/cruises/halong-cruises/halong-violet.html
Orchid Cruise
Orchid Cruises are the leading line in 5-star cruises in Lan Ha Bay – Ha Long Bay. The cruises offer the highest level of customer service and an unbeatable relaxing environment that is sure to exceed your highest expectations of any and all Ha Long Bay cruises. Orchid Cruises are the leading pioneer in cruising Lan Ha Bay – Ha Long Bay, offering their guests the best highlights of this beautiful and wild route.

Joining Orchid Cruises on the enchanting travel through beautiful Ha Long Bay, travelers will have great time to relax and discover untouched areas, experience a new destination back side of Ha Long Bay. Orchid Cruises houses 14 luxury cabins with an elite, professional crew that will provide you the best services during your holiday in Ha Long.
Book Orchid Cruises at: https://www.travelvietnam.com/cruises/halong-cruises/orchid-cruises.html
Era Cruise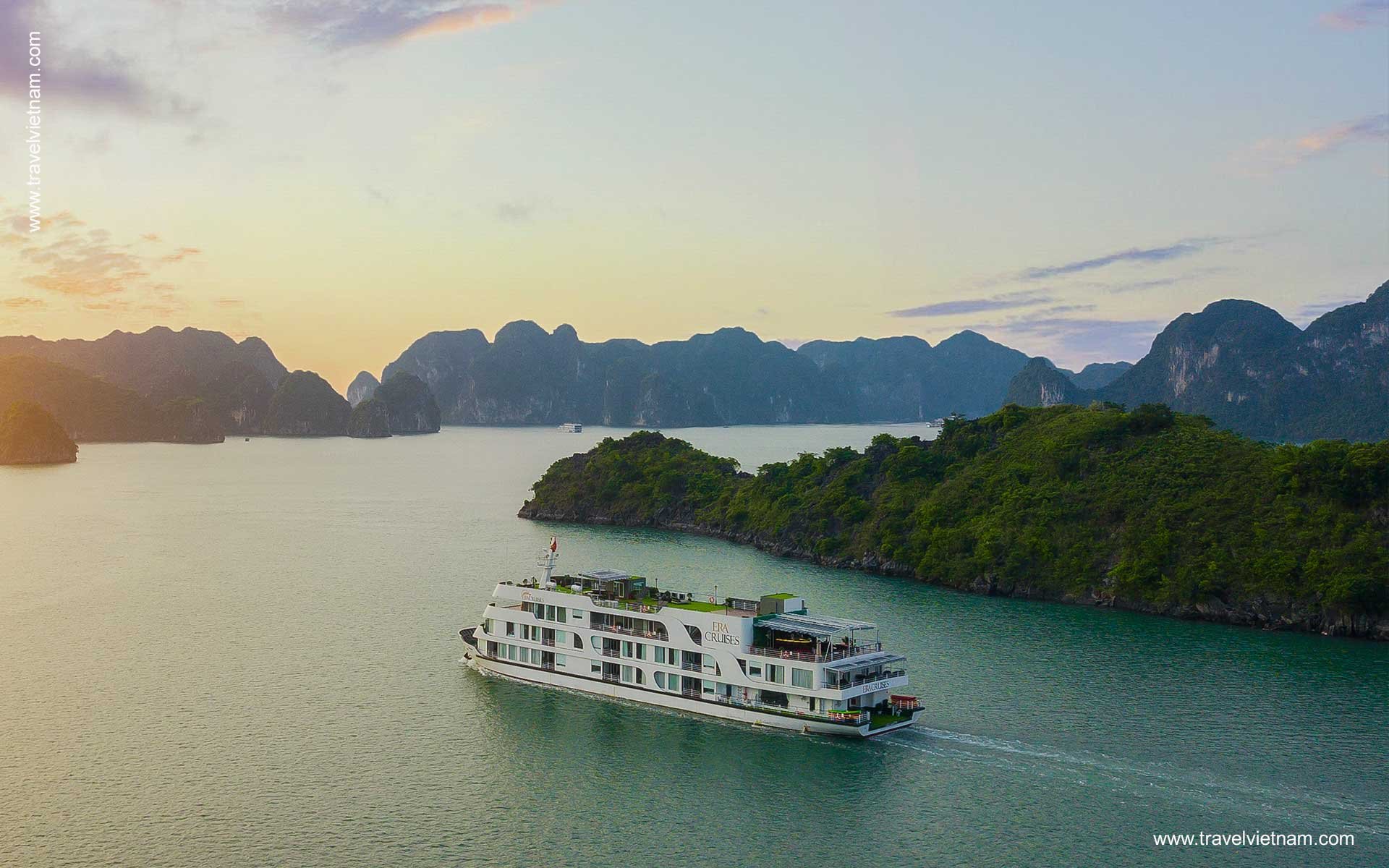 Era Cruises offers the ultimate cruise experience aboard their luxury ship. The sophisticated and elegant surroundings of our vessel offer numerous venues to relax, rejuvenate and thrive as you drink in the stunning UNESCO World Heritage vistas of Ha Long Bay and Cat Ba Island. Equipped by the best interior in the world with enthusiastic well-trained crew, Era Cruise promises to bring you incredible service and truly memorable experience in Lan Ha Bay – Ha Long Bay.

Featuring 18 cabins and suites (ranging from 47 up to a rather impressive 74 square meters), Era Cruise is a great luxury choice for classic travelers who seek relaxation with a touch of adventure. All cabins feature private sun terrace, spacious cabin and luxury decoration. Spread across three large decks, Era Cruise offers four different kinds of cabin options. The cruise will take you across emerald water of Lan Ha Bay – Ha Long Bay to the most beautiful caves and sights in this world renowned destination.
Book Era Cruise at: https://www.travelvietnam.com/cruises/halong-cruises/era-cruise.html

Now you have an imagination of each luxury cruise in your mind. It depends on your choice of route and cruise styles, those 10 best Ha Long cruise will meet your requirement. Let Travel Vietnam help you to find the best cruise that match your favorite. We –Travel Vietnam organizes private tours to Vietnam and visitors escorted by our professional guides will get chance to explore many interesting places. Ask travel questions, get travel help related to best Ha Long cruises and adventures, please feel free to contact Travel Vietnam's tour planners today.
Last updated on 2021-04-18 00:07:39.
Other Accommodations